Article at-a-glance:

The tools mentioned in the article include:  
- FavSEO for SEO management
- Sellbrite for multi-channel selling
- Eye4Fraud for fraud protection
- Yotpo for product reviews
- Alloy Automation for personalized recommendations
- Google Shopping by Sales & Orders for marketing campaigns
- Dotdigital for personalized marketing automation, and several others.

There are many benefits of using these tools, such as increasing conversion rates, streamlining operations, boosting sales, enhancing customer loyalty, and improving overall business growth. 
From maximizing conversion rates to capturing audiences and streamlining operations, these tools will transform your business.
Imagine effortlessly optimizing your store for jaw-dropping conversion rates. Bring your business to new heights by seamlessly integrating cutting-edge features. And the best part? Streamline your operations, freeing up valuable time for scaling your business.
Whether you're an entrepreneur or just starting out, you'll find these tools to be your trusted companions. We have curated the ultimate BigCommerce toolkit for personalized shopping experiences and automated marketing.
Here are the Cutting-Edge Tools That Can Elevate Your eCommerce Business
1. FavSEO
FavSEO is the #1 choice for BigCommerce users who want easy SEO management, including title updates, meta descriptions, and more. FavSEO boosts your online store's search engine optimization! You can find FavSEO on the BigCommerce app store. Check out the dedicated thread in the Help Center.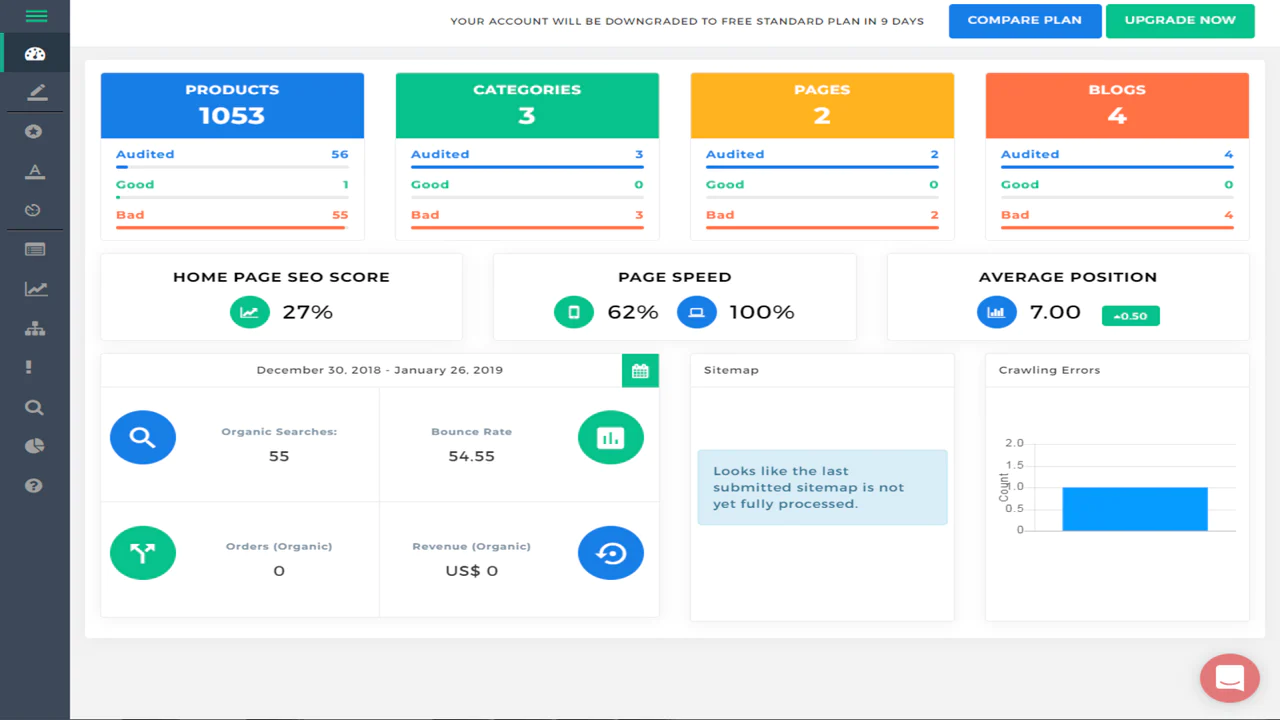 Advantages of FavSEO:
All products, categories, and pages can be edited, analyzed, and optimized with this tool
Improves ecommerce SEO (search engine optimization)
Learn more about the free Search Engine Optimization App and the service through the knowledge base
Disadvantages of FavSEO:
FavSEO may require additional fees for certain features or integrations
2. Sellbrite
Easily list and sell your products on major marketplaces like Amazon, eBay, Walmart, and Etsy. Create listings, manage inventory, and fulfill orders from one interface. Automate inventory adjustments to prevent overselling. A 30-day free trial is available with separate external charges.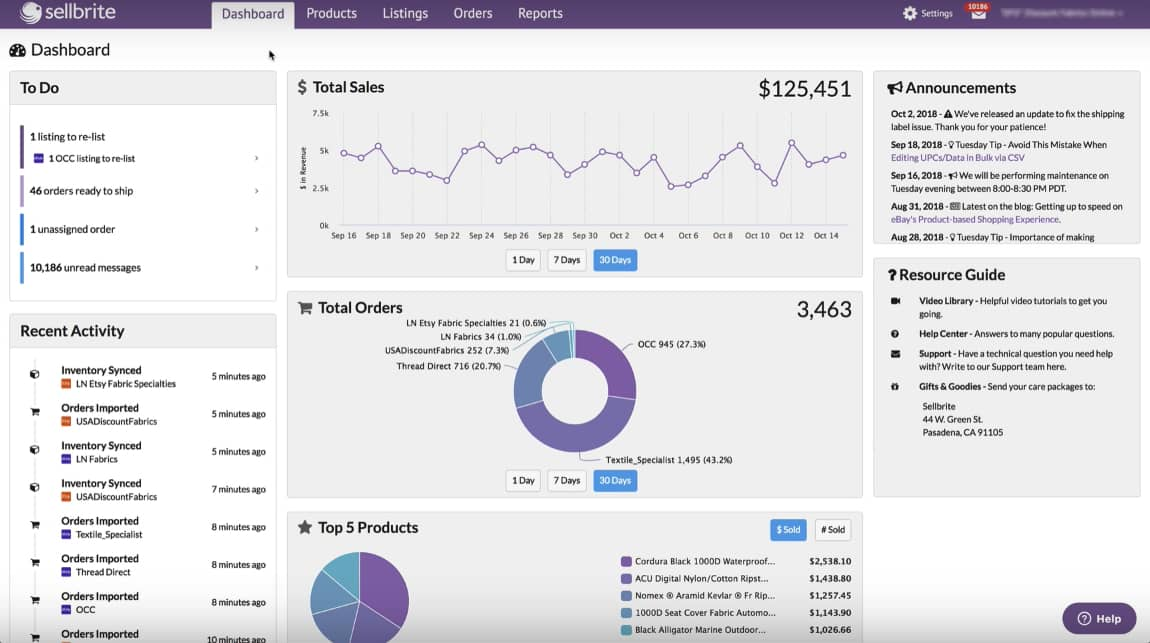 Advantages of Sellbrite:
Easily list and sell products across multiple online sales channels and manage inventory and orders centrally
Streamlines listing, prevents overselling, and optimizes fulfillment with a powerful multi-channel solution for sellers
Provides ecommerce merchants with a simple, intuitive interface for listing inventory, in bulk, on popular marketplaces and on their own websites to reach new customers wherever they shop
Amazon, eBay, Walmart, Etsy, and others are among the popular marketplaces and shopping carts that it integrates with
Reach more customers by listing inventory on multiple channels
Integrates everything an ecommerce merchant needs to run and grow their multi-channel business in one click
Disadvantages of Sellbrite:
Ecommerce stores of all types may not benefit from Sellbrite
Certain features and integrations may require additional fees from Sellbrite
3. Eye4Fraud
Eye4Fraud is a plugin that helps ecommerce merchants to protect themselves from fraudulent financial transactions by screening order transactions, such as credit card transactions, for online fraud. The plugin offers guaranteed fraud protection, higher approval rates, and the ability to accept every single order from anywhere in the world with zero risk.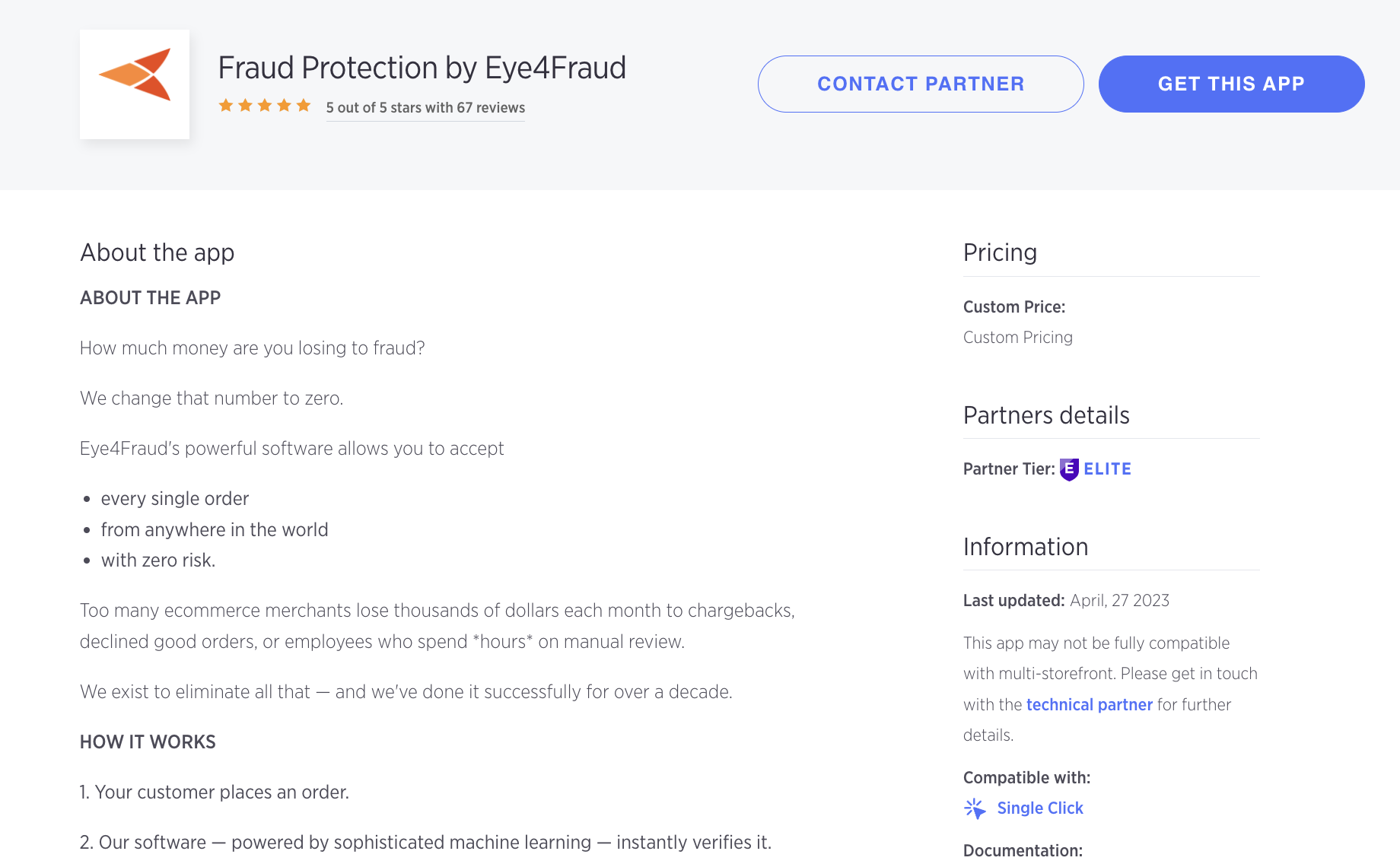 Advantages of Eye4Fraud:
Ensures that online ecommerce merchants are protected from fraud
Provides unmatched customer service via phone and email by screening phone orders
Accepts international orders with zero risk and approves every last good order for ecommerce merchants
Allows you to accept every order without worry, increasing revenue by 30%
Provides ecommerce merchants with powerful software that lets them accept orders worldwide with no risk
Fraudulent activities, such as chargebacks and manual reviews, are reduced
Integrates with BigCommerce shopping cart with a single click and offers a free trial of 21 days
Disadvantages:
Some fraud prevention services may not be as customizable as Eye4Fraud
4. Yotpo
Boost trust and sales with product reviews and ratings directly on your product pages. Highlight social proof through recent sales and customer reviews. User-generated content, loyalty programs, and SMS marketing engage customers. It's free to try, with monthly plans starting at $19.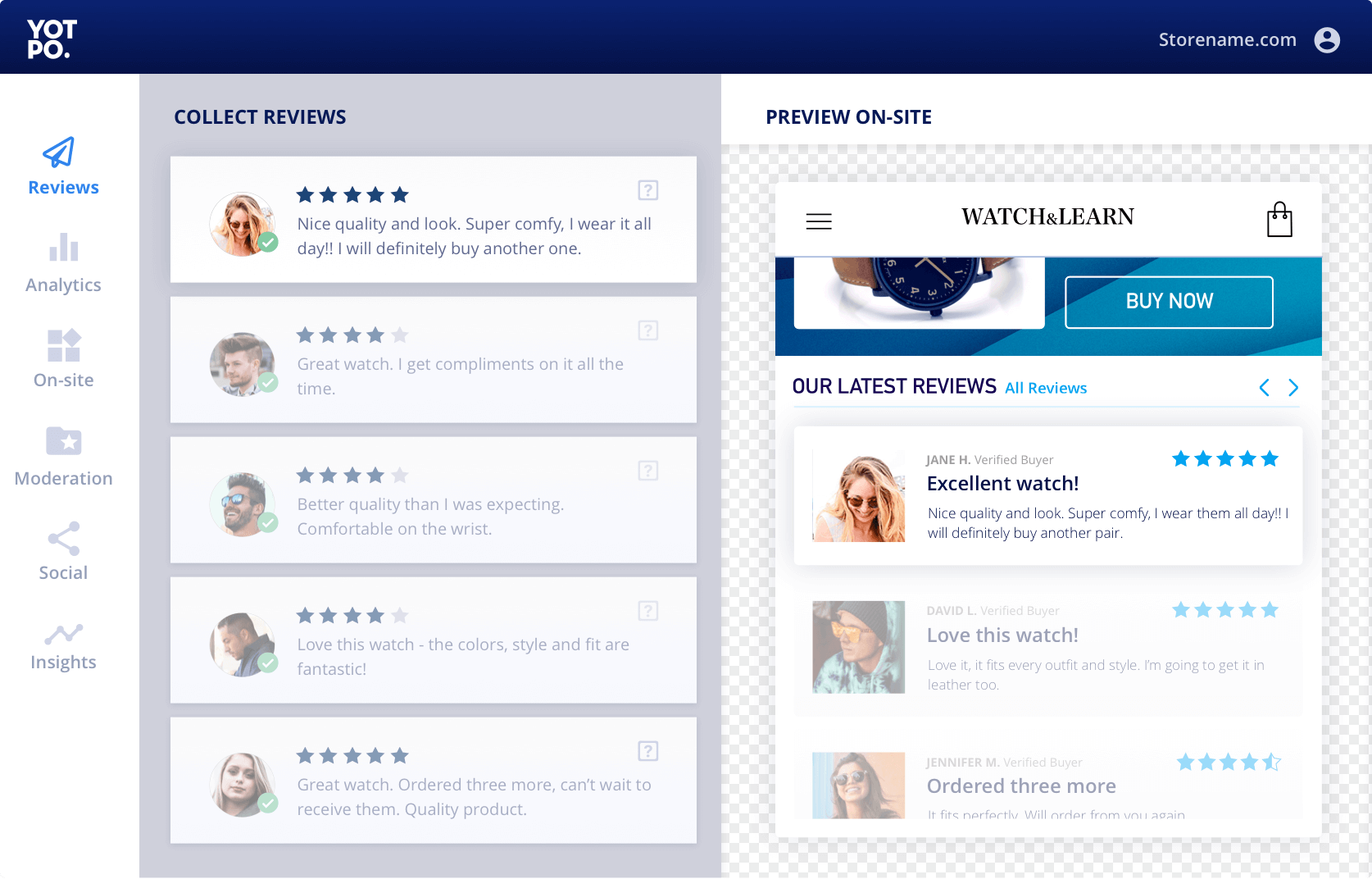 Advantages of Yotpo:
Streamlines data-driven marketing strategies by providing a single platform that integrates review, loyalty, and SMS marketing solutions.
Drives sales with user-generated content such as product reviews, photos, videos, and Q&As
Utilizes rich customer data to create seamless, engaging, and high-converting shopping experiences
Connects reviews, SMS, emails, loyalty, and subscriptions to drive repeat shopper sales through eCommerce retention marketing
Delivers high-converting customer experiences by helping brands focus on the customer
Disadvantages of Yotpo:
Yotpo may not be as customizable as other marketing platforms
5. Alloy Automation
Personalize product recommendations to increase sales and customer engagement. Analyze customer behavior and provide tailored recommendations using machine learning algorithms. Take advantage of email marketing automation and abandoned cart recovery. Plans start at $99 per month after a free trial.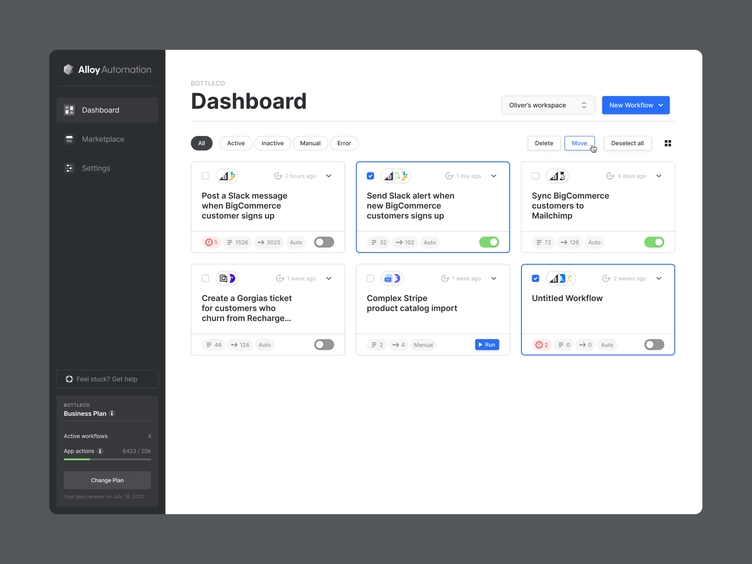 Advantages of Alloy Automation for BigCommerce online stores:
Leading brands and agencies use this no-code tool to automate tedious tasks across fulfillment, marketing, and more
Consumer insights can be used to take action
Across 200+ platforms and apps, connects data and actions
With its expressive logic and powerful analyzer, it can be used as a backend for a variety of tools
Helps ecommerce companies build an efficient tech stack by integrating apps and platforms
Disadvantages of Alloy Automation for BigCommerce online stores:
Alloy Automation may require additional fees for certain features or integrations
6. Google Shopping by Sales & Orders
Create and manage Google Shopping campaigns to increase sales. Manage campaigns with automated bidding, product data optimization, and performance reporting.
Plan prices start at $149 per month after a free trial.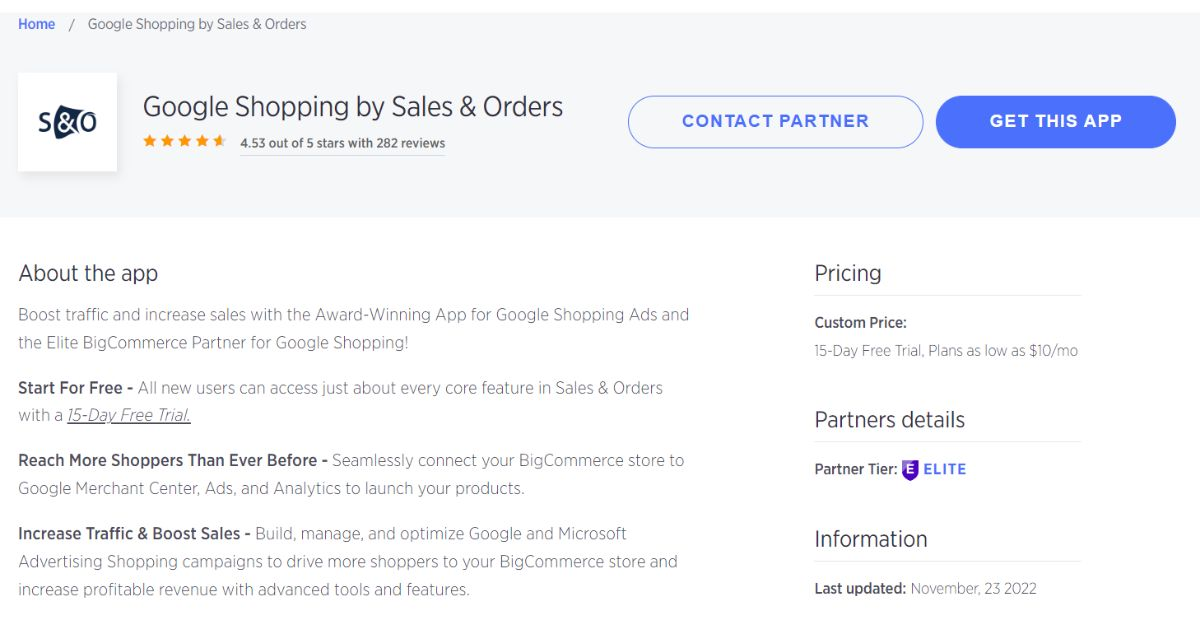 Advantages of Google Shopping by Sales & Orders for BigCommerce stores:
Creates, manages, and optimizes marketing campaigns to reach more consumers, increase traffic, and boost sales on channels like Google Shopping
Shoppers can discover new products, find information, do research, and connect with sellers with the help of this tool
Stores can benefit from increased sales and growth
Integrates with BigCommerce and other ecommerce platforms
Disadvantages of Google Shopping by Sales & Orders for BigCommerce stores:
Google Shopping by Sales & Orders may require additional fees for advertising and marketing campaigns
7. Dotdigital
Fuel your business growth with the power of personalized marketing automation, email campaigns, SMS messaging, social media marketing, and chat features. Create cross-channel marketing experiences that resonate with your audience using a unified data source.
You can fuel your creative campaigns with actionable insights generated by advanced machine learning algorithms. With just $150 per month, you can unlock the potential of dotdigital.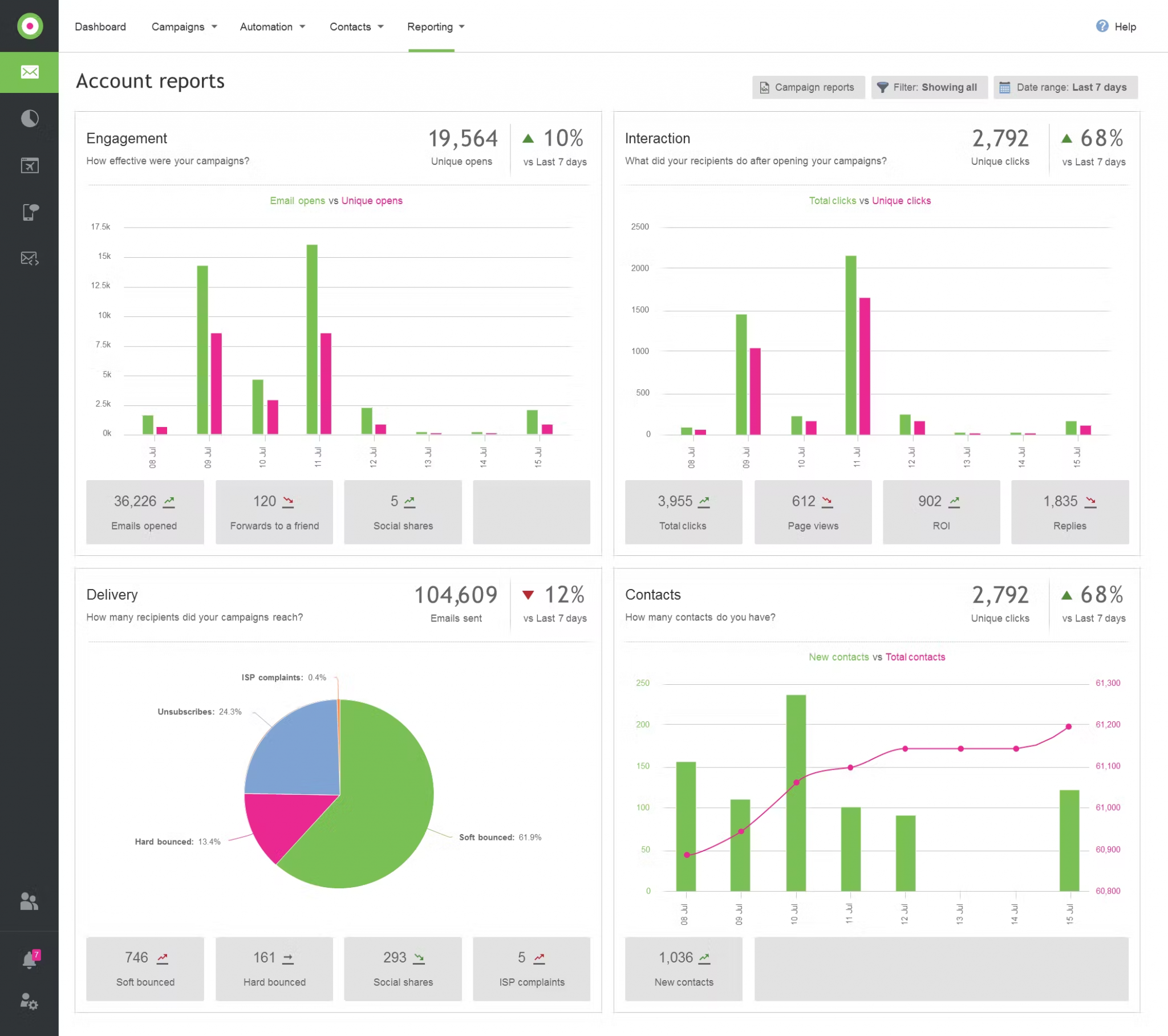 Advantages of Dotdigital:
The easiest way to design emails, segment audiences, and automate workflows for busy marketers
Integrated with email, SMS, push notifications, social media, and the web to provide omnichannel functionality
Helps businesses grow and automate their marketing by using email and SMS marketing automation software
Compatible with BigCommerce and other e-commerce platforms
Disadvantages of Dotdigital:
For larger businesses with complex marketing automation requirements, Dotdigital may not be the right fit
9. Sales Pop
Generate social proof and drive sales with real-time sales notifications displayed on your store. Watch your conversions soar as customers are encouraged to take action with notifications like "John from New York just bought this product."
It's free to try Sales Pop, and the plans start at $9.99 per month.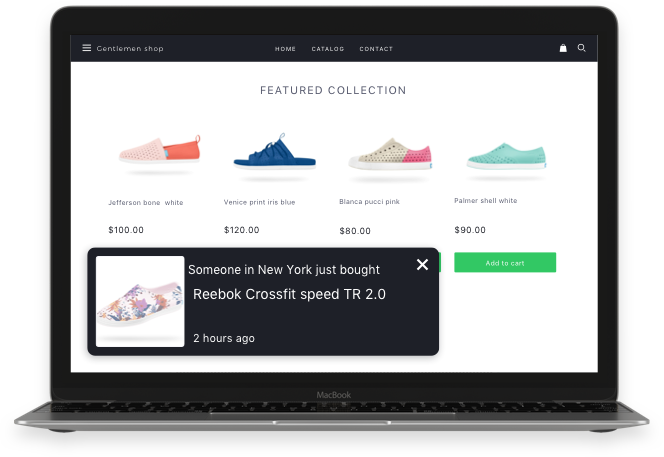 Advantages of Sales Pop plugin:
Real-time display of recent sales notifications increases sales and credibility
Maintains a busy and attractive appearance in the store
Increases revenue and induces interest among buyers
Conversion rates can be boosted, shoppers can be pushed to the checkout, and sales can be increased
Disadvantages of Sales Pop plugin:
Sales Pop may not be as customizable as other sales notification apps
10. Rebillia
Enhance customer loyalty and sales by offering subscription products and recurring billing. Manage subscription products and billing seamlessly through a user-friendly interface.
Customize billing cycles, offer trial periods, and implement prorated charges. Unlock the potential of Rebillia with a free trial, and plans begin at $49 per month.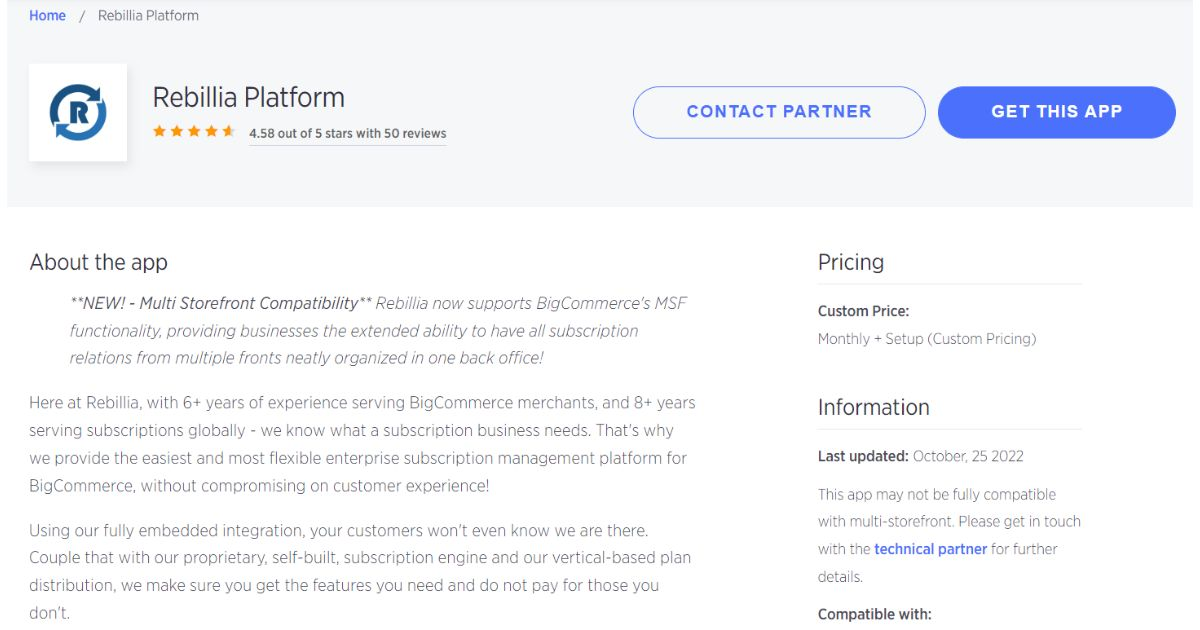 Advantages of Rebillia platform:
Optimizes the checkout process to enhance customer experience and maximize revenue
Reduces high abandonment rates and provides regular repeat customers
Enhances loyalty among customers and increases revenue
Provides BigCommerce platform apps
Disadvantages of Rebillia platform:
If you are a small merchant with limited funds, Rebillia may not be a good fit for you
11. Re:amaze
Elevate customer satisfaction and drive sales with live chat, email support, and helpdesk solutions. Through chat, social media, SMS, FAQs, and email, you can engage and convert customers seamlessly.
You can add live chat to your website or app and scale your customer support effortlessly. You can start your re:amaze journey for free, and plans start at just $29 per month.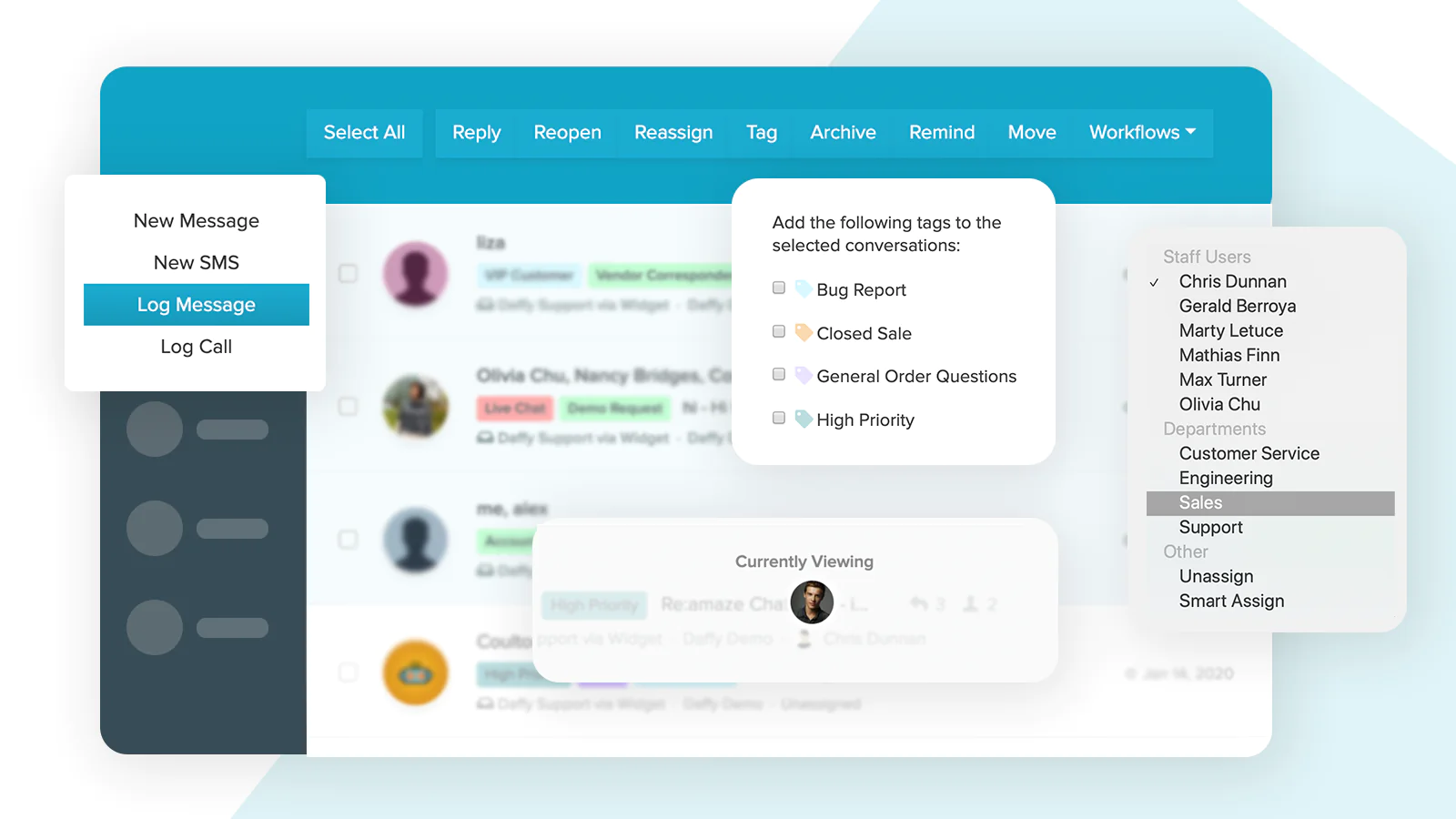 Advantages of Re:amaze:
Supports, engages, and converts customers with an embeddable live chat and helpdesk system
Users can get started with a comprehensive platform demo and learning resources
Supports a variety of channels, including chat, email, social media, and SMS
Store owners have access to a main dashboard that contains every customer profile they have ever received
Provides a variety of FAQs
Disadvantages of Re:amaze for BigCommerce store owners:
Larger businesses with complex customer service requirements may not be suitable for Re:amaze.
12. ReCharge
Foster customer loyalty and increase sales with subscription products and recurring billing. I appreciate the user-friendly interface to manage subscriptions and the ability to customize billing cycles, and implement prorated charges.
With ReCharge, you can seamlessly integrate with BigCommerce, Shopify, and other e-commerce platforms. You can try out the service for free for the first month, and monthly plans start at $60.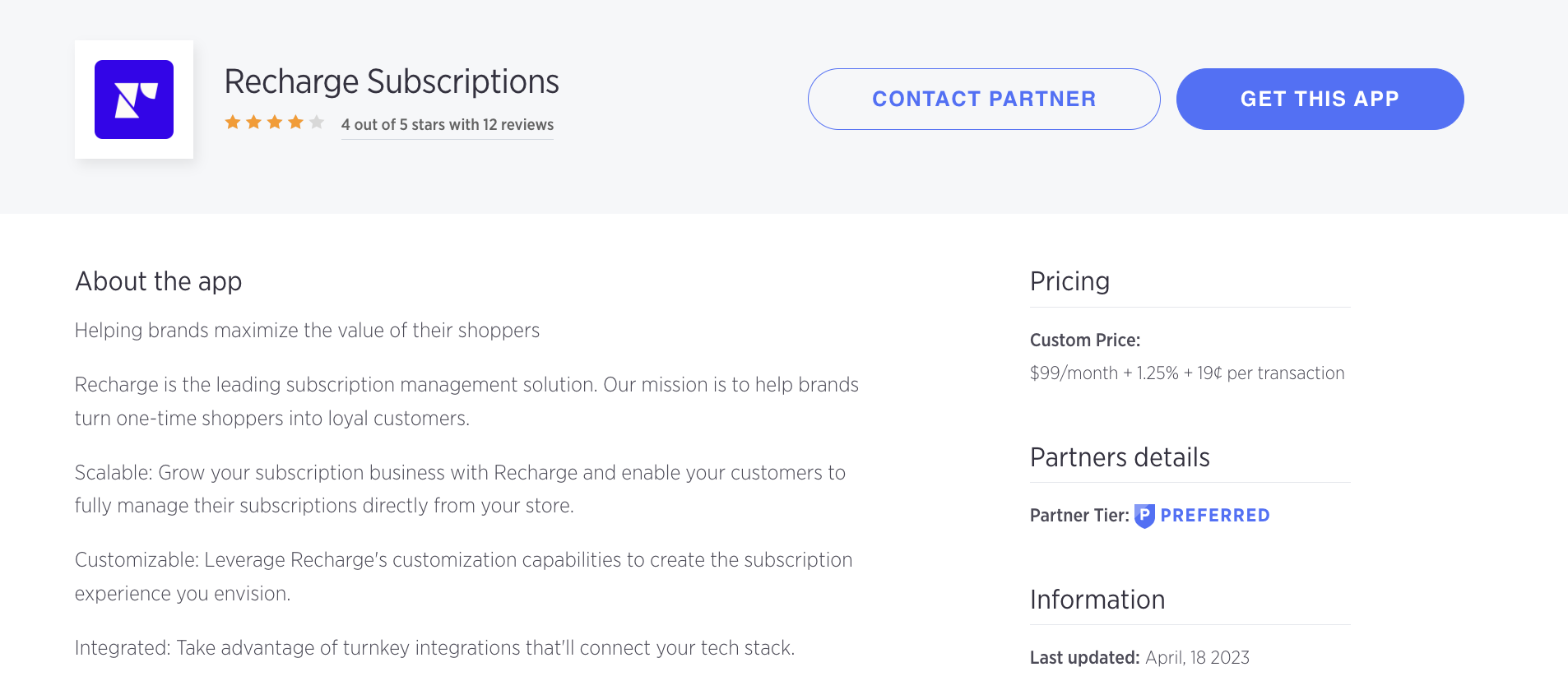 Advantages of ReCharge:
Provides store owners with the ability to sell subscription-based products and services
A subscription management system that is easy to use
Featured products include recurring and one-time payment processing
Increases revenue growth and subscriber loyalty
Works with BigCommerce and other ecommerce platforms
Disadvantages of ReCharge:
ReCharge may not be as customizable as other subscription management apps
13. Constant Contact
Boost your sales by building and engaging your email list with powerful email marketing tools. Use customizable templates, list segmentation, and automation to create effective email campaigns.
You can expand your reach by integrating social media, managing events, and conducting online surveys. Plan prices begin at $20 per month after a free trial.

Advantages of Constant Contact:
Depending on the number of contacts in a list, offers affordable pricing
Builds email campaigns easily and provides a quick signup process
Easily integrates with popular business applications and provides transparent reporting
Makes email marketing campaigns more effective with the help of email automation software
The application integrates social media, allows drag-and-drop editing, and provides real-time reporting
Disadvantages of Constant Contact:
Email marketing with Constant Contact may not be suitable for larger businesses
14. OptinMonster
Capture more leads and drive sales with targeted pop-ups and other forms. Users can create compelling lead capture campaigns with exit-intent pop-ups, A/B testing, and page-level targeting.
Ecommerce platforms such as BigCommerce, Shopify, and others are seamlessly integrated with OptinMonster. You can start your free trial today, and monthly plans start at just $9.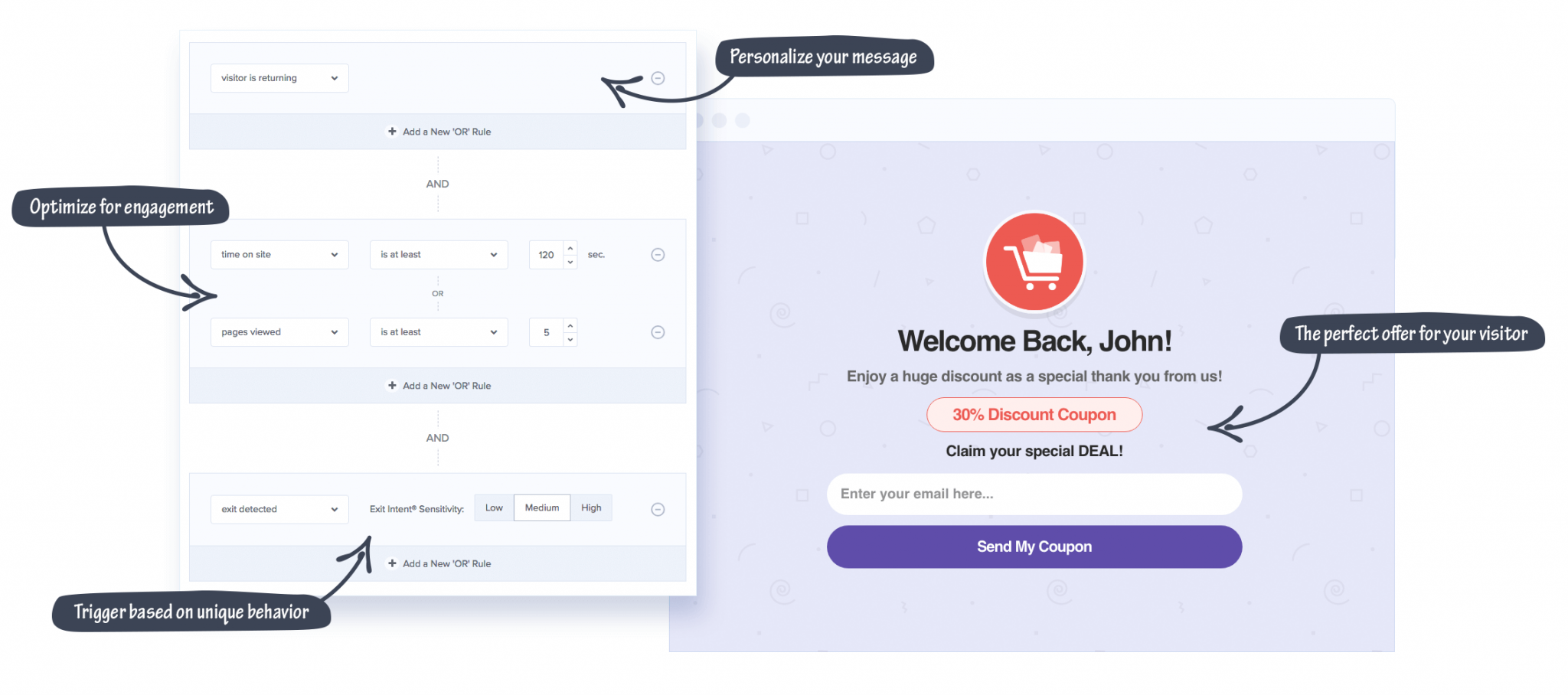 Advantages of OptinMonster:
Grow your email list quickly and increase sales with this tool
Provides advanced targeting rules and features for creating effective campaigns
Optimise campaigns using real-time behavior tracking and analytics
Works with BigCommerce and other ecommerce platforms
Provides superior customer service and support
Disadvantages of OptinMonster:
OptinMonster may not be as customizable as other lead generation apps
15. PushEngage
Re-engage customers and boost sales with targeted push notifications. What I really like about this tool is that you can provide customers with personalized push notifications based on their behavior and preferences. A/B testing, segmentation, and automation are key to creating effective campaigns.
,kiThe PushEngage platform integrates seamlessly with BigCommerce, Shopify, and other ecommerce platforms. You can start with a free trial, and monthly plans begin at $29 per month.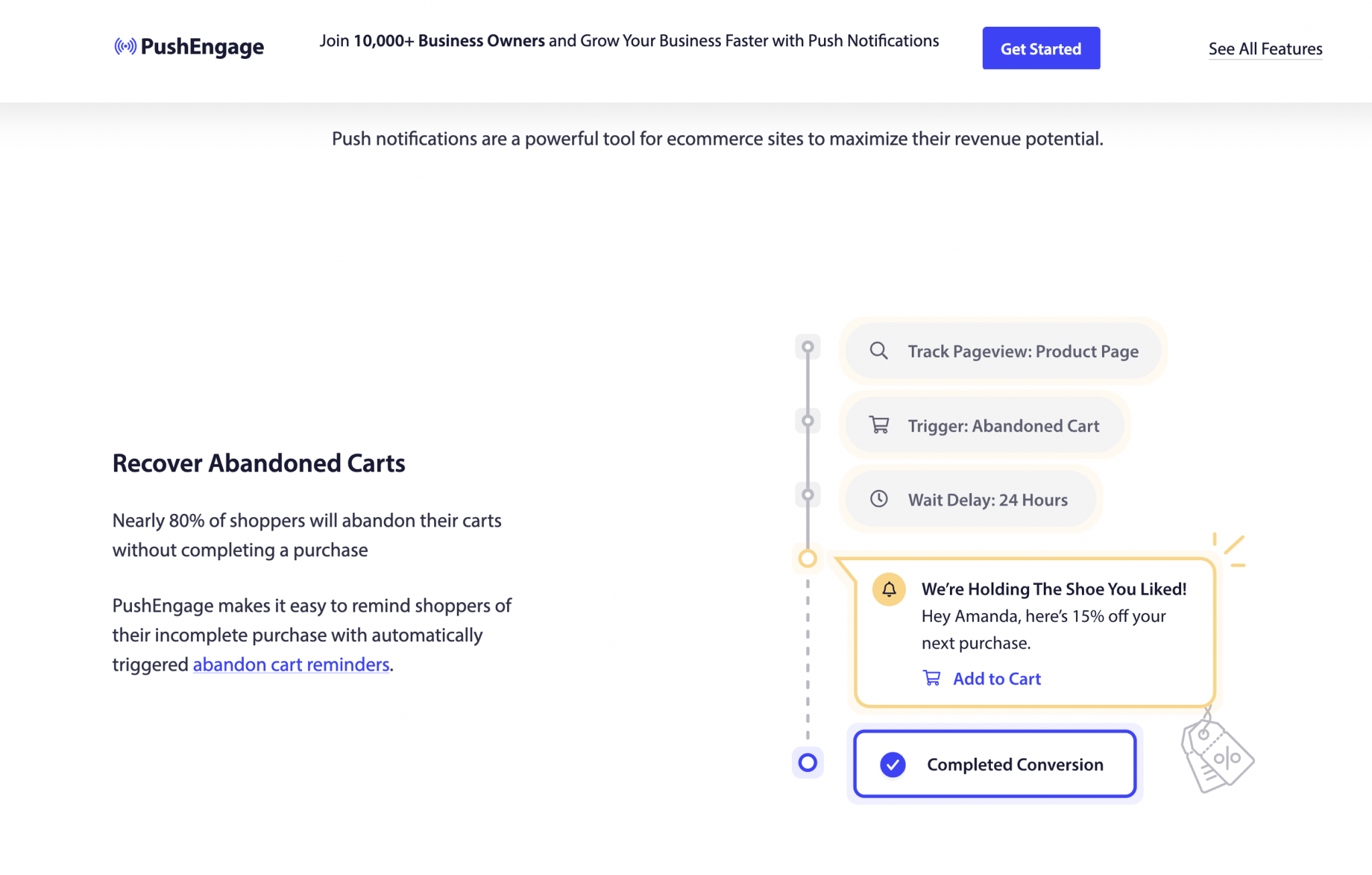 Advantages of PushEngage:
Based on customer behavior and preferences, you can send targeted push notifications
Boost sales and re-engage customers with push notifications
Create effective push notifications with segmentation, automation, and A/B testing
Compatible with BigCommerce and other e-commerce platforms
As your business grows, you can send more push notifications across different campaigns
Disadvantages of PushEngage:
PushEngage may not be as customizable as other push notification apps
16. TrustPulse
Build trust and increase sales with social proof notifications. You can keep your website up to date with recent sales and customer activity in real time. Your social proof campaign should be customized, targeted, and A/B tested to maximize its impact.
With TrustPulse, you can integrate your ecommerce store with BigCommerce, Shopify, and other ecommerce platforms seamlessly. Getting started is free, and monthly plans begin at just $9.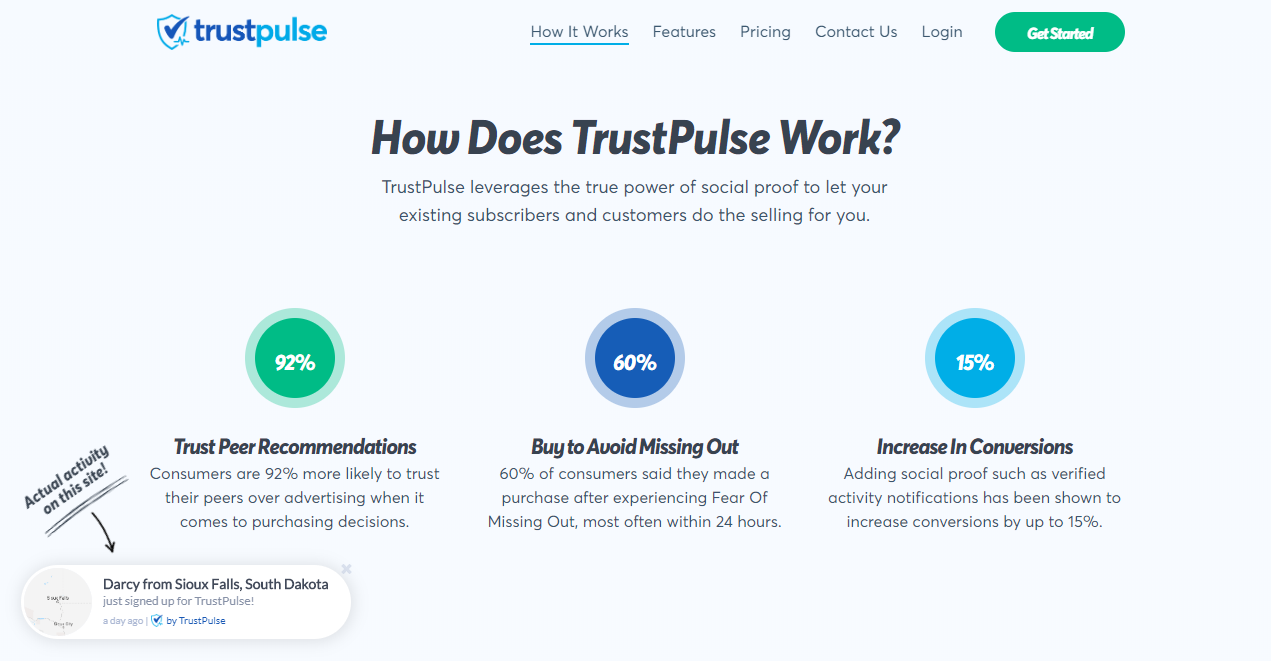 Advantages of TrustPulse:
You can convert visitors into leads and sales by displaying real user activity on your website
Helps build trust with customers and increases sales
Offers a powerful and easy-to-use social proof and FOMO app
With real-time tracking of customer activity, users can quickly craft notifications and set them live
Displays real-time interactions with your site in a small clickable pop-up
Disadvantages of TrustPulse:
Not all ecommerce platforms are compatible with TrustPulse
17. Bolt One-Click Checkout
Through this plugin, customers can complete their purchase with just one click. You can say goodbye to repetitive entry of shipping and billing information.
Bolt One-Click Checkout is designed to skyrocket your conversions with seamless integration with BigCommerce, Shopify, and other leading ecommerce platforms. With this game-changing plugin, you can unlock the potential for as low as $19.99 per month during your free trial.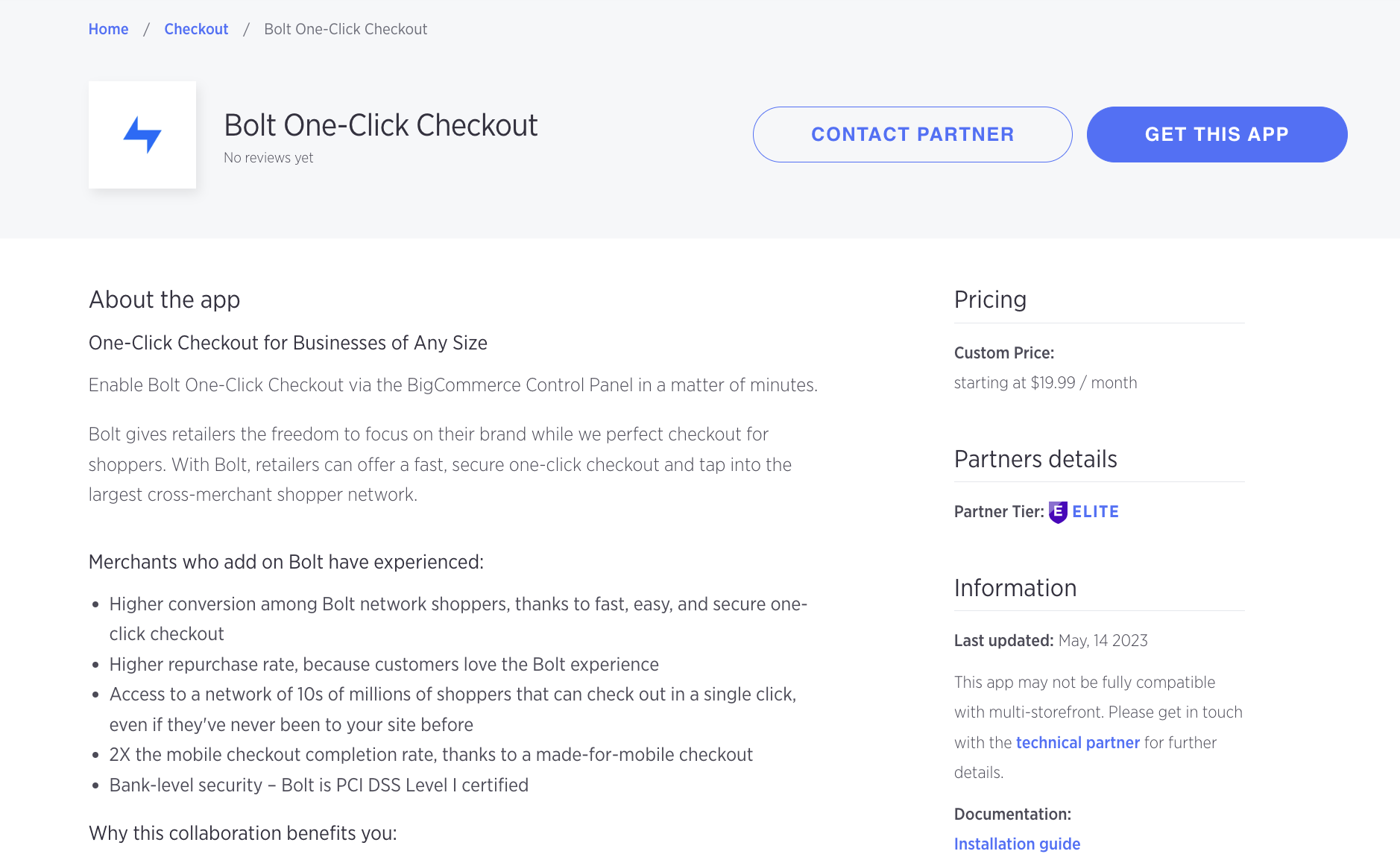 Advantages of Bolt One-Click Checkout:
Get more shoppers past the 'Place Order' button with a fast, one-click checkout
Boost conversion rates by 50%
Increase repeat purchase rates by 66%
One-click checkout is fast and secure
With Bolt, retailers can focus on their brands while perfecting checkout for customers
With real-time signals across Bolt's retailer and shopper networks, Bolt is dynamically optimized for every shopper
Disadvantages of Bolt One-Click Checkout:
The number of reporting and analytics features is limited
The Bolt app is not available in all countries
Not all payment gateways are compatible with Bolt
This collection of Bigcommerce apps and plugins puts your business growth at your fingertips. The tools are meticulously designed to streamline your operations, boost sales, and magnify your brand's impact. Make the most of your opportunity to achieve extraordinary results instead of settling for mediocrity.