Article at-a-glance: 

- BigCommerce offers a range of payment integration options for online store owners to securely and efficiently process credit card transactions. 

- Store owners can choose from payment options like credit cards, PayPal, Apple Pay, Amazon Pay, and Stripe. 

- Additionally, BigCommerce provides tools and reporting features such as sales reports and inventory reports to help store owners track their earnings and manage their finances.

As an ambitious store owner, your ultimate goal is to generate healthy and impressive earnings from your eCommerce business. However, a crucial aspect that determines your success lies in the secure and efficient payment process for your products.
In this comprehensive guide, we're going to unravel the secrets of getting paid on BigCommerce.
From exploring the different payment methods available to setting up your payment gateway and ensuring secure credit card transactions, we've got you covered. But that's not all. We'll also dive into the earning potential of BigCommerce store owners, sharing real-life success stories and valuable tips on how to optimize your sales and boost your revenue.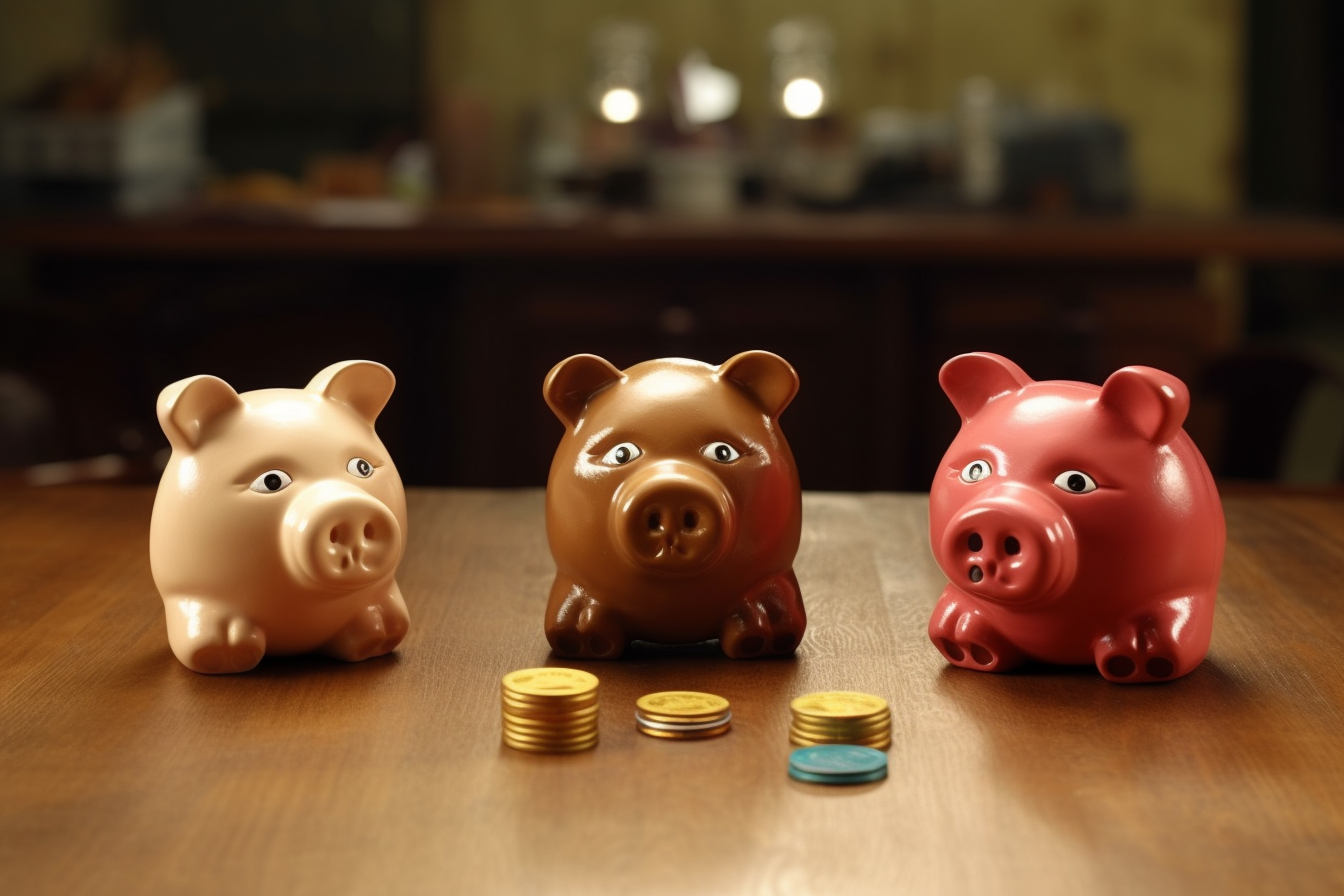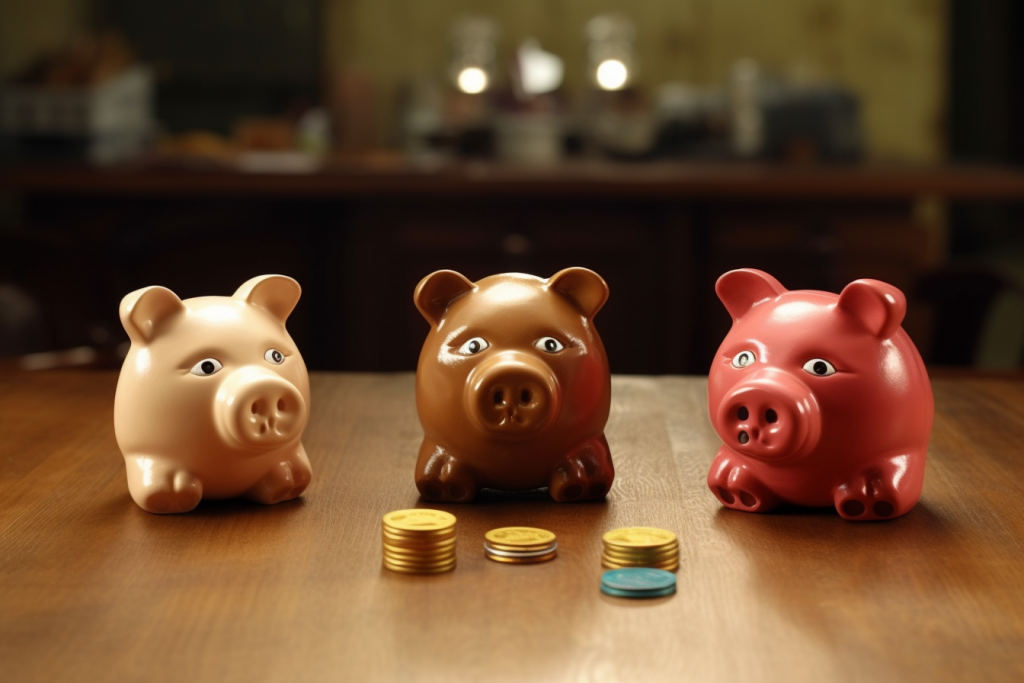 Prepare to unlock the secrets to maximizing your earnings on BigCommerce and unleashing the true potential of this powerful eCommerce platform. Let's dive in and revolutionize the way you get paid on BigCommerce today!


Which is the Perfect Payment Method For Your Business?
You must find the right one out of the sea of payment gateways available. Lucky for you, I created a quick roadmap! Just follow the steps and you can find the right option for your business.
Start with an assessment of your company's scale and nature. By narrowing down your options, you can choose gateways that are right for you.
Determine the kind of online platform you own or create. Understanding this will help you select a gateway that is compatible with eCommerce websites, online marketplaces, or crowdsourcing platforms.
Decide on your business model. Whether commission-based, subscription-based, or flat fee-based, your revenue model will play an important role in finding the right gateway.
Determine how many transactions you expect to process on average. If you know how much traffic you expect to receive, you can select a gateway that can handle it efficiently.
Decide if you'll process international payments and identify the countries you intend to serve. Choosing a seamless global transaction option will narrow the options available.
Choose your preferred payment method, such as a credit or debit card, an ACH transfer, or a local card. You can then be sure that the payment gateway you choose supports the payment options you desire.
Find out if you require specific features such as escrow, split payments, credit options, or pay-in-4 functionality. Your operations will be optimized if you select a gateway that provides the tools you need.
Determine technical requirements to see whether you can handle integration yourself or if you'll need development assistance. Implementation will be smoother with this step.
Evaluate the performance of your existing payment gateway and decide whether it needs to be enhanced or if alternatives are needed.
Payment Methods & Integrations on BigCommerce
In order to meet the needs of different customers, various payment methods are supported by BigCommerce, including PayPal, Apple Pay, Amazon Pay, Google Pay, Visa Click to Pay, and Venmo (via Braintree and PayPal-powered PayPal).
In addition to being PCI compliant, these solutions are seamlessly integrated into the platform too.
PayPal
BigCommerce supports PayPal, a widely recognized and trusted payment method. Customers can use their PayPal accounts or linked credit cards and bank accounts for payments.
Since PayPal operates in over 200 countries around the world, by supporting various card providers, it can increase checkout conversion rates by up to 40%. In-person transactions with PayPal cost 2.29% + $0.9 and online transactions cost 2.59% + $0.49. There are no additional charges (except transaction fees) or merchant accounts required.
Advantages of PayPal:
Digital security: All PayPal payments are secure with encryption of the end-user, making PayPal one of the most secure payment gateways.
Convenient to use: PayPal makes payments convenient because all the information is already in your account, so you don't have to enter it again and again.
Flexible online payments: PayPal lets you accept payments from other PayPal accounts as well as credit cards.
Easy access to funds: With PayPal, you can access your funds immediately.
Trusted and accessible: PayPal is a widely recognized and trusted payment method, available to millions of people worldwide.
Disadvantages of PayPal:
Transaction fees: PayPal charges transaction fees that vary widely, so merchants may have trouble keeping track of their payment processing costs.
Account freezing: In order to reduce its own financial risks, PayPal freezes merchant accounts quickly.
Poor customer support: PayPal's poor customer support makes resolving frozen funds and accounts challenging.
Hidden fees: PayPal users may not be aware of hidden fees.
Delay refunds in case of disputes: Refunds may be delayed by PayPal if there is a dispute.
Apple Pay
Using Apple Pay is a secure and convenient payment method available on BigCommerce. The Apple Pay payment method allows customers to use their fingerprints or Face ID to confirm transactions.
Advantages of Apple Pay:
Apple Pay integration: Customers can pay, ship, and contact information securely and quickly with BigCommerce's Apple Pay integration.
Security: Apple Pay protects customer data with encryption.
Convenience: Customers can use Apple Pay to make payments with just a touch or a glance on their Apple devices.
Faster checkout: Apple Pay allows customers to complete the checkout process faster, which results in a higher conversion rate.
No additional fees: BigCommerce does not charge an additional fee for Apple Pay.
Disadvantages of Apple Pay:
Limited customer base: BigCommerce store owners cannot offer Apple Pay to customers who do not own Apple devices.
Integration issues: Adding Apple Pay to a BigCommerce store may cause integration issues for some store owners.
Limited customization: Store owners may not be able to customize Apple Pay to their preferences.
Amazon Pay
Customers can securely check out using their Amazon payment details with Amazon Pay and do not have to enter their payment information separately.
Amazon Pay is owned by Amazon and is a reliable option for SMEs. The service allows buyers to make purchases without having to leave the ecommerce site, supports 80 currencies, and charges a fee of 2.9% + $0.30 per transaction. With no monthly fees and free plugins, it allows customization of the payment process. The authorization fee is $10.00
Advantages of Amazon Pay:
Convenience: With Amazon Pay, customers can use their payment and shipping information from their Amazon account on other websites, speeding up the checkout process.
Security: Amazon Pay uses Amazon's technology and robust risk management services to provide secure payment methods.
Trusted brand: Amazon Pay may be more comfortable for customers because it is a trusted brand.
Easy to use: No new account is required with Amazon Pay, and old passwords need not be re-entered.
Customers and merchants alike can benefit from Amazon Pay's fraud protection program.
Disadvantages of Amazon Pay:
Limited customer base: Those with Amazon accounts cannot use Amazon Pay, which limits their customer base.
Transaction fees: Amazon Pay has transaction fees that can be higher than other payment gateways.
Limited customization: There are limited customization options available with Amazon Pay, which may not suit all store owners.
Limited point-of-sale options: Businesses that accept Amazon Pay in person have limited options.
Stripe
BigCommerce integrates Stripe, a popular payment processing service. It is secure and easy for retailers to set up Stripe, and customers can enter their payment information directly on the checkout page.
Besides transaction fees, Stripe also charges commissions.
Stripe is used by millions of users and supports payments in 46 countries and over 130 currencies. In-person transactions are charged 2.7% + $0.05 and online transactions are charged 2.9% + $0.30. Advanced features include custom UI toolkits, automatic payment handling, embedded checkouts, and fraud prevention. There are over 450 platforms and add-ons available for integration with Stripe.
Advantages of Stripe:
Easy to set up: The Stripe payment gateway is one of the easiest to set up with BigCommerce.
Customizable: Stripe offers a high level of customization, allowing store owners to design checkout flows that are uniquely theirs.
Accepts multiple payment methods: More than 135 currencies are accepted by Stripe.
No monthly fees: Stripe does not charge any monthly fees, making it a cost-effective payment gateway for BigCommerce stores.
Reliable: Stripe offers secure payment processing methods through its payment gateway.
Disadvantages of Stripe:
Limited point-of-sale options: Stripe offers a limited number of point-of-sale hardware options, which may not suit all stores.
Advanced developer tools: Stripe's advanced developer tools can be customized, but they require technical expertise.
Limited in-person business features: Stripe offers fewer features for in-person businesses than Square, which offers features such as end-of-day reports and inventory tracking for restaurants and retail stores.
BigCommerce has always been committed to providing the best integrations with leaders in their respective categories, as stated by the BigCommerce CEO.
"It's always been our objective to have the best integrations with leaders of their individual categories," says Brent Bellm, the CEO of BigCommerce.

With Stripe, for example, we take advantage of the most powerful, most modern capabilities Stripe makes available.

For any merchant who says, "I want to take advantage of everything Stripe can do," BigCommerce is a logical platform to work with because it's pre-integrated. By offering best-of-breed integrations, our customers get the best ecommerce platform for their needs in every category.

That's the model we offer to the market: open, best-of-breed, best-suited for each individual customer."

Brent Bellm, CEO & Chairman at BigCommerce
BigCommerce's extensive range of payment integrations ensures that merchants have a choice of secure and reliable options to process credit card transactions and help drive their online business success.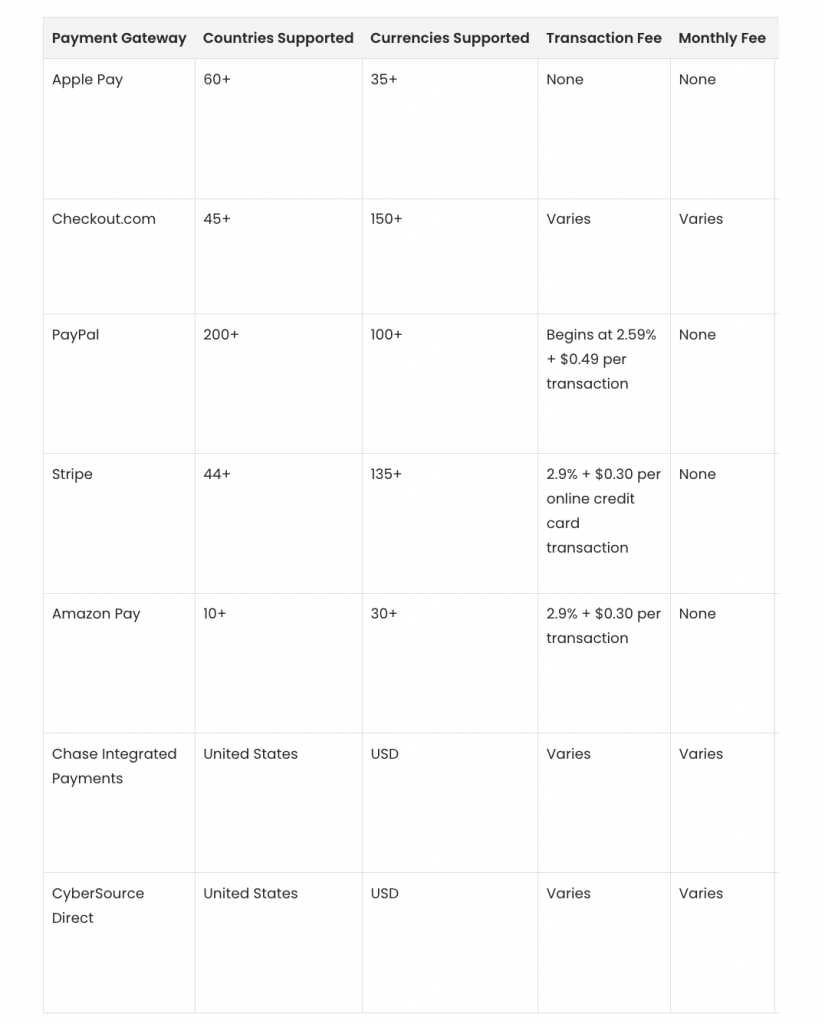 BigCommerce Payment Gateway: Utilizing Tools & Reporting for Financial Management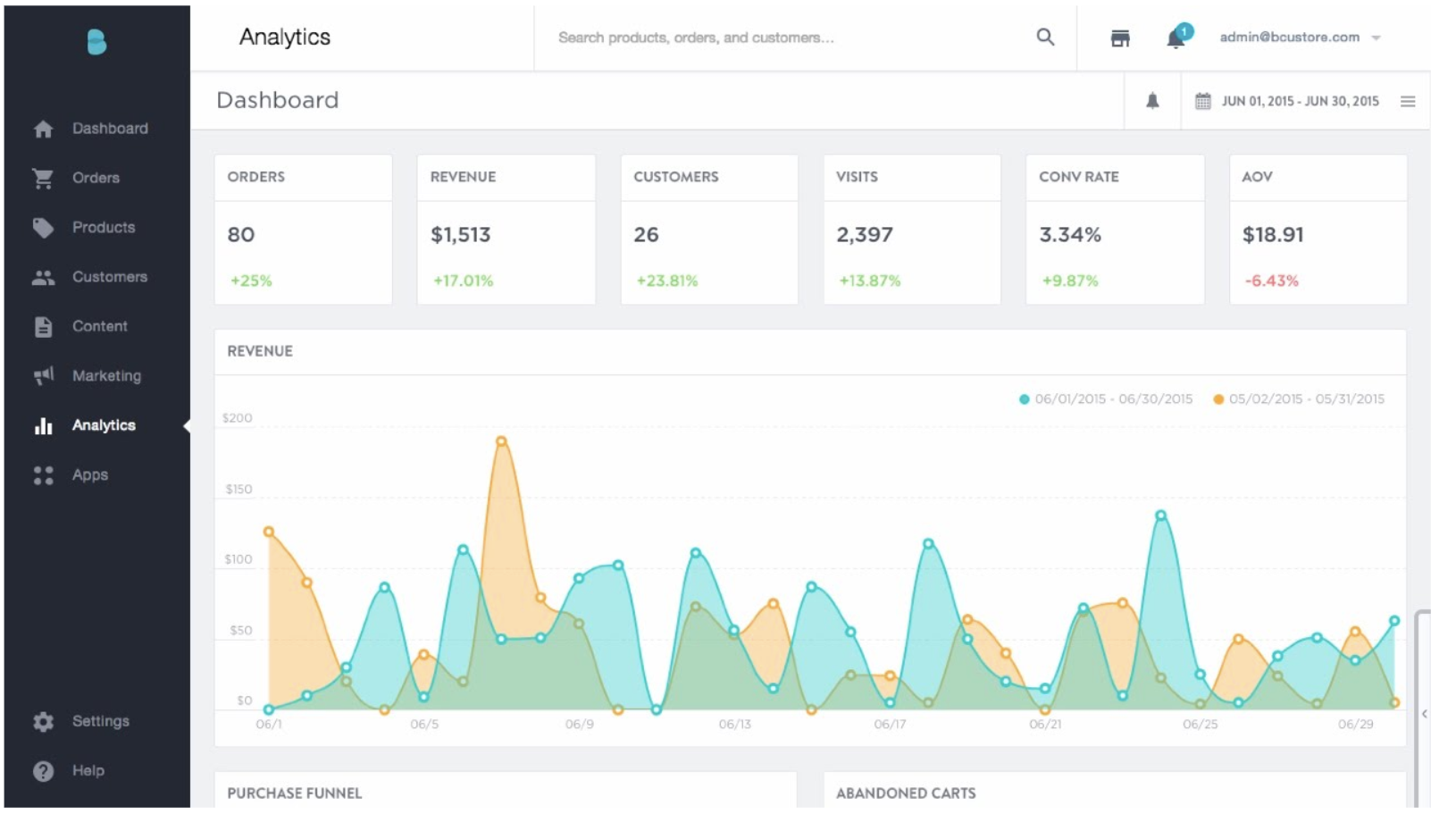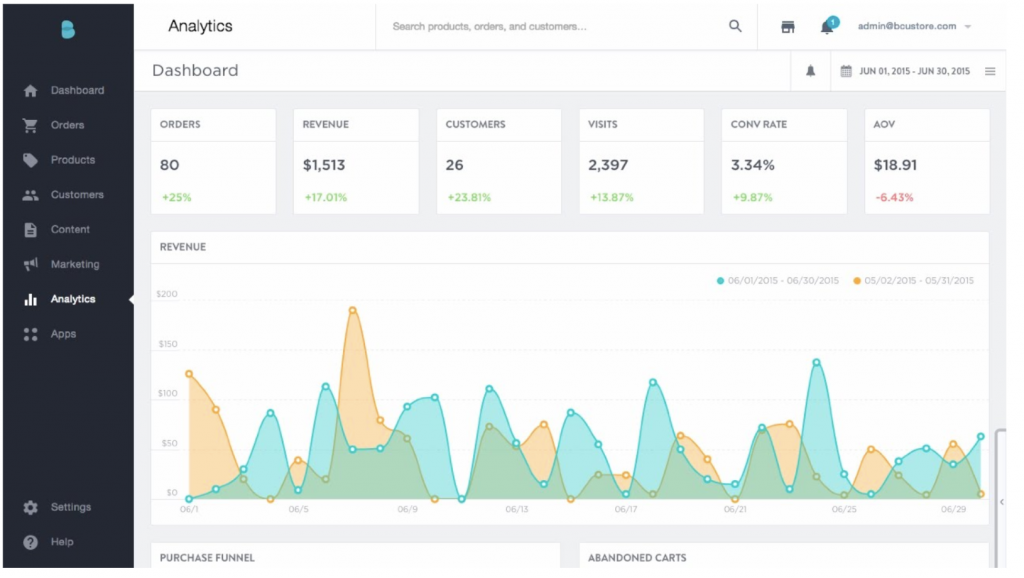 When you get started on BigCommerce, you'll probably be eager to see your earnings (and watch those earnings grow!). Use the reporting tools available on the platform to do exactly that. Here's what you should track:
1. Sales Reports: Track Your Store's Sales
With the Sales Report tool, you can easily monitor your eCommerce store's sales. This feature shows you how many sales you've made and which products have been selling the most. This information can help you make important decisions to improve your store's future sales and increase your earnings.
2. Inventory Reports: Monitor Your Store's Inventory
The Inventory Report tool in BigCommerce helps you monitor your store's inventory. You can see which products are running low. It will help you decide when to restock. This report also lets you know which products are popular and which are not, so you can ensure you're stocking the right items. While it doesn't show your earnings, it helps you manage your cash flow, an essential aspect of financial management.
3. Customer Reports: Gain Insights into Your Customers
The Customer Report tool provides insightful data about your customers like location and products sold. You can then use this data to understand your customers better and create revenue-boosting marketing strategies.
For example, an eCom store for home robots boosted its organic traffic by 195% after implementing a hyper-targeted content marketing strategy using AmpiFire.
By using the reporting and tools available on BigCommerce, you can track your progress and make data-driven decisions to improve your earnings and grow your business.
4. Financial Reports
The Financial Report tool in BigCommerce shows you the financial health of your eCommerce business and help you make smart financial decisions. You can see how much revenue you've earned, your expenses, and your store's overall profitability.
Step-by-Step Guide: How to Withdraw Funds from Your BigCommerce Online Store
Withdrawing your earnings from your online stores using BigCommerce is easy.
Set up a payment provider from the Payment Providers page in your BigCommerce control panel.
Go to the Payments tab in the control panel.
Enter the amount you'd like to withdraw and click "Withdraw Funds."
Your earnings will then be sent to your payment provider, and you can access them immediately.
Now you know how to get paid on BigCommerce, withdraw money, and improve your store earnings. With the proper setup and hard work, you can make money on BigCommerce and take your business to the next level.
Boost Your BigCommerce Revenue with These Proven Strategies
As an online retailer, you want to see a steady rise in your earning figures once your BigCommerce store is up and running. So, here are some proven strategies to boost your BigCommerce revenue:
1. Create Bundles
Creating product bundles is another great way to increase sales and revenue.
You can offer discounts to customers who buy multiple products together. This can encourage customers to buy more from your store and increase your average order value.
2. Digital Marketing
You can use digital marketing as a powerful tool to reach a wider audience and increase your BigCommerce store sales. Invest in advertising, video, email, and social media campaigns to engage and build lasting relationships with potential customers.
One way to maximize the impact of your digital marketing efforts is to take advantage of key holidays and observances. AmpiFire's retail calendar can help you plan and execute campaigns around major shopping events like Black Friday as well as seasonal occasions like Valentine's Day. By tailoring your marketing messages to these events, you are basically increasing the relevance of your promotions and attract more customers to your store.
Wondering how to reach customers who already set their sights on your products? Targeted advertising! Facebook or Google Ads have audience targeting features that you can use to identify and connect with customers based on factors like their demographics, interests, and online behaviors.
You can take it up a notch with email and social media campaigns to engage with your audience and promote your store. By sharing valuable content, like blog posts, videos, infographics, and engaging with your followers through comments and direct messages, you can build trust and establish your brand as an authority in your niche.

AmpiFire is a platform that can help businesses increase their visibility and credibility by sharing their content on popular websites, podcasts, and blogs that have a large following.
As seen in our customers' success stories, this provides an opportunity to reach a wider audience and get featured on influential platforms, which can help boost brand recognition and reputation. BigCommerce stores and their content can also benefit from understanding Google's ranking factors to improve search engine results and online popularity
If you want to see similar results for your BigCommerce store, it's important to focus on both website optimization and content marketing.
3. Website Improvements
While optimizing your BigCommerce store for search engines is essential, SEO is not enough to drive significant traffic and sales. Promoting your store through content marketing is crucial to attract more customers and increase revenue.
Content marketing involves creating and sharing valuable content like blog posts, email newsletters, etc. with your target audience to educate and engage them. Through content marketing, you can establish your brand as an authority in your industry, build trust with your audience, and drive more traffic to your website.

One great example of the power of content marketing is how one retailer was able to generate a 46% increase in stationery shop traffic in less than 24 hours with one Amp campaign. By working with AmpiFire and implementing a strategic content marketing plan, this retailer was able to reach a wider audience and attract more customers to its online store.
The campaign was able to achieve such impressive results because it was targeted towards the right audience, delivered high-quality content, and was promoted effectively through brand name media sites and other popular channels.
4. Skyrocket Your Sales with Free Shipping
You have an irresistible offer that attracts customers to your BigCommerce store. Can you tell me what's behind this buying frenzy? The answer is simple: free shipping.
A free shipping offer on your BigCommerce store is like waving a magic wand that entices customers to buy.
Providing free shipping as a special promotion during holidays or special occasions creates an irresistible incentive for customers to buy more.
Customers are also more likely to add more items to their cart when they see free shipping. As a result, your business will generate more revenue and become more profitable.
5. Offer Discounts
Offering discounts is a great way to encourage customers to buy more from your BigCommerce store.
You can give discounts to customers who buy multiple items or offer special discounts on occasions such as birthdays and holidays.

This can help you build a loyal customer base and increase your revenue.

Do You Want to Supercharge Your eCommerce Business Growth?
In today's highly competitive eCommerce landscape, it's not enough to simply have an online store. You need to take proactive steps to promote your store and drive traffic to it.
With AmpiFire's hyper-targeted content marketing, you can reach your ideal audience, boost your store's online popularity and attract new customers.
By promoting your store with AmpiFire, you can accelerate your eCommerce business growth.
If you want to see how our powerful content marketing can help you take your sales to the next level, book an appointment with AmpiFire today.