Firstly let's take a look at how the virus impacted traffic of various industries…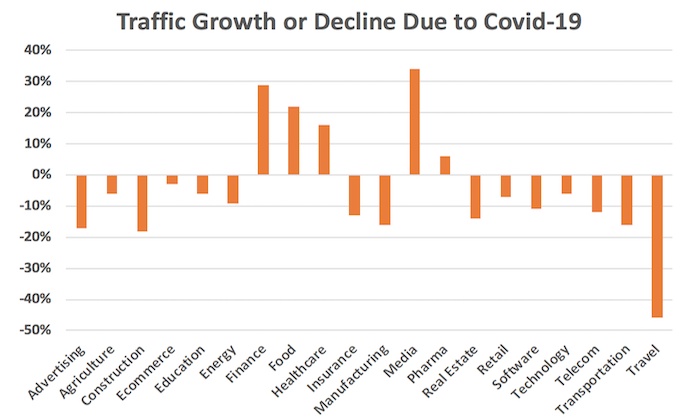 There are a large number of people trying to exploit these short term trends just like Matt & Noah, but there are also ways in which you can help connect people with the right products that can help them.
Money is being spent here because people need it. Whether you have an eCommerce store, do affiliate marketing, or simply provide services to this market, you can benefit from this trend.
But remember these are short term trends. Even if you are in a hard-hit industry you can prepare for the future when these markets return.
And for reference here are the industries and businesses that are largely continuing through the lockdown. If you are offering marketing services for businesses, it is worth noting which businesses are still operating…
Which Businesses Continue to Operate During Lockdowns?
Here are the businesses whose services are in-demand and that remain open even during lockdowns:
Healthcare operations and infrastructure (hospitals, utility PG&E)
Grocers, farmers' markets, farm and produce stands, food banks, convenience stores, and other retailers selling food — including those that also sell products aside from food
Food cultivation businesses (farming, fishing)
Businesses or organizations providing social services, food or shelter to the needy
Newspapers, television, radio, and other media
Gas stations and auto-related businesses, including repair shops
Banks and financial institutions
Hardware stores (possibly delivery only)
Plumbers, electricians, and other service providers that keep businesses running
Shipping and mailing businesses
Educational institutions — like schools — that provide distance learning and other essential functions
Laundry services (laundromats, drycleaning companies)
Restaurants for delivery and take-out only
Businesses that supply people with items required to work from home, or businesses that supply essential businesses with necessary supplies
Businesses that ship groceries and supplies directly to homes
Taxis and private transportation services
Dentists and other medical practitioners provide emergency care and care for ailments causing more acute pain. Some will also be able to provide consults and partial treatment online.
Online businesses.
Home-based and residential care for seniors, adults, and kids
Legal and accounting services that keep businesses in compliance
What Are The Most Popular Products & Services In The Pandemic Crisis?
Here are some specific product groups that are doing well, largely due to the lockdown. You can potentially help with online marketing…
Immunity supplements or immunity advice
Deliveries – SEOs think of keywords like "same-day delivery", "1hr delivery", "24 hr delivery", "emergency delivery", "coronavirus delivery", "opening hours coronavirus"
Survival kits and food – think the packages that can last for multiple years
Water filter bottles – The ones that can remove the impurities from dirty water immediately)
Toilet paper – A bit weird, but it's a real thing now. There are actually sites that have affiliate links to places where you can buy toilet paper during the coronavirus
Essential Infant Supplies like diapers, baby bottles, baby formula
First aid kits – people may feel that they need to have this because they can't get out of the house
Home entertainment equipment like gaming consoles, Netflix and television
Work from home equipment & services for people working from home.
Home fitness – home workout equipment and programs while people are under lockdown
Online learning and education including online schools, language learning, and online business opportunities, including private tuition delivered online.
Sanitation & Cleaning Services – while home cleaning services tend to stop during a lockdown, the wider demand for sanitation and cleaning continues, especially for certain businesses that continue to operate and need to stay sanitized.
Stock market – with so much uncertainty people look for new information on how they can capitalize on stocks falling and the overall volatility.
Frugal living – because some consumers will become cautious, they will look for ways to save and preserve their money during this time
Camping items – some people will try to avoid the prepping industry because they figure everyone will be looking for supplies there. However, they'll try to get those same supplies through regular camping stores. Think portable gas grills, butane canisters, outdoor showers, etc.
Media coverage opportunities since people are hooked to the news during a crisis, and businesses can get media exposure relating to how they are affected by the crisis.
And if that list wasn't conclusive enough for you, Stackline analysed the major eCommerce industry to show you how the pandemic has impacted those industries…
Check out their Infographic here.
Read futher at Online Business Models for the Pandemic Crisis.