If you're an e-commerce business owner, you know how important it is to provide accurate and detailed information about your products.
Product information management (PIM) software is a must-have tool for any company that wants to manage their product content effectively. In this Icecat review, we're going to dive into one of the leading PIM platforms available today.
Icecat is a powerful content syndication platform that offers a wide range of features for managing product content, including rich media, product descriptions, technical specifications, and more. But is it the best PIM platform for your business?
In this review, we'll explore Icecat's key features, pricing, and usability to help you make an informed decision.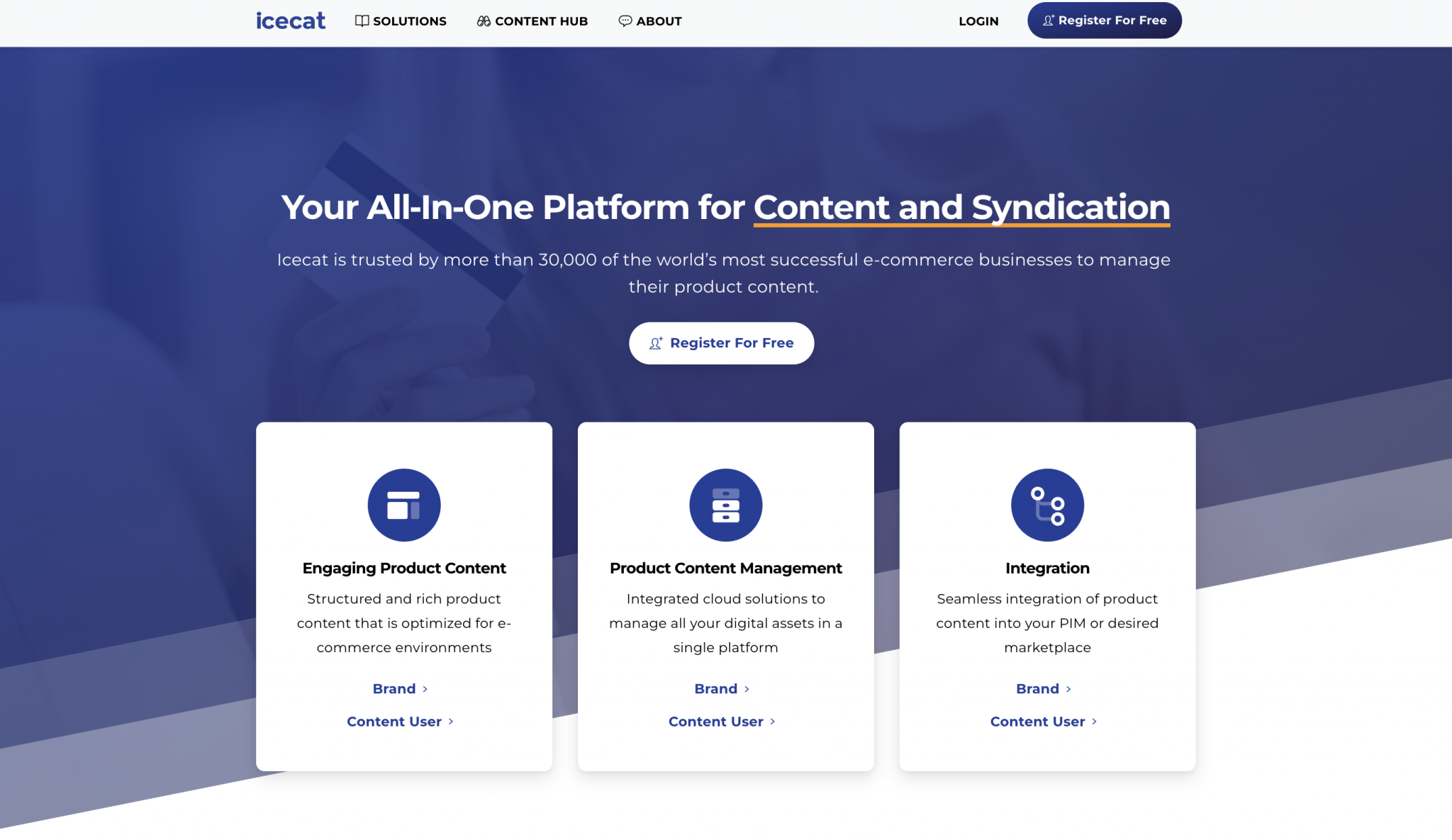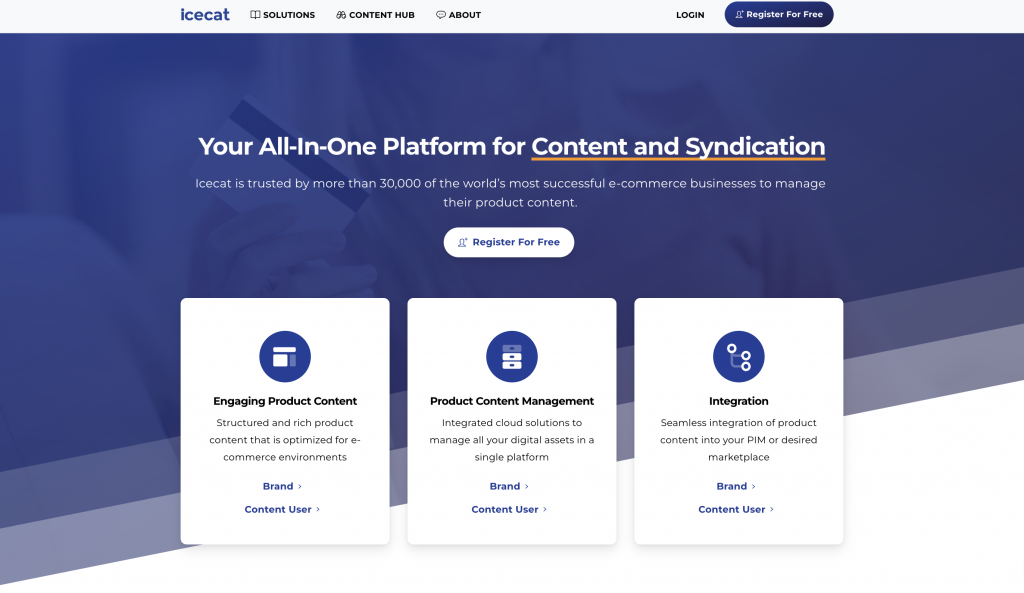 Why Product Content Management is Important for Ecommerce Businesses?
Product content management (PCM) is a crucial process for e-commerce businesses. It involves collecting, managing, and maintaining all the information and digital assets that constitute a product, such as images, descriptions, specifications, videos, and pricing.
PCM ensures that customers have access to all the necessary information to make an informed purchase decision.
PCM platforms are designed to centralize and manage product information in one place.
They typically offer a range of features, such as content creation and editing, digital asset management, quality data control, workflow automation, and analytics. By utilizing these features, e-commerce businesses can enhance their online marketing ROI and drive sales growth.
By utilizing a PCM platform, businesses can streamline their product content management, improve customer experience, and boost online sales.
Benefits of Product Content Management
Product content management offers several benefits that can help businesses provide better experiences for their customers. 

A reliable PIM platform will help you ensure product information consistency across different channels and platforms. 
This means that customers can access accurate and up-to-date information regardless of how they interact with the product.

Additionally, a product content management system can automate many manual tasks associated with product information management. This frees up valuable time and resources for other critical tasks.
Enhanced Customer Shopping Experience

Moreover, by providing accurate and complete product information across all channels, businesses can improve the customer experience, leading to higher customer satisfaction and fewer returns.

With faster time-to-market, businesses can use a product content management system to quickly create and publish relevant product information, giving them a competitive advantage in responding to changing market trends and customer demands.
Customer Insights for Data-Driven Decision

Finally, a product content management system can provide valuable insights into how customers interact with products. This allows businesses to optimize product information and marketing strategies through data-driven decision-making.
Icecat Simplifies Product Content Management for E-commerce Brands
Icecat is a powerful and globally recognized open-source product content syndication platform that is designed to assist e-commerce brands in effectively collecting and managing their product information.
By collecting and standardizing product information from over 35,000 brands and 280,000 product models, Icecat provides a centralized location for crucial information, such as product descriptions, images, videos, technical specifications, and QR codes.
This information is then distributed to your website, ensuring that potential customers have access to all the details they need to make an informed purchase decision.
In addition to product content management, Icecat also offers a robust marketing and data quality control tool, which can enhance online sales and improve the overall user experience.
Key Icecat Features That Can Empower Your E-commerce Product Content Strategy
Icecat has a ton of useful features that make it easy to manage your product content needs.
Here are some notable features you'll want to know about before buying the platform.
1. Structured
Datafeed
Icecat has a structured data feature that allows e-commerce brands to deliver product content to every channel unified. 
This feature is critical because it gives shoppers the ability to filter, search and compare products. 
Icecat also helps you manage and monitor your data easily. 
This way, we can be sure that the data is of high quality and trust the decisions made based on it.
2. Rich content
Icecat offers a rich content feature that helps e-commerce brands increase user engagement on their product pages. 
With this rich content feature, you can add product videos, 3D tours, carousels, and hotspots to your product page. 
This rich content feature will allow online shoppers to feel your brand like they hold the product in their hands. 
It can also help you increase product page conversion rates.
3. Vendor Central
Icecat offers vendor central databases that allow product content to be structured and automatically ingested by selected channel partners.
This feature gives businesses the ability to automatically distribute product content to any brand, retailer, and e-commerce partner.
With vendor central, you can automatically enter your product by connecting an API.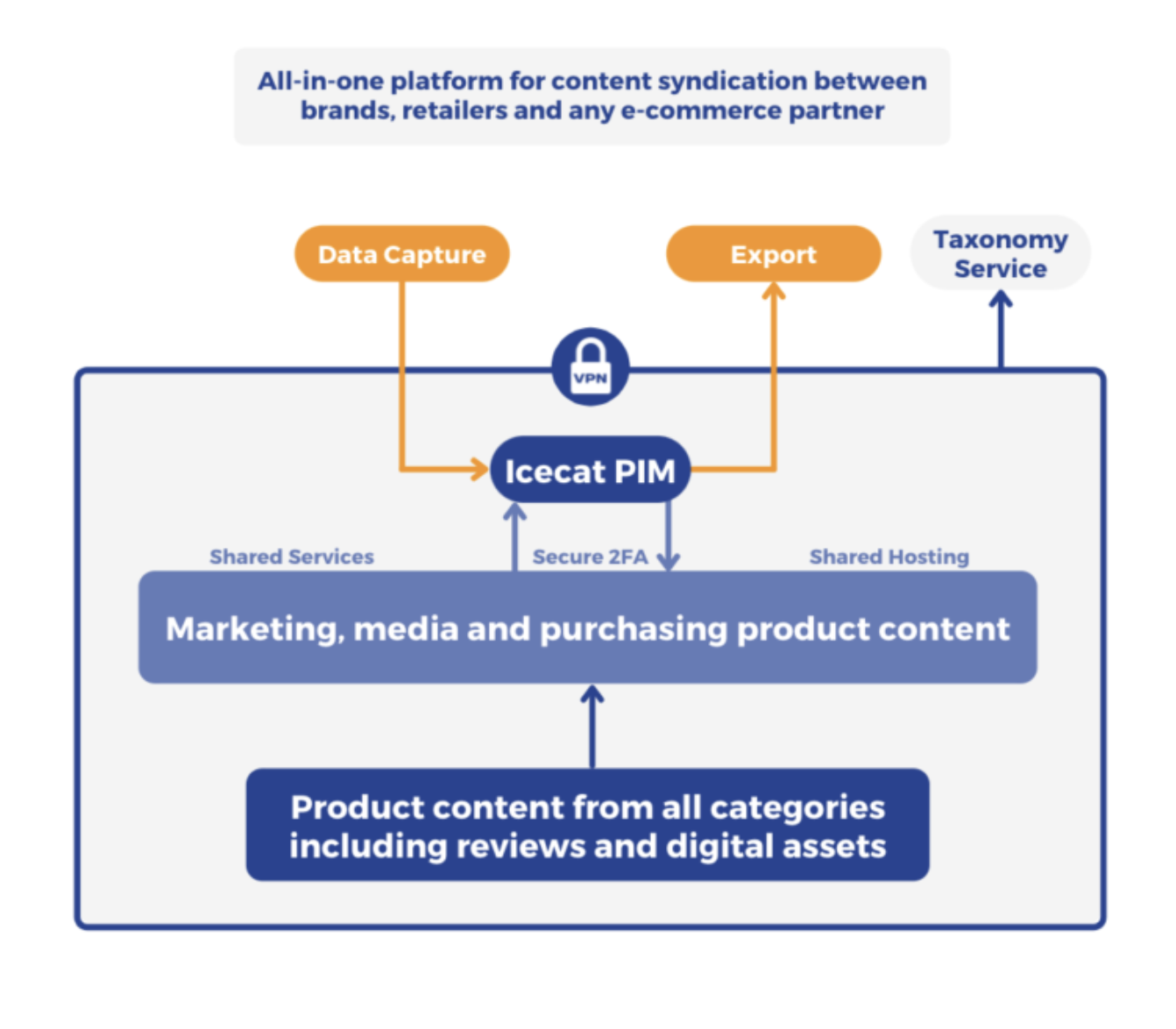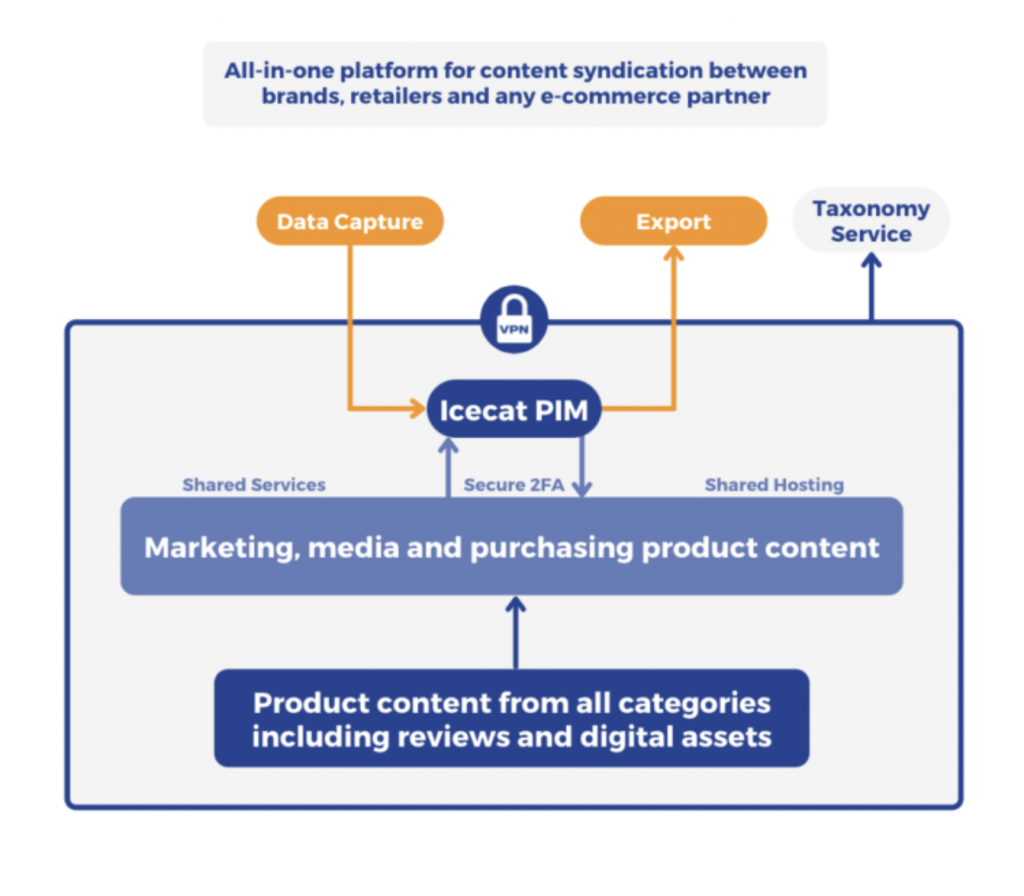 4. Data
Capture
Icecat has a data capture feature that allows businesses to capture data in any way or form.
With this feature, you can capture product content data. 
Push API 

An ETL engine

Matrices

Web crawling

Manually
The Push API helps brands share lots of information about their stuff with the Icecat PIM system. This data capture method works best for brands with a large product catalog!
The Extract, Transform, and Load (ETL) engine makes it easy for e-commerce brands to capture and send data to different places.
With Matrices, brands can share product content information in a data file. This will be edited by the Icecat team and incorporated into the Icecat PIM.
With the help of the Icecat web crawling bot, product content on a website is downloaded and automatically added to Icecat PIM.
This feature works best for brands with many product catalogs on their website.
You can also manually enter your product content info. This feature works best for brands with a small product line.
5. Native integration
Icecat has a native integration feature that allows you to import product content into your e-commerce platform.
Icecat has a variety of free plugins that allow you to ingest content into your desired e-commerce platform or marketplace.
These plugins include:
Google Shopping

Magento

Amazon API

Drupal

Shopify

Woocommerce

OpenCart

Oracle

Presta Shop and many more
So if there's any feature you need that isn't already included, you can be fairly confident that there will be an integration available.
How Much Does Icecat Cost?
Icecat has three pricing plans, the free plan, the starter plan, the one vertical plan, and the complete plan.
Various plans are available, starting at €350 per month for the Starter plan, €600 for the Vertical one plan, and €3500 for the Complete plan.
Each subscription plan offers different capabilities, depending on your product SKU size.
One of the coolest things about Icecat is that they have different plans at different price points available.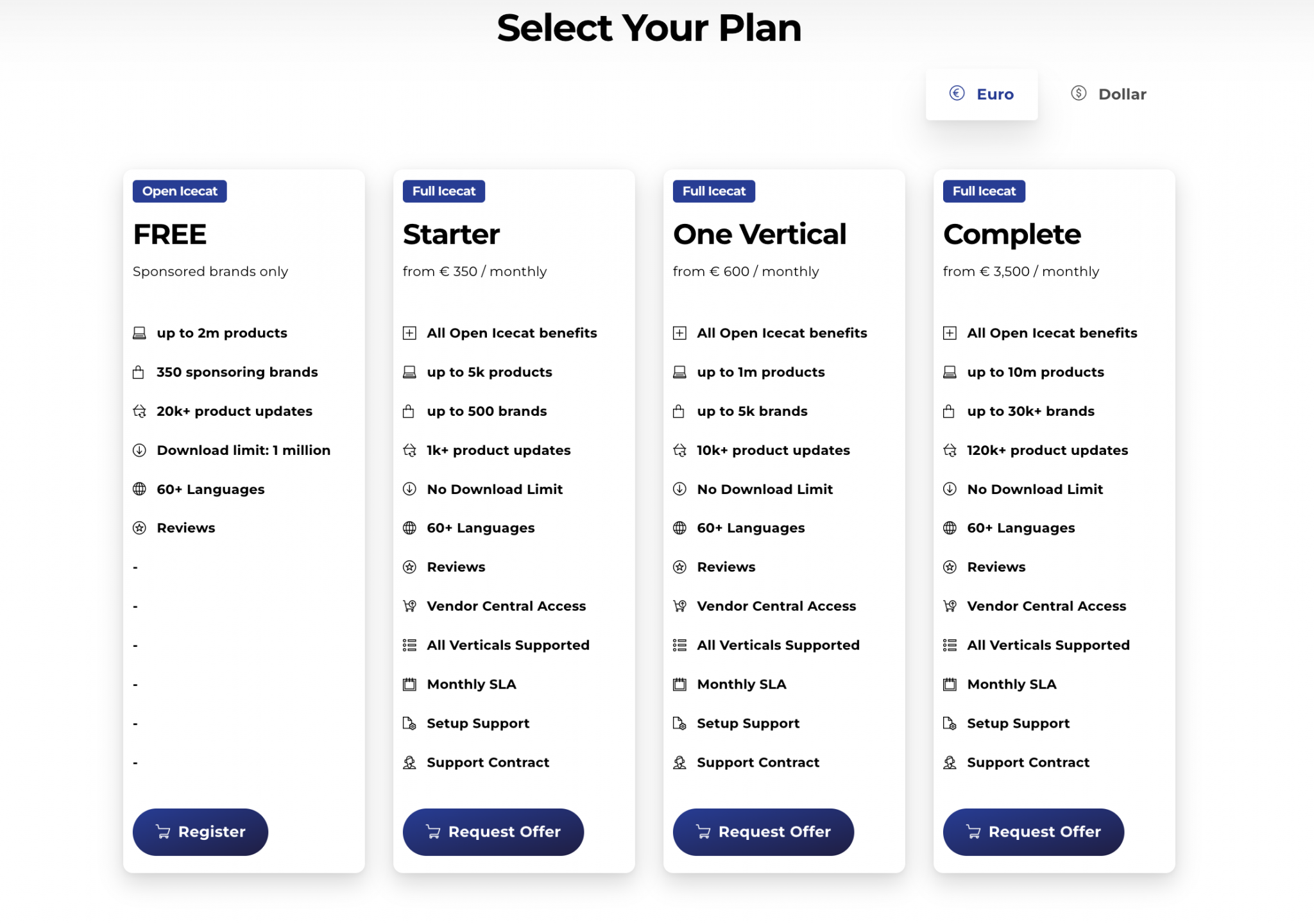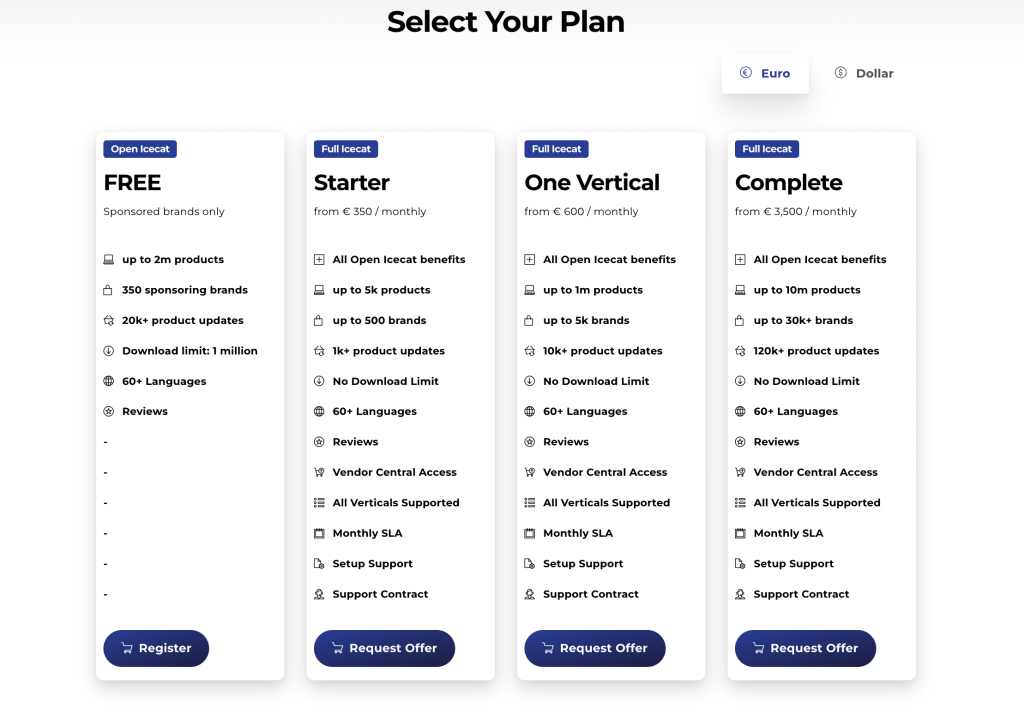 The Starter Plan is suitable for mid-sized e-commerce brands with a large product feed. For €350 per month, this plan gives you access to up to 5,000 products, up to 500 brands, and more than 1,000 product updates.

With no download limit and support for more than 60 languages, the Starter Plan also provides access to Icecat's Vendor Central and reviews. This plan also comes with monthly SLA, setup support, and support contract, in addition to all Open Icecat benefits.



If you're a large e-commerce brand with multiple product lines, the One Vertical Plan may be the best option for you. For €600 per month, this plan offers access to all Open Icecat benefits, up to 1 million products, up to 5,000 brands, and 10,000+ product updates.

You'll also have everything in the Starter Plan, including Vendor Central access, reviews, monthly SLA, setup support, and support contract.



For e-commerce brands with a significant product catalog, the Complete Plan provides everything you need.

At €3,500 per month, this plan offers access to all Open Icecat benefits, up to 10 million products, up to 30,000+ brands, and 120,000+ product updates. You'll also have everything included in the One Vertical Plan and the Starter Plan.

With the Complete Plan, you can be confident that your product content needs will be met, no matter how extensive your product catalog is.
Reliable Customer Support at Your Fingertips
Icecat's commitment to excellent customer support is evident in the various ways they offer to help you whenever you need it.
If you're someone who values active customer support, you'll be pleased to know that Icecat's team is always ready to assist you in any way possible.
Their webpage offers several options for getting in touch, including email and phone support. You can also use their live chat feature for quicker access to help.
Icecat's friendly and knowledgeable team is always available to answer any questions or concerns you may have, making them a reliable partner for your product content management needs.
The short answer is yes.
In general, Icecat is pretty easy to get used to. 
With an automated data feed feature that makes it easy to collect product information, capturing product content is certainly made simple. 
Especially if you use data capture methods like Push API and web crawling.
The UI/UX is simple and straightforward, you don't need to be a tech wizard to get used to it.
If along the way you come across a challenge, you can reach out to support. They are always available to help.
Icecat is an excellent choice for e-commerce brands looking for a solid product information management tool that can help them manage their data feed, product feed, and product catalog without breaking the bank. 
Their customer service is unparalleled, so it's a particularly suitable choice for anyone new to product information management, as you can rest assured that there will always be someone on hand to help if you need assistance.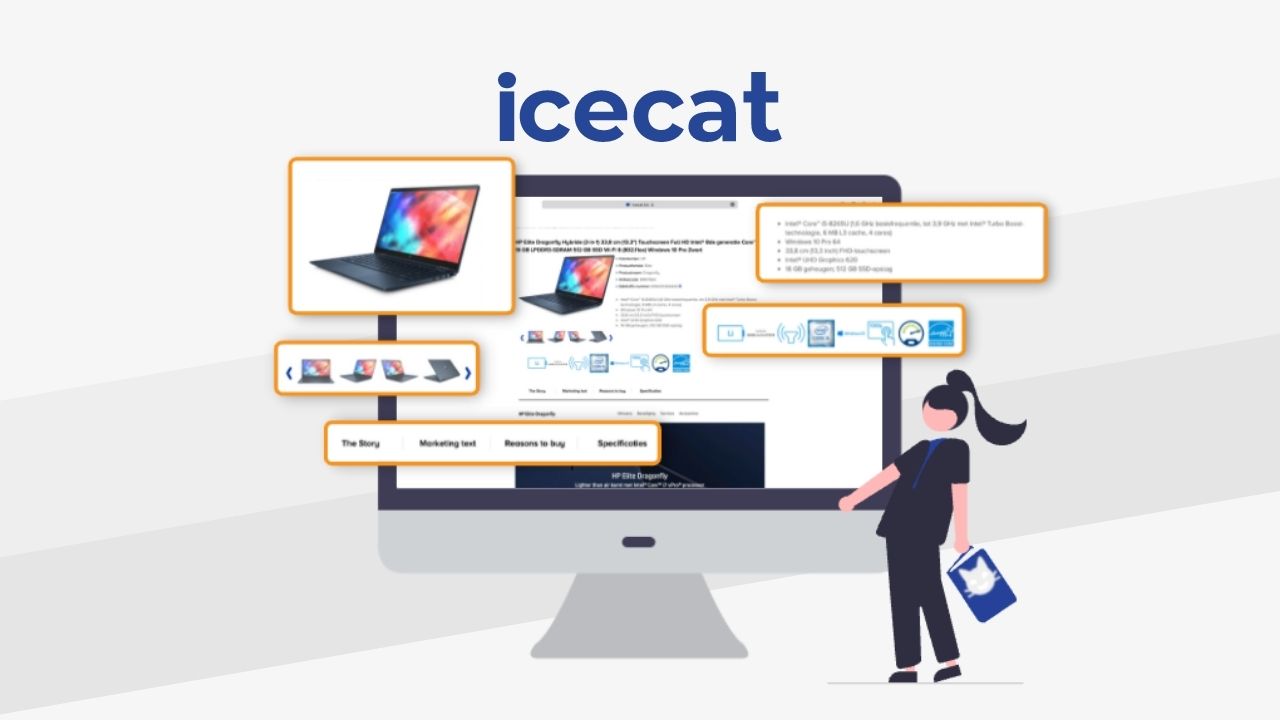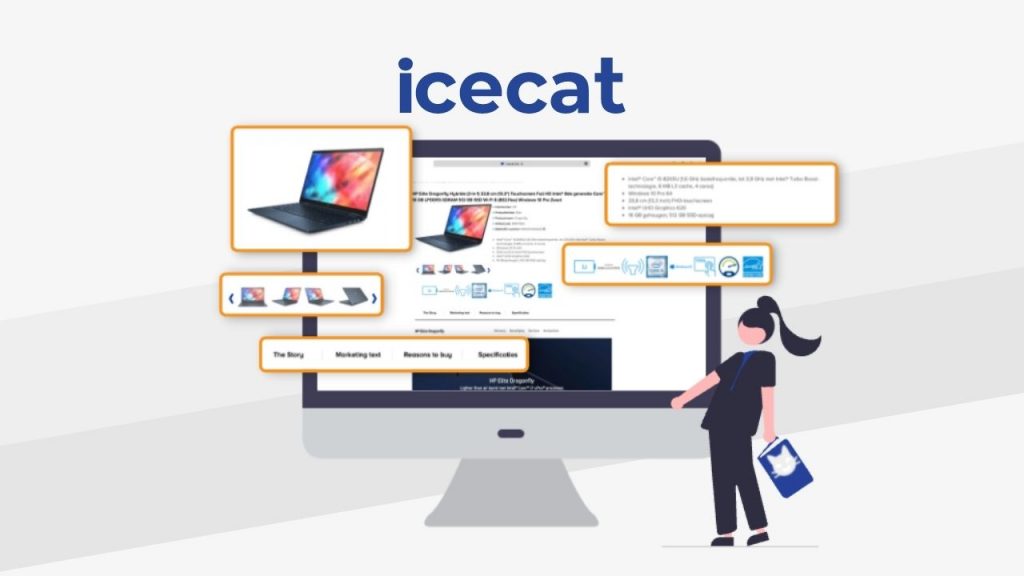 It's always up to you to choose if a platform is right for you, however, if you are looking for a product management platform with a range of features to take advantage of, then Icecat could be the right choice for you.
Not only that, but one thing that comes up time and time again is the unparalleled customer support and all-in-one product content management and syndication platform.
Hopefully, this Icecat review has helped you decide if this platform is the right one for your business.
However, if you're still on the fence, it's worth checking out the free plan. 
It gives you access to all of the basic features so you can try it out for size risk-free.
If you want to learn more about how to optimize your content strategy, our team at AmpiFire is here to help.
We offer a free consultation to discuss your business needs and goals and provide tailored solutions to help you achieve them.