Article-at-a-glance:

– Content marketing thrives with a 16.37% Compound Annual Growth Rate (CAGR) expected (2022-2027), as 71% of marketers recognize its growing importance for brand storytelling.
– Success hinges on a well-crafted strategy focusing on audience personalization, with a trend towards interactive content, valuing quality over quantity.
– Explore 68 statistics, trends, and benchmarks that you can use for better content marketing activities in 2024.
Content marketing's pulse is stronger than ever.
Consider this: in the past year alone, a whopping 71% of marketers emphasized its heightened significance to their brands. And why not? It's the driving force behind digital narratives, shaping brand stories, and sculpting customer journeys.
We have compiled essential content marketing statistics, benchmarks, and trends from leading sources to ensure that your marketing efforts in 2024 hit the goals.
Content Marketing Usage Statistics
The content marketing market size is estimated to grow at a CAGR of 16.37% between 2022 and 2027. Finding success here means adopting and using content marketing as part of a holistic marketing program.
Content Marketing Strategy Statistics
But to be truly successful at content marketing, having the right strategy is critical. So, how to create the right content marketing strategy? Here's what the marketers are saying.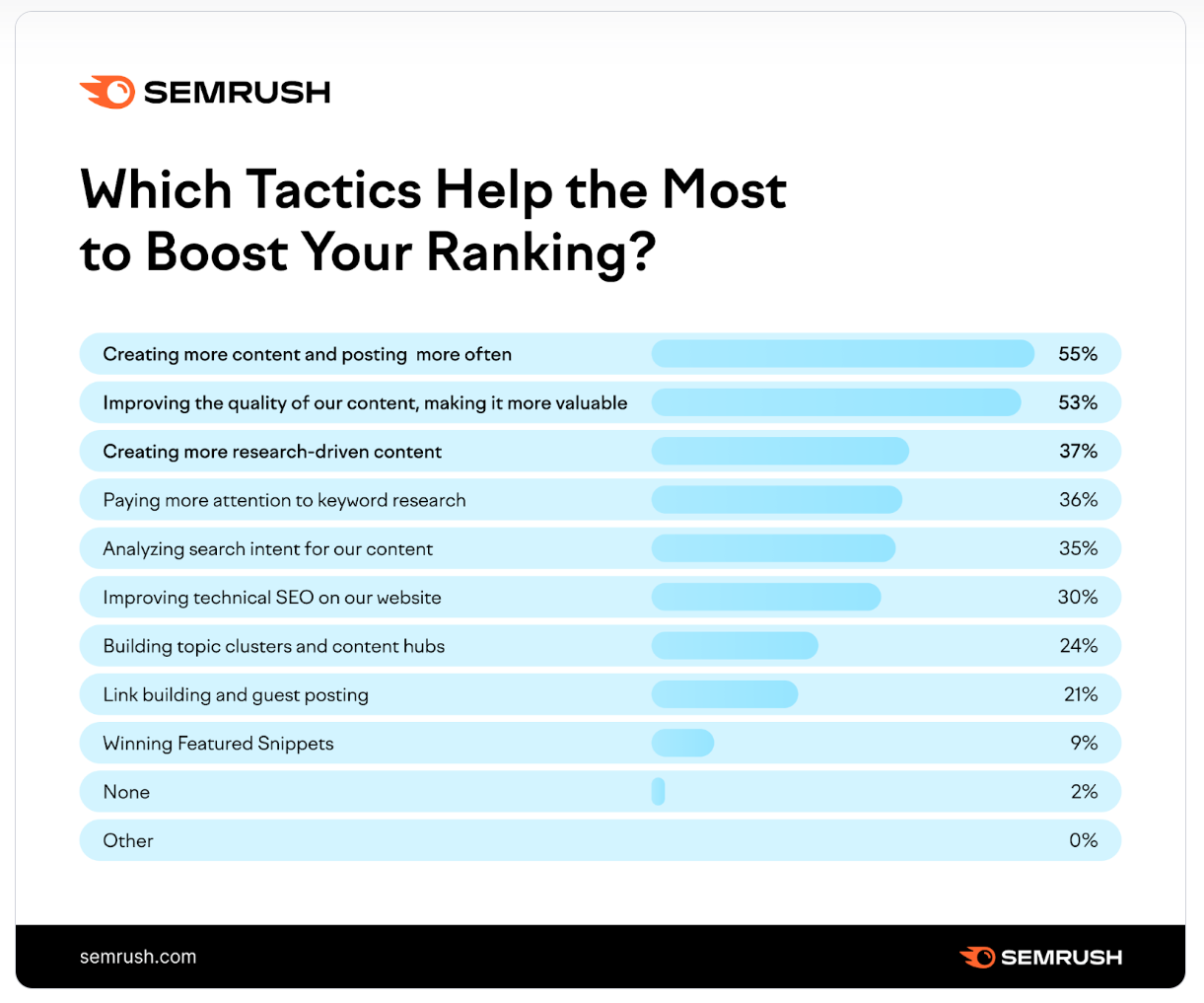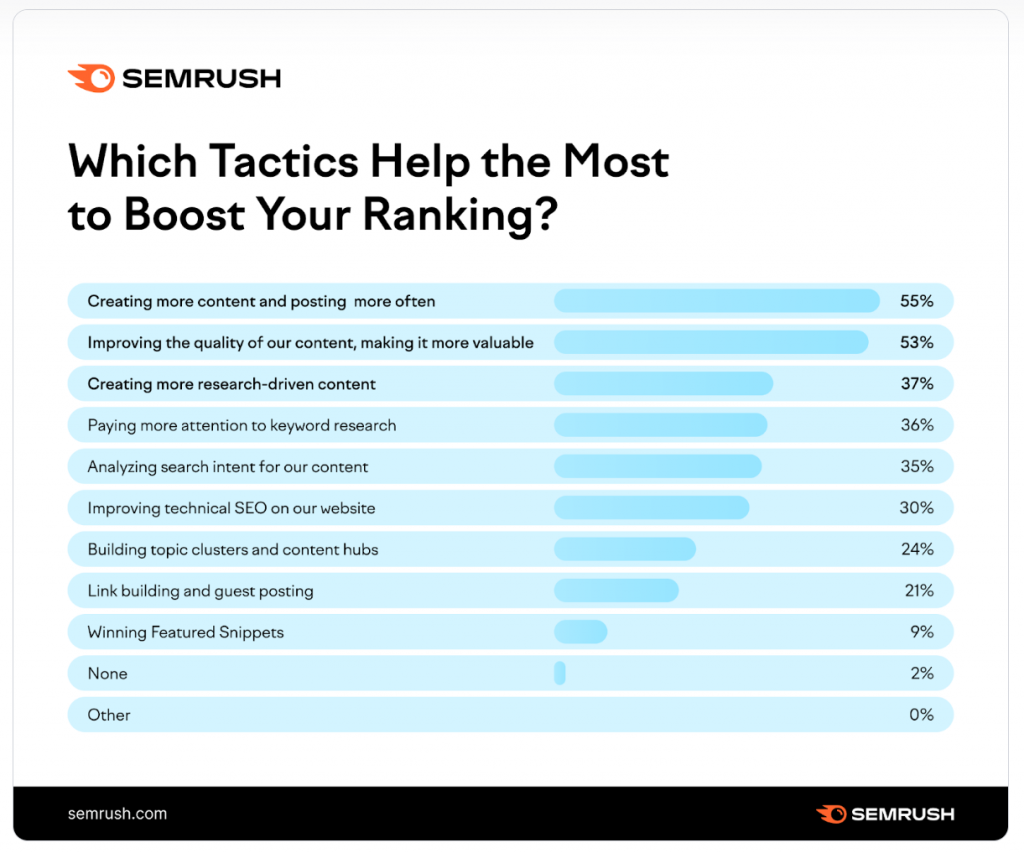 Content Budget Statistics
Budgets are the backbone of any content marketing strategy, and understanding how funds are allocated can offer insights into priorities and future trends. Here's how organizations are channeling their resources towards content marketing.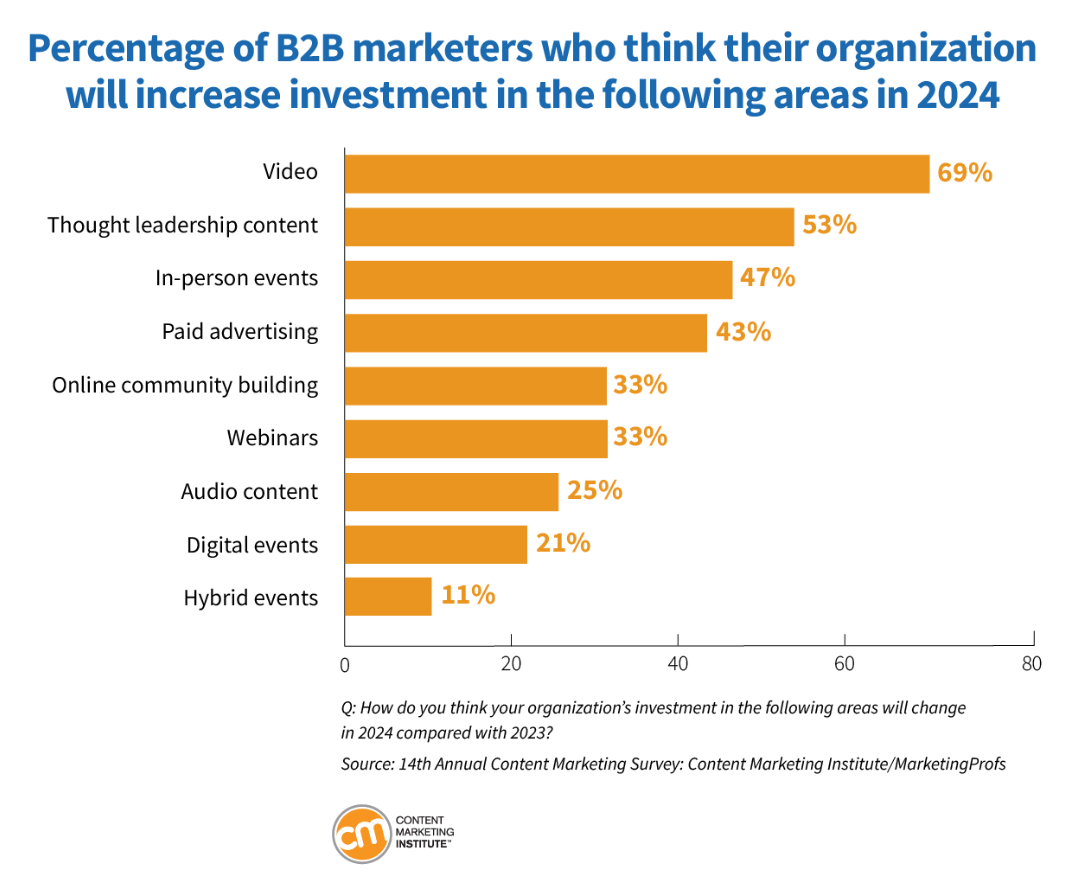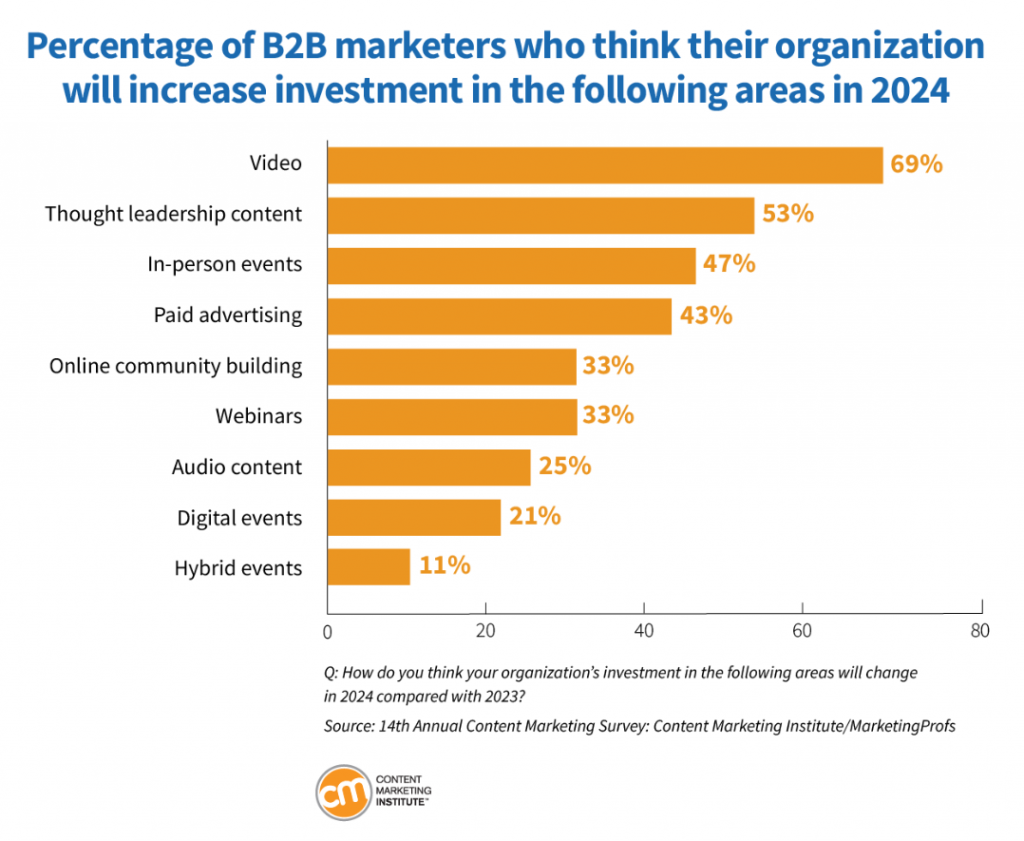 Content Audit Statistics
Content audit: essential, yet often overlooked. It's the key to gauging your content's effectiveness and planning ahead for better results. With the right approach, it's not daunting, but enlightening. Here are some trends and benchmarks for content audits.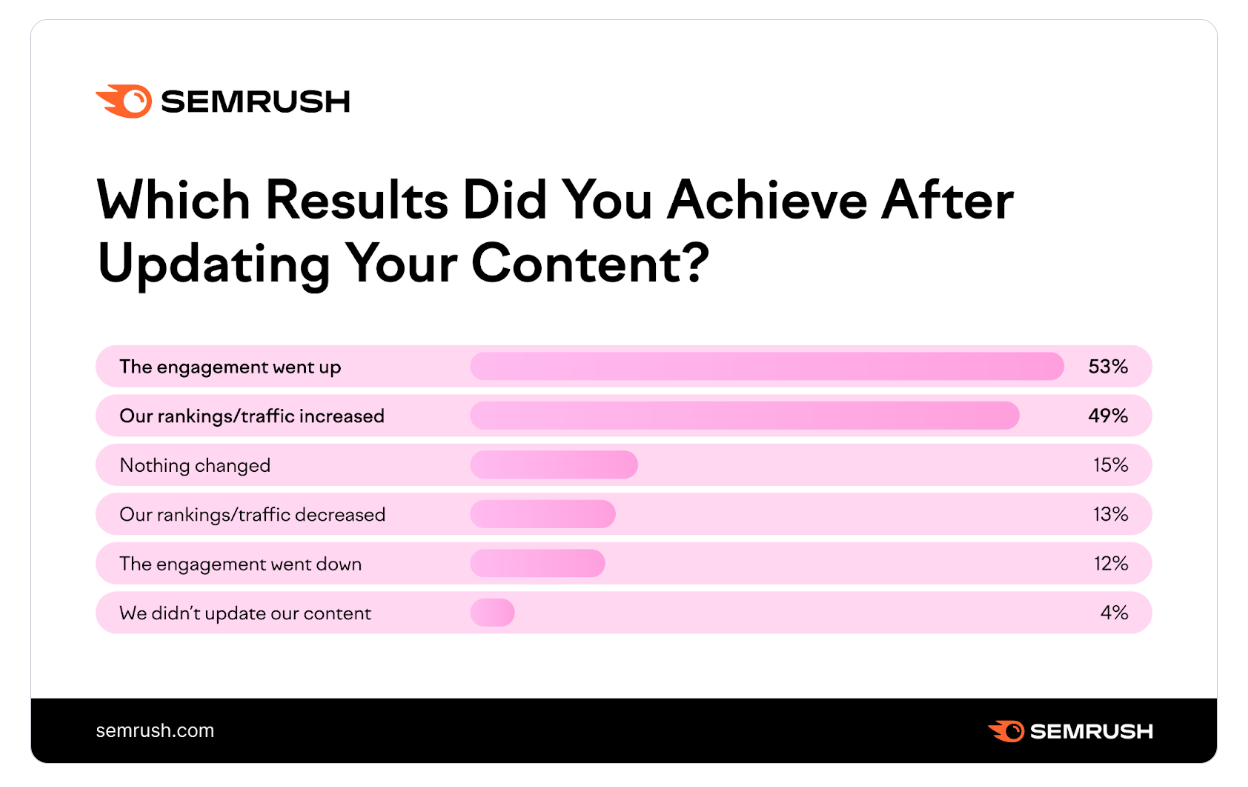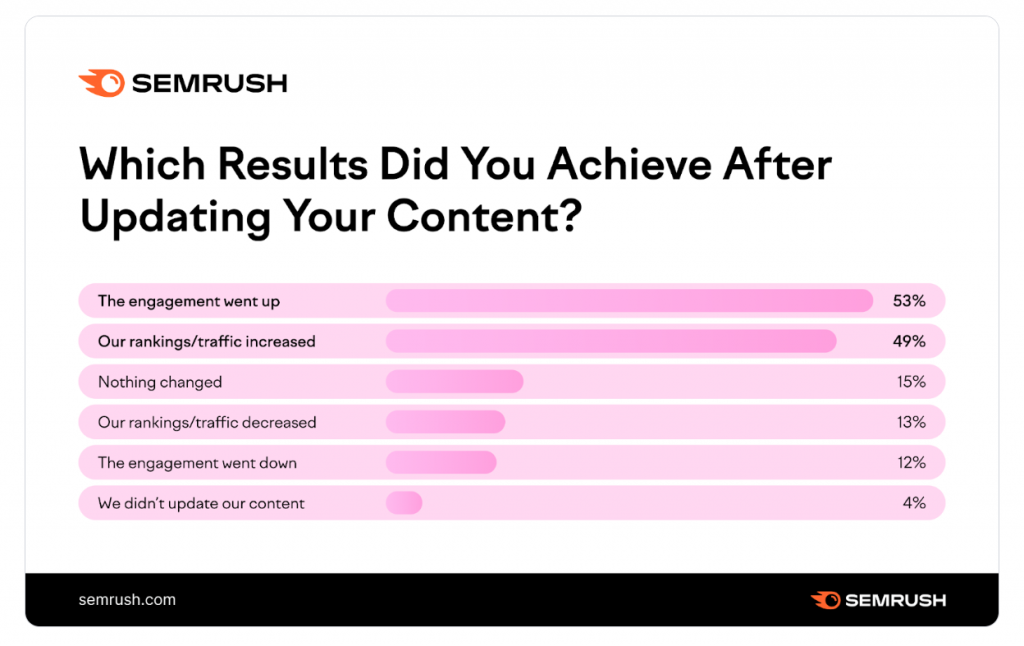 Content Team Statistics
People, process, and technology. These are the 3 elements that can successfully drive action, in our case: creating engaging content. Let's see what's in store for content teams in 2024.
Content Production Statistics
The content team can only perform to their full capabilities with a solid content production process in place.
Content Tools Statistics
Coupled with powerful tools and technology, content teams can take their content marketing activities to the next level.
Content Format Statistics
You have your team, your processes, and tools. So, what kind of content should you prioritize in 2024 and beyond?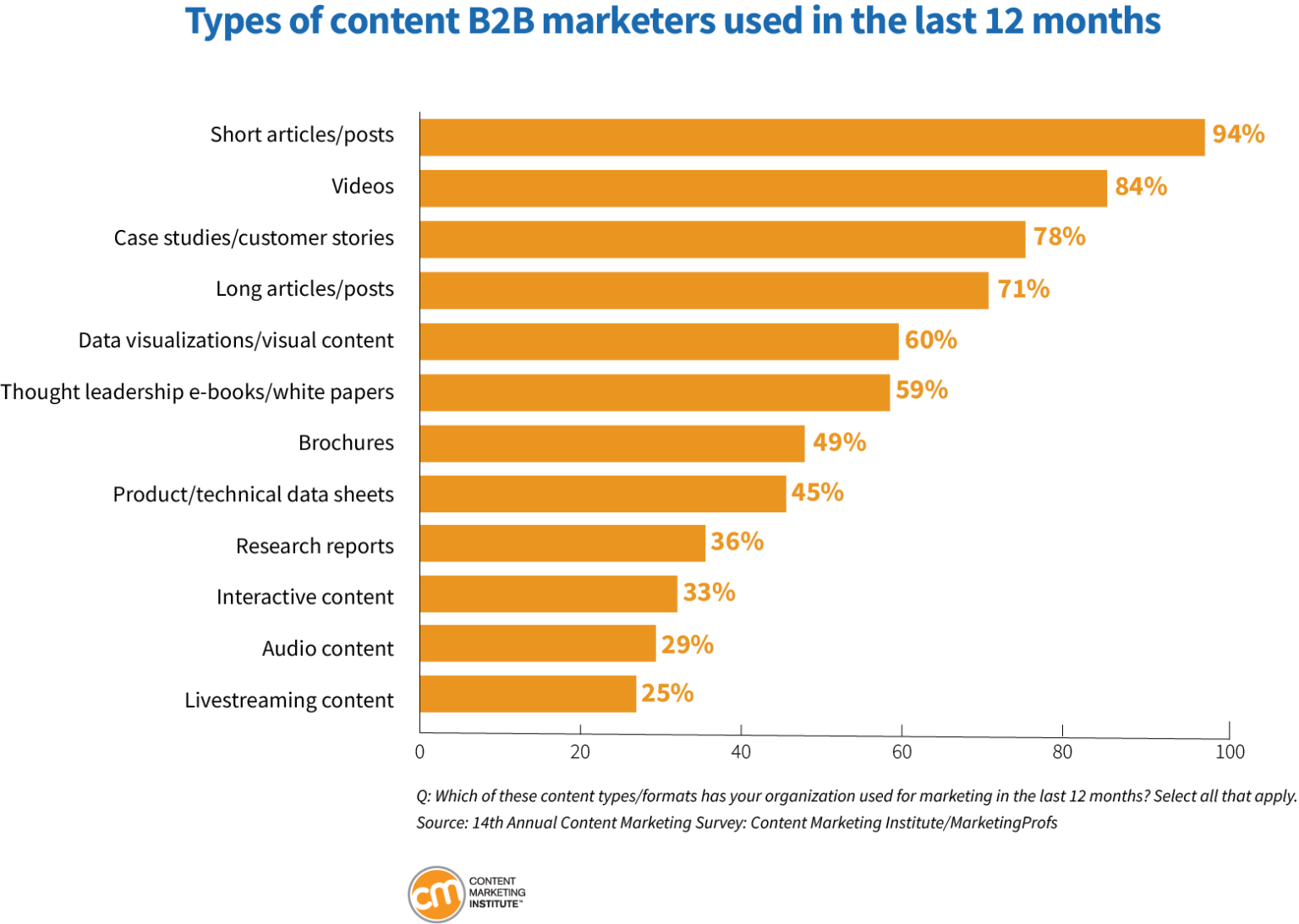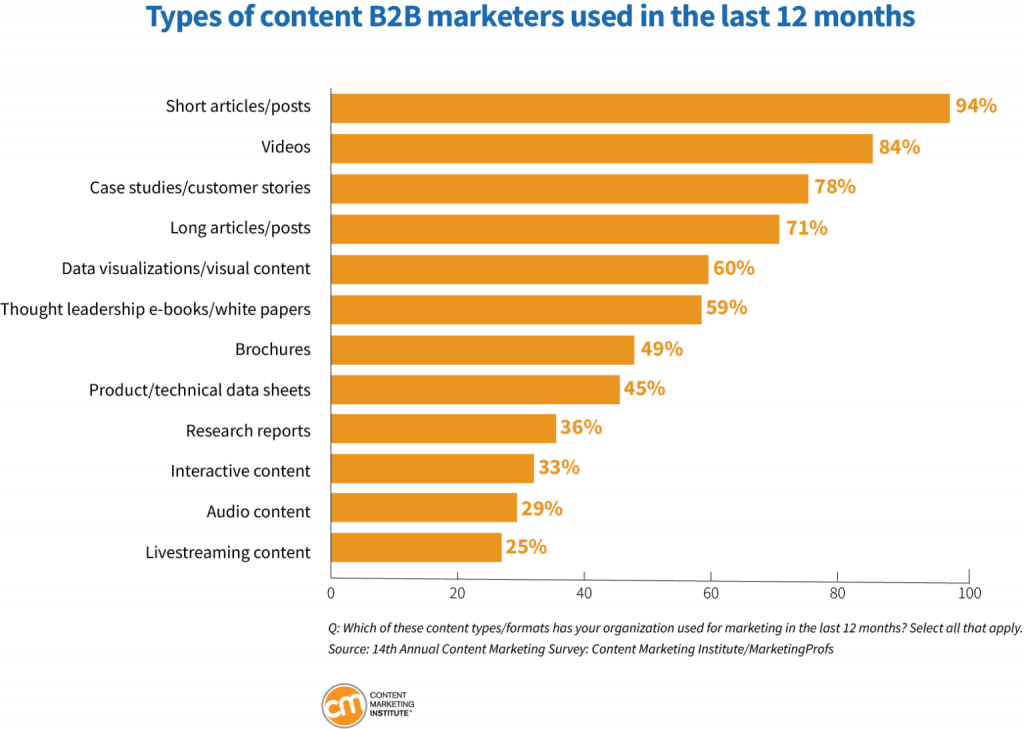 Content – Blogging Statistics
Content marketing used to be synonymous with blogging, but not anymore. Nevertheless, it's still an important piece of content to create as part of your marketing strategy.
Content – Video Statistics
According to Sprout Social, more than half of marketers say video is the most valuable type of content. And with people watching more videos now than they ever have before, video content is no longer nice-to-have; it's a must. Here are some essential video content marketing statistics you should know for 2024:
Content – Podcast Statistics
By 2024, there will be over 109 million U.S. podcast listeners, which demonstrates the tremendous growth that podcasting has experienced. Before you create podcast content as part of your marketing efforts, check out the crucial trends and statistics below.
Content Distribution Statistics
Content is king, but distribution is queen and she wears the pants.

Jonathan Perelman of BuzzFeed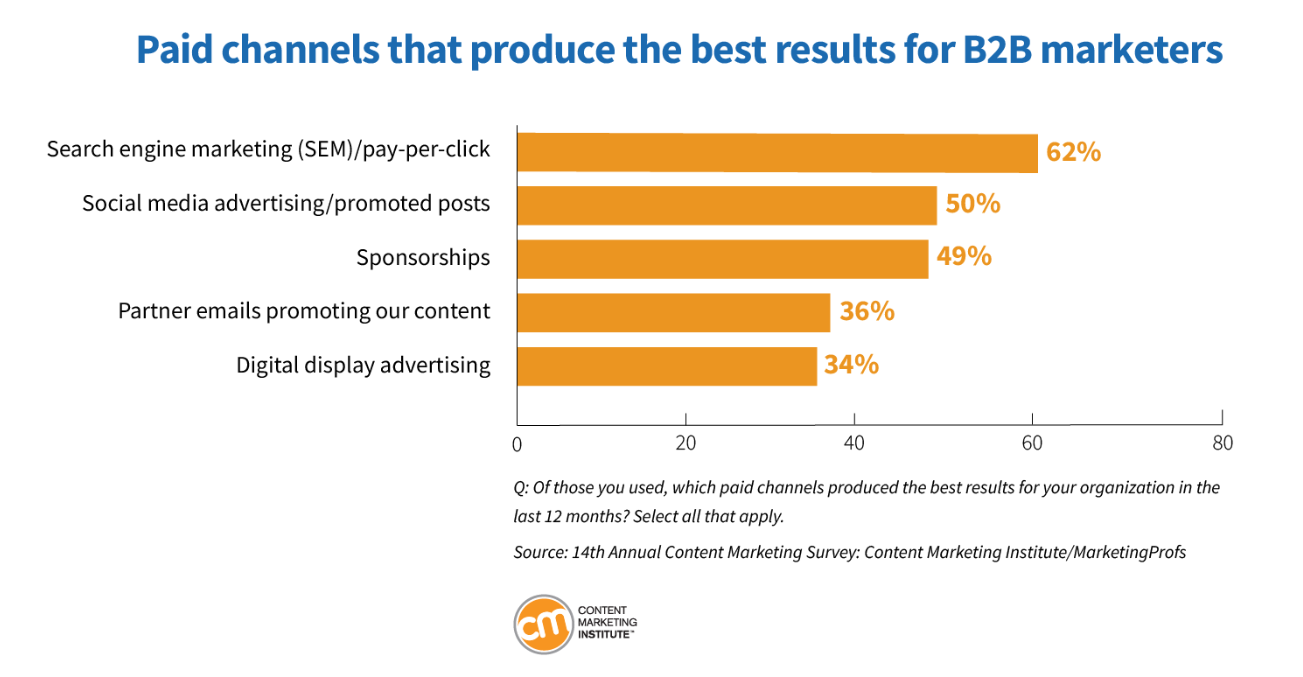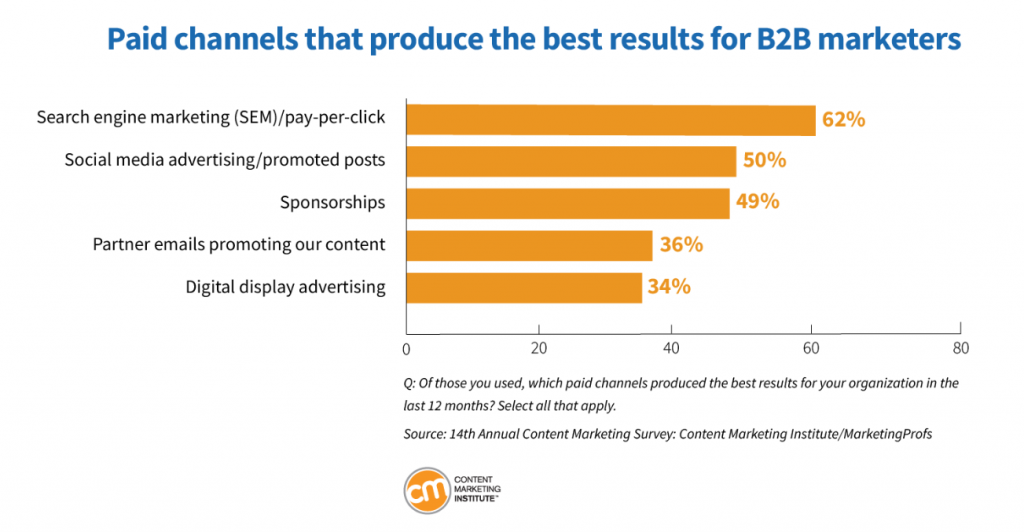 Content Performance Statistics
Creating content alone isn't enough; you must regularly measure their performance too. This way, you can iterate on your content marketing campaigns and improve their success rate. But one thing is certain when it comes to content marketing ROI: more resources invested in content marketing leads to stronger results over time.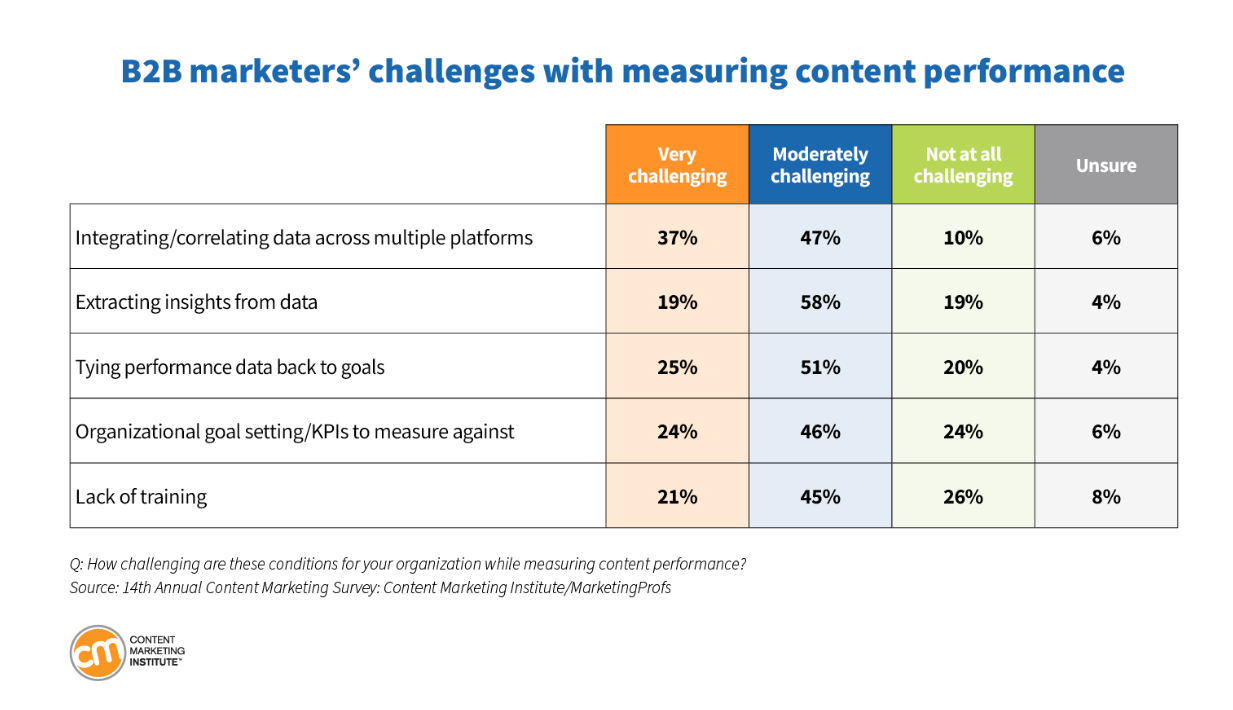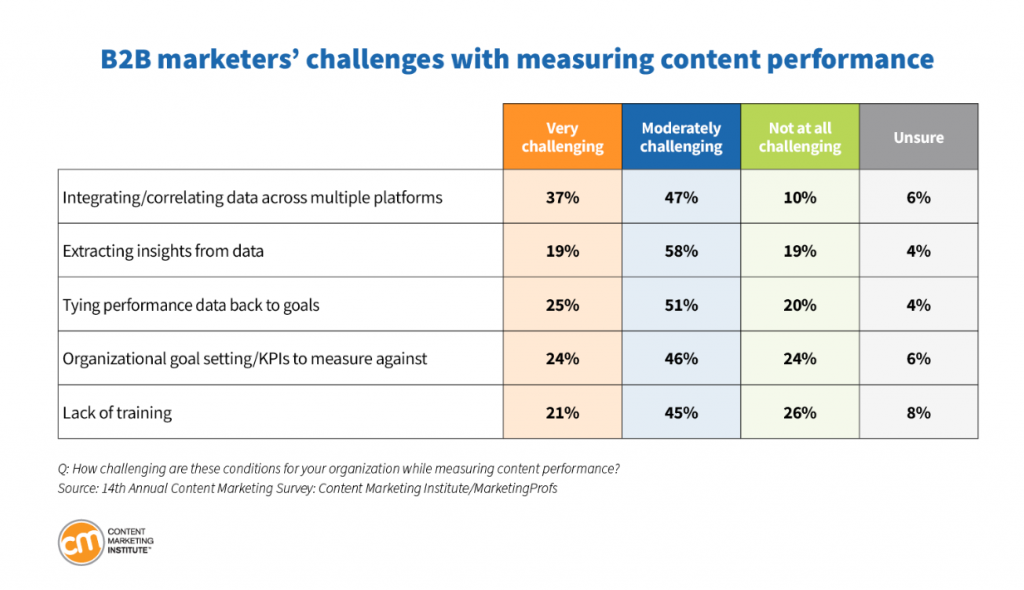 Content Optimization Statistics
From time to time, doing regular content optimization can improve your content visibility, engagement, and effectiveness. But it's not an easy feat since about 45% of marketers said that optimizing content for SEO is one of the biggest challenges of content creation.
See how AmpiFire's topical authority and media approach elevated a car dealership business with top page 1 rankings and online popularity boost. 
AI Content Statistics
2023 is the year of generative AI. Tools like ChatGPT, Perplexity, MidJourney, Google's Bard and many others can help you quickly create quality content (albeit with some form of training). And as a content marketer, if you're not already using some form of AI, you're far behind others.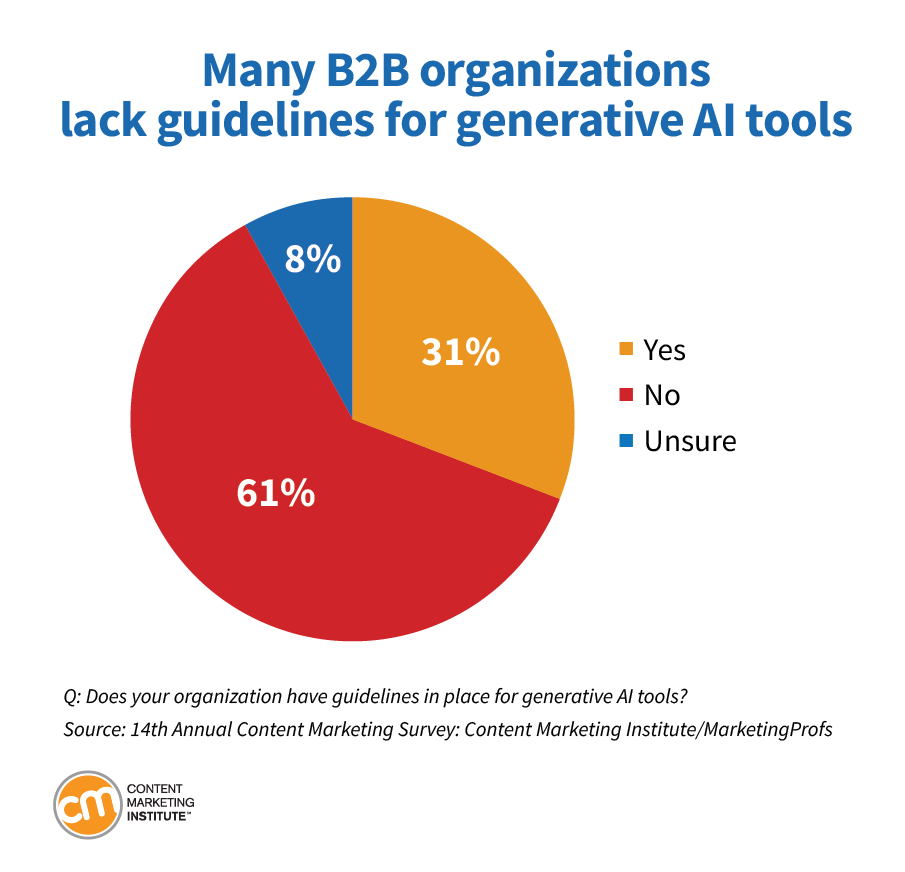 Unlocking the Power of Content Marketing in 2024
Content marketing remains a crucial pillar in digital storytelling, directly influencing brand perception and customer engagement in 2024 and beyond.
With the industry expanding rapidly, integrating innovative strategies, tools, and a diverse range of content forms is essential.
Harnessing the power of AI, optimizing content, and ensuring a human-centric approach will be pivotal.
Ready to elevate your content marketing game? Book an appointment with our team and see how AmpiFire can unlock the potential of impactful, results-driven content strategies for 2024 and beyond.