Article at-a-glance:

- Learn more about the game-changing features, unbeatable price, and powerhouse integrations of two industry titans - BigCommerce and Ecwid that will revolutionize your online business strategy.

- With BigCommerce, you can offer unlimited products, simplify content management, and design beautiful storefronts without writing a single line of code. The platform's reliability and customizability make it a good choice for larger companies.

- Ecwid, however, is the ultimate plug-and-play solution for smaller brands! Integrating seamlessly with your existing website and social media pages, Ecwid offers a free plan with scalability options.

- Limitations: Ecwid's free plan and seamless integration make it ideal for smaller businesses with basic needs. BigCommerce offers more comprehensive features and customization options.

- Integrations: Ecwid offers a lightweight e-commerce solution, seamlessly integrating with website builders, social media channels, payment gateways, and more, while BigCommerce syncs with top-tier platforms like CMS, payment gateways, and marketplaces.

- Pricing: BigCommerce offers pricing tiers tailored to businesses of all sizes, with the Standard Plan priced at $29.95-$39.95/month allowing up to $50k annual turnover. Ecwid provides a free plan for basic online stores with up to 5 products, and various paid plans like the Venture Plan at $15-$20/month, the Business Plan at $35-$39/month.
Today, we are taking you head-to-head with two e-commerce giants – BigCommerce and Ecwid.
Both platforms offer unique strengths, and in this comprehensive guide, we'll uncover the ultimate winner that will likely align with your business goals.
You'll learn about powerful integrations; feature-rich pricing tiers; product management and inventory tools; blogging and and optimization capabilities and more, so you can make the best choice for your online empire.
Key Features
| Features | Ecwid | BigCommerce |
| --- | --- | --- |
| Ease of Use | Easy to use and set up, with a simple interface | Easy to use, but may require some technical knowledge |
| Design and Customization | Limited templates, but offers more design customization freedom | More templates available, but limited design customization compared to Ecwid |
| Product Management | Limited product catalog and listings management | Advanced product management features |
| Payment Gateways | Over 100 payment solutions that are pre-integrated into their platform | Over 65 payment gateway integrations |
| Shipping Options | Advanced shipping options available | Advanced shipping options available |
| SEO | Limited control over website's SEO and lacks critical features that can adversely affect search rankings | Poor SEO support, documentation, and tutorials |
| Customer Support | Offers 24/7 customer support via email, chat, and phone | Offers 24/7 customer support via email, chat, and phone |
| Pricing | Free plan available with limited features | No free plan available, but offers a lower starting price compared to Ecwid |
Quick comparison table between Ecwid and BigCommerce.
BigCommerce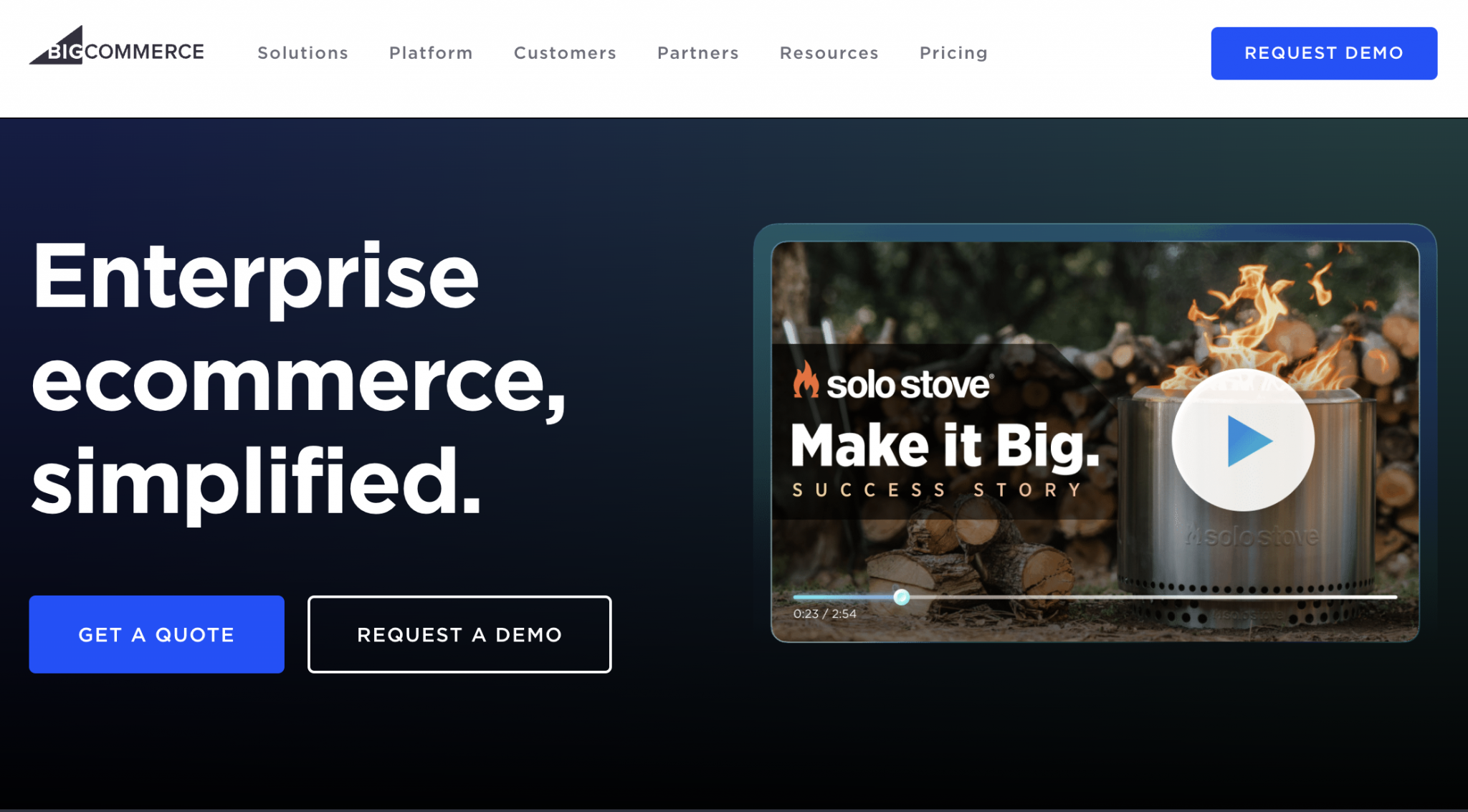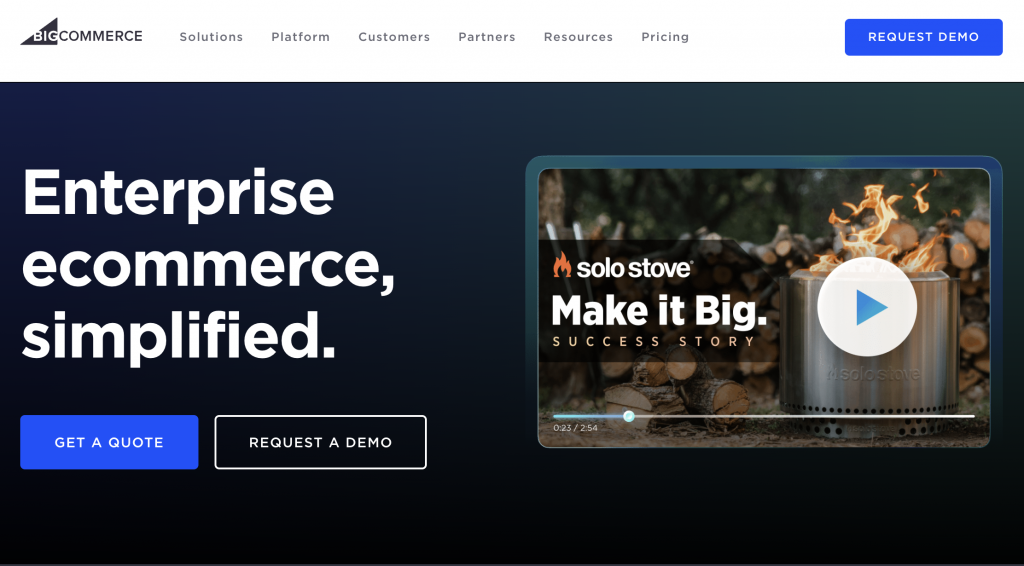 You get a great lineup of features with BigCommerce:
Unlimited products, file storage, and bandwidth: BigCommerce doesn't limit the number of products you can add to your store, the amount of storage space or the amount of bandwidth you can use.

Product Swatches: You can make the shopping experience visually appealing by showcasing product colors or styles.

Customer Segmentation: Streamline your marketing efforts by segmenting customers into groups with BigCommerce's customer segmentation.

Storefront Design Tools: You can use BigCommerce to build your own unique online storefront with the drag-and-drop solution — no coding required. You can manage multiple storefronts or customize every inch of the checkout experience.

Merchandising & Marketing: You can drive sales and promotions smoothly with BigCommerce's product visualization, catalog management tools, and CRM capabilities.

Simplified Content Management: BigCommerce's content management system makes it easy to create and manage website content.

Vaulting: BigCommerce's payment gateway is PCI-compliant, so your customers' info is safe

Single Page Checkout: I am sure you'd like the fact that you can offer a hassle-free checkout experience on a single page, ensuring smooth and convenient purchase completions.

Bulk Pricing: The platform enables you to set bulk pricing options for customers who buy in bulk, enticing them with discounts.

Faceted Search: Using BigCommerce's faceted search feature, customers can filter products based on granular attributes, enhancing the search experience and improving your ecommerce site's usability

Ratings & Reviews: You can get customer feedback and improve your products by using built-in ratings and reviews.
As you can see, with BigCommerce, you can reduce or even eliminate the need for third-party extensions right from the start.
"BigCommerce is a fantastic solution for a growing medium-sized e-commerce focussed business."

via trustradius.com
Ecwid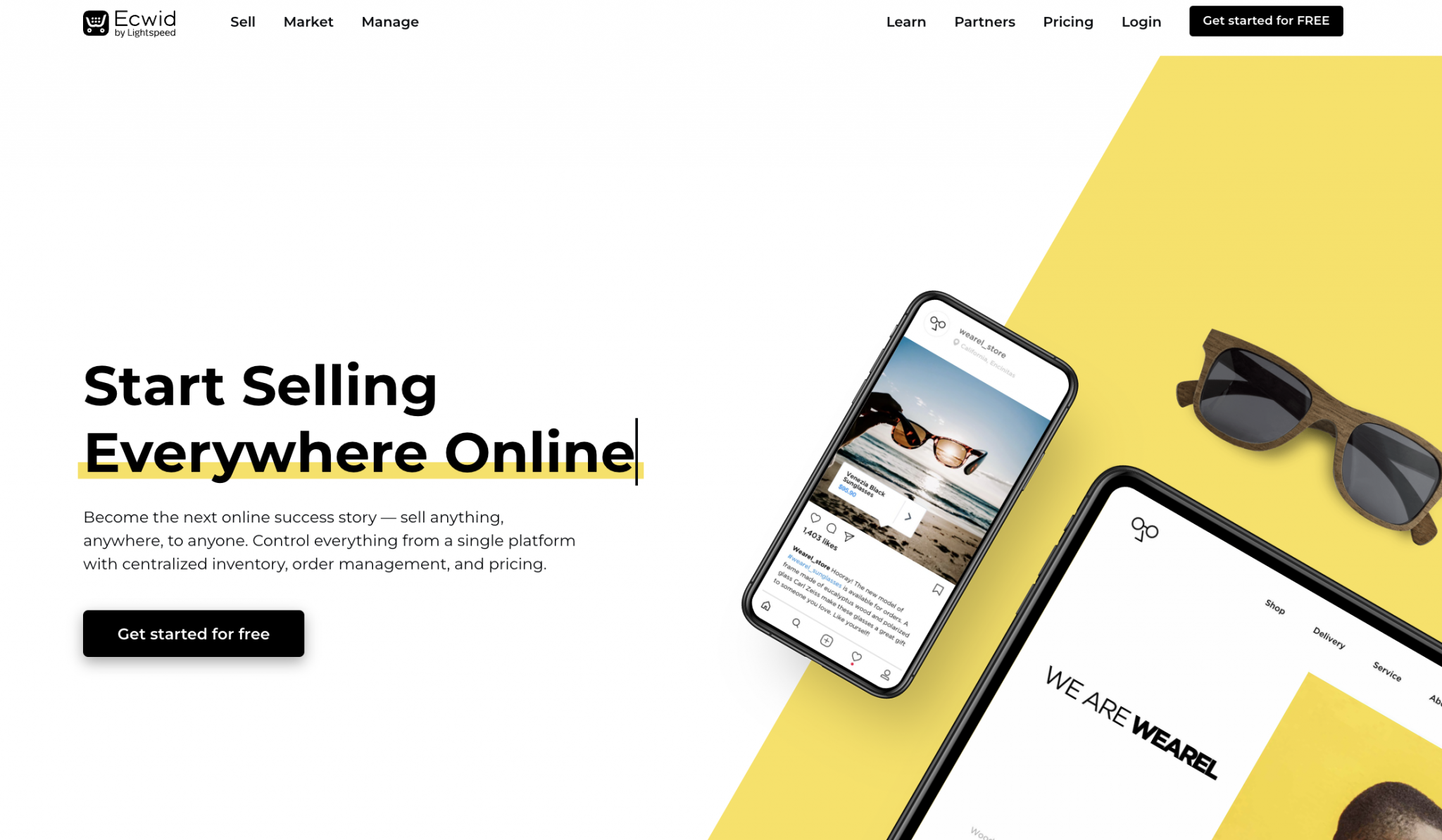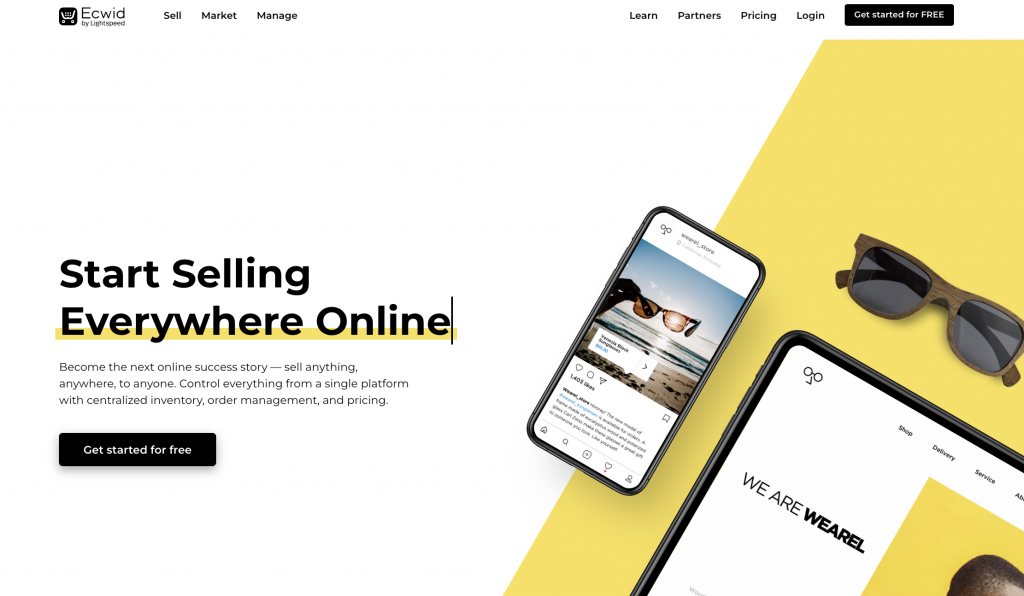 With Ecwid, you can drive online sales with a wide range of features. Ecwid offers these key features:
Merchandising & Marketing: With Ecwid's merchandising and marketing tools, including product visualization, bulk orders, and CRM, you can drive sales.

Storefront Design Tools: Customize your online store's look and feel effortlessly using Ecwid's storefront design tools, and integrate it seamlessly with your existing website design in just seconds.

Content Management: With Ecwid's content management capabilities, you can easily manage your website's content, like pages and blog posts.

Payment Integrations: Ecwid offers more than 50 payment options, including integrations with Clover, Square, and PayPal POS systems.

Recurring Subscriptions: With Ecwid, you can offer scheduled refills, curated subscription boxes, and exclusive content memberships for regular recurring revenue.

SEO Features: Ecwid has some SEO features such as ability to add keywords to product names and descriptions, custom meta tags or produt pages and categories to boost your website's search engine rankings, but there's room for improvement.

User-Friendly Interface: With Ecwid's user interface, you're guided by a vertical menu on the left, simplifying your setup process.
Ecwid has a lot of features, almost too many. There are marketing options, payment integrations, bulk inventory uploads, and digital file sales. These add-ons are a great way to keep customers and keep them coming back.
"The main advantages of using Ecwid are its entirely free plan, its comprehensive feature set, and the fact that it can be used to add ecommerce features to an existing website."

Chris Signleton, stylefactoryproductions.com
Limitations
BigCommerce Limitations

Let's look at the BigCommerce challenges and shed some light on the not-so-smooth parts.
Automated Categorization: BigCommerce might need a GPS upgrade for automated categorization. Due to the lack of this functionality, you will have to navigate those product catalogs manually. It's like a road trip without a GPS – you're in for some extra work like integrating other tools like IceCat and KatanaPIM .

B2B Ecommerce: Picture this: delivering a beautiful, user-friendly B2B ecommerce site while tackling complex business processes. These high-stakes challenges might be a bit too much for BigCommerce.

SEO Blocks: However, BigCommerce might need a boost in this area. Support, documentation, and tutorials could be improved. There might be some key Conversion Rate Optimization tools and SEO settings missing from the blog functionality – that's like leaving money on the table!

Security: In the digital world, security is the fortress protecting your castle. However, there are a few chinks in the armor here. Bugs, viruses, and unreliable privacy and security might make you feel like you're walking a tightrope. The path to B2B transactions and customer data management may not be as smooth as you'd like.

Templates: While BigCommerce offers templates, the range might leave you wanting more variety. It's a great tool, but it could be simplified to make your life easier.

Pricey Plans: The advanced plans might come with a higher price tag. A cost-benefit analysis is necessary to determine whether the additional features are worthwhile.

Dashboard: There may be a slight learning curve associated with the dashboard.

POS: Integrated point-of-sale systems are great, but BigCommerce seems to have missed the memo.
Ecwid Limitations
SEO: cwid ties your hands on SEO. No alt text for images and automatic URLs for products? You will not able to use your SEO skills to their full potential.

Price Dilemma: Ecwid's pricing varies by country. It's possible for something that was budget-friendly in one place to become a budget-buster in another.

Free Plan Constraints: While we all love freebies, Ecwid's free plan comes with strings attached. The ability to sell digital goods and discount coupons is limited to 5 products.

Product Variants: Creating those delightful product variants? Don't rush! It's only available on the more expensive plans.

Catalog Limitations: Ecwid's catalog management might have you raising an eyebrow. If you plan to go big, a limited product catalog and listing options can cramp your style.

Customization Struggles: Ecwid's visual customization options, or should I say lack thereof, may disappoint design enthusiasts. You might feel limited in making your storefront truly yours.

Order Management: Want full control over managing orders? More complex tasks require pricier plans, as the order management features are limited.
Integrations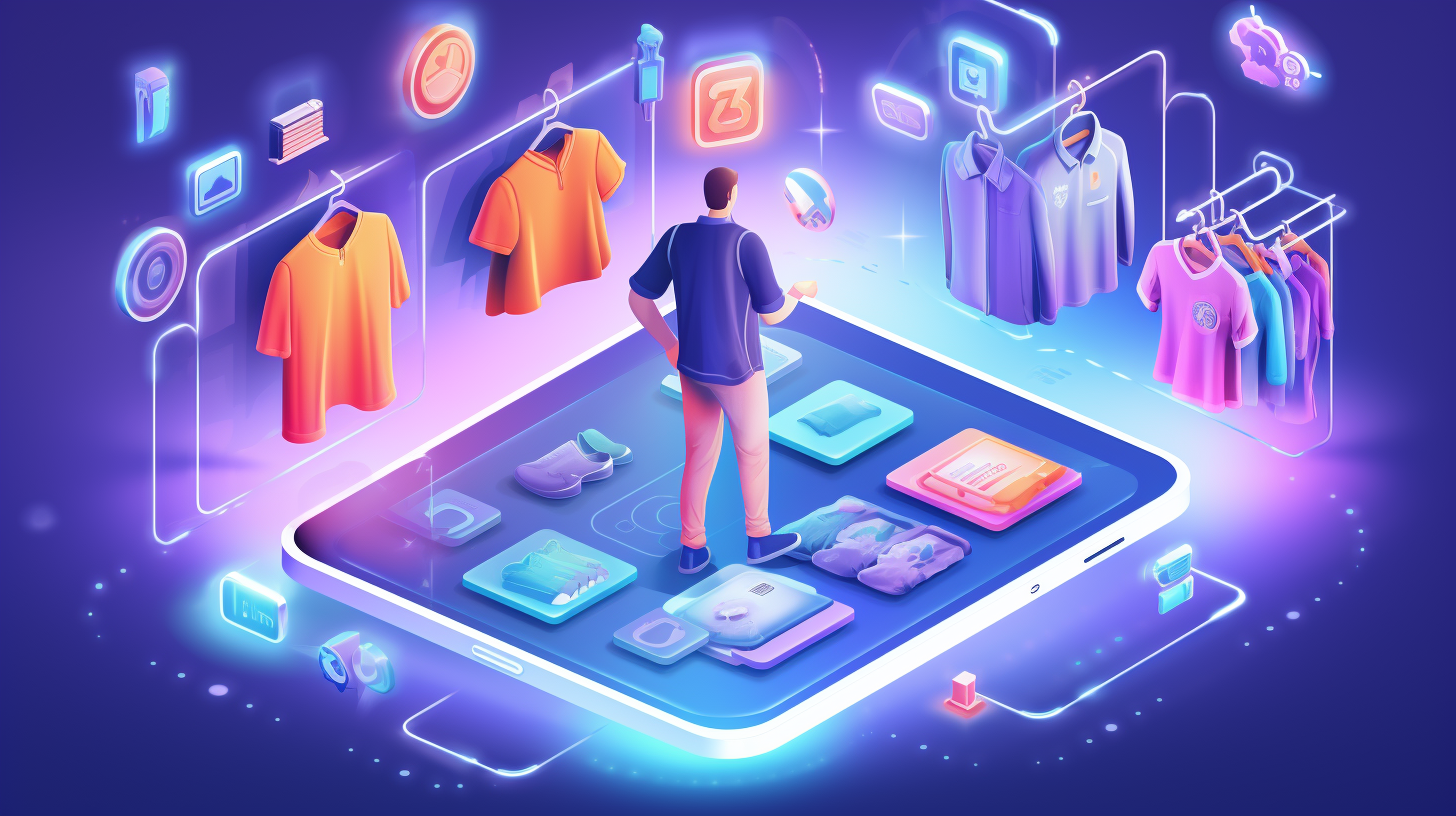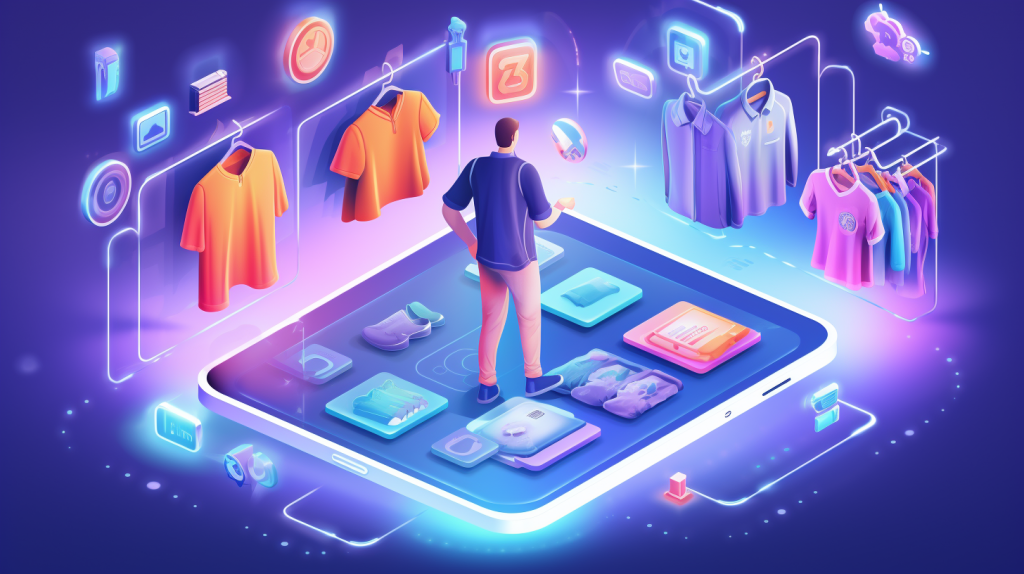 Here's how BigCommerce and Ecwid compare when it comes to integrations.
BigCommerce Integrations
There's more to BigCommerce than e-commerce; it's a powerhouse of integrations, syncing with top-tier platforms like CMS and payment gateways. With these integrations, businesses can supercharge their online presence and conversions.
CMS Integrations: Whether you're a fan of WordPress, Drupal, Joomla, or even Magento, BigCommerce has got you hooked up. Considering switching from Magento? It's no problem.
Social Media: Take your business to the next level with seamless and slick sales on Facebook and Instagram.
Shipping: Get real-time rates from USPS, UPS, FedEx, and simplify your processes with ShipStation.
Dropshipping: BigCommerce integrations include Convictional, SellerChamp, Acctivate Inventory Management, Nautical, Fishbowl, Zangerine, Freight Club, Kentro, Modalyst, and Aliexpress Dropshipping by CedCommerce.
Marketing & SEO: Power up your email game with Mailchimp and integrate Google Analytics.
CRM Solutions: Integrate Zendesk, Salesforce, HubSpot, and Zoho CRM for smooth customer interactions.
Analytics: Use Google Analytics and Klaviyo to dig deep into stats.
BigCommerce's App Market: Provides a range of third-party integrations and tools that extend and enhance BigCommerce's functionality.
Ecwid Integrations
Ecwid's e-commerce platform integrates seamlessly with website builders, social media channels like Facebook, Tiktok & Instagram, payment gateways, and more. With its integrations, businesses can easily expand their online storefront's capabilities and reach more customers.
CMS Integrations: Ecwid supports WordPress, Wix, Squarespace, Joomla, and Drupal.
Social Integration: Sell products right from your Facebook and Instagram pages.
Shipping: Compatible with major carriers, including ShipStation.
Dropshipping & POS: Ecwid is your ticket to dropshipping greatness, integrating with the likes of Wholesale2B, Wholesale2B, Syncee, Spocket, NextsChain, Xcatalog. and Printful. With various POS system integrations, multi-channel sales become a breeze.
Marketing & CRM Solutions: Through third-party apps and custom solutions, Ecwid integrates with several CRM systems, including Zoho CRM, HubSpot, Salesforce, and LiveChat.
Analytics: Stay on top of your game with insights from Google Analytics.
Ecwid's App Market: Extend your store's functionality further with an array of third-party apps, covering everything from inventory to marketing.
Check out some of the power-packed payment gateway integrations that both BigCommerce and Ecwid offer:
PayPal: Trusted by millions, seamlessly integrated.
Stripe: Smooth, sleek, and secure online transactions.
Square: On-point for solid payment processing.
Authorize.net: Another heavy hitter, ensuring your transactions are spot on.
BigCommerce offers over 65 payment gateway integrations to accept payments online, while there are also over 100 payment gateways available with Ecwid. Watch those conversions roll in and dominate the digital storefront with this lineup!
Big Names in the Game: Who Trusts BigCommerce & Ecwid?
Top Brands Using BigComemerce:
Sony
Ubisoft Store
Skullcandy
Ben & Jerry's
Vodafone
Toyota
Sharp
Top Brands Using Ecwid:
Taos
Upwork
Meta Platforms, Inc. (Yeah, that's Facebook's parent company)
H&R Block, Inc.
Diving into a more niche space, we find:
Zerorez.com
Reasonsforhopejesus.com
Russonmortuary.com
For brands looking for a comprehensive and versatile solution, BigCommerce seems to be the best choice. Its robust features, customizable themes, and reliable performance make it a popular choice among larger companies.
Ecwid, on the other hand, is finding a niche among smaller brands that need a seamless, plug-and-play e-commerce integration. Integrated with existing websites and social media pages, it is a great choice for businesses seeking a lightweight e-commerce solution.
Whether you're building from scratch or integrating into an existing site, there's a platform for you.
Pricing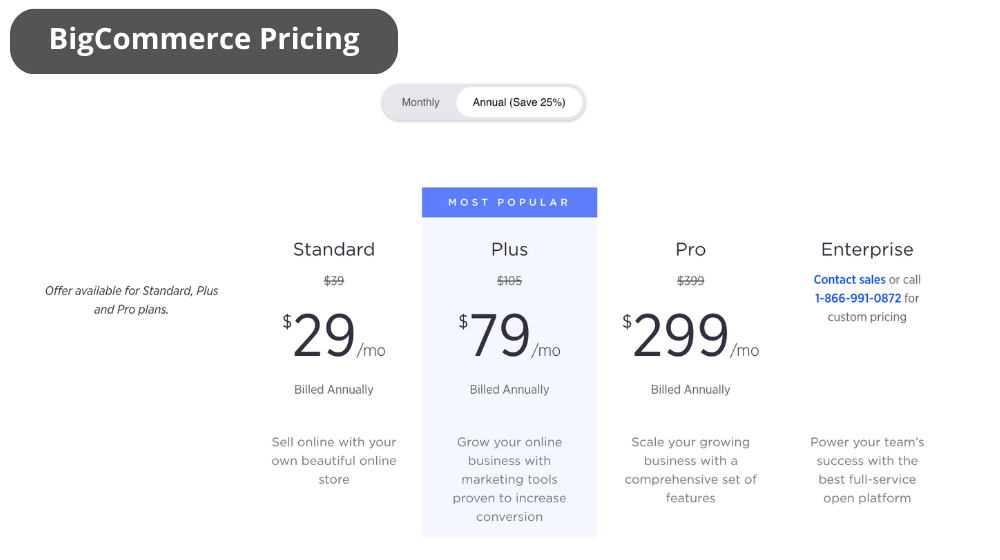 BigCommerce nails BigCommerce's value with pricing tiers for all sizes of businesses. Here are their pricing options:
Standard Plan: For $29.95-$39.95/month, you're getting capabilities to turn over up to $50k annually. Zero transaction fees, unlimited staff accounts, 24/7 support, and preferred PayPal rates are some of the perks.

Integrations? Payment gateways, POS providers, and marketplaces like Amazon and eBay are all important. Then add single-page checkout, mobile access, and real-time shipping quotes.

Plus Plan: Priced between $79.95 and $99.95/month, this package scales your limit up to $180k yearly sales. With this one, you get customer segmentation, reclaim abandoned carts, and nifty features like stored credit cards.

Pro Plan: If your game is selling up to $400k annually, go Pro for $299.95-$399.95/month. With the Plus, you get custom SSL, intricate product filtering, and refined shipping rules.

Enterprise Plan: For companies doing over $400k annually, the Enterprise plan gives you limitless API calls, custom price lists, and filtering, plus priority support.
If you're anticipating growth but want value, the Plus Plan hits the sweet spot, offering tools like customer segmentation and abandoned cart savers without breaking the bank.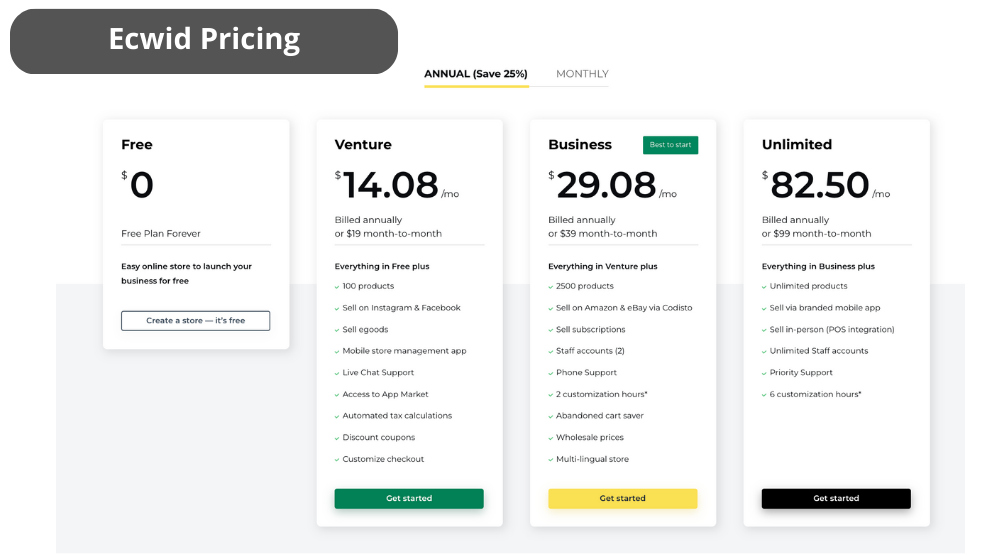 With Ecwid, you can scale features according to your wallet:
Free Plan: Start without a dime, listing up to 5 items. Despite no transaction fees, SEO capabilities are somewhat limited.

Venture at $15-$20/month: Boost your product count to 100, dive into advanced SEO, offer discount codes, and automate your tax calculations.

Business for $35-$39/month: Offers room for 2,500 products and adds features such as product variations.

Unlimited at $99-$119/month: For those refusing limits. A wide range of products, premium support, and API access are all included.I think that those with growing online businesses looking for a balance between features and cost will appreciate the Business plan at $35-$39/month.
Unlike many e-commerce sites, it is entirely free to use. Ecwid is a remarkably cost-effective way to start selling on an existing website if your needs are basic. The 'Instant Site' feature, also included in the free plan, is a great tool for beginners .
There are however limitations to the free plan, including a product limit of 5 and the inability to sell on social media platforms like Facebook or Instagram.
Pricing Model
Ecwid
BigCommerce
Free Plan
Yes, with limited features
No
Starting Price
$15 per month
$39 per month
Packages
– Venture: $19 per month (up to 100 products)
– Business: $39 per month (up to 2,500 products)
– Unlimited: $99 per month (unlimited products)
– Standard: $39 per month
– Plus: $105 per month
– Pro: $399 per month
Additional Features
More features available with higher-priced plans
More features available with higher-priced plans
International Pricing
Can be more expensive for non-US users
Pricing may vary depending on the region
Due to its lower starting price and more advanced features, BigCommerce's Standard plan is recommended over Ecwid's Venture plan.
As you can see the Ecwid's Venture plan is less expensive but also offers fewer features than BigCommerce's Standard plan.
Ultimately, the best option for you will depend on your company's goals and needs.
Products & Inventory
BigCommerce
BigCommerce is a powerhouse when it comes to boosting your store's search engine visibility, managing blogs, optimizing products, and appealing to investors. Let me break down the details for you:
SEO: BigCommerce gives you control over SEO with customizable URLs, page titles, and meta descriptions.BigCommerce automatically generates SEO-friendly URLs for your webpages, keeping duplicate content at bay by ensuring each page has a unique URL. Every page on your store can have meta descriptions, from products to blog posts to category pages to the home page.

Blogging: BigCommerce lets you publish captivating blog posts that improve your site's SEO, drive valuable traffic, and boost sales.

Product Management: With BigCommerce, you can ensure your products get the visibility they deserve with unique titles and meta descriptions filled with relevant keywords.

Product Optimizing: The platforms helps you prepare your store for peak performance by enabling the optimization of products, meta tags, and URL redirects.
You can increase your overall search engine ranking by optimizing product pages for maximum impact, creating compelling content marketing strategies, and dominating search engine rankings with BigCommerce.
Ecwid
Ecwid brings a suite of invaluable features designed to supercharge your store's SEO, keyword optimization, and overall performance. Here's what it offers:
SEO: You'll get page titles and meta descriptions based on your products and categories with Ecwid's automatic metadata generation. Ecwid provides clean, descriptive URLs that search engines love.

Your product and service descriptions can skyrocket your site's ranking in search results, giving you more visibility and organic traffic.

There are guides that can help you enhance Ecwid SEO for your store and make sure your online presence reaches new heights.

Instant Site: With Ecwid Instant Site, you can boost your store's SEO and site performance, paving the way for unprecedented success.

Product Management: Ecwid offers various tools for managing product inventory including tracking stock for products, setting order quantity limits and more.

Blogging: Ecwid's blog feature may be hard to find in search results, but other features are going to be big.

Keyword Optimization: You can boost your site's ranking in search results by crafting content that uses relevant keywords for product and service descriptions.
Despite the fact that both Ecwid and BigCommerce have SEO and keyword optimization tools, BigCommerce shines because it comes with a lot of features, like automatically generating optimized URLs, powerful SEO editing options, and blogging built-in.
BigCommerce users can use these features to improve store visibility, search engine rankings, and overall success online.
Alternative E-commerce Platforms


Check out these alternatives for your e-commerce dreams which can help you improve your online presence, attract your target audience, and grow your business.
PrestaShop: An open-source gem that comes completely free, PrestaShop impresses with its diverse array of features. Your online store will have a global reach thanks to customizable themes, advanced SEO optimization, and seamless support for multiple languages and currencies.

Shopify: E-commerce store builders and managers love Shopify because of its user-friendly interface. Enhance your store's capabilities with customizable themes, top-notch SEO tools, and apps and extensions that you can integrate.

WooCommerce: Open-source platform WooCommerce is perfect for WordPress enthusiasts. Multilingual support, customizable themes, and a wealth of extensions and integrations make it the perfect e-commerce platform.

BigCommerce: Designed with established businesses in mind, BigCommerce boasts a number of impressive features. Customize themes, optimize for SEO, and offer your products in multiple languages. You can sell across various channels and integrate apps.

SquareSpace: With its professional templates and extensive customization options, SquareSpace attracts creative minds. With Squarespace Video Studio, powerful SEO features, and seamless integrations and extensions, your online presence will be cutting-edge.

Sellfy: A great option for beginners, Sellfy makes e-commerce easier. Enjoy customizable themes, robust SEO optimization, and seamless language and currency support, ensuring your store stands out.

Magento: Magento is another impressive open-source platform. Easily customize themes, optimize SEO, and support multiple languages. There are limitless integrations and extensions.

Webflow: Webflow provides stunning professional templates and unmatched customization options for the aesthetically inclined. A wide variety of integrations and extensions elevate your online store with powerful SEO features and Squarespace Video Studio access.
Being On The Fence?
When choosing between BigCommerce and Ecwid, I recommend BigCommerce, which is the better option in my opinion. Here are the reasons behind my recommendation:
Ecwid lacks the robust features offered by BigCommerce. Your online store will benefit from a comprehensive set of tools designed to empower it and facilitate its growth. A scalable catalog, shipping, tax, staging, secure payments, and returns management software are all available with BigCommerce.
Its outstanding support is another appealing feature. Their commitment to helping you succeed extends beyond supplemental account management, solution architecture, technical account management, implementation project management, and catalog transfer services.
Once again, BigCommerce leads when it comes to SEO capabilities. While Ecwid does offer some basic SEO features, BigCommerce goes a step further. SEO-friendly features like faceted search and clean URLs will boost your website's visibility in search engine results, resulting in more organic traffic.
If you desire a comprehensive, feature-rich e-commerce solution, BigCommerce is unquestionably the better choice.
Boost Your Online Store's Success with Content Marketing
Successful e-commerce requires more than a great platform. It requires a strong marketing strategy as well. To boost your online store's success, check out King Kong's services.
By embracing the power of content marketing, your online store will achieve substantial growth. Partnering with a reputable digital marketing agency like AmpiFire can unlock a world of possibilities for your business.
Our team helps businesses like yours thrive in the digital world.
By enhancing your online presence and driving targeted traffic to your e-commerce site, our content marketing campaigns can help boost your conversions.
If you want to learn how a strategic approach tailored to your unique business goals can take your e-commerce strategy to the next level, schedule an appointment today.