Article at-a-glance:

- BigCommerce is an e-commerce platform that offers extensive customization options, scalability, and a range of features, so it's perfect for businesses of all sizes. Among the best e-commerce platforms out there, Shopify is known for its simplicity, its integrations, and high-quality themes, which makes it a popular choice.

- Limitations: BigCommerce charges higher transaction fees and has fewer app integrations, while Shopify's interface and theme customization options can be challenging for some.

- Integrations: The two e-commerce platforms offer a wide range of integrations with third-party apps and services to enhance their functionality, but BigCommerce is better known for its native integrations, while Shopify has a larger selection.

- Pricing: Compared with Shopify, BigCommerce is more affordable and offers more features, while Shopify is easier to use.

Both platforms offer robust features to facilitate online product sales.
As the demand for online shopping surges, e-commerce platforms like BigCommerce and Shopify take the spotlight. These giants empower entrepreneurs to sell products online with their impressive features.
Yet, picking between them is a challenge. Here, we delve into their key features, prices, and unique traits to guide you in choosing the right fit for your needs.
Key Features
Through my personal experience with BigCommerce and Shopify, I've learned to value the unique advantages of each. BigCommerce offers a range of integrated features, while Shopify leverages its extensive app store for extra marketing tools and functions.
| Criteria | BigCommerce | Shopify |
| --- | --- | --- |
| Pricing | Offers pricing plans starting from $29.95 per month for the Standard plan, up to $299.95 per month for the Pro plan. | Offers pricing plans starting from $29 per month for the Basic plan, up to $299 per month for the Advanced plan. |
| Hosting | Provides fully hosted solutions, taking care of hosting and server maintenance. | Provides fully hosted solutions, taking care of hosting and server maintenance. |
| Customization | Offers extensive customization options with its open-source framework, allowing businesses to customize their websites extensively. | Provides a user-friendly interface and seamless integration with third-party apps, making it ideal for beginners. |
| Integrations | Offers a wide range of integrations and has an app marketplace with over 600 apps. | Has a larger app store with over 6,000 apps available for integration. |
| Features | Provides rich built-in features, open APIs, and customization functions, resulting in a lesser need for users to add apps. | Offers features such as mobile-responsive themes, sales reporting, international payment methods, and blog CMS capabilities. |
| Scalability | Provides scalability and flexibility with its open-source framework, allowing businesses to grow and customize their websites as needed. | Also offers scalability and can handle high levels of traffic and sales volume. |
| Limitations | Limitations in terms of fully customizable URLs, access to edit robot.txt, and CDN. | Limitations in terms of customization options compared to BigCommerce. |
Quick comparison between the key features of Shopify and BigCommerce.
BigCommerce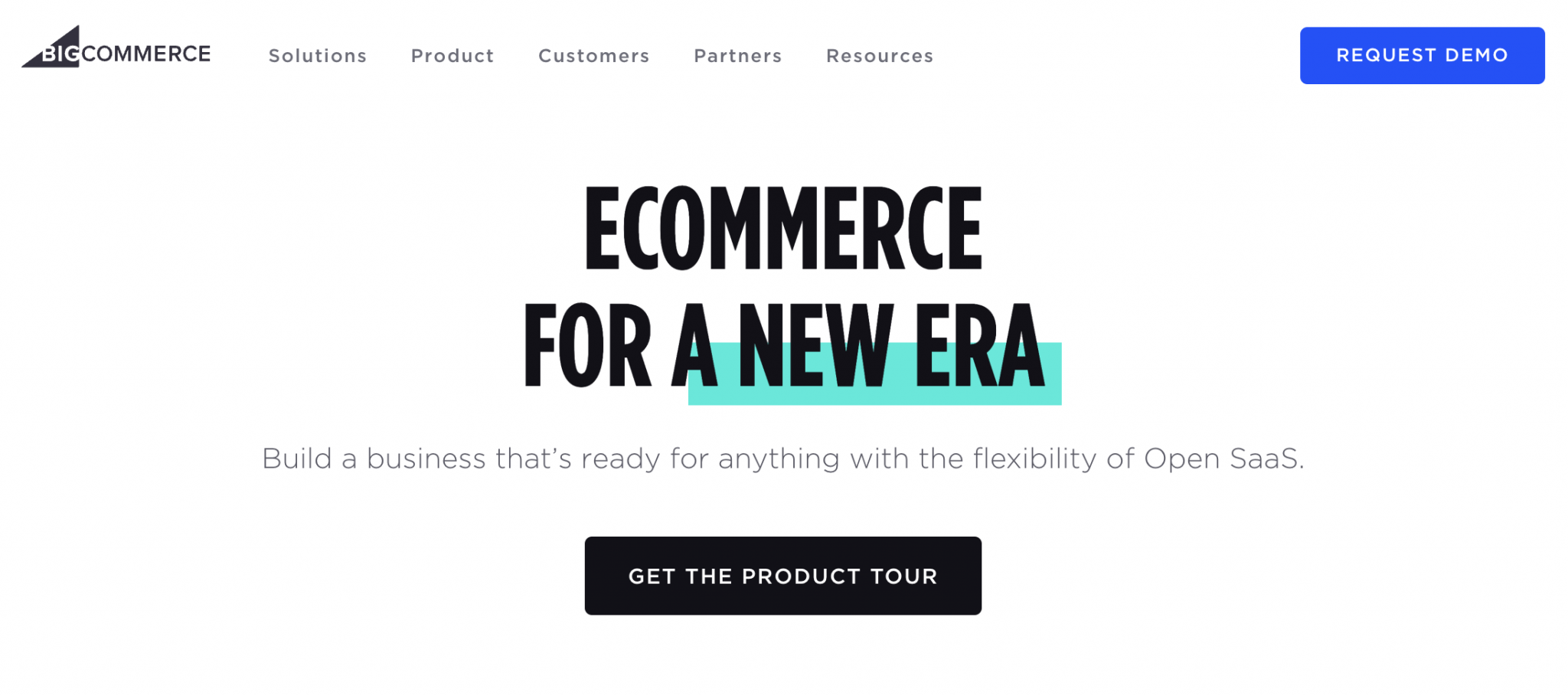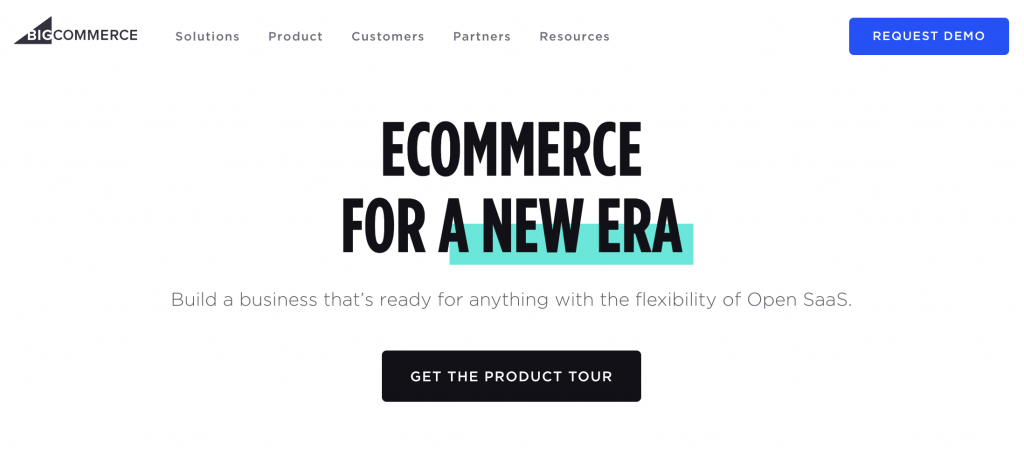 Discover how BigCommerce makes eCommerce management simple with intuitive design tools, customizable themes, and seamless checkout.
Global Reach: BigCommerce empowers businesses in more than 150 countries, ensuring merchants everywhere have access to their products.

Scalability: BigCommerce provides growth-focused tools for businesses of all sizes, from startups to enterprises. In my experience, BigCommerce shines in terms of its scalability and robust built-in features, making it a great choice for businesses that are growing fast. It is a more scalable platform, making it a better choice for businesses that plan to grow in the future. It can handle large volumes of traffic and transactions without slowing down or crashing.

Collaborations: BigCommerce partners with industry leaders like Adobe, Salesforce, and SAP to integrate extensions that enhance platform functionality.

User-Friendly: BigCommerce offers a user-friendly backend interface for managing online stores despite a learning curve.

Intuitive Drag-and-Drop Site Builder: With BigCommerce, even if you're not a coding pro, you can effortlessly craft and tweak your website using their user-friendly drag-and-drop builder. Coding skills are not required.

Customizable Themes: BigCommerce offers more advanced customization options. This allows users to create a unique online store. It comes with a drag-and-drop page builder, custom CSS and HTML, and more. Make sure your online store aligns perfectly with the vibe and essence of your brand.

Checkout API & SDK: Wave goodbye to generic checkouts. With BigCommerce's checkout APIs and SDKs, you can fine-tune every checkout detail to give your customers a seamless, on-brand experience.

Native App Experience: Use native apps on BigCommerce to enhance your site's features without managing the details. You're in charge where it matters, while the platform handles the rest.

Multiple Storefronts: Managing multiple storefronts is a cinch with BigCommerce. This centralized platform streamlines operations if you handle multiple brands or customer segments.

Payment Options: With 65 payment options, BigCommerce covers all the bases. BigCommerce offers payment providers like PayPal, Stripe, Square, and Authorize.net. By allowing customers to pay the way they want, you'll boost their satisfaction and conversion rates.

Expert Support: BigCommerce delivers 24/7 customer service. They've got your back, ensuring you're always on track to make the most of the platform.

Security & Data Protection: BigCommerce provides SSL encryption to protect customer data. It handles the hosting of online stores and ensures security by providing SSL certificates
"BigCommerce is a fantastic solution for a growing medium-sized e-commerce focussed business. It's great from an administrative standpoint with an easy-to-navigate interface and huge feature set. The amazing personal service, robust feature set and continually developing product roadmap sets BigCommerce apart from the crowd – it's that sweet spot of "just right" for a fast-growing business."

via trustradius.com
Shopify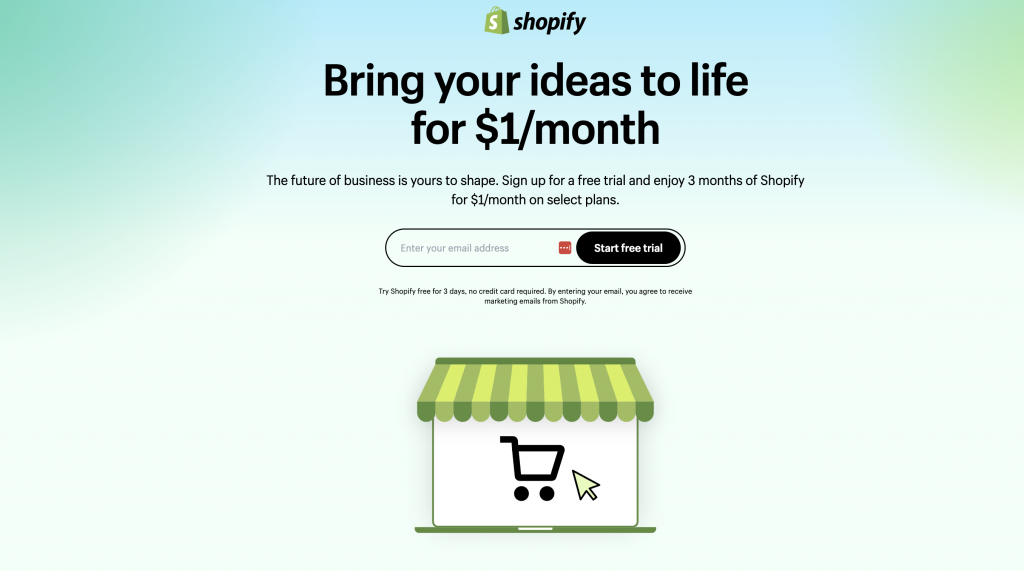 From effortless store setup to seamless multi-channel sales, Shopify is the gateway to digital success for budding startups and established enterprises alike.
Simple Setup: Businesses can create and manage their online stores easily with Shopify's user-friendly interface and drag-and-drop functions.

Scalability: No matter if you're a fresh startup or a full-fledged enterprise, Shopify grows with you. You can use it to support the evolution of your business with growth-focused tools. Unfortunately, Shopify is not quite as robust as BigCommerce. But, it is known for its fast load times and high performance, making it a great choice for businesses that prioritize speed and efficiency.

App Store: The Shopify App Store boasts more than 8,000 apps. They're like superpowers that can ramp up your store's capabilities.

Multi-channel integration: Sell your products anywhere your customers are with Shopify's social media hangouts, seller hubs, blogs, and texts.

Payment Options: Accept payments in various flavors – credit cards, PayPal, Apple Pay, and Google Pay, Meta Pay.

Shipping: Shopify's got your back with built-in shipping tools. You can set rates, print labels, and track packages without breaking a sweat.

Abandoned Cart Recovery: Wave goodbye to abandoned carts. Whenever a customer drops their cart, Shopify sends them an automated email to remind them to finish their purchase.

Point-of-Sale (POS): Got a retail itch? Take advantage of Shopify's built-in Point-of-Sale system. Whether you're selling at pop-ups, markets, or stores, you'll be a pro.

Customization: Shopify offers a more streamlined approach to design and customization. While you can still customize your store using Shopify's theme editor, it's not as advanced as BigCommerce's customization options. However, Shopify offers a wider range of high-quality themes.

Security & Data Protection: Shopify offers SSL encryption and is PCI compliant, ensuring the protection of customer data. It also provides a secure sockets layer (SSL) certificate that protects online payment.
"Shopify is the best ecommerce platform on the market today, especially if you're looking to grow your business. It's designed to help people build their own scalable online store with hundreds of built-in features and apps. You can sell products directly on your website, and across multiple marketplaces and social media."

via websitebuilderexpert.com
Limitations
BigCommerce Limitations
As an ecommerce platform, BigCommerce has the following limitations:
Lack of Built-in POS Solution: In contrast to Shopify, BigCommerce does not offer a Point of Sale (POS) solution for selling products offline.

Platform Limits: BigCommerce has certain platform limits, including the maximum number of products displayed on its home page and the maximum number of categories per store.

Restrictions on Annual Sales Volume: BigCommerce limits the amount of sales your online store can generate each year.

Lack of Automated Categorization: Due to BigCommerce's lack of automated categorization, product organization can be challenging. You might be better off rolling up your sleeves or using a good PIM system like IceCat or KatanaPIM here.
Shopify Limitations
Shopify also has its own limitations:
Fees: If you're diving deep into the ecommerce world, those Shopify charges will start to weigh on your ROI. Having a digital storefront is like paying rent, and sometimes that rent can be high.

Product Variations: Shopify puts a cap on your product variations. Think about it: only three options per product and a max of 100 variants? This might hamper your A/B testing and limit your product showcasing strategies.

Content Management: Your content tells your brand story, and while Shopify does its bit, it might not be the storyteller you envisioned. The Shopify CMS might be a tad limited if you're big on content.

Payment Gateway Lock-in: As a result of Shopify's payment gateway lock-in, merchants may have limited options for payment processors.

Limited Specifications for Attributes: Shopify's specifications for attributes may be limited, making it difficult for stores to sell certain types of products. While Shopify rocks customizability, some folks crave more advanced designs found in other platforms.

Cost: Though Shopify's plans fit many pockets, some wallets prefer the price tags on other platforms.
Always be vigilant, test the waters, and make sure you're getting what your business deserves.
Integrations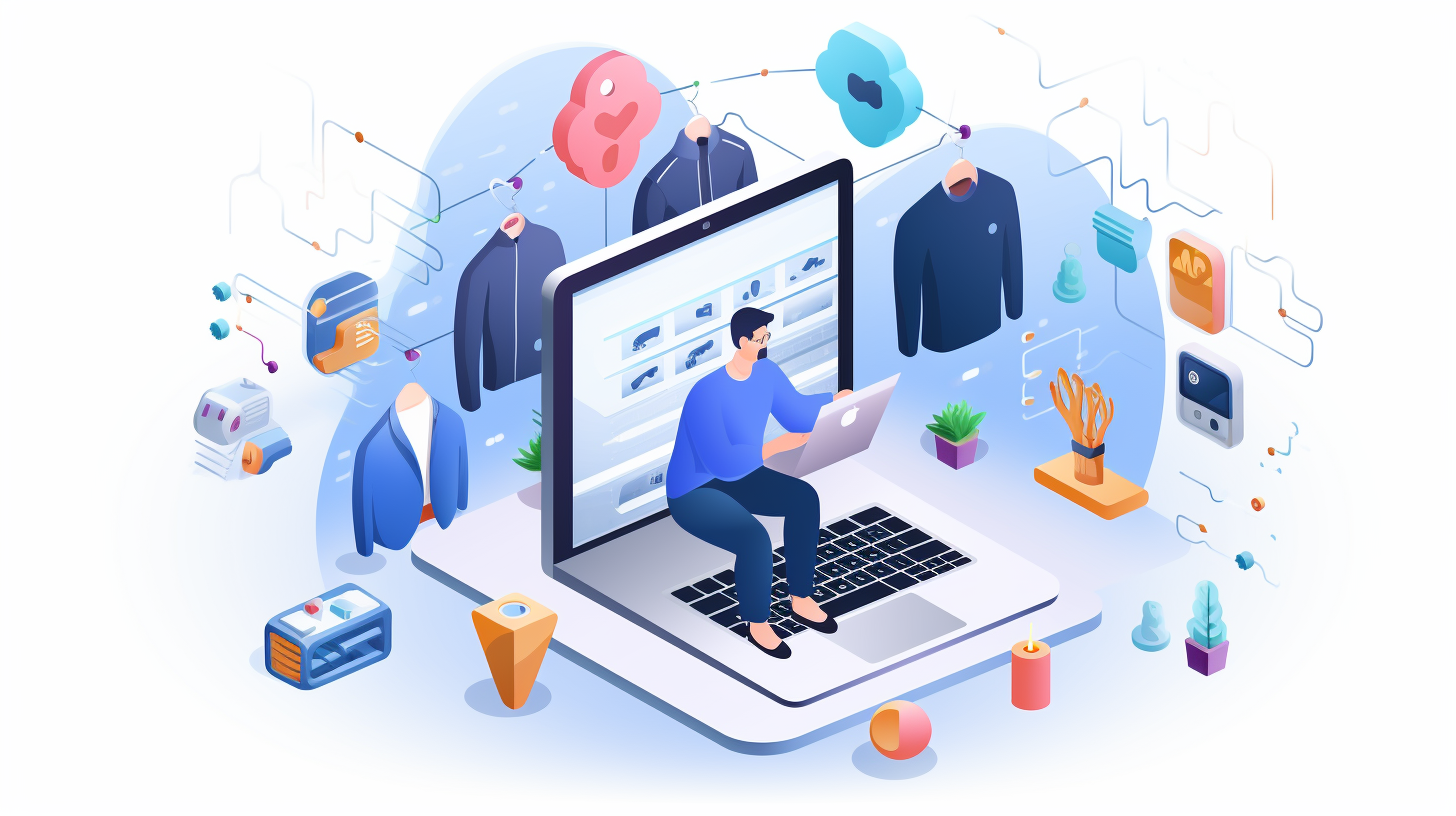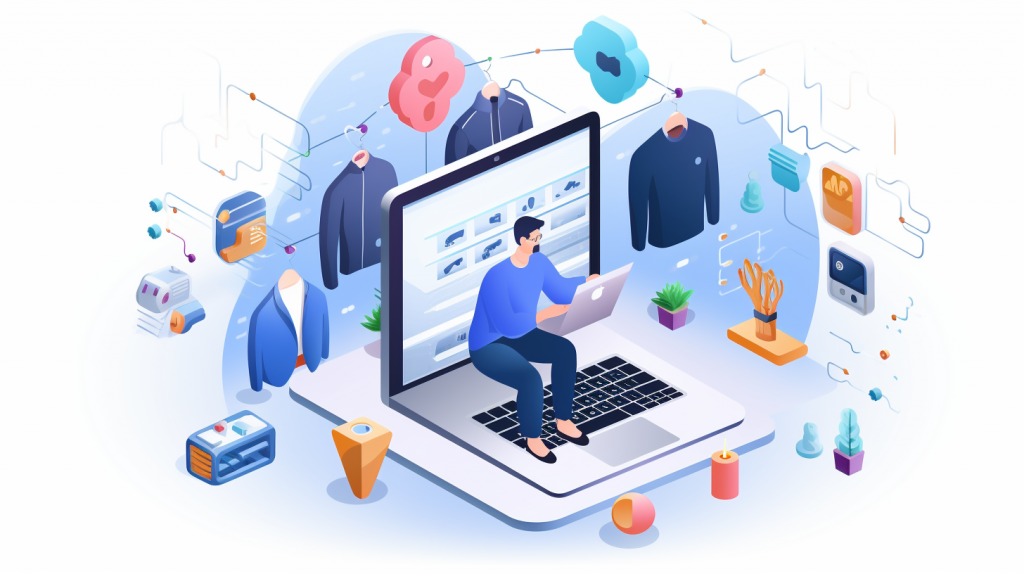 Compared to Shopify's 6,000 apps, BigCommerce has over 600, some of which are exclusive. Shopify stores can employ chatbots for agent-free customer service, and BigCommerce users can access the CedCommerce Marketplace Connector.
BigCommerce Integrations
Several BigCommerce integrations streamline and improve ecommerce operations, from shipping management to conversion optimization.
ShipperHQ: Manages shipping details and orders between BigCommerce and carriers.

Stamped Product Reviews and UGC: Displays customer reviews and user-generated content on your BigCommerce store.

LiveChat + Customer Insight: Supports BigCommerce customers and provides insights into customer behavior.

NoFraud: Provides real-time fraud detection and prevention.

CedCommerce Marketplace Connector: Connects BigCommerce stores with marketplaces like Walmart, Etsy, and Google Shopping.

Omnisend: Designs and sends personalized emails based on customer behavior.

Shogun Page Builder: Creates custom landing and product pages without coding.

Justuno: Increases conversions through targeted pop-ups and exit-intent offers.

Sellbrite: Organizes inventory and sales on multiple platforms including Amazon, eBay, and Walmart.

Yotpo Product Reviews: Displays customer reviews and ratings on their BigCommerce site.
Shopify Integrations
Shopify's wide range of integrations improves various aspects of online business, including customer support, financial tasks, and shipping processes.
HubSpot: Organizes customer data, automates marketing campaigns, and tracks sales.

Amazon by Codisto: Integrates Shopify with Amazon to allow products to be listed and sold there.

QuickBooks Online Global: Integrates Shopify sales data with QuickBooks Online financial management software.

eBay: Enables product listing and sales on eBay directly from Shopify.

Zendesk: Facilitates customer support and inquiry management.

Power BI Connector: Connects data from Shopify to Microsoft Power BI for advanced reporting and analytics.

Xero Bridge by Parex: Integrates Shopify and Xero for financial management.

Shipstation: Coordinates the shipping and fulfillment of orders between Shopify and carriers.

Tableau Connector: Integrates Shopify data with Tableau for enhanced analytics and reporting.

Shopify Chatbots: Offers 24/7 customer service without the need for live agents.
Big Names in the Game: Who Trusts BigCommerce & Shopify?
Numerous prominent brands have chosen BigCommerce and Shopify for their online stores. Let's take a look at some of the well-known names that have given their endorsement.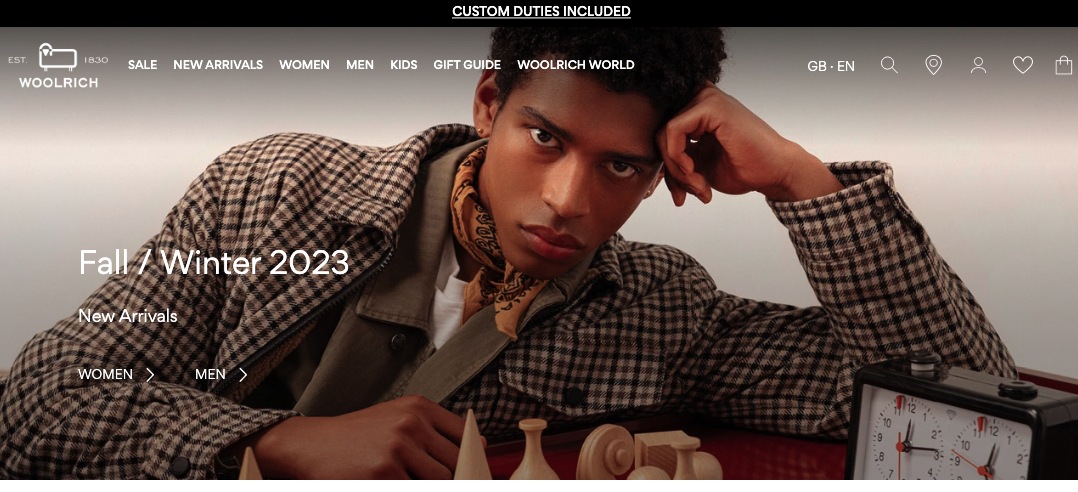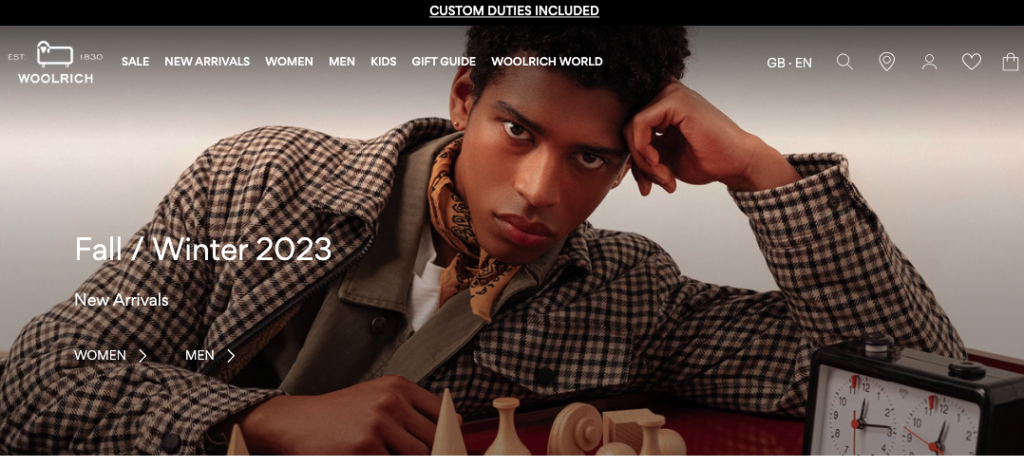 Top brands using BigCommerce:
Nike
Sephora
American Eagle
Johnson
Skullcandy
Sony
Vodafone
Woolrich
Bliss
Toyota
Spinning.com
Ben & Jerry's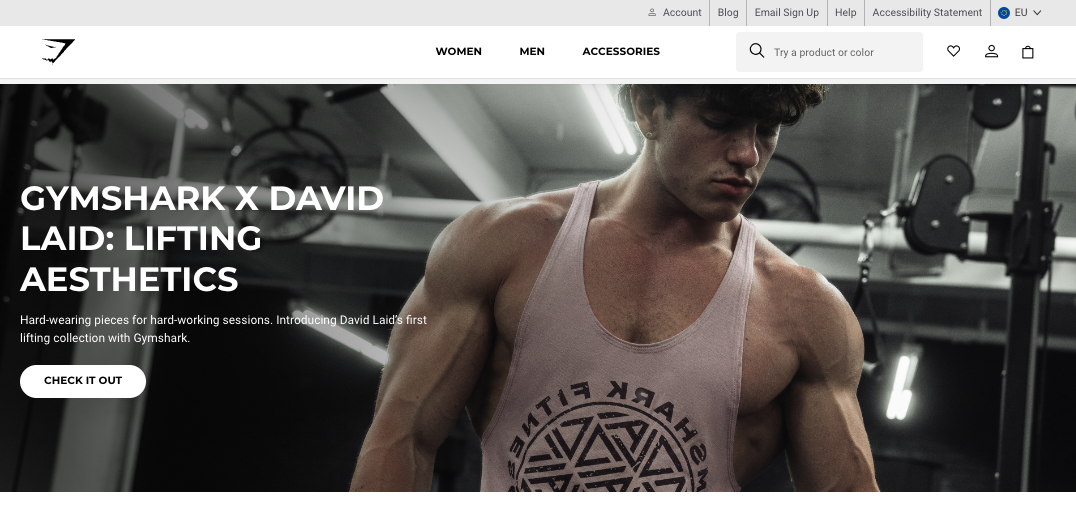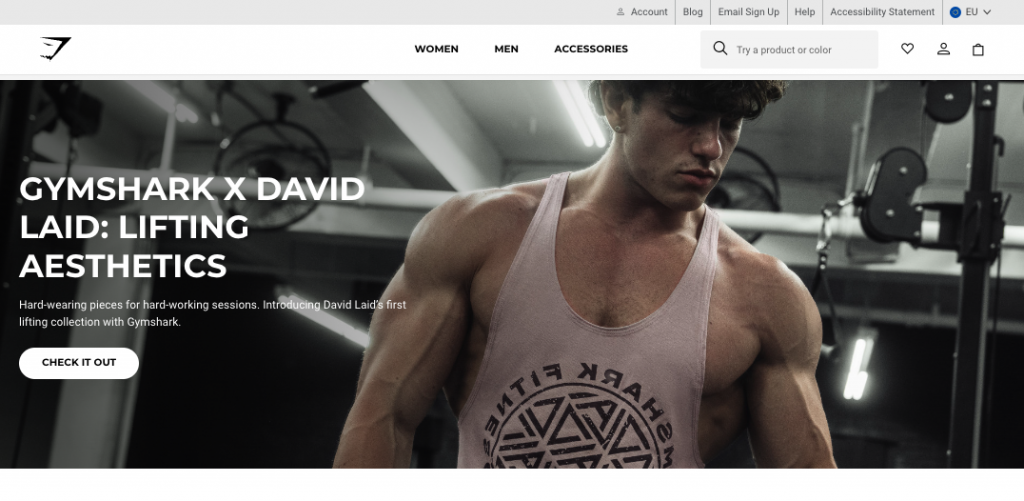 Top brand using Shopify:
Kylie Cosmetics
Skims
KKW Beauty (soon to relaunch)
Sephora
Rebecca Minkoff
Victoria Beckham Beauty
Gymshark
Fitbit
Penguin Books
Hyatt Hotels Corp
Pricing
The cost plays a vital role in business decisions. Here we'll analyze the pricing of BigCommerce and Shopify to help you find the more cost-efficient platform.
| Platform | Plan | Monthly Cost (Billed Annually) | Features |
| --- | --- | --- | --- |
| Shopify | Basic | $26.10 | Online store, unlimited products, 24/7 support, discount codes, free SSL certificate |
| Shopify | Shopify | $71.10 | All Basic features, gift cards, professional reports, abandoned cart recovery |
| Shopify | Advanced Shopify | $269.10 | All Shopify features, advanced report builder, third-party calculated shipping rates |
| BigCommerce | Standard | $29.95 | Online store, unlimited products, no transaction fees, unlimited staff accounts, 24/7 support |
| BigCommerce | Plus | $71.95 | All Standard features, customer groups and segmentation, abandoned cart saver, stored credit cards |
| BigCommerce | Pro | $269.96 | All Plus features, Google customer reviews, custom SSL, product filtering |
| BigCommerce | Enterprise | Custom | All Pro features, custom facets, priority support, dedicated account management |
A quick view at the pricing plans of Shopify and BigCommerce
BigCommerce Pricing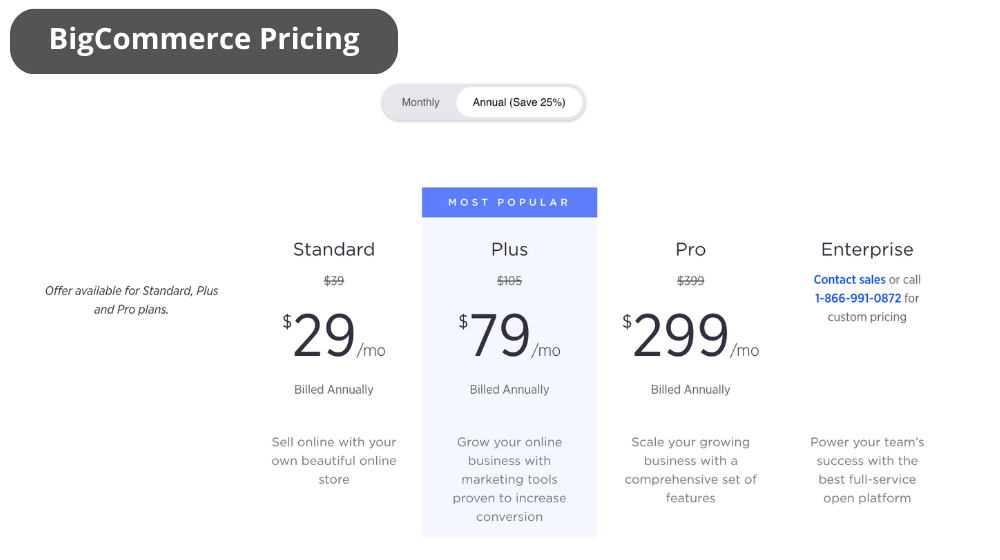 BigCommerce offers four different pricing plans: Standard, Plus, Pro, and Enterprise.
The Standard plan starts at $29 per month and includes unlimited staff accounts, storage, and bandwidth. It also comes with a free SSL certificate and 24/7 support.
The Plus plan starts at $79 per month. It contains all the features of the Standard plan, plus advanced features like customer groups and segmentation, custom SSL, and abandoned cart saver.
The Pro plan starts at $299 per month and includes all the features of the Plus plan, plus advanced features like Google customer reviews, faceted search, and custom facets.
The Enterprise plan is custom-priced and includes all the features of the Pro plan, plus additional features like priority support, custom facets, and dedicated SSL.
Shopify Pricing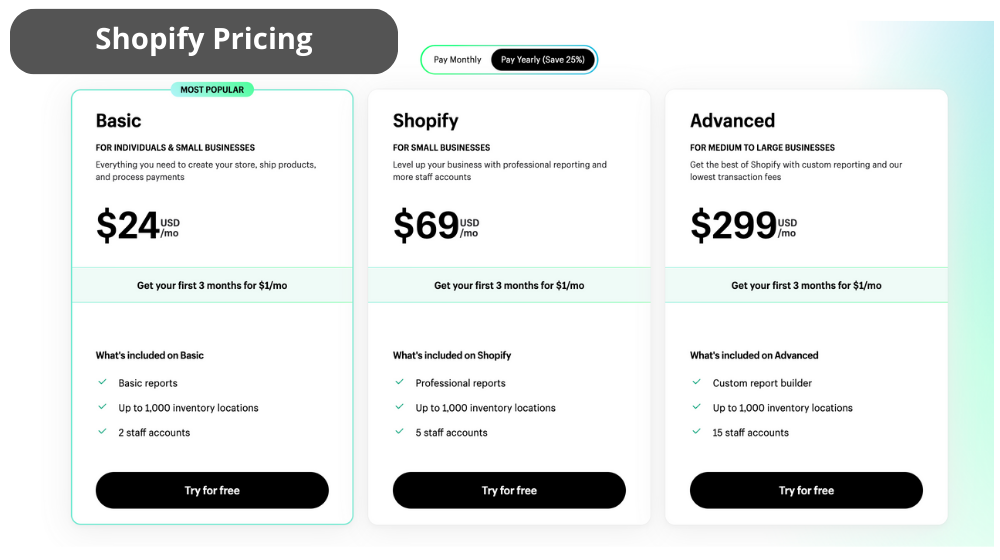 Shopify offers three different pricing plans: Basic Shopify, Shopify, and Advanced Shopify.
The Basic Shopify plan starts at $39 per month and includes 2 staff accounts, basic reports, and up to 1,000 inventory locations.
The Shopify plan starts at $105 per month and includes all the features of the Basic Shopify plan, as well as professional reports and up to an 88% shipping discount. With this plan, you get 5 staff accounts, rather than 3.
The Advanced Shopify plan starts at $399 per month. This plan offers 15 staff accounts, a customizable report builder, and also an 88% shipping discount.
As you can see, Shopify is a bit more expensive than BigCommerce. Therefore, you'd have to look closely at each plan option to determine which one fits your budget and needs.
Products & Inventory, Blog Management & SEO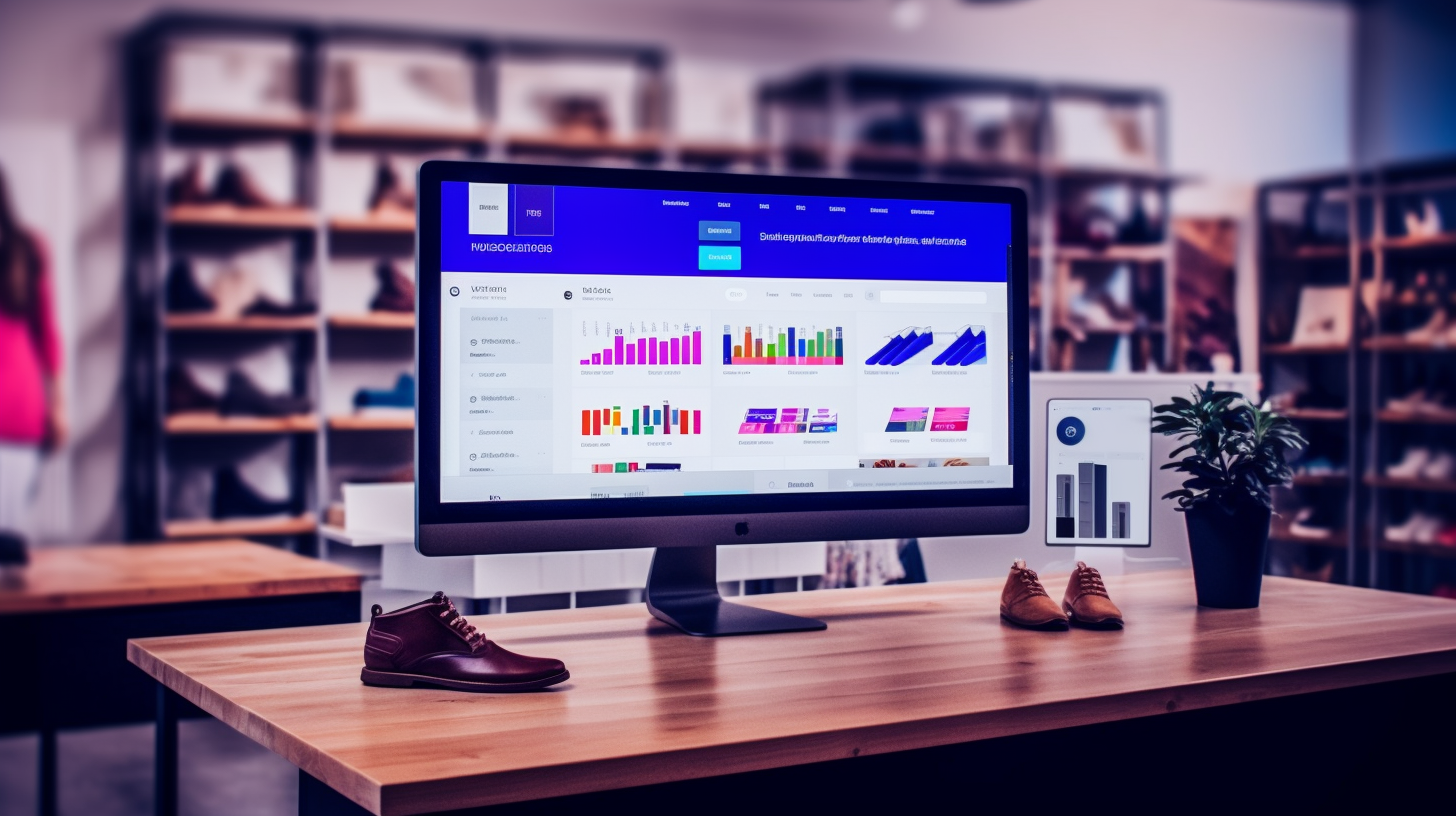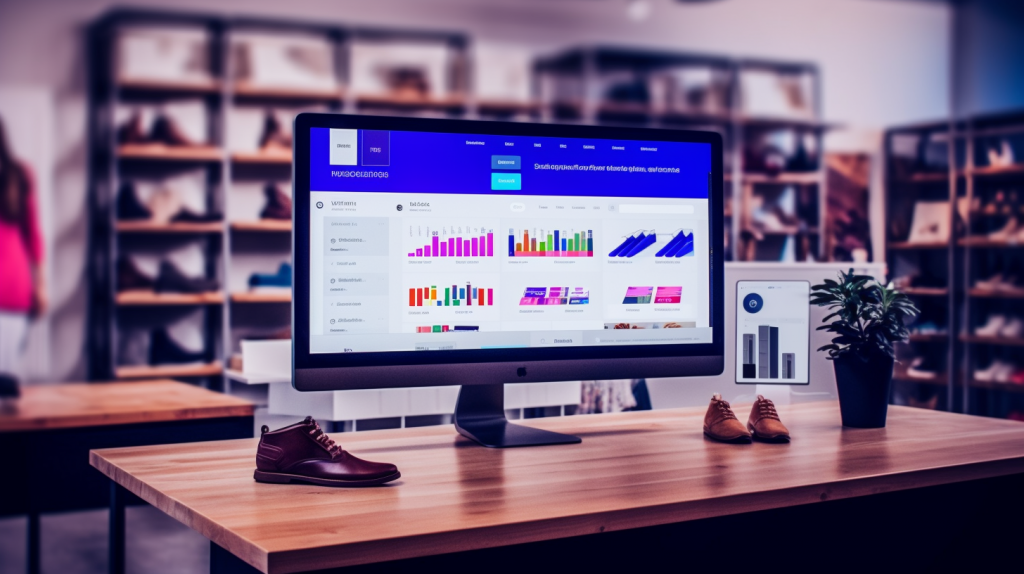 BigCommerce
With BigCommerce, you can easily manage product pages with customizable templates and clear product options.
The BigCommerce inventory management system simplifies the process from beginning to end.
Despite its robust inventory management tools, there is one limitation: BigCommerce tracks finished goods only, not raw materials or in-progress goods.
Page creation is BigCommerce's strong suit. Drag-and-drop allows you to easily craft and adjust your web pages. In addition, it empowers businesses to forge a unique identity with customizable storefront themes. Among the most popular BigCommerce themes is Stencil, which offers a wide range of features.
Both platforms have built-in blogging capabilities, but BigCommerce offers more features for optimizing sites in search engines. The blog management platform features will make content creation and management easy for your businesses.
Plus, BigCommerce provides better solutions for utilizing SEO aspects than Shopify. Besides customizing title tags, meta-descriptions, and URLs, you can optimize landing pages and also generate sitemaps automatically and customize robots.txt.
Shopify
Inventory management is Shopify's forte. You can monitor stock levels, decide when to reorder, and receive alerts when stock drops. It's also easy to manage products. Think bulk editing, playing with product variants, or organizing them. Nevertheless, Shopify may not work well for businesses with multiple warehouses and a maze of inventory.
Shopify offers an assortment of design templates for designing your storefront. Plus, there's a drag-and-drop builder. Even if you're not familiar with coding, you can create your perfect webpage.
Your content will be engaging with Shopify. With Shopify, your blog content gets the SEO love it needs – be it meta descriptions, title tags, or that perfect URL. Yet, Shopify has limitations with SEO compared to BigCommerce.
The SEO basics are covered: meta descriptions, title tags, and URL structures. Need more? Discover a treasure trove of SEO apps in the Shopify app store. Yet, you might want more from Shopify's basic suite if you manage multiple sites or deal with international SEO waters.
5 Alternative E-commerce Platforms

The digital market is flooded with ecommerce solutions. Each promises the world, but which delivers?
Here are the industry giants:
WooCommerce: WordPress's Little Secret. WooCommerce turns your WordPress website into an ecommerce store. You can use it if you already have a WordPress site and want to add ecommerce functionality. It is more complicated than BigCommerce to set up and maintain, and can slow down your website if you use many plugins.

Magento: The platform is highly customizable and offers excellent SEO capabilities. Magento is best suited for large ecommerce stores. It provides seamless omnichannel experiences for large product catalogs. It requires more technical knowledge, and it can be expensive to maintain.

Wix: Website builder Wix offers ecommerce features, including inventory management and payment processing. Its ease of use and affordability make it popular. This ecommerce platform is ideal for small businesses. It comes with a limited number of payment gateways and design flexibility.

Shift4Shop: With killer features like seamless payment gateways, inventory control, and SEO game, this platform doesn't just offer affordability, it's built to manage massive product listings. It can be slow to load and has limited design flexibility.

Squarespace: Squarespace offers a range of ecommerce features, including payment processing and inventory management. The templates are beautiful and easy to use. It's best for small businesses looking to create an online store. Low-tier plans have transaction fees and the platform has limited payment gateways.
It's crucial to consider your business needs and budget when choosing an ecommerce platform. You can make or break the user experience with integrations, apps, or even loading speeds.
BigCommerce vs Shopify: Which Offers the Most Value?
When it comes to choosing an e-commerce platform, both BigCommerce and Shopify offer a wide range of features and capabilities to help you sell your products online. The platform you choose will ultimately depend on your specific needs and budget.
I personally find the BigCommerce more affordable. They provide more features than Shopify. But, of course, BigCommerce doesn't have as many templates.
Shopify, on the other hand, is a more straightforward platform that focuses on ease of use. It's really good for beginners. Plus, it offers a wide range of high-quality themes and apps.
No matter which platform you choose, both BigCommerce and Shopify are great choices for businesses looking to start or grow their e-commerce presence. In terms of value, BigCommerce provides a lot of bang for your buck.

But again, the best option for you is based upon your specific needs.
Does Your Online Business Need a Boost?
Now that you understand the contrasts between the BigCommerce and Shopify, it's time to take your sales and revenue seriously. If you are looking to increase traffic to your online store and get more sales, we can help.

At AmpiFire, we drive results, as showcased in our users' success stories. Using hyper-targeted content, we aim to kick-start your long-term organic traffic for your online store to help scale your business growth.
If you would like to learn more about how we can assist you, schedule an appointment with our team.