Article at-a-glance: 

- BigCommerce is a hosted platform with set pricing plans, offers a range of themes, has more built-in features, and is suitable for businesses of all sizes. WooCommerce, on the other hand, is a self-hosted platform that is highly customizable and free but requires businesses to pay for web hosting, themes, and additional functionalities.

- Limitations: BigCommerce has a limited number of stores and sales, a lack of automated categorization, and a potential difficulty switching to another platform. 

Although flexible and easy to set up, WooCommerce may pose challenges regarding scalability, security, and technical management.

- Integrations: BigCommerce and WooCommerce offer a range of integration capabilities to simplify operations and improve customer service. In addition to NetSuite, Zapier, and Jitterbit, BigCommerce also integrates with Katana, MyWorks Software, and Klaviyo.

- Pricing: BigCommerce offers four subscription plans (Standard, Plus, Pro, and Enterprise), ranging from $39 to custom pricing. The WooCommerce system, on the other hand, is free, but there are associated costs for web hosting, themes, and additional features. Users' choices and needs can influence these costs greatly.

Choosing the right e-commerce platform can feel overwhelming, doesn't it?
With so many options available, it's crucial to choose a platform that suits your business's needs. This is why we are highlighting BigCommerce and WooCommerce. Each of these top contenders brings something unique to the e-commerce table, but which one is right for your business?
In this guide, we'll compare key features, integrations, pricing, and even the questions you should ask before committing to a platform.
With this insight, you'll be able to make a decision that truly supports your business. So are you ready to discover what BigCommerce and WooCommerce have to offer?
Key Features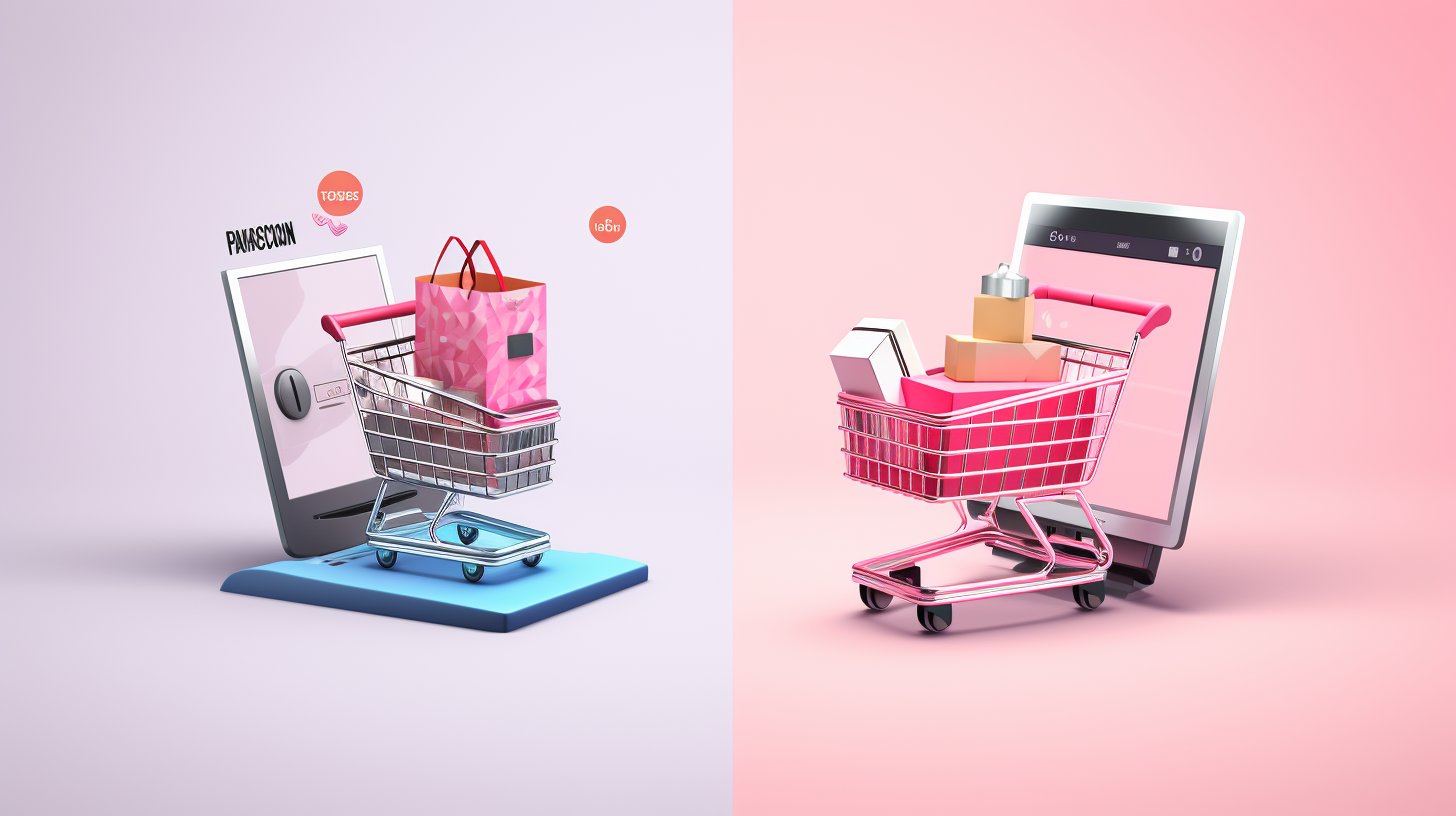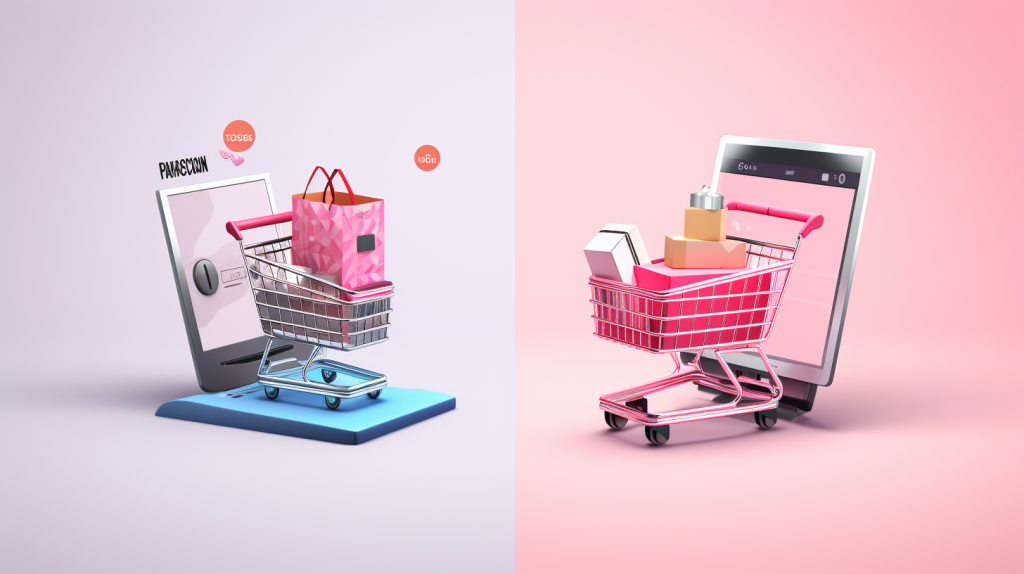 "Comparing WooCommerce and BigCommerce means comparing two of the larger e-commerce platforms around."

via groovehq
| Feature | WooCommerce | BigCommerce |
| --- | --- | --- |
| Pricing | Free plugin, but businesses will need to pay for web hosting, themes, and additional functionalities | Set pricing plans ranging from $39 to custom pricing per month |
| Hosting | Self-hosted platform | Hosted platform |
| Customization | Highly customizable with a range of themes and extensions, no coding skills required | Offers a range of customizable themes and a drag-and-drop site builder |
| Integrations | Offers a range of integrations, including Katana, MyWorks Software, and Klaviyo | Offers a range of integrations, including NetSuite, Zapier, and Jitterbit |
| Features | Offers a range of features and extensions to enhance functionality | Offers more built-in features than competitors |
| Scalability | Suitable for businesses of all sizes | Suitable for businesses of all sizes |
| Limitations | Scalability requires advanced server performance, may require some technical knowledge to customize and manage effectively, plugin compatibility issues, security issues | Automated categorization functionality is lacking, sales limit, store limits, platform lock-in |
Quick comparison table between WooCommerce and BigCommerce.
BigCommerce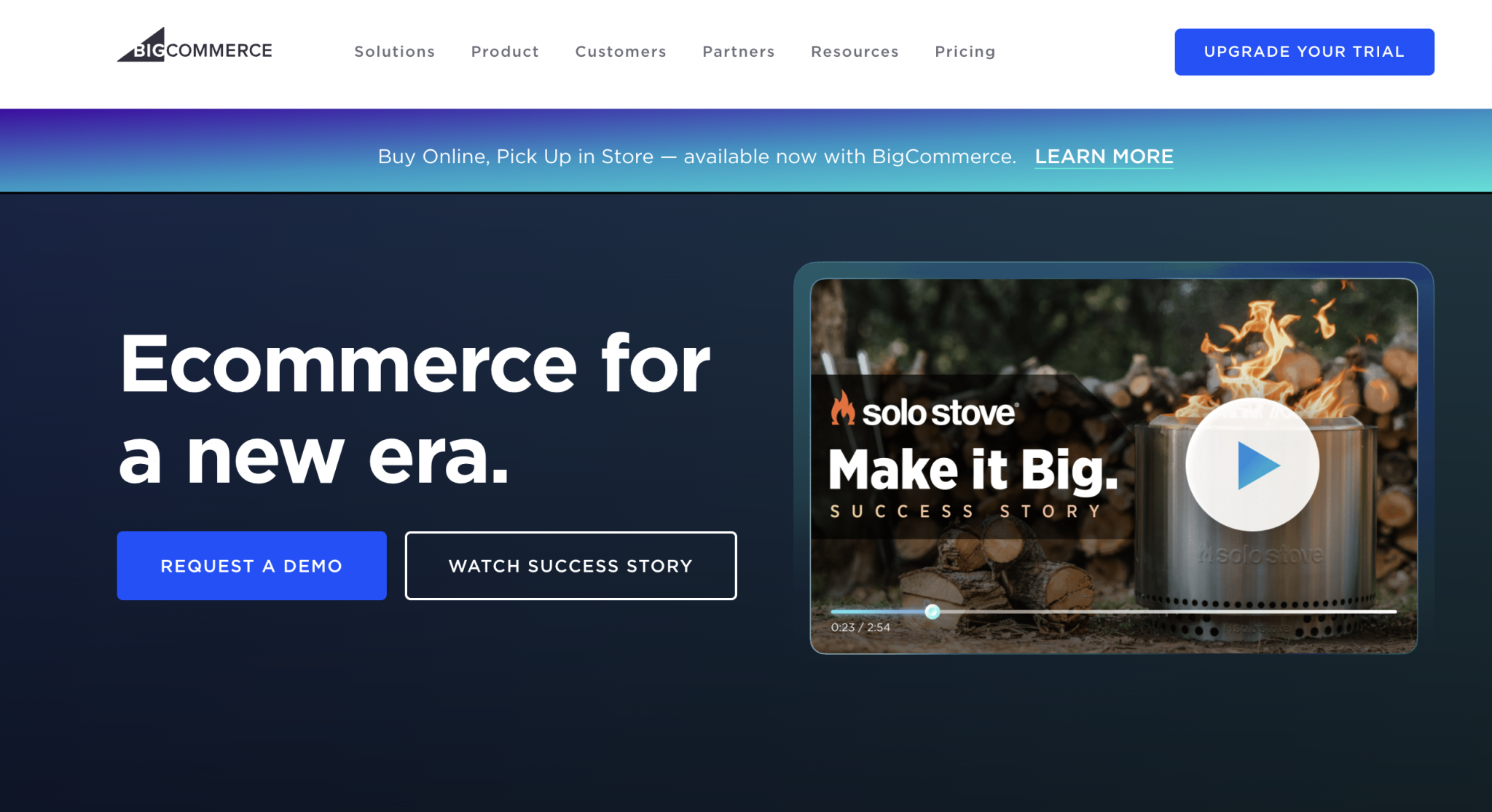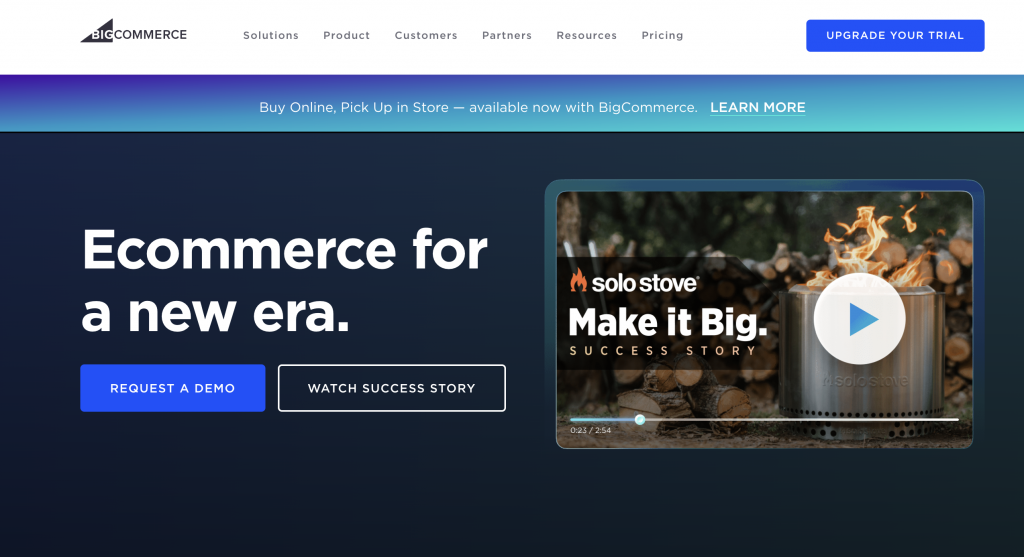 E-commerce can seem daunting at first, but the right platform can make all the difference. With BigCommerce, you get a robust all-in-one solution that simplifies the process and boosts your online business.
Here's what BigCommerce brings to the table:
Drag-and-Drop Site Builder: No coding knowledge? No problem! With BigCommerce's drag-and-drop builder, you can easily design and edit your site.

Customizable Themes: A website should reflect your brand personality, right? Creating your unique digital storefront is easy with fully-customizable themes that include HTML, CSS, and Javascript.

Checkout API & SDK: A smooth, customized checkout experience keeps customers coming back. Server-to-server checkout APIs and SDKs let you customize every aspect of the checkout process.

Native App Experience: Imagine having full control over your site while leaving the admin and checkout to BigCommerce. Native apps deliver exactly that!

Headless Commerce: Testing and onboarding headless solutions from your control panel saves precious developer resources. Say goodbye to tech headaches!

Multiple Storefronts: Juggling multiple brands or customer segments? You can manage multiple, unique storefronts with BigCommerce. What a great way to streamline!

Payment Solutions: With 65 payment methods, 600 app partners, and unlimited bandwidth, BigCommerce has you covered.

Expert Customer Service: Need support? BigCommerce's 24/7 customer service is on standby, ready to help you at any time.
But why is it important to have these features in your e-commerce business? They enable you to create a unique shopping experience without sacrificing security or scalability.
BigCommerce puts you in control of everything from creating a unique storefront to optimizing the checkout process. You'll also have access to a wide range of payment options and excellent customer service.
"BigCommerce is an all-in-one platform that lets merchants build, improve, and grow their online businesses."

via emizentech.com
WooCommerce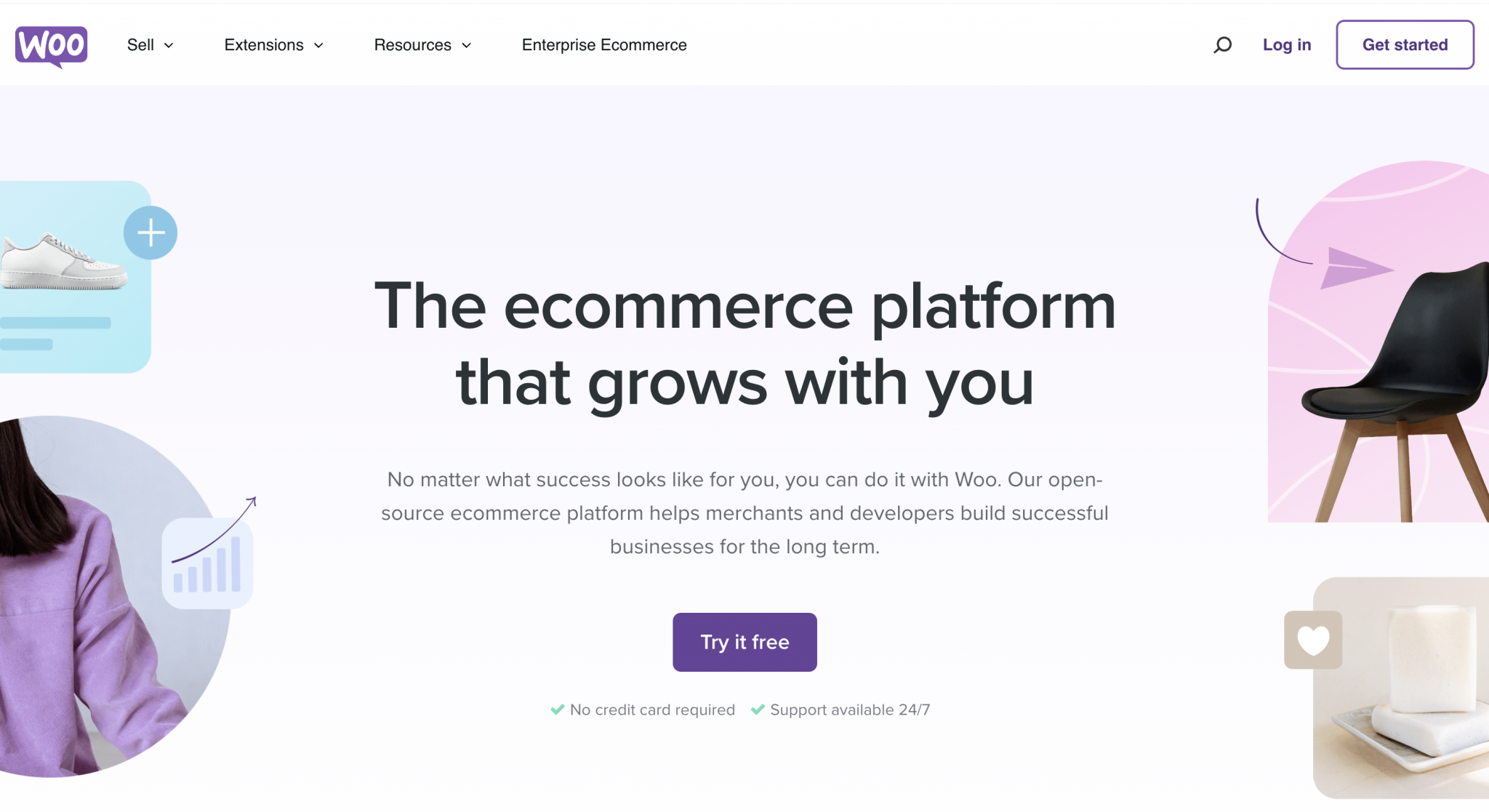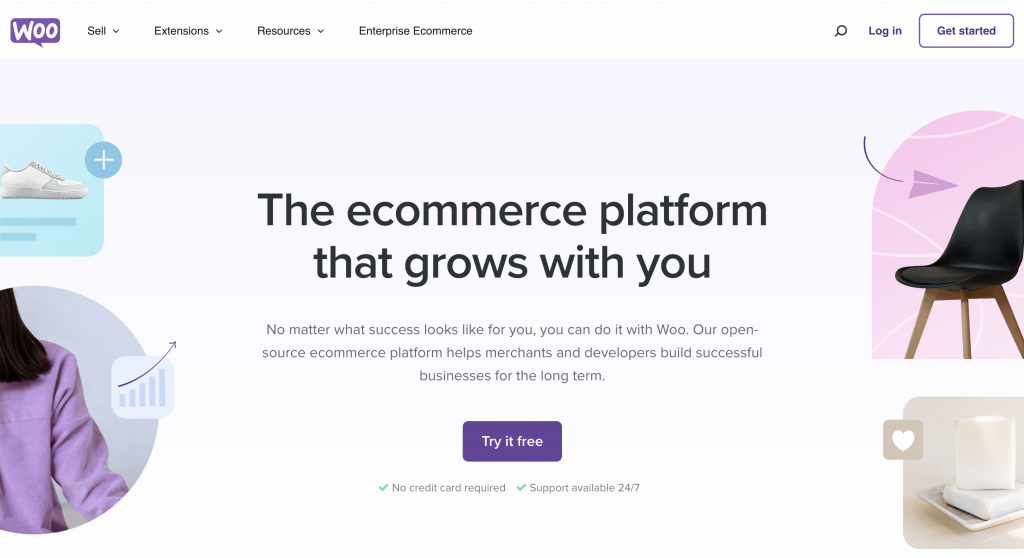 It's time to unwrap WooCommerce, the open-source e-commerce platform built on WordPress. Here are a few of its powerful features that make it a powerful platform for managing an online business:
Adaptability: WooCommerce adapts to any online store you run, whether you are selling physical products or digital downloads.

Streamlined Setup: Already have a WordPress site? Brilliant! It is easy to integrate WooCommerce. With their step-by-step guide, the process is easy for newcomers.

Tailored Design: Make your e-store uniquely yours. Customized themes allow you to create high-converting landing pages and style your storefront in a way that truly reflects your brand.

Flexible Payments: Accepting global payments becomes secure and uncomplicated with WooCommerce's diverse payment options.

Extensions: Want more features? The WooCommerce marketplace offers a wide range of free and premium extensions, enabling marketing integrations as well as multichannel selling.

On-the-Go Management: Manage your store on the go with the free WooCommerce mobile app (available for Android and iOS).

Around-the-Clock Support: Sleep easy knowing WooCommerce's expert customer service team is there for you, 24/7.
WooCommerce's true beauty lies in its ease of setup and a variety of customization options. It enables the creation of a unique online store, accepts worldwide payments, and enhances functionality through its extensions.
In the arena of e-commerce platforms, WooCommerce is a strong contender thanks to the mobile app and stellar customer support.
"WooCommerce is preferred by businesses that need a fully customized and scalable eCommerce store."

Clint R. Logan, yaguara.co
Limitations
BigCommerce Limitations
Here are some areas that might require your extra attention as we delve deeper into BigCommerce. There are no perfect platforms, and each has its own set of challenges:
Store Limits: BigCommerce has some restrictions around how many brands and widgets your store can support. You're looking at 30,000 brands and 100,000 widgets per store. And the maximum URL length is also capped.

Navigating Sales Limits: There is an annual sales cap associated with every BigCommerce plan. For example, BigCommerce Plus has a cap of $180,000. Cross this limit, and you might have to bear additional fees.

Lack of Automated Categorization: BigCommerce does not offer automated categorization, making product organization a bit of a challenge. So, rolling up your sleeves might be necessary here or using a good product information management system like IceCat or KatanaPIM.

Dealing with Platform Lock-in: BigCommerce has a lot to offer, but switching to another platform or exporting data can be a pain.
Remember, every challenge is an opportunity to innovate. Taking a holistic view of what's available and how it aligns with your business needs is key!
WooCommerce Limitations
You can turn your business dreams into a reality with WooCommerce's fantastic features. But like all things, it's not without a few limitations:
Scalability: True, WooCommerce is scalable. But there's a catch. If you have a lot of traffic, you'll need a server that performs like an Olympic athlete. If you want your site to remain stable under heavy traffic, you will need to invest in server hardware.

Security: Being an open-source platform has its perks, but it also comes with a little extra homework. The platform is not immune to security issues especially when the hosting provider is not secure.

Too many login attempts can also impact the website security – hackers might see what is being transferred between store owner and customers and might steal sensitive data. To mitigate these limitations, make sure that your software is always up to date.

Tech-Knowledge Required: Adding WooCommerce to your site is easy, but tweaking and managing it effectively requires some technical expertise. As an alternative, you could hire a developer or take some time to learn the ropes.

Plugin Compatibility Challenges: Plugins are the magical elements that add more features to WooCommerce. Despite this, some plugins don't play well together, causing performance issues.
Despite WooCommerce being a powerful platform, understanding its limitations can help you make the most of it. Ready to take the next step?
Integrations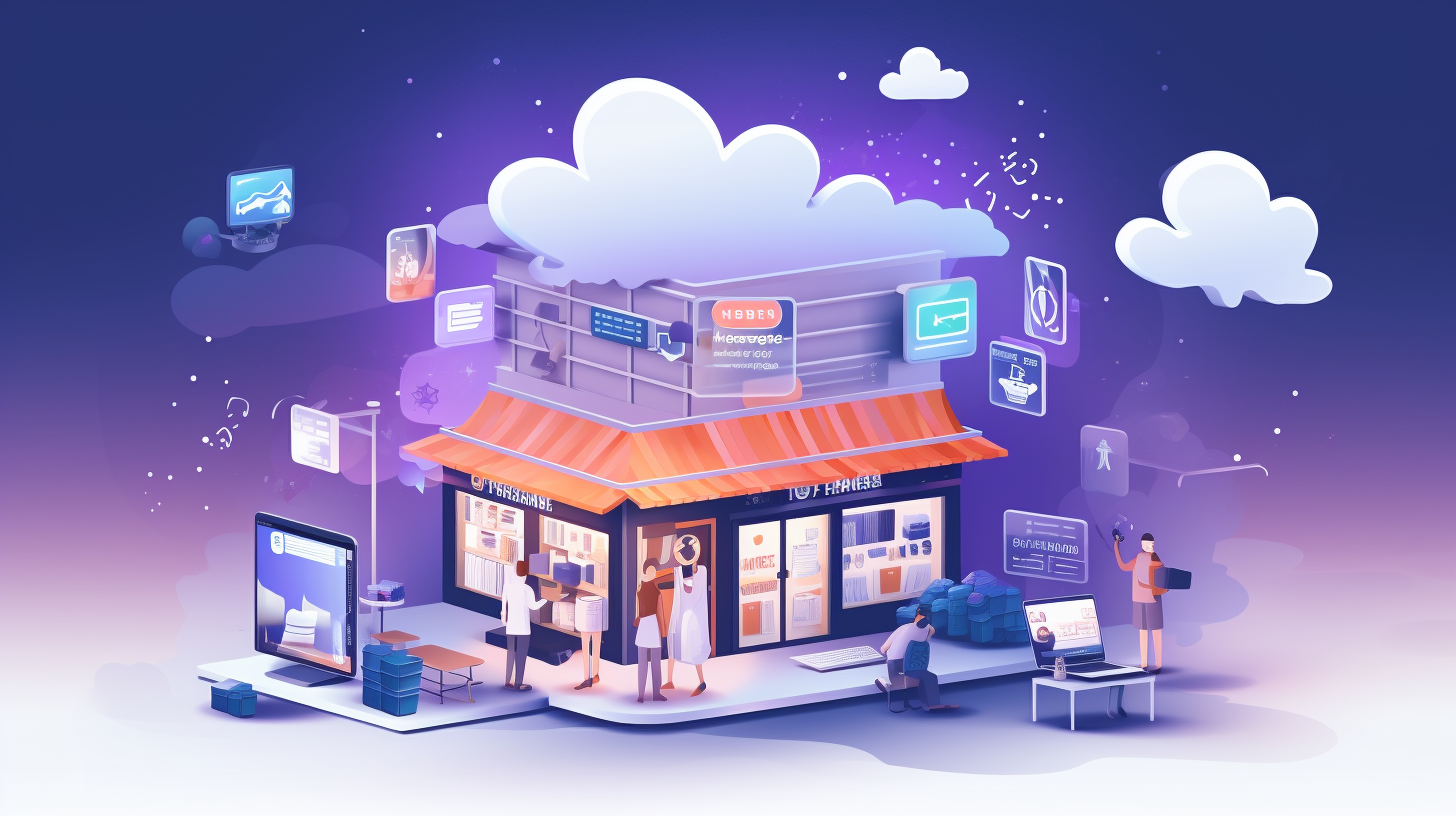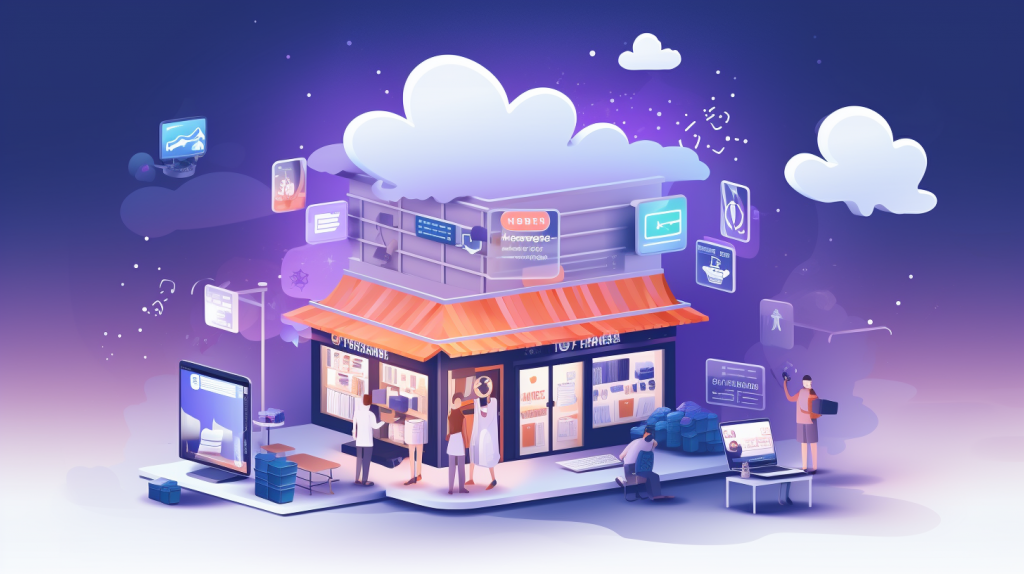 Here's how BigCommerce and WooCommerce compare when it comes to integrations.
BigCommerce Integrations
With a wide array of integrations, BigCommerce. Here are some of the main integrations but they have more.
NetSuite: Automates orders, inventory management, and product listings.
Zapier: Connects BigCommerce to other apps, automating workflows to save you time.
Jitterbit: Makes data transfers easy with templates that integrate with ERP systems.
Custom Integrations: Think of this as your tailor, crafting solutions to suit your specific business needs, such as implementing custom Big Data Analytics.
E-commerce Apps Marketplace: It's like a candy store, offering apps and integrations to enhance the performance of your store, such as SmartrMail and Gorgias.
Marketplaces: By integrating your store with Amazon and Google Shopping, you can expand your business.
BigCommerce offers integrations for various purposes such as site tools, connectors, sales channels, and more.
WooCommerce Integrations
Here's a quick look at WooCommerce. You can turn your store into a well-oiled machine with their integrations:
Katana: A manufacturing plugin that handles inventory, production, and sales.
MyWorks Software: Provides automated inventory, order, and customer syncing between WooCommerce and other platforms.
Klaviyo: Track customer behavior to boost sales with customized email campaigns through this marketing integration.
WebMan Design: Enhances the functionality and aesthetics of your WooCommerce store with deeper integration in its themes.
Gravity Forms: Allows businesses to collect customer data through advanced forms.
Zapier: Like BigCommerce, Zapier automates workflows between WooCommerce and thousands of other apps without requiring coding.
Rest assured that both BigCommerce and WooCommerce's integrations are designed to streamline operations, help you scale your business, and improve your customers' shopping experience.
Big Names in the Game: Who Trusts BigCommerce & WooCommerce?
You're in for a treat if you're wondering, "Who uses these platforms?".
Globally recognized brands have trusted BigCommerce and WooCommerce with their e-commerce needs.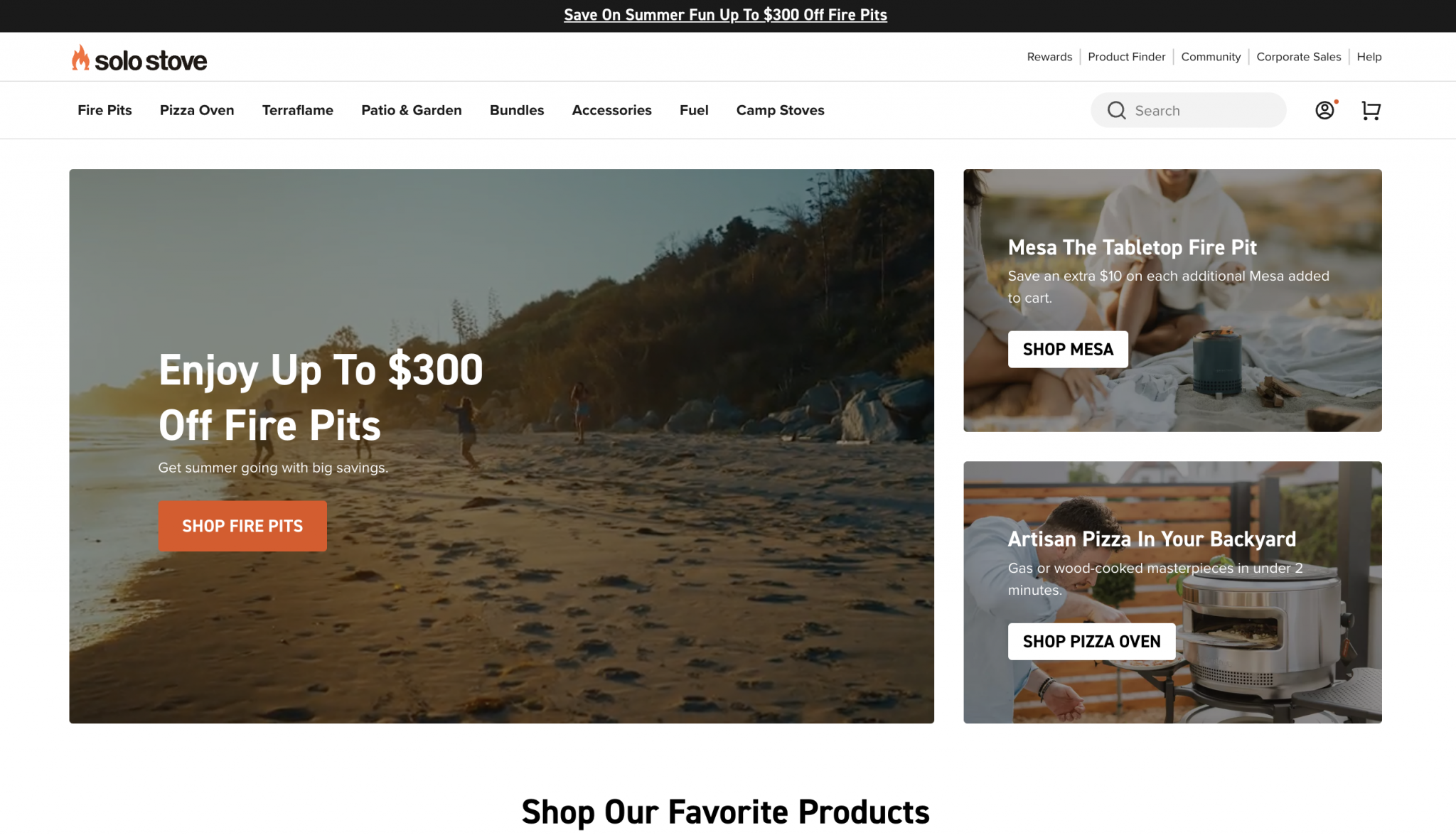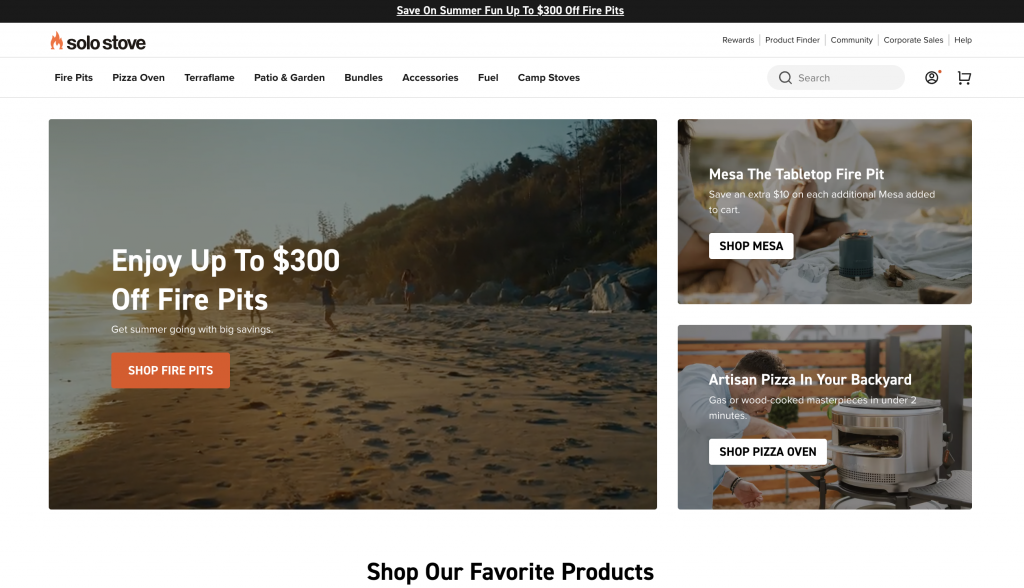 Top Brands Using BigCommerce:
Ice cream legends Ben & Jerry's
Luxury bath and beauty brand Molton Brown
Household name S.C. Johnson
Audio specialists Skullcandy
Tech giants Sony
Communications bigwig Vodafone
Classic clothing brand Woolrich
Chic fashion label Natori
Hydration experts Camelbak
Rugged gear creators Yeti Coolers
The iconic jewelry makers at Pandora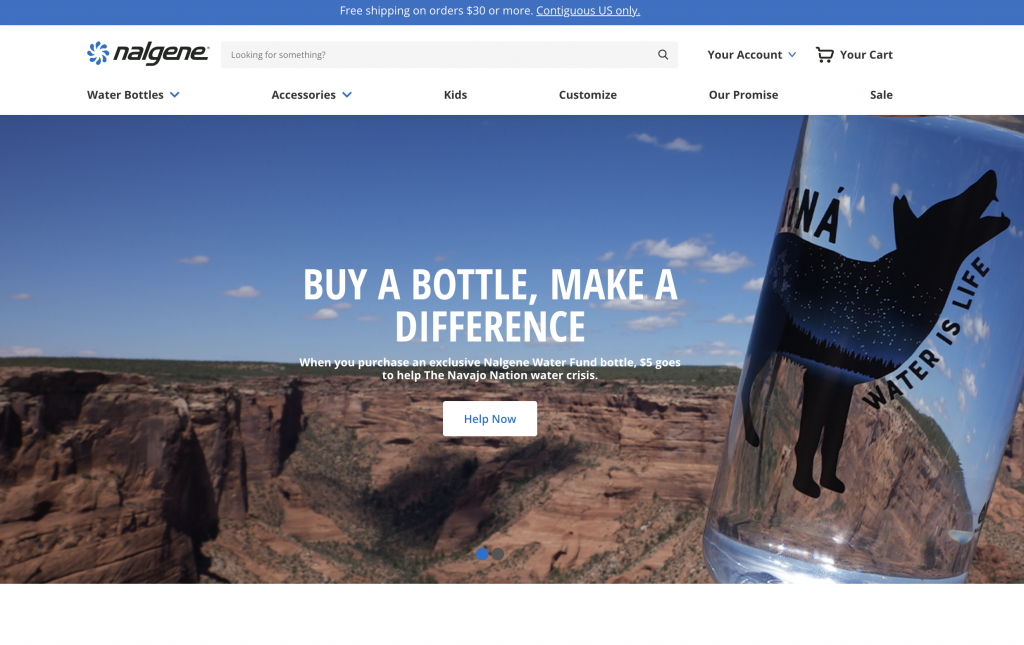 Top Brands Using WooCommerce:
Nutrient-packed snacking innovators, R.E.D.D Superfood Energy Bars
Creatively unique design house, Studio Job
Durable hydration specialists, Nalgene
Digital security experts, Yubico
Convenient and healthy meal solutions provider, Dineamic
Premium skincare and wellness brand, Sodashi
Stylish and distinctive jewelry designer, April Soderstrom
Clearly, WooCommerce and BigCommerce are both versatile and trustworthy e-commerce platforms. While smaller brands use BigCommerce, BigCommerce is more suitable for larger companies.
Pricing
Cost is a crucial factor when investing in an e-commerce platform. We'll unravel the mystery of BigCommerce and WooCommerce's price tags.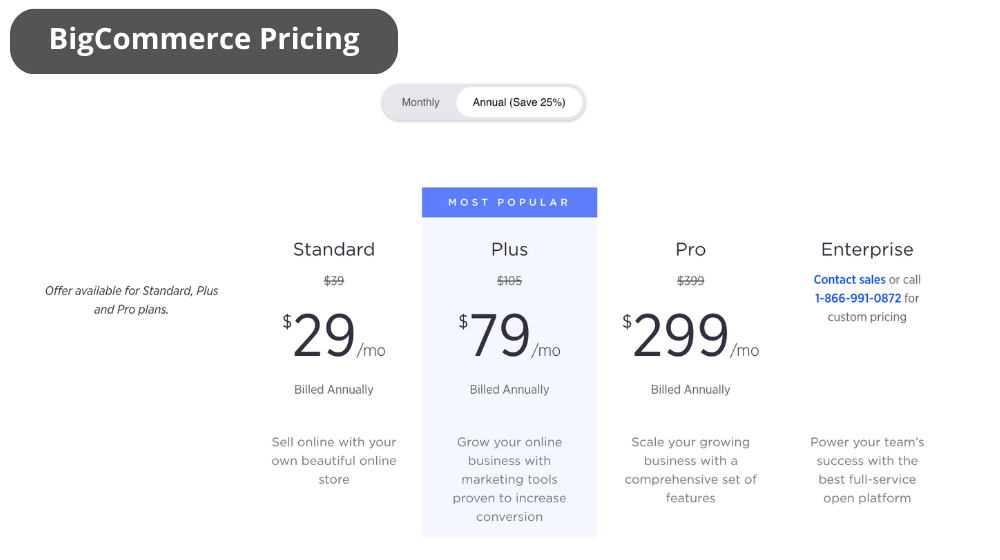 BigCommerce offers four subscription plans to cater to different business sizes. Here's a snapshot:
Standard: For $39/month (annual billing) or $49/month (monthly billing), it offers small businesses unlimited staff accounts, real-time carrier shipping, review tools, and professional reporting. Cool, right?
Plus: With all Standard features, plus abandoned cart saver and custom SSL, it is designed for growing businesses at $79/month (annual billing) or $99/month (monthly billing).
Pro: For $299/month (annual billing) or $399/month (monthly billing), it includes Google customer reviews and product filtering.
Enterprise: Specially priced for large businesses, with all Pro features and advanced product filtering.
The cherry on the cake? BigCommerce charges zero transaction fees across all its plans!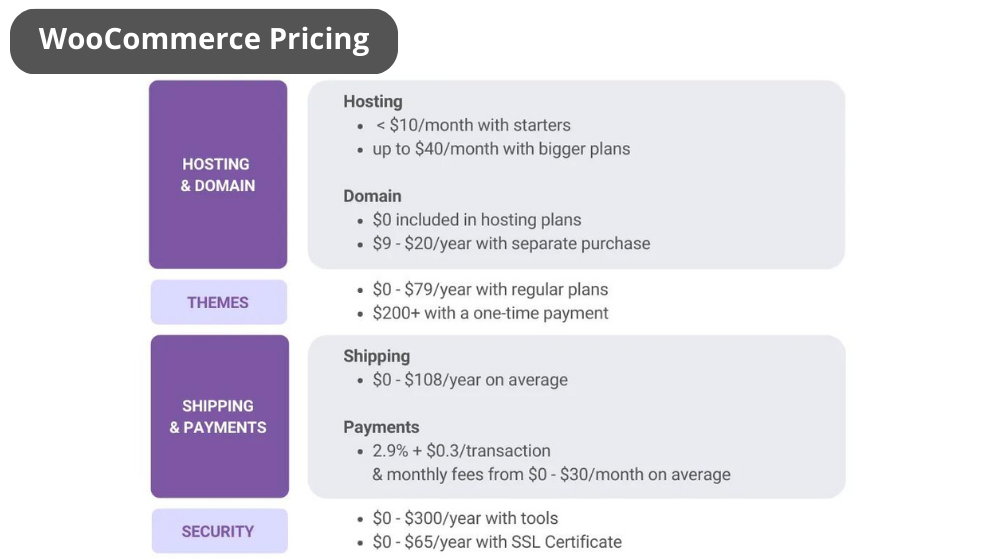 Now, let's switch gears to WooCommerce, which is a free WordPress plugin but requires you to shoulder the costs of hosting, security, and additional features. The costs are:
WooCommerce Plugin: It's free and can be installed on any WordPress website.

Web Hosting: Prices vary by provider and plan, ranging from $3.95/month to $10-20/month or more.
Themes: WooCommerce has an array of themes, some free, others ranging up to $79 annually.
Additional Functionality: Depending on your needs, extensions can enhance your store at varying prices.
| Platform | Pricing Model | Cost |
| --- | --- | --- |
| WooCommerce | Free plugin, but additional mandatory costs for hosting, domain, SSL certificate, and extensions | Free |
| BigCommerce | Subscription-based, with four pricing plans: 3 Essential plans for small businesses and 1 Enterprise plan for large agencies | Essential plans range from $29.95/month to $299.95/month, while Enterprise plan pricing is customized based on business needs |
Depending on your chosen hosting provider, theme, and extension, the cost of running a WooCommerce store will vary.
In terms of value for money, BigCommerce's set pricing makes budgeting easy, and the built-in features eliminate the need for third-party extensions. However, if your store operates on tight margins, revenue-led billing might pinch.
In contrast, WooCommerce is all about cost- effectiveness and customization.
There are additional costs associated with web hosting, themes, and functionalities despite the fact that the software is free to use. A major advantage is the flexibility to choose an affordable web host with the features you really need. It's more like a 'choose your own adventure' game.
How does your business fit into this cost-value equation?
Products & Inventory
An e-commerce business' success depends on having a strong Google presence and driving traffic. Google is the number one source of organic traffic, and appearing prominently can greatly increase visibility and attract customers. A well-managed blog and well-optimized product pages are critical here.
E-commerce stores offer a wide variety of products, so they often have a lot of pages and product descriptions. As a user, you should be able to add detailed descriptions, high-quality images, product variations, and pricing information. The ability to create and update product pages quickly and easily can save time and effort.
Content optimization is also crucial for attracting traffic and engaging customers. A well-maintained blog allows businesses to demonstrate their expertise, build credibility, and establish themselves as experts. Optimized blog content with relevant keywords can also boost store rankings in search engines.
With customizable product pages, SEO fields, and advanced technical SEO capabilities, BigCommerce empowers businesses to scale effortlessly.
Both BigCommerce and WooCommerce offer strong features and capabilities for blog management, SEO, and product pages.
BigCommerce
Managing product pages is easy with BigCommerce, which offers customizable templates, clear product options, and an intuitive interface.
It also supports having a blog, although some users may find the native blog feature to be basic and may require external tools or integrations for advanced blogging capabilities.
Your BigCommerce store can benefit from SEO fields, built-in SEO features, and third-party SEO apps.
Product Choice Filtering is a built-in feature of BigCommerce that helps customers find items quickly by including filters like color, size, and sale off.
A faceted search and attribute feature enable customers to find the products and categories they are interested in easily.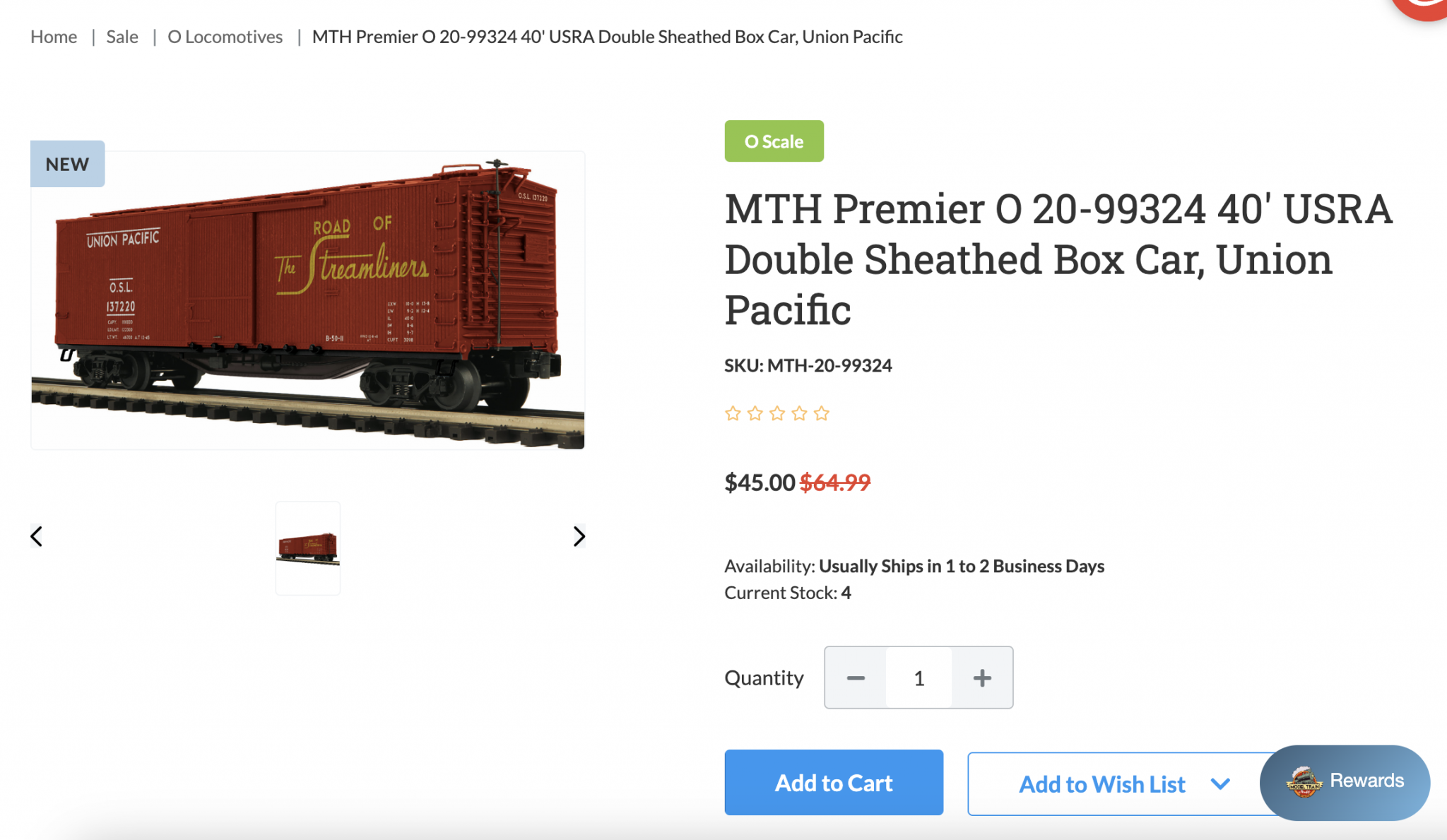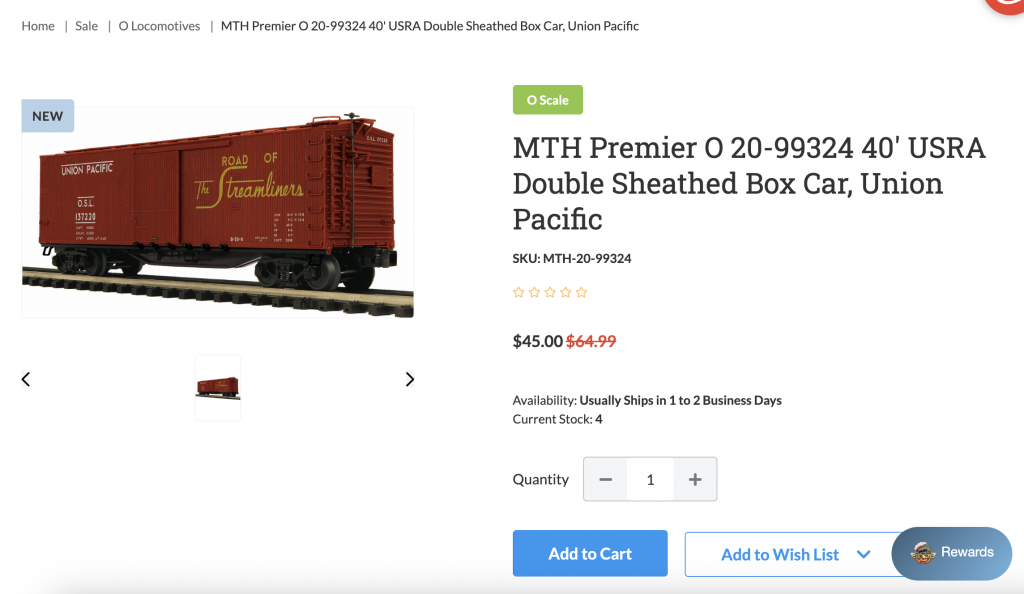 WooCommerce
Meanwhile, WooCommerce offers customizable layouts, product add-ons, and an easy-to-customize interface for creating and managing product pages. Since WooCommerce is built on WordPress, it seamlessly integrates with the powerful blogging capabilities of the platform.
The SEO-friendly features of WooCommerce include customizable meta titles and descriptions, SEO-friendly URLs, and third-party SEO plugin integration.
With plugins like FacetWP and WooCommerce Product Filter, WooCommerce also offers product filtering and faceted search functionality. By applying different search filters, these plugins allow users to narrow down and refine their search results
For optimizing WooCommerce stores, users can access online guides provided by WordPress.
Alternative E-commerce Platforms

The e-commerce landscape is filled with possibilities, each with its own advantages and disadvantages. We'll take a quick look at some of the key players and some of the alternatives to BigCommerce and WooCommerce:
Shopify: Known for its intuitive user interface, Shopify is an ideal platform for businesses seeking to start or expand their online presence. It boasts an array of features that make online store creation and management a breeze.
Ecwid: With nearly 1 million users, Ecwid offers a unique approach to selling products online by incorporating a lightweight and intuitive ecommerce extension.
Magento: Magento is an open-source platform that offers businesses customization and scalability. Its diverse features cater to complex business needs.
Squarespace: Squarespace is a website builder with e-commerce functionality. A good choice for businesses looking for a balance between aesthetics and functionality, it offers a selection of customizable templates.
Volusion: An e-commerce platform with a user-friendly interface, Volusion makes setting up and managing online stores easy.
Wix: Wix, a website builder, extends its functionality to e-commerce. For businesses who desire customizable templates for their online stores, this is a great option.
OpenCart: As another open-source platform, OpenCart is both customizable and scalable. With its variety of features and integrations, this platform meets the needs of businesses with more complex needs.
Remember, your e-commerce journey doesn't start and end with BigCommerce and WooCommerce. These alternatives could offer just the right fit for your unique business needs.
Being On The Fence?
You may be feeling stuck between BigCommerce and WooCommerce. They are both powerful platforms, each with its own strengths and weaknesses.
As an all-in-one platform, BigCommerce is a better choice for bigger brands that prioritize user-friendliness, built-in features, and scalability. While WooCommerce is a more budget-friendly option that offers extensive customization options and integration with WordPress, it may require more technical expertise to manage.
Yes, BigCommerce is more expensive than WooCommerce, but it offers more built-in features for blog management and store optimizations, and functionalities that can support your online store as your scale.
The key to deciding? There are three factors to consider:
Your Budget: Always crucial in any decision-making process, don't overlook your financial constraints.
Required Features: Determine which platform ticks all your boxes based on your online store's must-have features.
Level of Customization: To what extent do you want creative control over the appearance and functionality of your store?
Don't forget that there is no 'one-size-fits-all' solution. You should choose a platform based on your specific needs and goals. So, dig deep into what your business truly requires, and let that guide your choice.