Article at-a-glance: 

- Artificial intelligence-powered content tools enable writers and marketers to create engaging content while saving time. These tools also unleash a new era of writing brilliance.

- Wordtune Editor enhances the clarity and effectiveness of your writing. It offers original and creative suggestions that open new horizons.

- The Wordtune AI writing tool offers suggestions to improve written content quality, and the Wordtune Read AI reader helps streamline the reading experience. It can handle academic articles, business reports, magazine features, blog posts, and news articles.

- Wordtune can be used to sum up and paraphrase online articles and PDF files, as well as videos.

- While Wordtune has become more and more popular with aspiring wordsmiths, there are some effective alternatives for content summarization and paraphrasing like Ink, Grammarly, and Quillbot. 

- The free version of Wordtune is a fantastic starting point, but if you want more comprehensive functionality and advanced writing tools, upgrade to the premium plan.

* This summary was generated via Wordtune
Discover the power of WordTune Editor, an AI-driven app designed to elevate your writing to new heights.
No matter your project, be it a captivating blog post, persuasive product descriptions, or engaging social media content, WordTune has got you covered.
This remarkable writing assistant doesn't just correct grammar and spelling, but it takes your writing and injects clarity, sets the tone, and brings a dash of creative sparkle.
It also enhances your focus, boosts your efficiency, and sets you up for success, whether you're a freelance writer, a diligent student, or a crafty content marketer.
Continue reading this blog post to discover the secrets of WordTune and unlock your full writing potential!
The Explosive Rise in Demand for AI-Powered Content Tools
Artificial intelligence-based tools for summarizing and paraphrasing content, such as Wordtune, are in high demand. This is not surprising having in mind that they enable writers and marketers to create engaging content while saving time.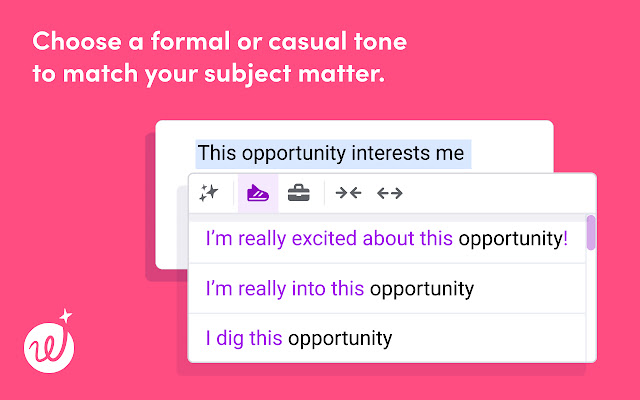 Such AI-powered solutions have gained significant attention also for the following reasons:
Enhancing Content Brilliance: AI paraphrasing tools unleash a new era of writing brilliance. Writers can rewrite their existing content and paraphrase it to make it more engaging and impactful.


Speeding Up Content Production: AI-driven content tools generate high-quality, unique content in a fraction of the time. You can create your content faster than ever before by taking advantage of AI's lightning-fast capabilities.


Extracting Vital Information from Vast Volumes of Content: You can use the tools to prepare executive summaries, conduct research, or summarize website content.


Writing Masterful Essays & Articles: AI tools provide indispensable summarization, paraphrasing, and expanding features to revolutionize essay and article writing. They can help ensure flawless conclusions, original and plagiarism-free writing.


Unlocking Time Freedom: These tools allow writers and marketers to focus on other tasks while summarizing and paraphrasing content.
Such AI powered tules aim to rewrite the content creation rules. They can help you take advantage of AI and unlock new levels of creativity and efficiency in your writing journey.
Wordtune's Key Features & Functionalities
I've discovered a range of useful features and functionalities that make Wordtune truly stand out: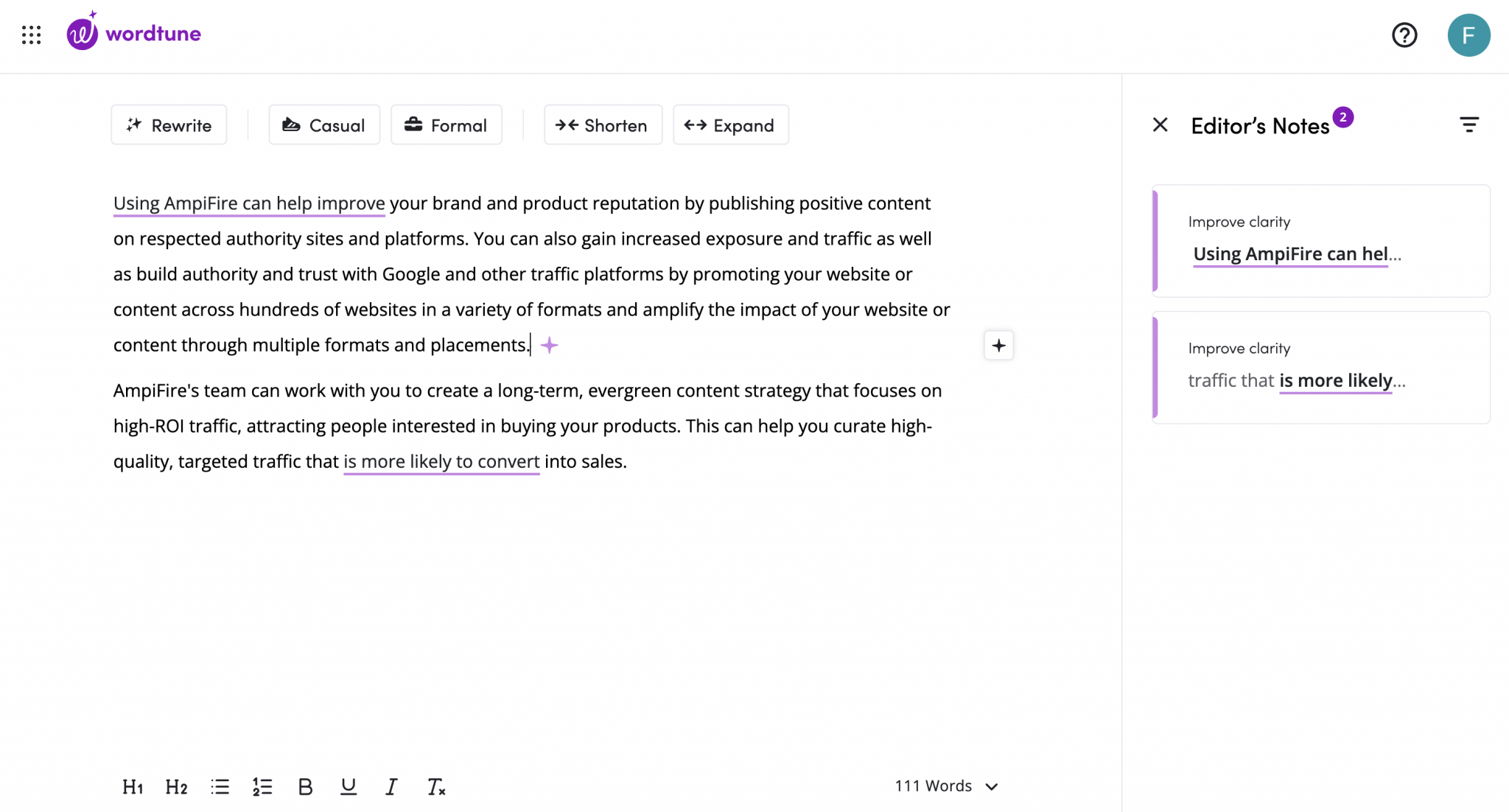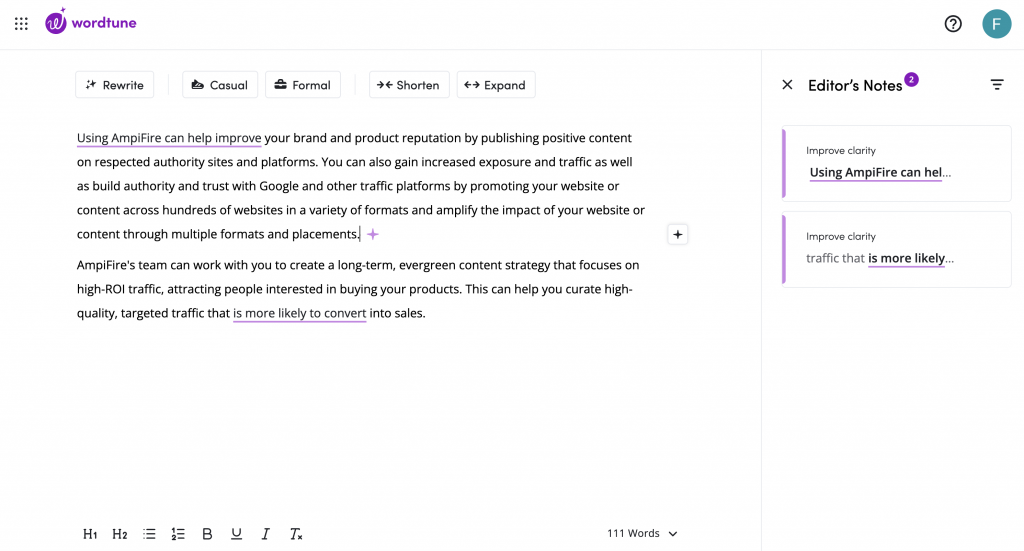 Sentence Transformation: Wordtune, armed with AI power, excels at rephrasing and rewriting your sentences. It offers a range of original and creative suggestions, encouraging you to explore new ways of expressing yourself with your own unique words and personality.


Tailoring Your Tone: Choose your preferred tone, be it formal or casual, and adjust the length of your sentences to convey your message as you intend.


Grammar and Spelling Assistant: Wordtune corrects your grammar and spelling errors, ensuring your writing shines with excellence.


Spices of Brilliance: Wordtune suggests brand-new sentences that can improve your text. Of course, use with caution, because some of the suggested alternative phrasings may not be suitable for the particular context.


Empowering Long-Form Content: Want to tackle blog posts, meeting agendas, tweets, LinkedIn posts, or more? Wordtune has your back, allowing the Wordtune Editor to draft long-form content.


Accessibility on Any Device: Whether you're working on your desktop computer, laptop, or iOS mobile device, rest assured that Wordtune integrates with your preferred platform, providing a consistent and smooth writing experience. But note that it is not available offline.


Writing Platform Integration: Wordtune blends with various writing platforms, such as Gmail, Google Docs, Outlook (web version), Facebook, and even Whatsapp (web version).


A Central Hub of Possibilities: The Wordtune Editor works across browsers, granting you access to its functionalities without relying on the extension.


A Wealth of Functionalities: Wordtune offers a range of powerful functionalities, including Sentence Rephraser, Style Editor, Sentence Formatting, Tone Checker, Grammar Check, Engagement Metrics, and Plagiarism Check.


Clearer Messages, Brilliant Vocabulary, and More: Wordtune is here to help you write better and clearer messages, make brilliant vocabulary choices, save time on writing, and focus on your ideas— your true gems.
AI Paraphrasing Functionality: Produce Natural & Coherent Sentences
The paraphrasing functionality of Wordtune produces natural and coherent sentences. By offering original and creative suggestions, the tool enhances the clarity and effectiveness of written content.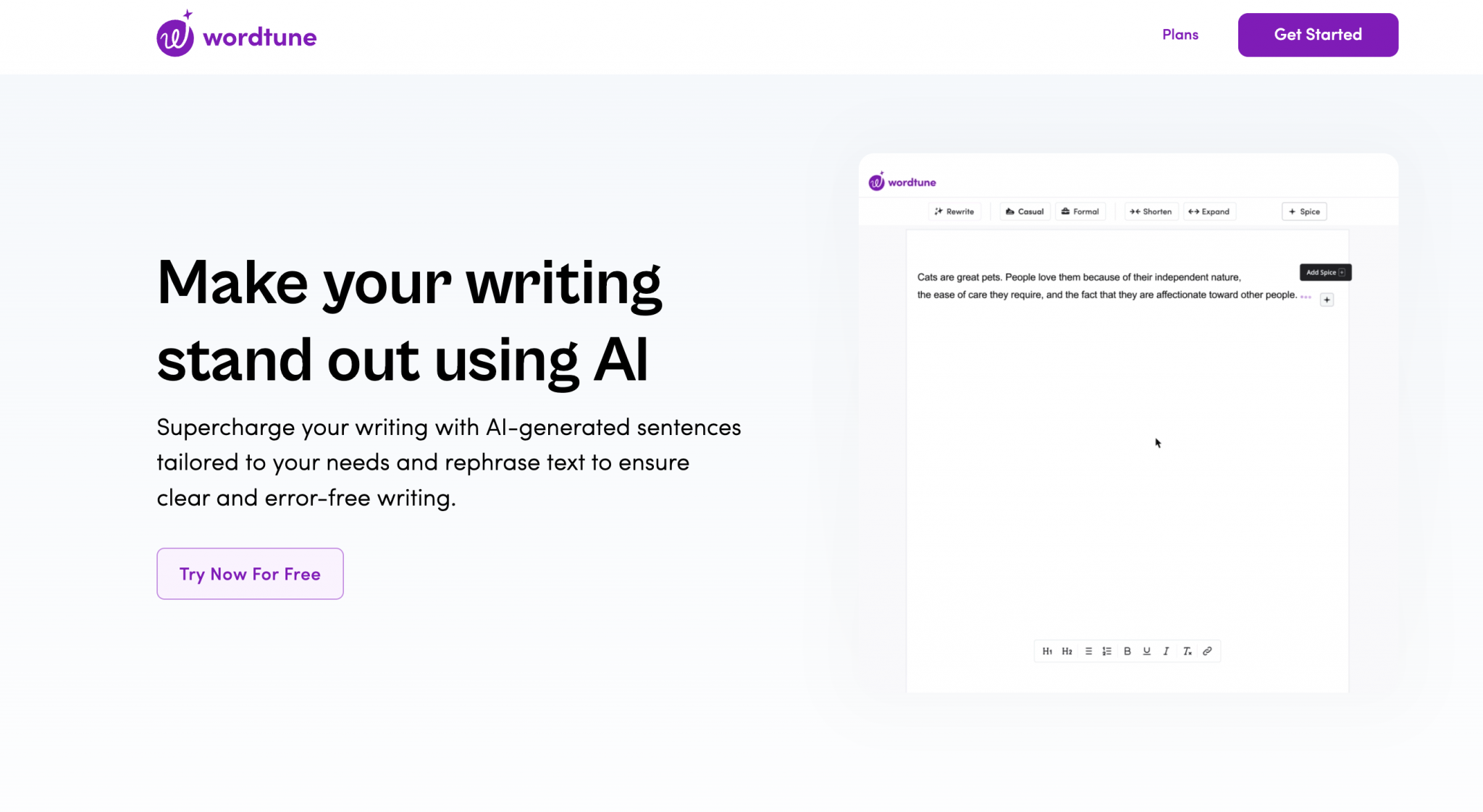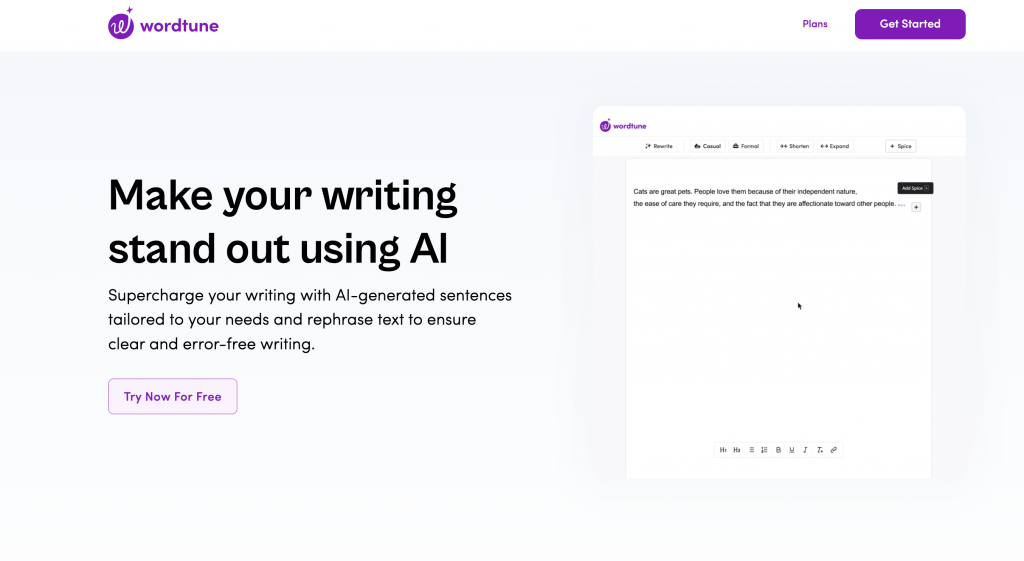 Here is what I like about it:
Using Wordtune, you can create original and creative sentences.
The tool offers several rewritten text options with highlighted synonyms and phrases.
Wordtune features an intuitive interface with valuable suggestions for improving paraphrased text quality.
Wordtune utilizes advanced technology to produce high-quality paraphrasing output.
Paraphrasing improves understanding and crafting thoughtful responses to complex texts.
You can edit your content to fit desired tone, length, and meaning.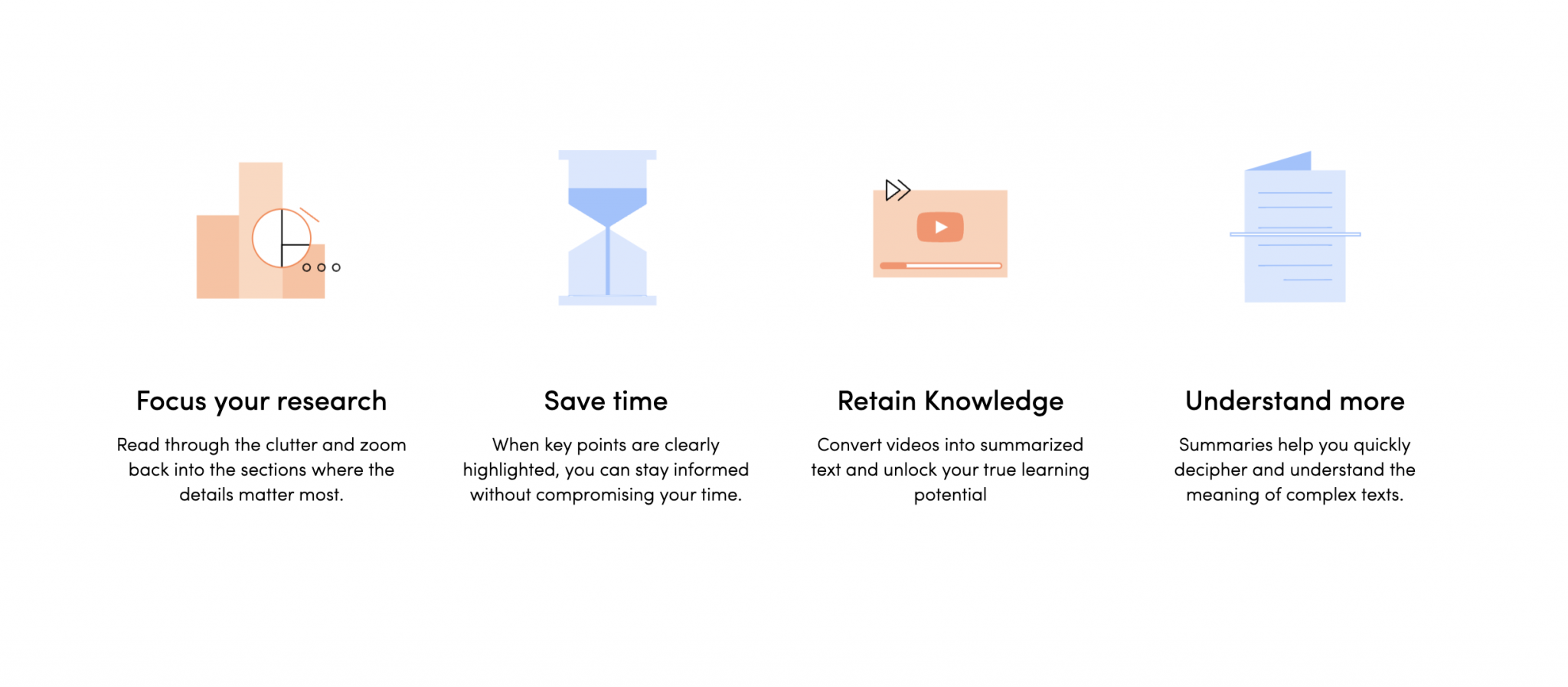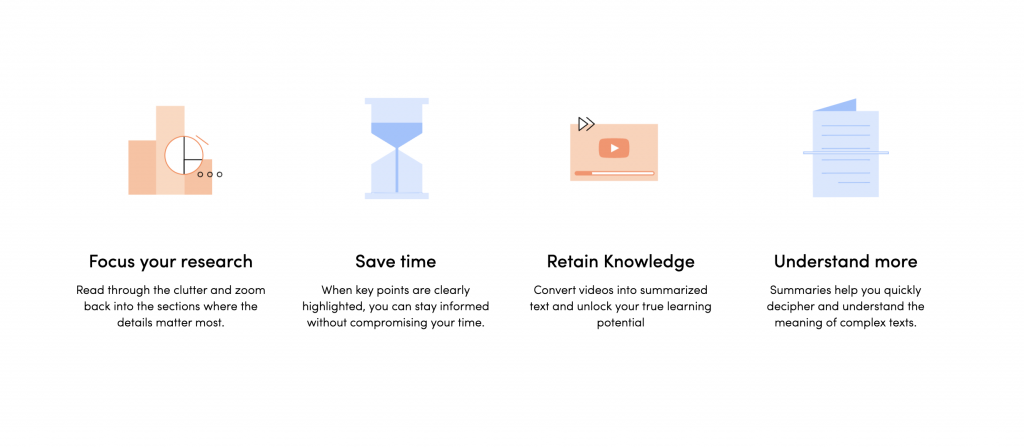 Here is what I don't like about Wordtune:
Overusing Wordtune could hamper a writer's ability to grow and learn to write more concisely

Some users have reported that the suggestions made by Wordtune are not always accurate or appropriate for the context or tone of the writing
AI Content Summarization: Improve Comprehension of Long Documents, Articles or Reports
Wordtune's AI summarizer condenses lengthy articles into concise summaries. The feature helps users understand the main points of the text.
For example, I generated the summary on top of this very article using Wordtune.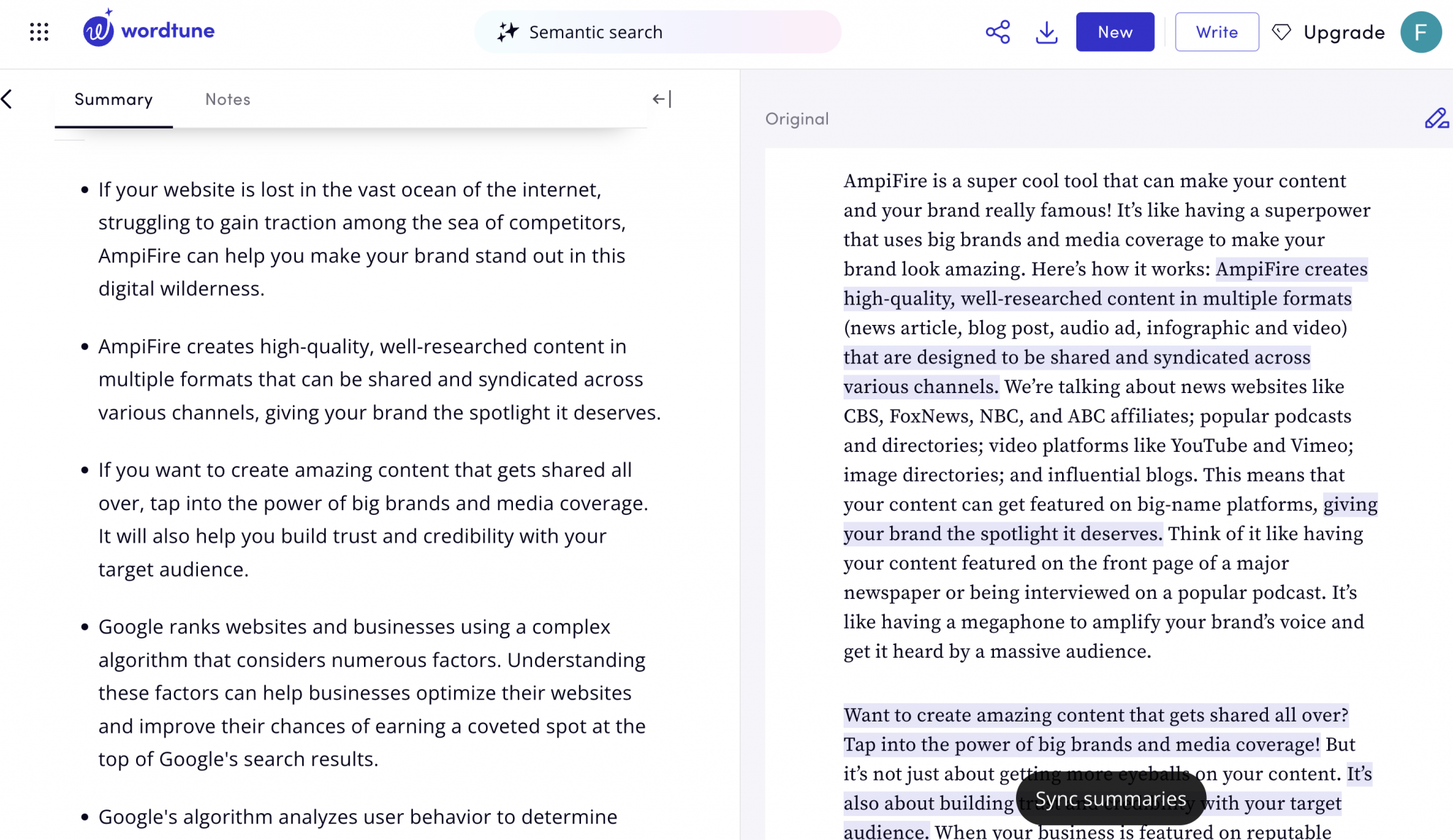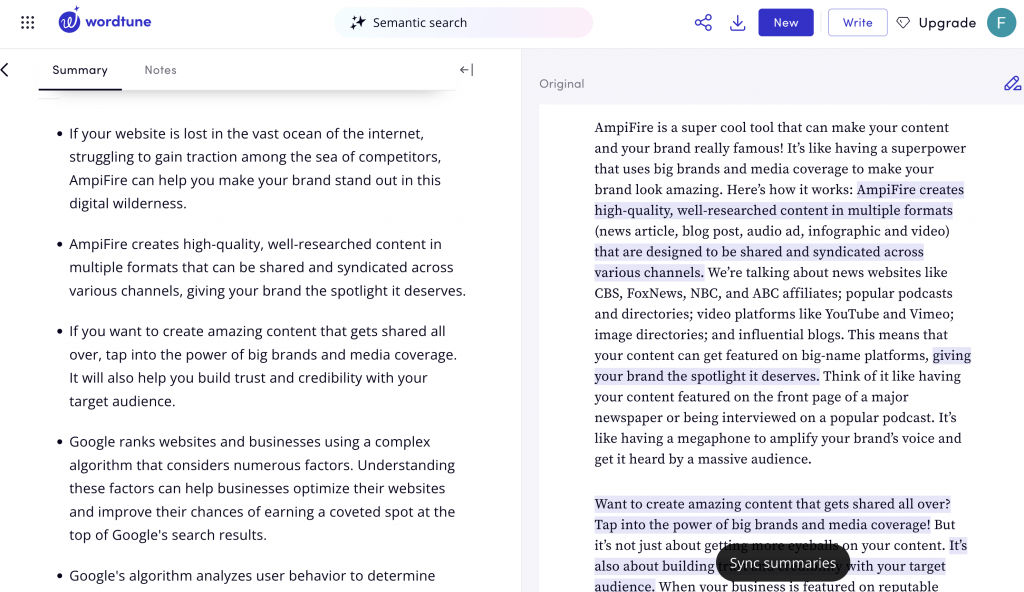 AI Writing Tool & Suggestions
The Wordtune AI writing tool offers suggestions to improve written content quality.
This tool uses artificial intelligence to provide users with instant feedback on their writing as well as suggestions for expanding it.
If you are looking to improve your writing skills or improve your ability to communicate your ideas, this feature can be especially helpful.
Wordtune Read: AI Reader for Long Documents
A separate tool called Wordtune Read helps streamline the reading experience. With this AI reader, users can quickly grasp the main points and key concepts of lengthy documents.
A feature like this is especially useful when dealing with lengthy research papers or reports.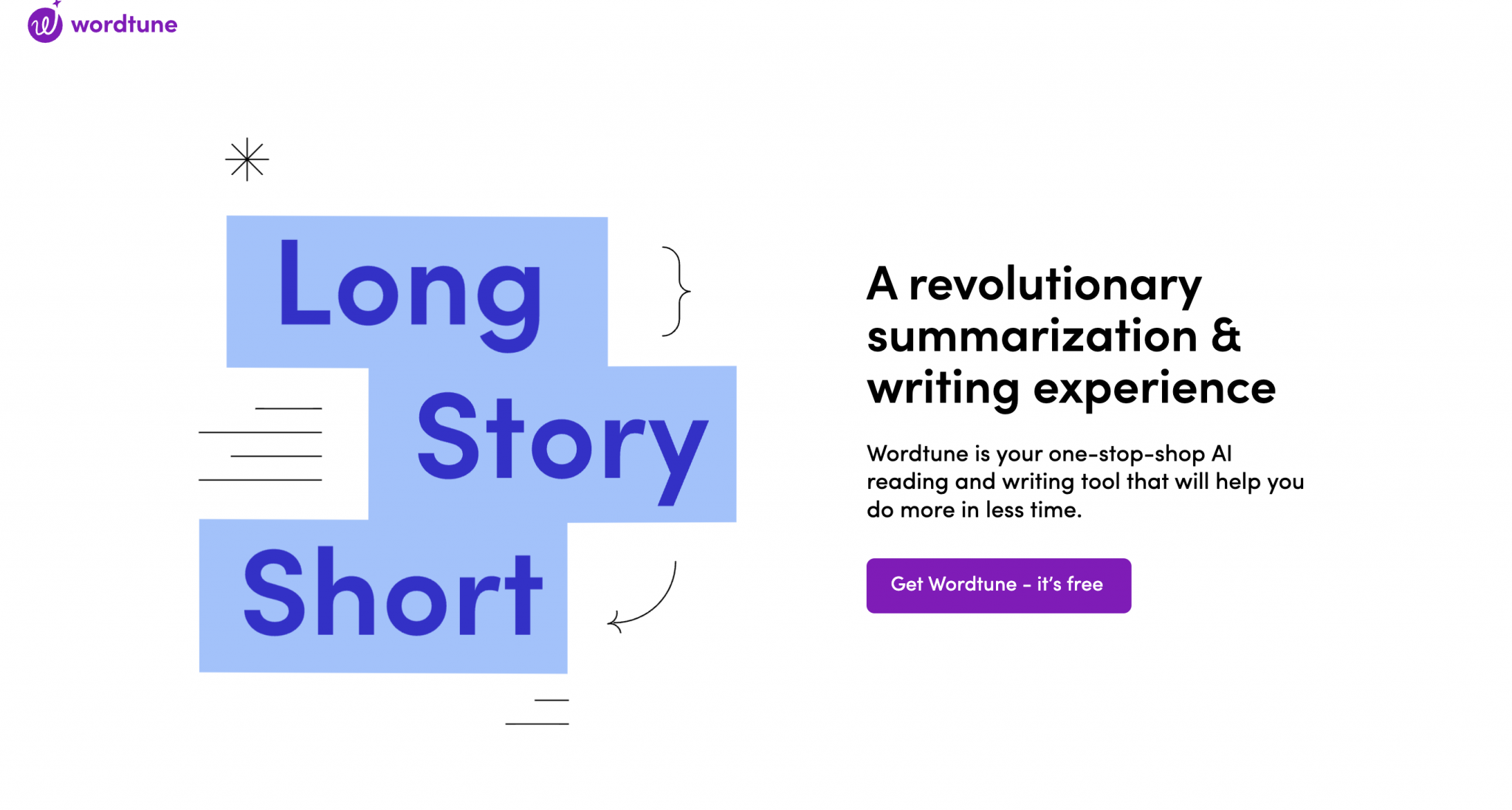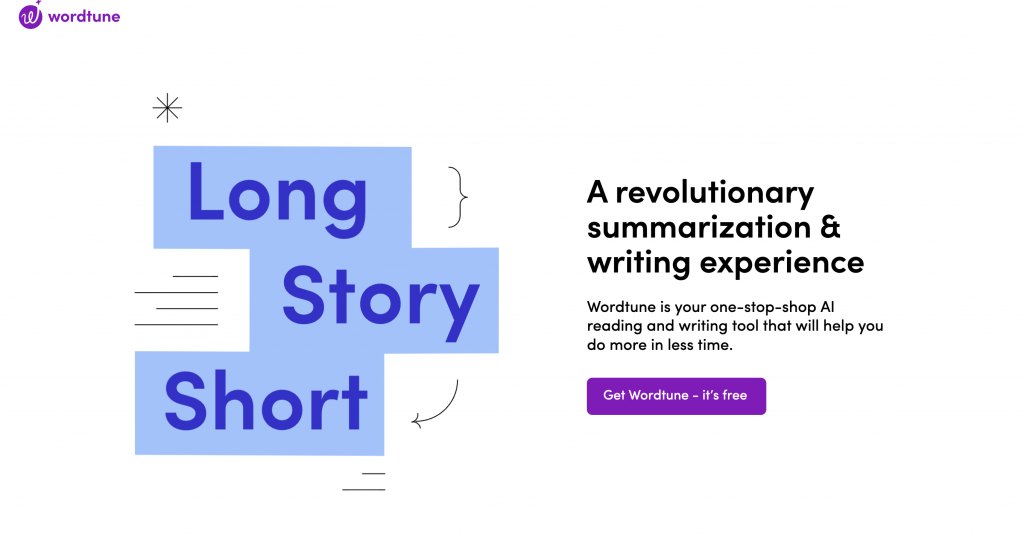 Wordtune Read can handle academic articles, business reports, magazine features, blog posts, and news articles. Wordtune offers unique reading features as a Chrome extension and app.
Although Wordtune Read can provide outstanding summaries, I have noticed that it may occasionally miss key details or alter the text's meaning. This is to emphasize more common ideas or emphasize what it considers most important.
An Easy-to-use Wordtune Editor Interface
Wordtune's user interface excels with its simplicity. Users receive recommendations on improving their paraphrased text as they engage with the editor, amplifying their writing experience.

Designed to cater to users of all skill levels, the interface provides a seamless experience, allowing individuals to effortlessly navigate its features.

As part of the Wordtune arsenal, Wordtune Read offers an innovative Feature Panel. Using this panel, users can navigate, reword, copy, and export Read's insightful summaries efficiently and intuitively.

I really like the clean and uncluttered user interface. It allows writers to focus solely on their writing, unleash their creativity and achieve maximum productivity by removing distractions. Its user-centric design, seamless integration, and intuitive interface make Wordtune an ideal editor for simplicity and ease of use.
WordPress Integration & Compatibility with Various Content Formats
The ability to work with a wide variety of content formats is a key strength of Wordtune. The program can sum up and paraphrase both online articles and PDF files, as well as videos. Due to its versatility, it can be used for a variety of research and learning purposes.
Accessibility through multiple avenues: Wordtune offers many ways for users to harness its power. Users can access Wordtune through the convenience of an internet browser extension, a Microsoft Word extension, the Wordtune Editor website, or through the iOS Keyboard.


Integration: Wordtune easily integrates with a wide range of writing platforms, including Google Docs, Gmail, Slack, Facebook, Twitter, Web Outlook, and LinkedIn.


Enhance all types of content: With Wordtune, you can improve academic articles, business reports, magazine features, blog posts, and news articles.
Note that Wordtune may not seamlessly integrate with all platforms or cater to less popular or specialized environments, resulting in limited support or less precise suggestions for non-English content.
Still, Wordtune is a valuable asset for anyone who seeks to improve their writing skills because of its compatibility, versatility, and feature-rich nature.
Wordtune API Set for Developers
The paraphrasing and summarizing capabilities of Wordtune API are among the best in the industry.
Through its API set, Wordtune extends its reach beyond its standalone platform.
With Wordtune's API, developers can integrate the AI-powered writing assistant with their own applications or platforms, ushering in an era of enriched user experiences.
Language processing capabilities enable developers to incorporate cutting-edge features into their writing to make it more effective and valuable.
Yet some users have observed that Wordtune is not compatible with all platforms or writing environments.
Wordtune can understand a range of languages as input and can translate and rewrite texts from other languages into English. The feature currently supports Spanish, Mandarin, Arabic, Hindi, Korean, Hebrew, Russian, German, French, or Portuguese into English. Sometimes it provides less accurate suggestions in those languages than in English.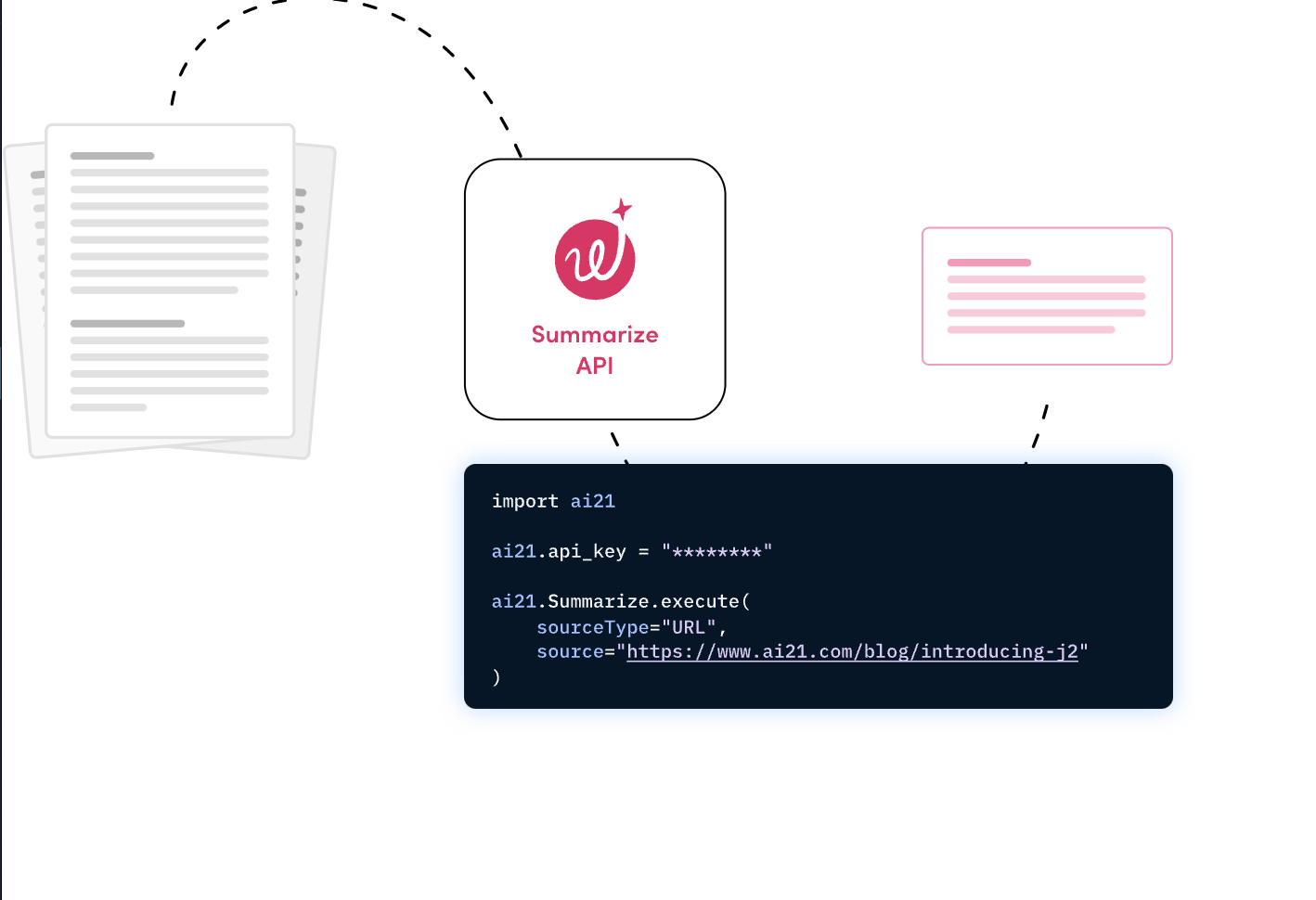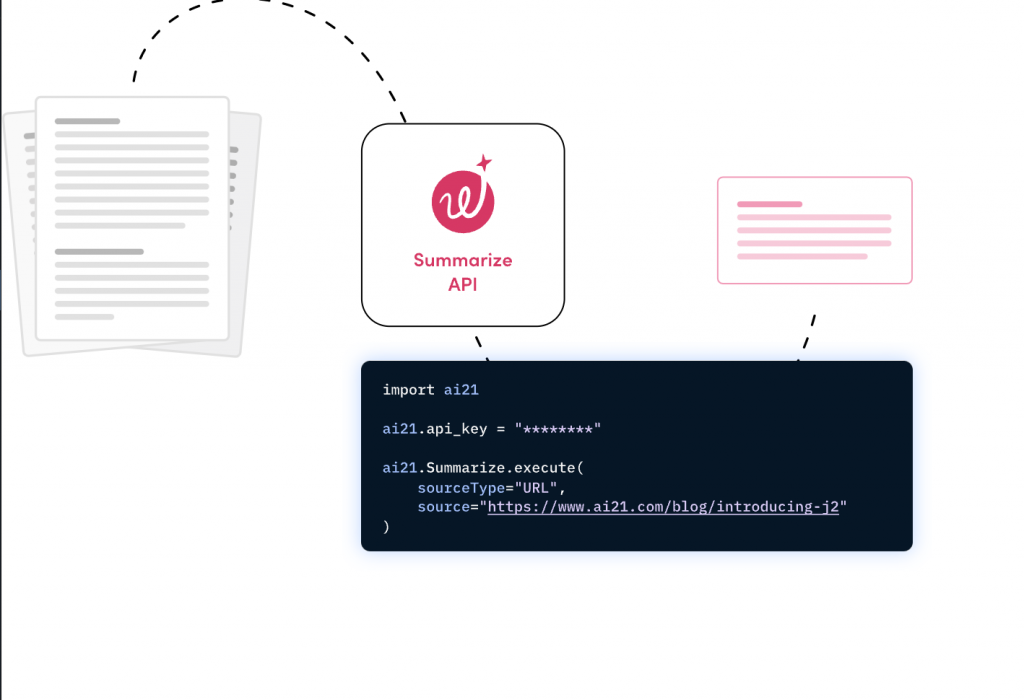 6 Powerful Alternatives to Wordtune
In recent years, Wordtune has become more and more popular with aspiring wordsmiths. However, there are some effective alternatives for content summarization and paraphrasing that are revolutionizing writing.

Our writing team recommends the following similar tools due to their unique selling points:

1. INK
You can boost your content to the top of the search engine rankings with INK, an AI-powered writing assistant that serves as your ultimate ally when it comes to improving your writing skills.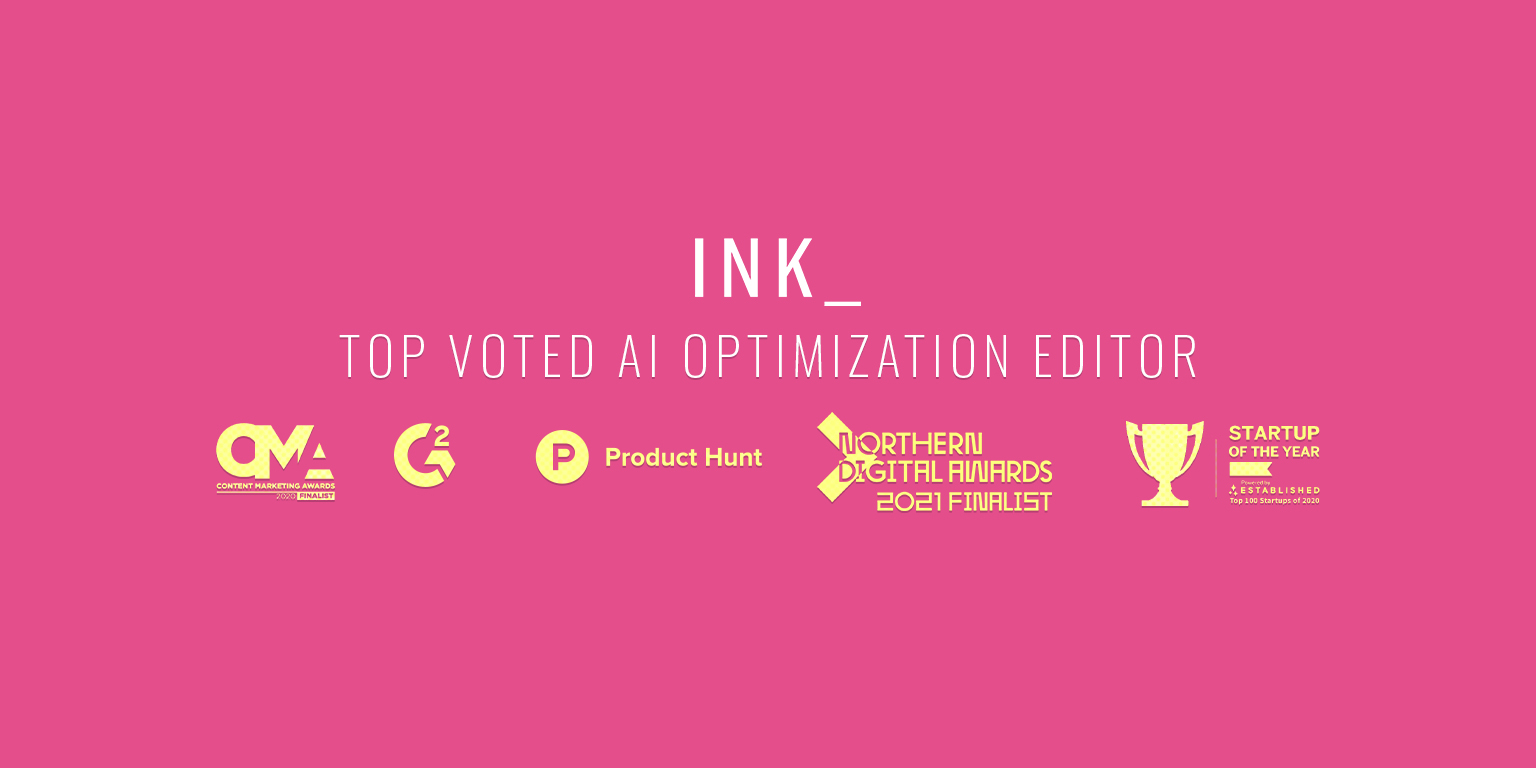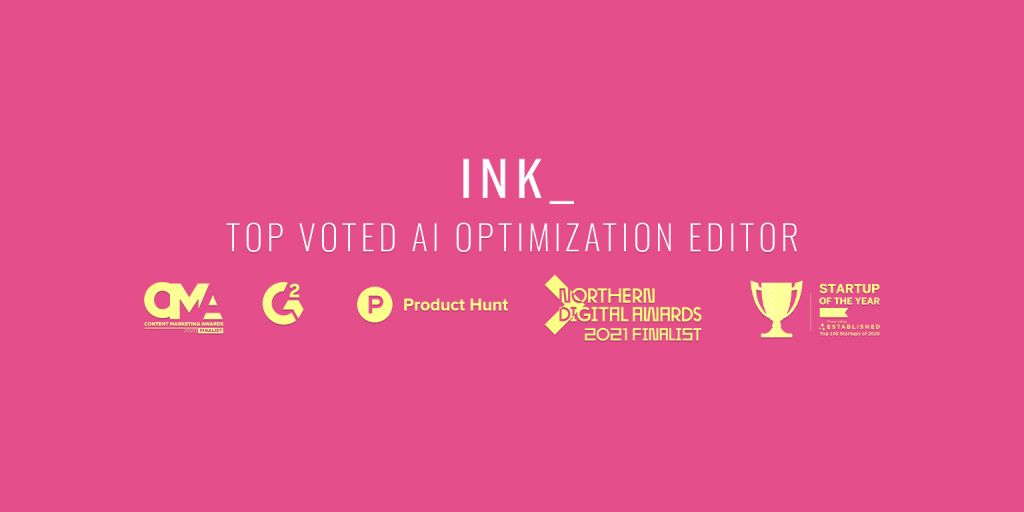 I think that Wordtune may not be the ideal choice for users in need of advanced features like SEO optimization or content creation.

But as we have already discussed, it is best not to trust SEO tools for your keyword research processes. Yet, your prose will not only be captivating, but also more optimized for online visibility with INK by your side.

2. Grammarly
Writing assistant Grammarly has won the hearts of countless writers all over the world. Grammarly is your ultimate companion if you seek robust grammar and impeccable spelling checks, as well as tone detection and plagiarism detection.
Unlike Wordtune, Grammarly is laser focused on perfecting your language usage, allowing you to polish your writing with finesse.

3. Conversion.ai
Conversion.ai is an AI-powered copywriting tool that transforms you into a copywriting master. You can create attention-grabbing ads, compelling emails, powerful product listings, and captivating blog posts with Conversion.ai. Wordtune has its unique style; Conversion.ai focuses on copywriting.

4. ProWritingAid
ProWritingAid is a writing assistant that understands the subtleties of style and elegance. ProWritingAid searches for elements like vague wording, passive voices, length variation, and over-complicated sentences.
While Wordtune provides flexibility, ProWritingAid focuses on style analysis to help you enhance your writing.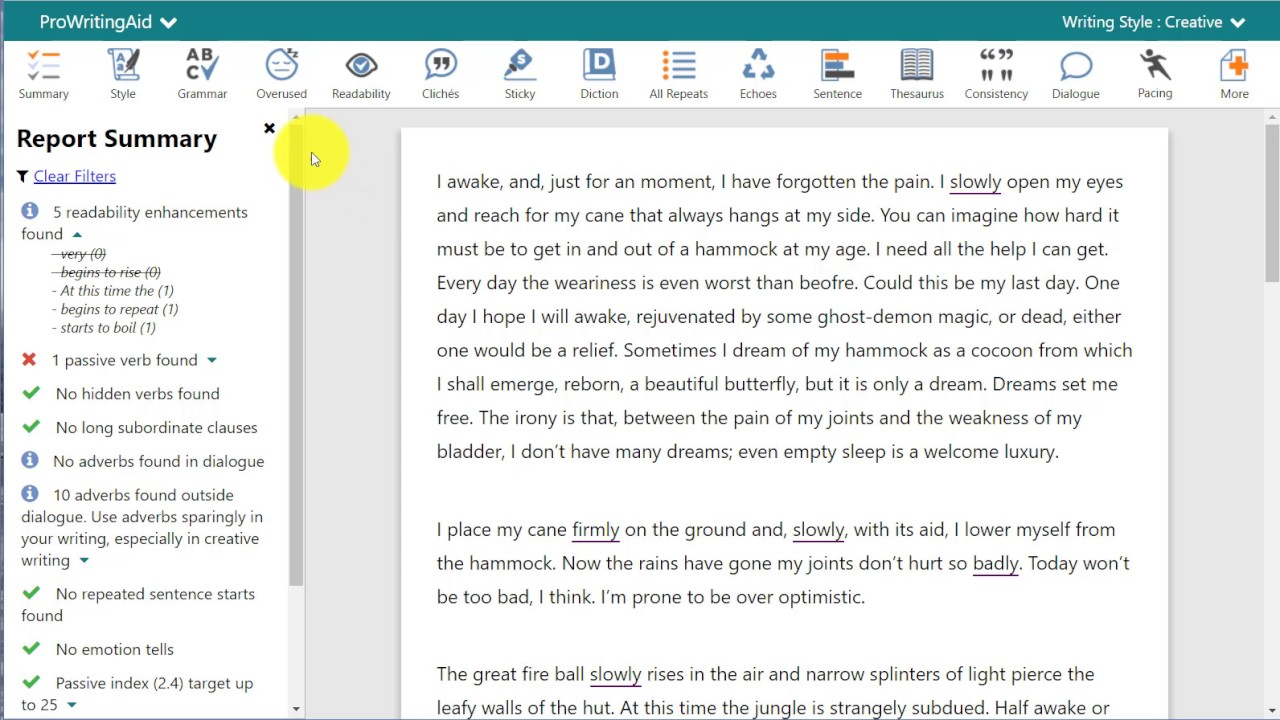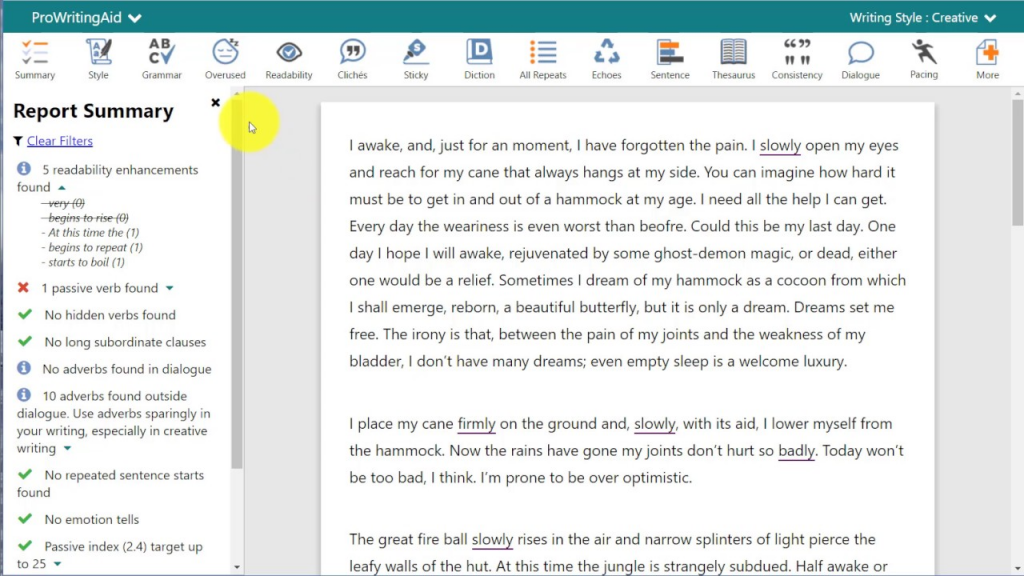 5. QuillBot
Both QuillBot and Wordtune offer paraphrasing capabilities powered by AI. While QuillBot focuses on contextually accurate suggestions, Wordtune also offers grammar checks, tone detection, and content analysis.
At the end, your preferences and writing needs influence the choice between the two.
Check out our comprehensive review of Quillbot.

6. Ginger
The writing assistant Ginger will expand your linguistic horizons through translation and sentence rephrasing.
While Wordtune offers a wide range of writing services, Ginger specializes in translation and sentence rephrasing. Ginger helps you navigate language barriers and make your words more impactful.
Wordtune offers translation capabilities but its primary focus remains enhancing English writing: its suggestions result in limited support or lower accuracy.

It's important to exercise discretion when accepting Wordtune's AI-generated suggestions, as they are not infallible.
So, there you have it. Whether you need SEO help, grammar mastery, copywriting expertise, elegant style, or language versatility, I'm sure you'll find the right tool for you.
Wordtune's Pricing Options & Subscription Plans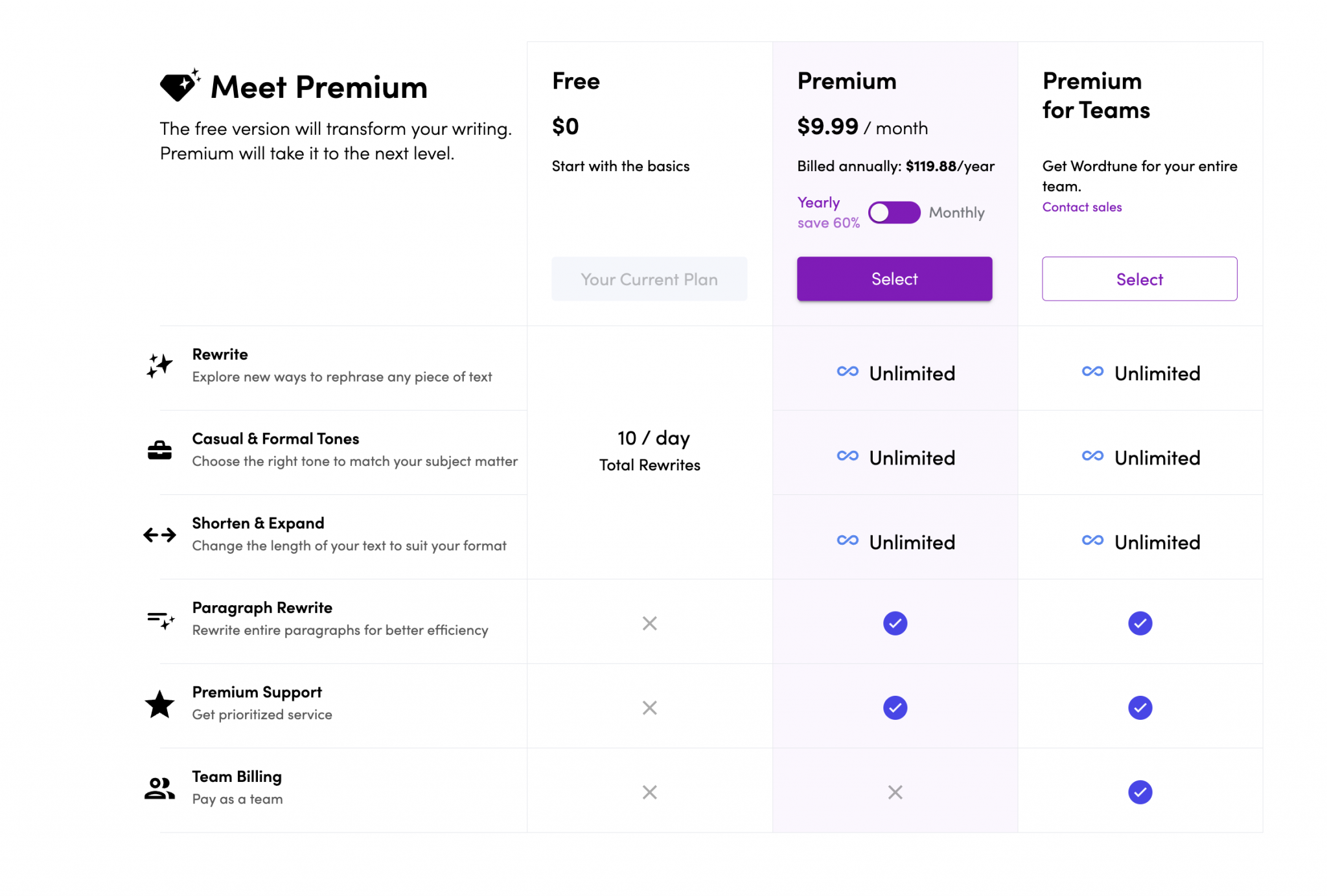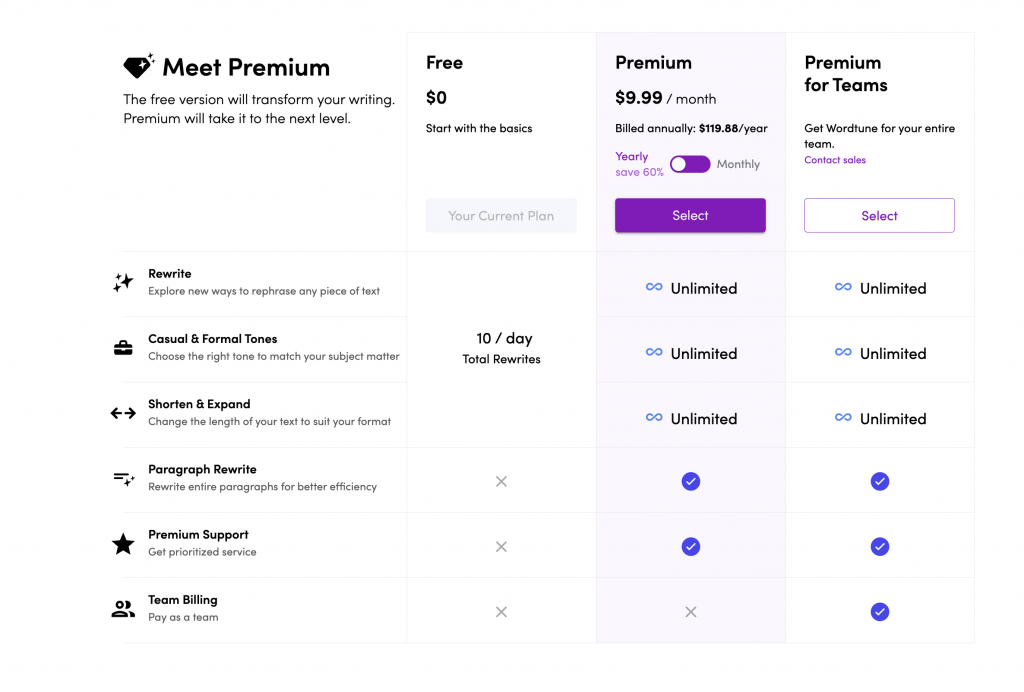 Wordtune offers a variety of pricing options to meet the needs of professional writers, students, and business owners. The Wordtune pricing options are as follows:
Free Plan: Before you commit to any subscription plan, you can start your writing journey with Wordtune's Free Plan. It provides access to basic features and functionalities. You can use this plan to test the tool. While it is beneficial, it is too restricted, potentially prompting users to upgrade to the premium version for full access.

Basic Plan: For $9.99 per month, you get access to advanced features. With this plan you get sentence rephrasing, style editing, sentence formatting, tone checking, grammar checking, engagement metrics, and plagiarism detection functionalities to elevate your writing game.

Enterprise Plan: Wordtune offers a flexible Enterprise Plan for businesses and organizations. Custom pricing options are available based on your specific requirements. You can get more details about Wordtune's Enterprise Plan and pricing by contacting the team.

Premium Features to Enhance Your Writing:
Wordtune Editor's Premium Version: Add advanced features like engagement metrics to refine and optimize your written content with Wordtune Editor's Premium Version. With this version, you can boost your writing skills with a more comprehensive set of tools.

Pricing Details:
Monthly Subscription: Wordtune Editor Premium costs $9.99/month. You can use all advanced features and improve your writing skills.
Annual Subscription: With the annual subscription plan, you'll get long-term value for $119.88. This option saves money and ensures uninterrupted access to the premium features all year long.
Team Subscription: Does your team or organization need collaborative writing tools? Premium Wordtune Editor plans are available for teams.
Which Wordtune Editor Version is Right for You?
I find the free version of Wordtune Editor to be a fantastic starting point. Yet, users who want more comprehensive functionality and advanced writing tools may prefer the premium version. To achieve exceptional results, I'd recommend you upgrade to the premium plan.
Prices and plans are subject to change. So check Wordtune's official website or contact their customer support for the latest information.
Use Wordtune to Unlock your Writing Potential
Not sure if Wordtune Editor is the right fit for you? No worries! Users can explore Wordtune's capabilities for free before committing to a paid plan.
With Wordtune's versatile pricing options and powerful features, you have everything you need to improve your writing, engage your audience, and make an impact. Your writing brilliance awaits!