Article at-a-glance:

ShortlyAI is an AI-powered writing tool designed to assist content creators, offering features such as content generation, style customization, and overcoming writer's block. 

-  Features & Benefits: It provides functionalities such as following user-led topic inputs, compatibility with other writing tools, easy-to-use interface, and unique content creation with plagiarism checks.

- Pricing & Alternatives: ShortlyAI offers two pricing plans, $65/month (annual) and $79/month (monthly), and is compared with tools like JasperAI, Grammarly, Simplified AI, and Copy AI in terms of features and costs.

- Pros & Cons: While ShortlyAI is time-saving, customizable, and versatile, there are several limitations to the tool: limited customization, quality concerns, and a limited number of free trials.

Are you looking for a tool to refine your writing? In this article, we're introducing ShortlyAI, an AI writing assistant that promises to change your content creation.
Whether you're going through writer's block or want to turn around content faster, ShortlyAI claims to be the answer.
Dive deep into its capabilities, benefits and potential pitfalls to see if it lives up to the hype.
AI Writing Tools: The Secret to Better Content?
Today, staying ahead means innovating, and AI copywriting tools are leading the way.
You can use these tools to come up with creative ideas when you're stuck, or to quickly draft outlines that would've taken you hours. But it's not all about speed.
Powered by AI, these tools offer top-notch quality and style versatility backed by the latest data. Using NLP and NLG, tools like GPT-3 (Generative Pre-trained Transformer-3), have changed the way ideas are generated and developed.
Their range is mind-blowing, from social media captions and video scripts to detailed blog posts. For every copywriter out there, embracing these tools isn't an option—it's a must. When you take advantage of them, you will see your productivity soar!
What is ShortlyAI?
ShortlyAI is a text-generating software powered by artificial intelligence that helps content creators and marketers write better content.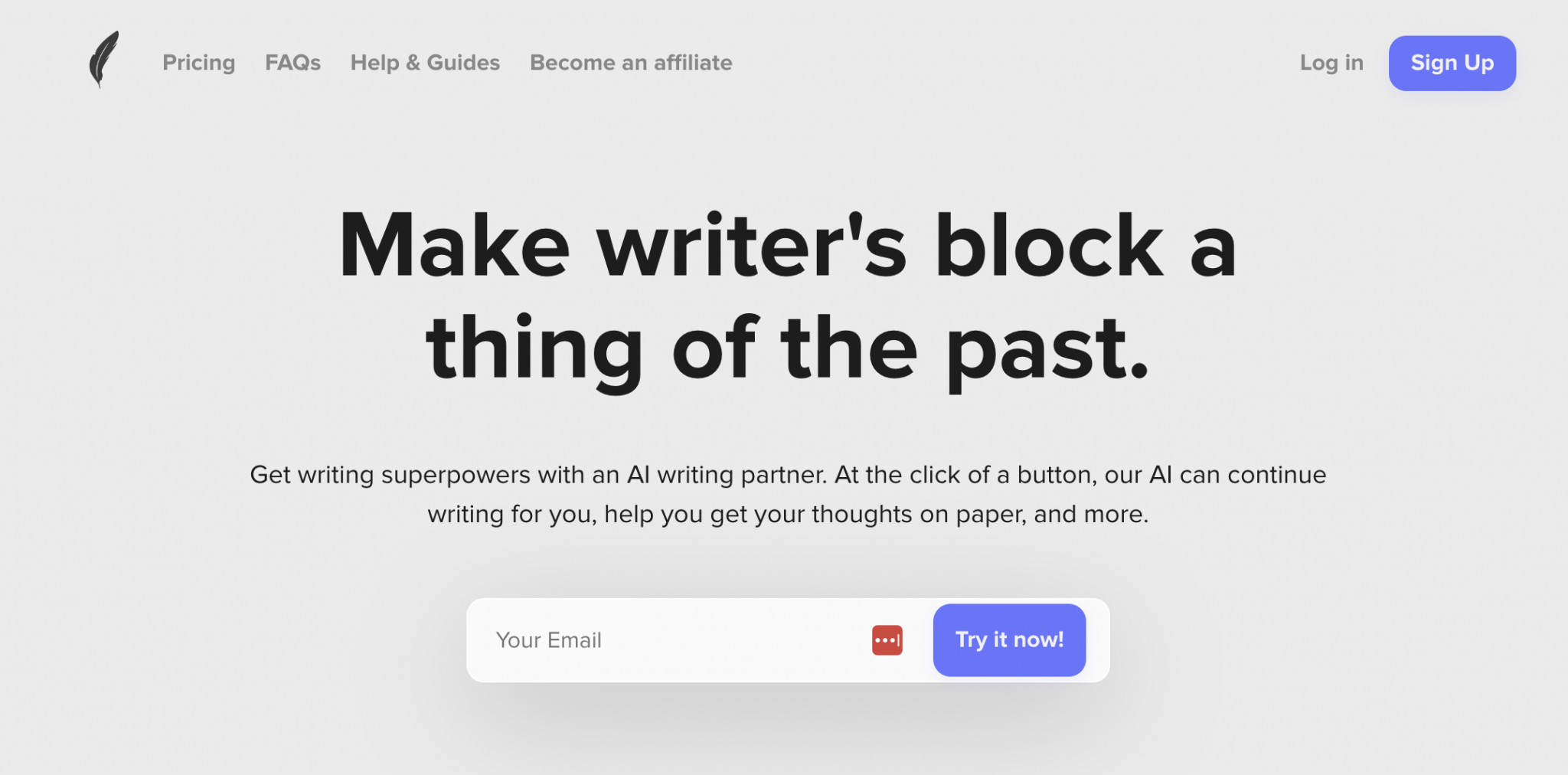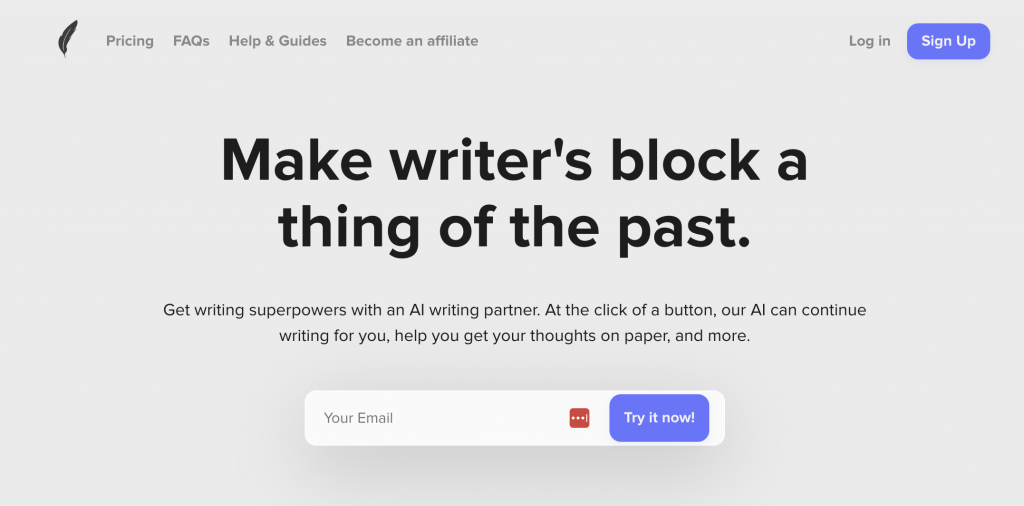 The AI-powered platform was founded by Qasim Munye in 2020 and recently acquired by Conversion.ai. It is accessible via the web without the need for installation.
It's like a super-smart friend who helps you write awesome stuff. With ShortlyAI, you can create blog posts, articles, product descriptions, emails, social media captions, and more.
You give it a little bit of info and it writes for you, making sure you don't get stuck or mess up your formatting. Machine learning and natural language processing algorithms help ShortlyAI generate contextually relevant suggestions based on your input.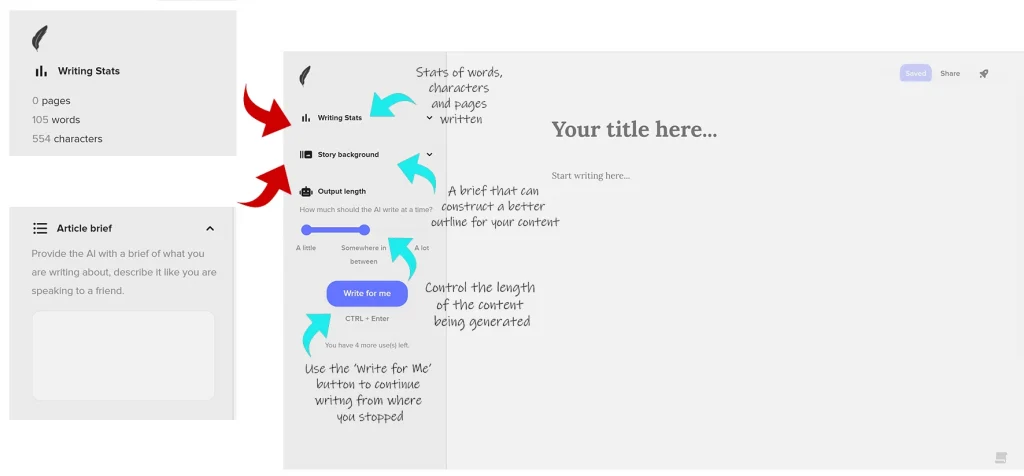 And the best part? You get a top-notch writing assistant without burning a hole in your pocket. Although there are other tools out there that do the same thing, ShortlyAI just needs a little information, and boom!
So next time you're staring at a blank page, remember there are AI tools like ShortlyAI that can help!
Check out these cool things it can do:
Write Like a Pro: It helps you with many types of writing thanks to artificial intelligence (yeah, that's the brainy stuff).

Follow Your Lead: You can provide the tool (in this case, ShortlyAI) with a topic, idea, or any thought you have in mind. Based on your input, the tool will produce or suggest written content.

Your Style, Your Rules: ShortlyAI allows you to adjust its preferences or settings. You can tweak these settings to mimic or match the your writing style, tone, or voice.

Play Well with Others: Got other writing tools? No worries. You won't face compatibility issues, and you can integrate ShortlyAI smoothly with various writing tools like Grammarly and WordTune and content management systems.

Easy Peasy: Even if you're not a tech guru, you can use it. You won't have a problem figuring it out because it's user-friendly and straightforward.

Save & Share: Once done, you can save your writing or put it in different styles and places. Your content can be exported or moved to different software or platforms.

Pick Up Where You Left: Stopped writing? Come back later, and it remembers where you were.

Brain Freezes? No More!: If you're stuck, it gives you cool ideas or prompts to keep writing.
ShortlyAI Unboxed: The Pros and Cons You NEED to Know!
You need to know what you're getting into when you dive into AI writing. Here are the pros and cons of using ShortlyAI:
| | | |
| --- | --- | --- |
| Pros | Cons | Main Features |
| Time-saving | Limited customization | AI-powered writing assistance |
| Customizable settings | Quality concerns | Content generation based on user input |
| Versatility, originality | Cost | Integration with writing tools |
| AI-powered writing assistance | Limited word count | User-friendly interface |
| Fast turnaround time | Limited free trial | Ability to generate ideas and assist in overcoming writer's block |
Here is a quick view of the pros and cons of ShortlyAI and its main features.
Content creators looking to boost their output, time-conscious writers looking to save hours, and content curators looking for quality enhancement will love ShortlyAI.
Quality seekers can enhance content excellence without sacrificing speed, while aspirational entrepreneurs can balance their day jobs with online presence building with unique and engaging content.
We tried out ShortlyAI with our skilled writing team, and it turned out to be really helpful for some people who write articles. We looked at it closely and found it works well, making it easier to create blog posts and short scripts.
Pros of Using ShortlyAI:
Fast-Track Content: ShortlyAI can produce writing ideas and acrual written drafts very quickly.

Make It Yours: ShortlyAI allows you to tweak or modify its automated writing output. You can adjust the AI to produce content that matches your voice, tone, or preferred writing style instead of generic content.

Offers Many Functions: Whether you need a short tweet for Twitter or a longer blog post for a website, ShortlyAI is equipped to create both.

Smart Writing Assistant: If you're having trouble coming up with what to write, ShortlyAI will give you ideas to help you keep writing. You can craft compelling sales copy using proven frameworks like AIDA and PAS.

Interface: Its minimalist design seamlessly integrates into your workflow, ensuring seamless content creation.

Originality: Can this AI-generated content stand up to plagiarism checkers? Yes, absolutely! Shortly AI crafts original content that stands the test of authenticity. You don't have to worry about stale or unoriginal content with this AI writing assistant.
With Shortly.AI, you can optimize your content, detect plagiarism, suggest writing styles, and research keywords to enhance content quality and visibility.
By enhancing readability, structure, and tone, the platform optimizes content for search engines.
Additionally, Shortly.AI suggests ways to improve writing style, tone, and voice, so it's more engaging. In addition to keyword research, the tool suggests relevant terms to boost search engine rankings.
Although ShortlyAI provides keyword suggestions, you should use caution and not rely solely on tools, as leveraging your own expertise and intuition can result in more effective keyword choices.
No tool is perfect, though. Contextual disparities and integration limitations are factors to consider.
Cons of Using ShortlyAI:
Not Super Flexible: While ShortlyAI lets you tweak certain things to fit your style, it's not as adaptable or versatile as some other writing tools.

Quality Check: Even though the tool can create high-quality content, its content often closely resembles other content.

Pricing:Yep, it's got a price tag. Maybe it's not for everyone.

Memory Limit: It remembers about 1200 words, which isn't enough for broader topics.

Freebie Limitations: Their trial gives you 5 content spins. Those are just teasers for some.

Brainstorming: It might not excel in helping you come up with super imaginative and unique concepts. Therefore, ShortlyAI might not be the best tool for sparking your most creative ideas.
You can use ShortlyAI if you need content ideas fast, want to beat writer's block, or want to create different types of content.
But think twice before you choose ShortlyAI if you want intricate customizations.
And if generating unique content is your top priority, it's another reason to look for another writing tool.
You might want to think twice if your funds are limited and premium tools aren't within reach. Make sure the tool you choose fits your budget and needs.
7 Super Simple Steps How to Use ShortlyAI
Are you ready to work with an AI tool ?
Here's our guide to using ShortlyAI, your new AI buddy that's about to take your content game to the next level. Here's a secret: It's easier than picking your next Netflix show!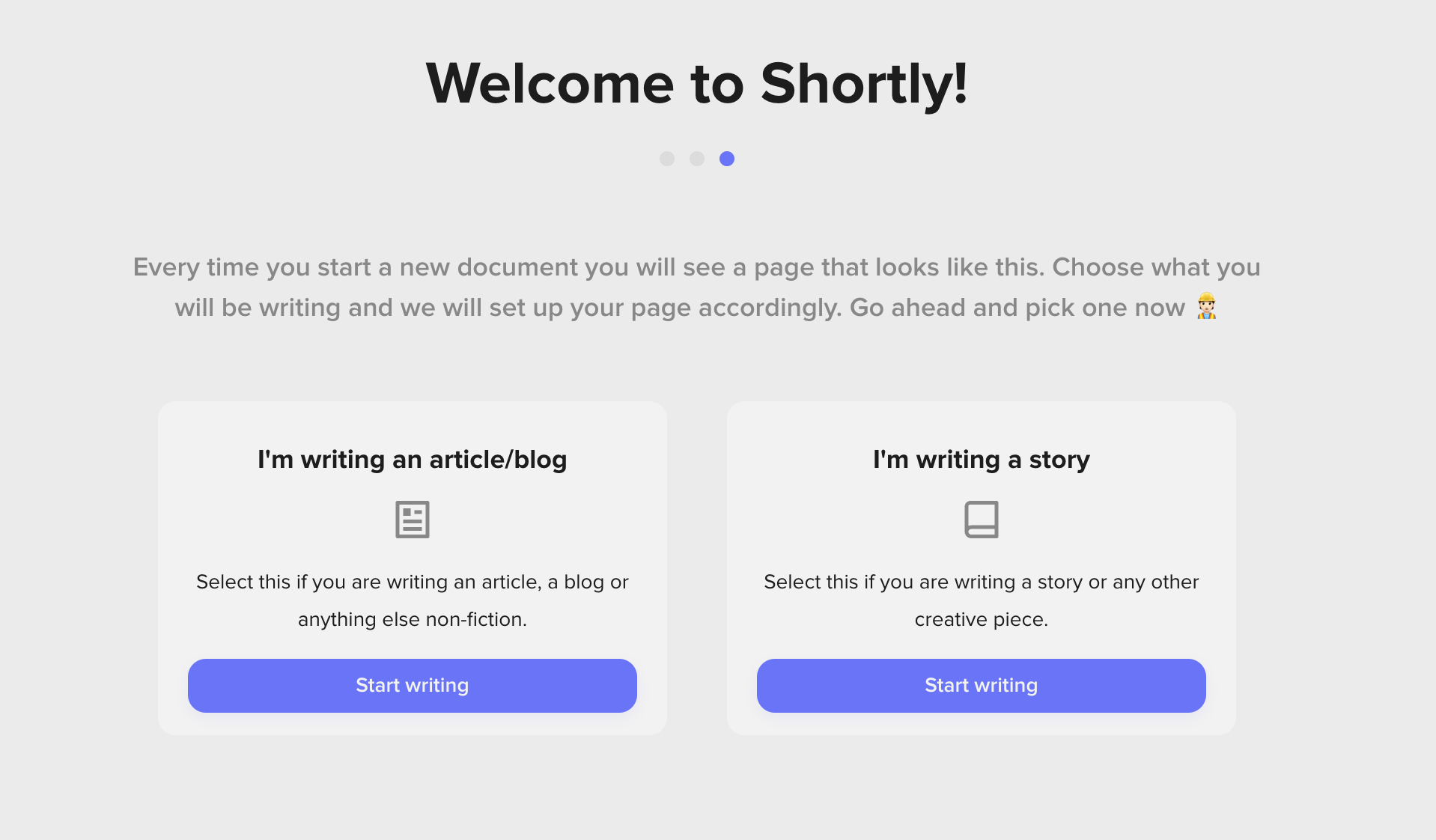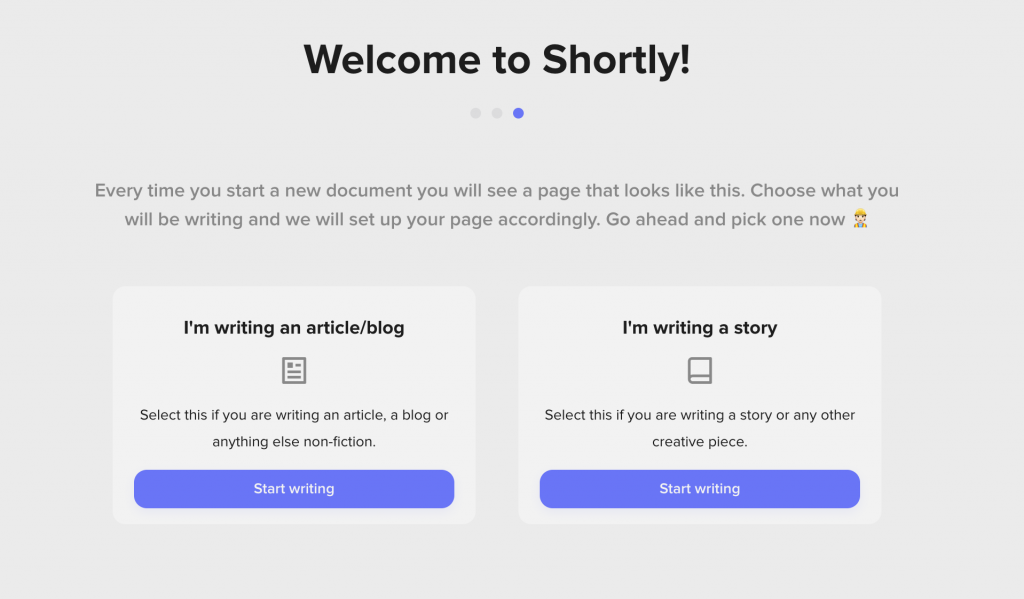 Go to the ShortlyAI website and make an account. It's like signing up for a new game.
Once you're logged in, select the type of content you want to create. Want a blog post? Or maybe a caption for Instagram? Just pick!
Enter a topic or keyword related to the content you want to create. Maybe "dogs" or "pizza".
ShortlyAI will think super fast and give you some cool ideas. Pick your favorite or tell it your own idea.
Based on your input, ShortlyAI will generate a draft. It's like magic, but you can change anything you want. Edit the content as needed.
Polish It Up. Use ShortlyAI to make your writing even coolern and make it more engaging.
Finish and Celebrate. When it looks perfect, save it or export it in the desired format.
As you can see, it's really easy to get started with writing with ShortlyAI. Just make sure you add your own flair to make it your own!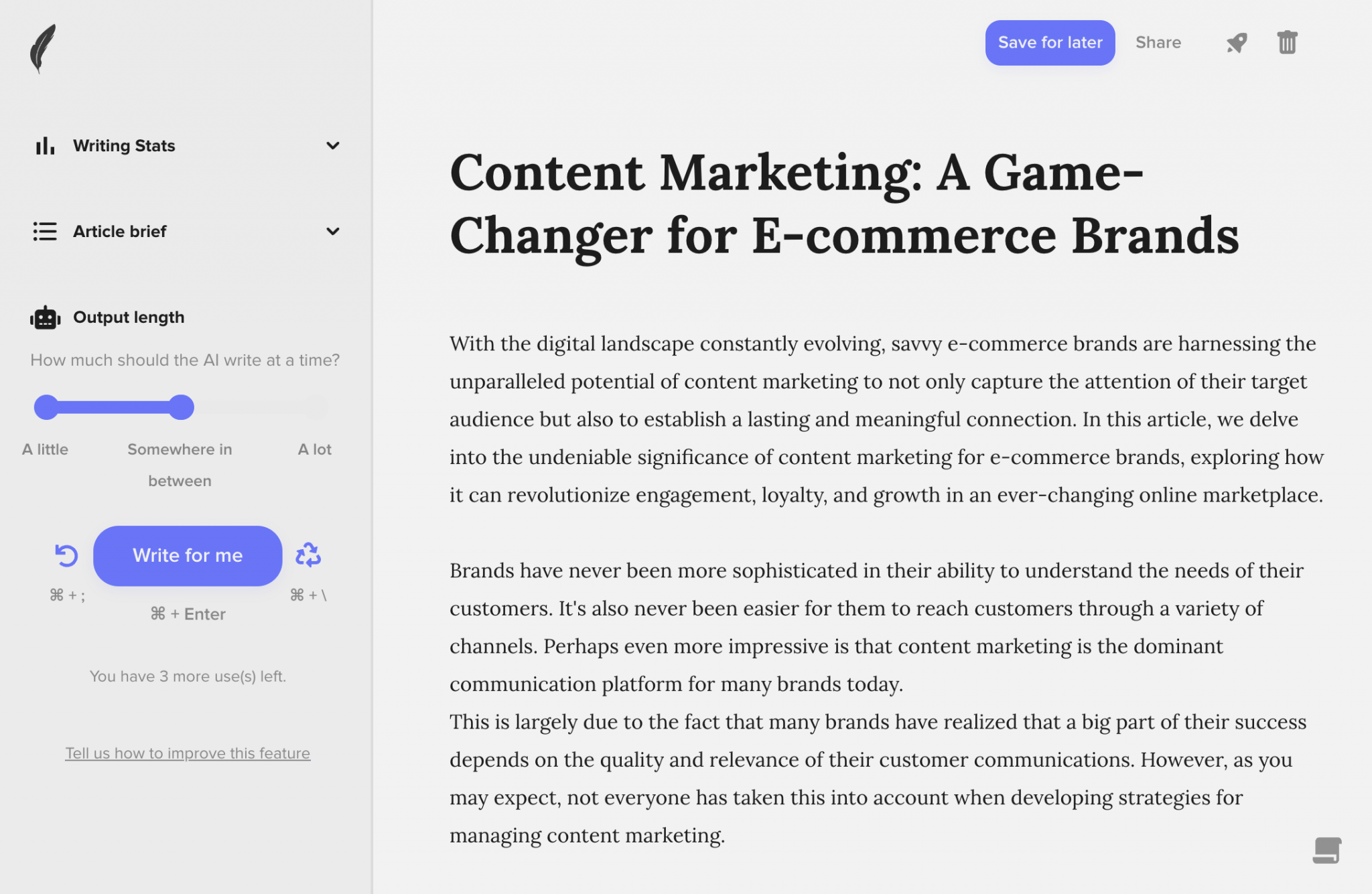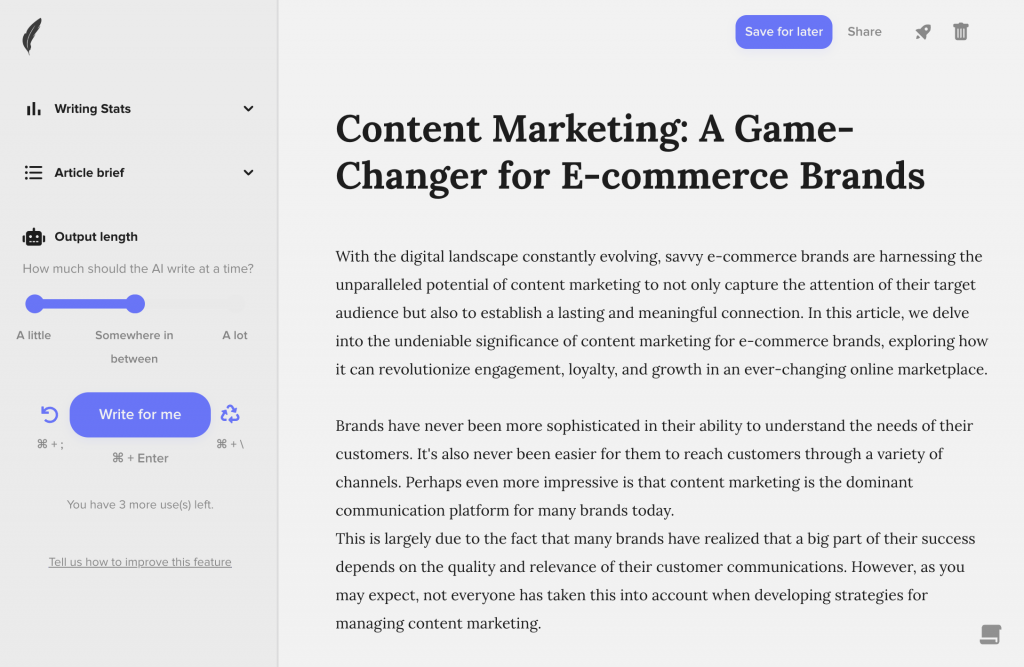 Pricing
ShortlyAI has two pricing options. You get two months free with the Annual Plan, which costs $65 per month. This plan will help you write faster, improve your writing quality, and overcome writer's block.
The Monthly Plan costs $79 a month and has the same benefits including powerful writing commands, AI updates, and the option to cancel at any time.
You can try the service for free before committing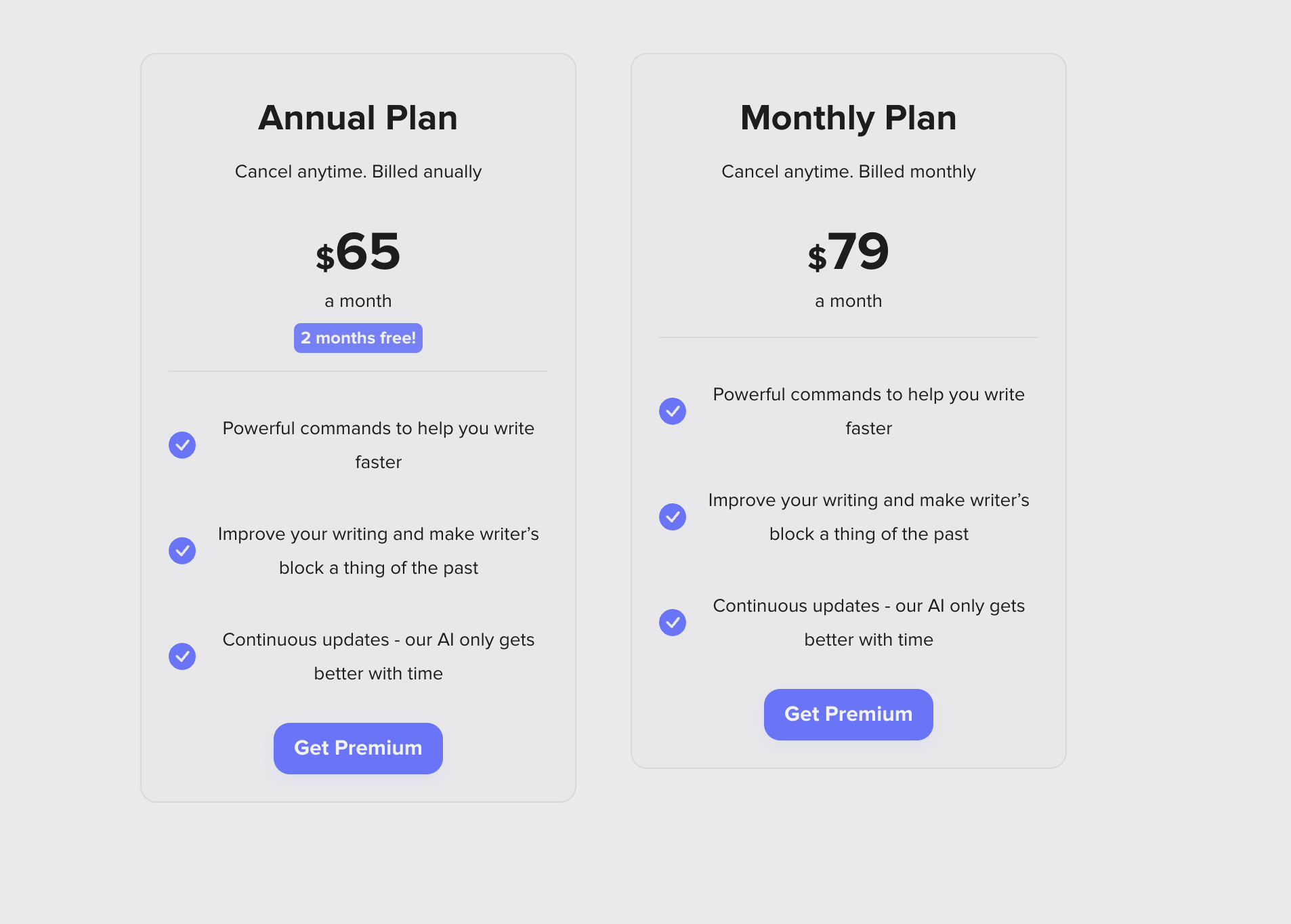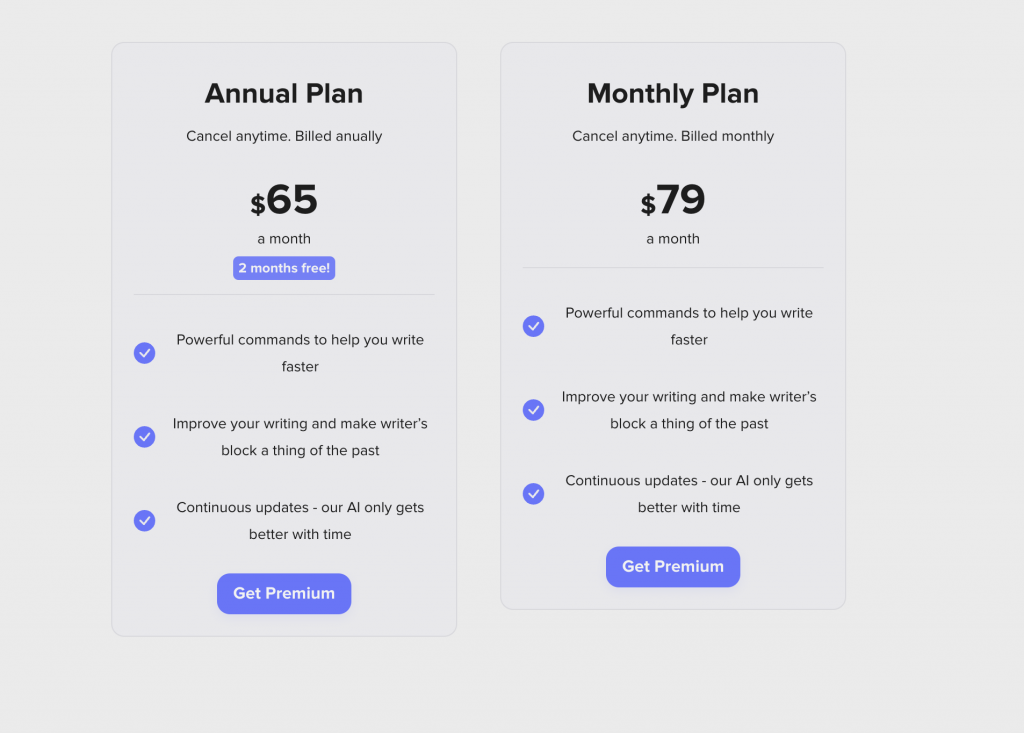 4 ShortlyAI Alternatives
Wondering how ShortlyAI compares with other AI writing tools? Here's what you need to know:
| Tool | Features and Capabilities | Pricing |
| --- | --- | --- |
| ShortlyAI | AI-powered writing assistance and content generation | Monthly Plan: $79/month, Yearly Plan: $65/month (billed annually) |
| Jasper.ai | Wide range of features and tools for content creators | Creator Plan: $49/month or $39/month (if paid yearly), Teams Plan: $199/month or $159/month (if paid yearly) |
| Grammarly | Advanced grammar and spelling checking capabilities | Free version available, premium plans starting at $11.66/month |
| Simplified | Over 30 copywriting templates and long-form writing format | Free plan available, paid plans range from $6/month to $20/month |
| Copy.ai | AI-powered writing assistance and content generation | Free plan available, Pro Plan: $35/month or $420/year, Enterprise Plan: custom plan and price |
| Wordtune | AI-powered writing and editing assistance | Free plan available, Plus Plan: $9.99/month, Unlimited Plan: $14.99/month, Business Plan: custom plan and price |
Quick comparison table of ShortlyAI, JasperAI, Grammarly, Simplified AI, and Copy AI.
Jasper.ai: Jasper.ai is an affordable SEO tool that's great for long-form content and integrates with Surfer SEO. However, it's got limited word credits. ShortlyAI offers unlimited word credits and has a user-friendly interface, but not so many integrations.

Grammarly: Grammarly helps fix your grammar and makes your sentences sound better using smart technology. It works on Gmail, Word and Google Docs to make sure you write the best you can everywhere. You can even use it to check if you're accidentally copying someone else's words. If you're someone who often struggles with grammar and wants to sound more professional, Grammarly might be your go-to paraphrasing and editing tool. Personally, I find it more valuable but for a deep dive on Grammarly, check out our review.

Simplified: Think of ShortlyAI and Simplified as two rival soccer clubs that compete against each other. Although they're both playing AI writing, they have different playstyles. With an intuitive interface and AI-driven writing support, ShortlyAI enables quick content creation across various genres. Meanwhile, Simplified has more than 30 templates and excels at both long-form and social media content.

Copy.ai: Imagine this tool having a super-powered brain (thanks to OpenAI's GPT-3). It's like a wizard creating all sorts of content magic. Copy.ai comes with a 90+ AI writing toolkit, an AI generator, and a free trial. ShortlyAI, on the other hand, has an easy-to-use interface, AI-driven writing help, and fast results. Meanwhile, ShortlyAI, with its special tech, reads between the lines to give you spot-on content based on what you tell it.

Wordtune: Using artificial intelligence, Wordtune provides suggestions for improving sentence structure, vocabulary, and clarity. You can use it in Gmail, Google Docs, and more, and it even suggests words in real time. You can get a free version or a fancy paid version. You can read our detailed Wordtune review if you're curious.
This AI companion promises to shape your writing process whether you're a pro or just starting out. Whether you need quick content fixes or to get over creative blocks, it's an option.
Revolutionize Your Writing Ability with ShortlyAI
ShortlyAI emerges as a formidable contender in the AI writing space, offering impressive features for content creators.
Its unique capabilities and compatibility make it a worthwhile investment, though one must weigh its pros and cons against alternatives like JasperAI and Grammarly.
Choose wisely based on your needs and budget.