Article at-a-glance:

- An effective About Us page is crucial for building trust and connecting with a brand's audience, and converting visitors into buyers. 

- BigCommerce offers customizable templates, SEO optimization tools, and multimedia integration for creating compelling pages. 

- To create an impactful BigCommerce About Us page, businesses should write for their target audience, share their brand story and values, use social proof, introduce their team, prioritize customer needs, add engaging visuals, and include a clear call-to-action button. Most importantly, all these should be written in a conversational tone.

- Discover a step-by step guide and a checklist for writing a BigCommerce About Us page that resonates with your target audience and drives traffic and conversions.
Many online businesses don't know how important the About Us page is. But the truth is, there's no better place to drive loyalty and brand recognition and convert a store visitor into a brand lover than your About page.
If you've got a lot of backstory but no idea how to make it work on your BigCommerce website – this guide is for you.
Find out everything you need to know about how to write an About Us page for your BigCommerce store.
Plus, with a track record of transforming business brands and empowering businesses to craft persuasive copy and campaigns, I offer authoritative insights to bridge the gap between brand identity and effective copywriting.
Your About Page Helps People Connect With Your Brand & Trust It .. And Ultimately Buy Your Stuff
Google Analytics data shows that the About page is one of the most visited pages on a website. This means that many users are interested in learning more about the website or the brand.
An About page is an essential part of a website's content strategy. Businesses use it to highlight their brand identity, values, mission, and unique selling proposition. It allows visitors to discover who stands behind the brand and what they offer.
An About Us page is often the first impression a visitor has of your BigCommerce brand. It serves as a virtual introduction, allowing potential customers to learn more about your brand. This page is particularly crucial for e-commerce brands because it helps establish trust, which significantly impacts conversions.
When visitors come to your e-commerce store, they want to know who they are buying from. Brand story, values, and purpose are important. It's an opportunity to connect with your audience, differentiate yourself, and tell them why they should choose your brand over others.
It builds credibility, making potential customers feel more comfortable entrusting their business to your brand.
5 Features You Need to Create An Impactful 'About Us' Page On BigCommerce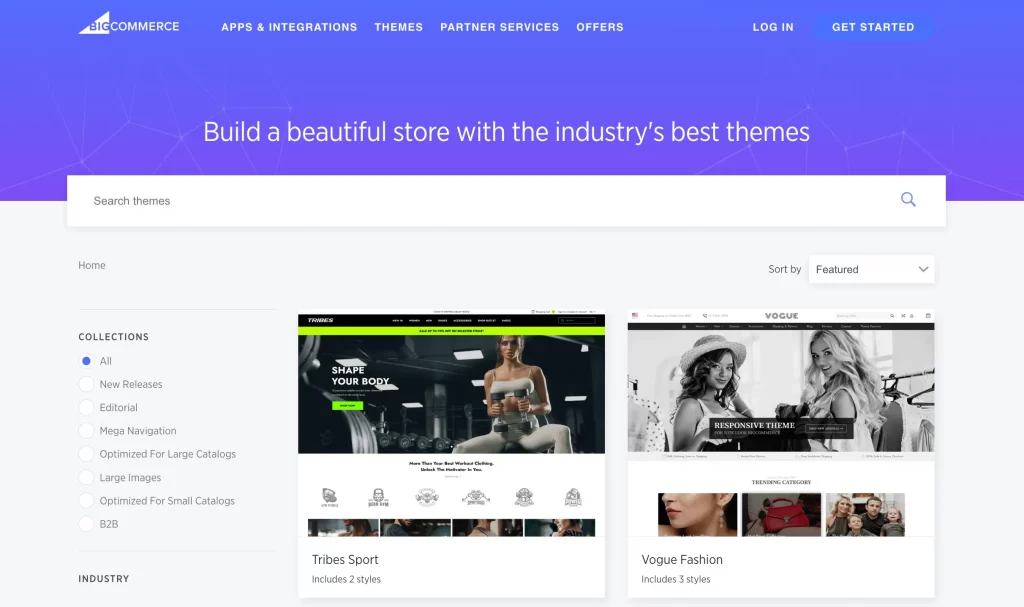 With BigCommerce, you can create an impactful "About Us" page. Let's look at some specific features BigCommerce provides for creating this page:
WYSIWYG Editor: With BigCommerce's WYSIWYG (What You See Is What You Get) editor, users can effortlessly generate and modify content on their "About Us" page.
Customizable Templates: BigCommerce offers customizable templates for creating professional-looking "About Us" pages.
SEO Optimization: BigCommerce allows users to optimize their "About Us" pages by incorporating relevant keywords and meta descriptions.
Social Media Integration: Businesses can seamlessly integrate social media accounts into their "About Us" pages, fostering customer engagement.
Multimedia Integration: BigCommerce enables users to use multimedia elements on their "About Us" page to create a more captivating and informative experience.
With BigCommerce, businesses can create an effective and compelling "About Us" page. The process not only builds trust, but also enhances credibility.
How To Create Your About Us Page on BigCommerce
1. Write Your About Page Specifically For Your Target Audience
You need to tailor your BigCommerce About Us page to your target audience. This will help you connect and resonate with the people who're most likely to buy your stuff
You should research and analyze your target audience's demographics, interests, and preferences. This will help you talk in a way your target audience can relate to and craft content that appeals to them.
Identify the challenges or problems your target audience faces and explain how your brand or products can solve their pain points.
Knowing your brand's vision, mission, and guiding ethics is key to writing your About page.
2. Start With A Compelling Brand Story
The About page should tell your brand's story and establish a connection with your target audience
Your brand story drives your business. It's the narrative that defines who you are, why you exist, and what you stand for. A captivating brand story is paramount when writing the About Us page for your BigCommerce store.
Research shows that customers are more likely to trust a brand that displays transparency and showcases its unique story.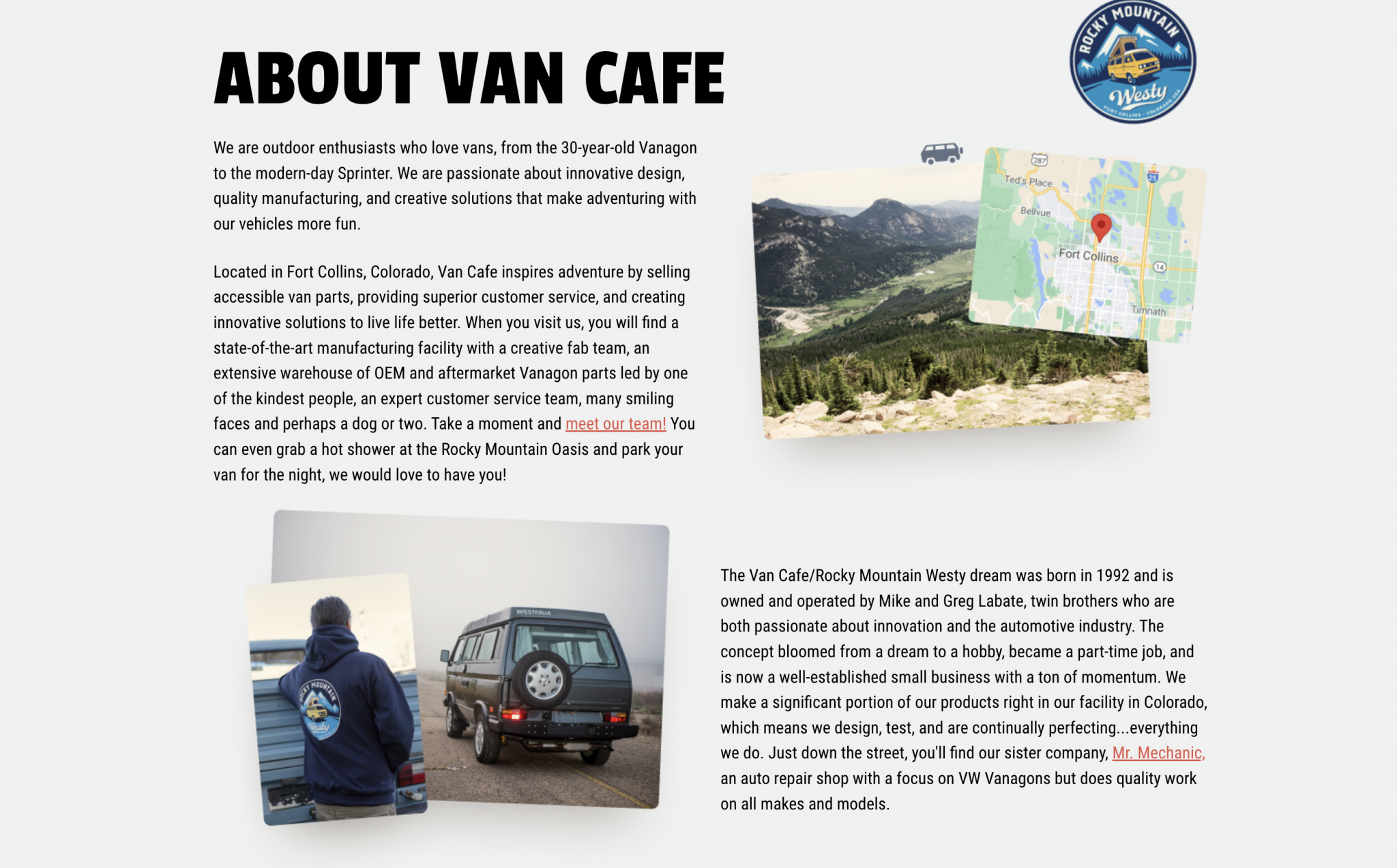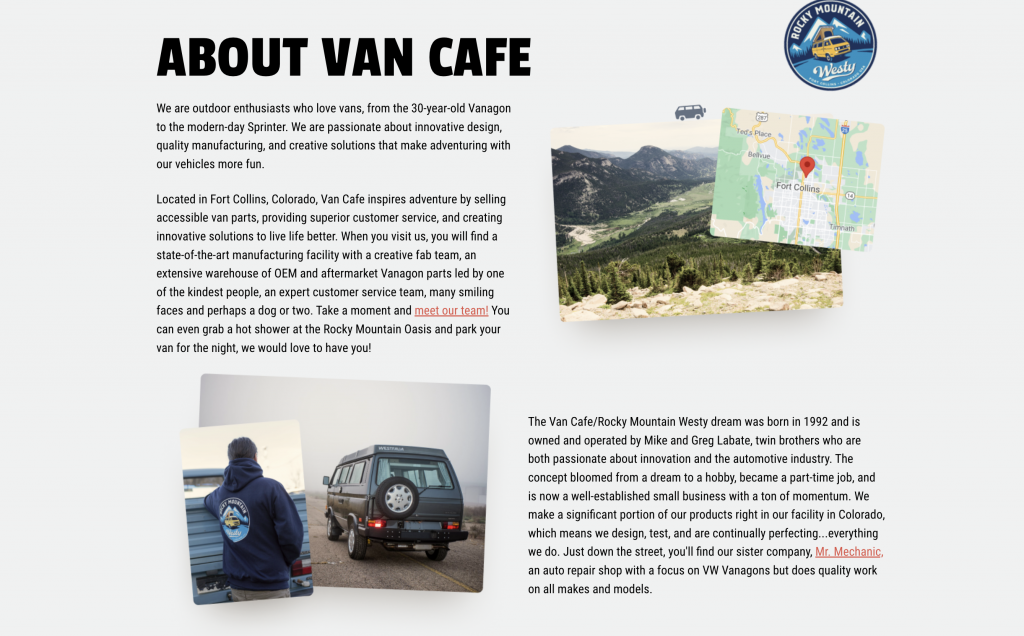 Create Your Brand Story
Before you start working on your About Us page, reflect on your brand's origins and the journey that led you to where you are today.
Was your business inspired by a personal experience?
Share the catalyst that ignited your entrepreneurial spirit and the problems you set out to solve.
Use vivid descriptions and anecdotes to make your brand story even more captivating. Your audience should be able to picture what you want them to think and feel. Make your brand more relatable and inspiring by sharing your challenges and triumphs.
Remember, while your story is important, ensure that it is also relevant to your audience.
Focus on how your brand aligns with your target audience's values and needs. In the end, your brand story should demonstrate the value you offer customers and how you can help them.
3. Establish Trust With Your Audience By Showcasing Your Core Values & Mission
Credibility can be built by showing expertise and trustworthiness.
You can think of your BigCommerce brand's core values and mission as the ideals and principles that guide everything you do. They're crucial for establishing your brand's identity and positioning.
The About Us page gives you a chance to tell your audience what you're all about.
Determine which core values align with your brand's mission and target market.
What's your focus? Sustainability, innovation, or customer service?
Clearly define these core values and explain how they shape your brand's actions and product offerings.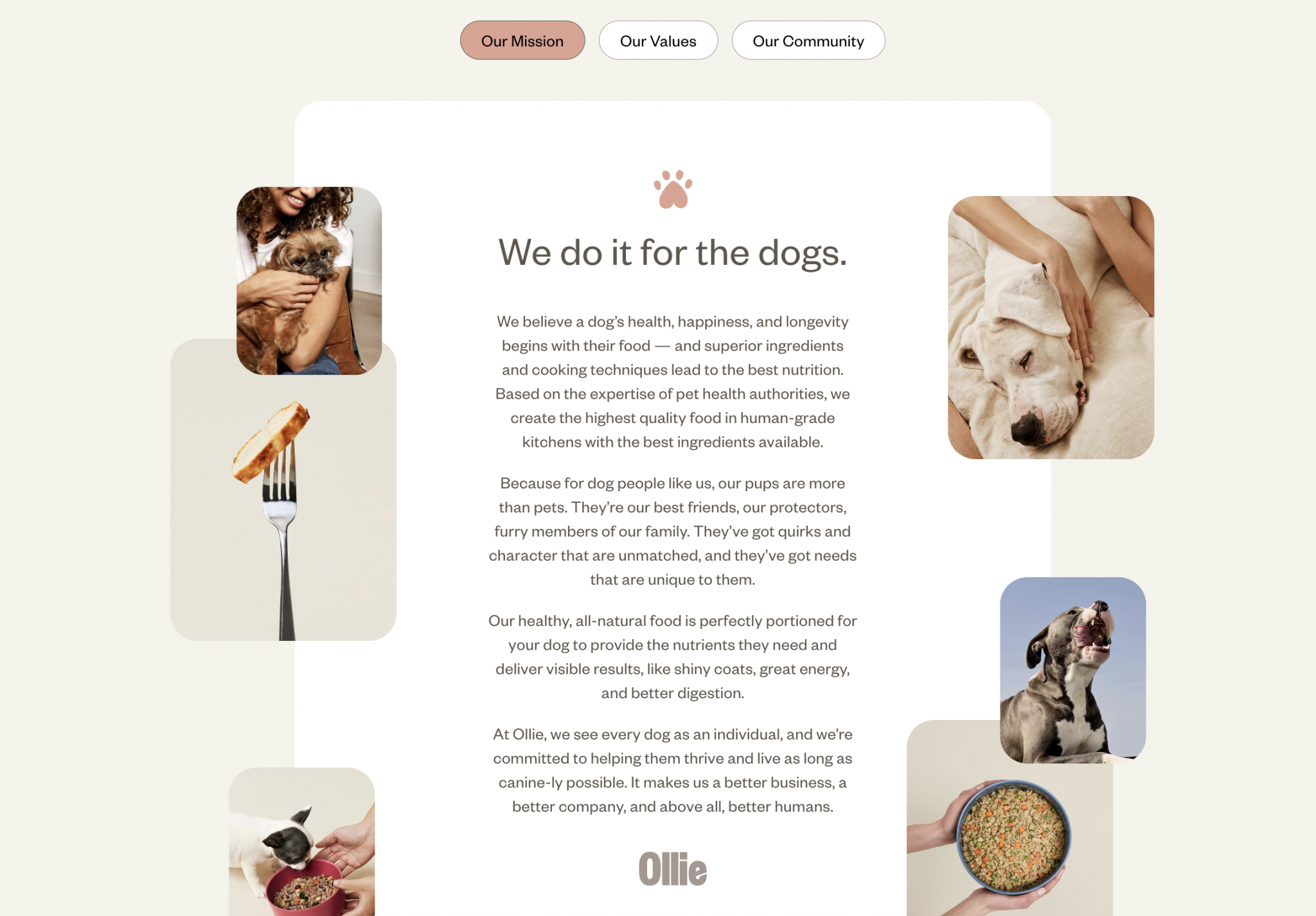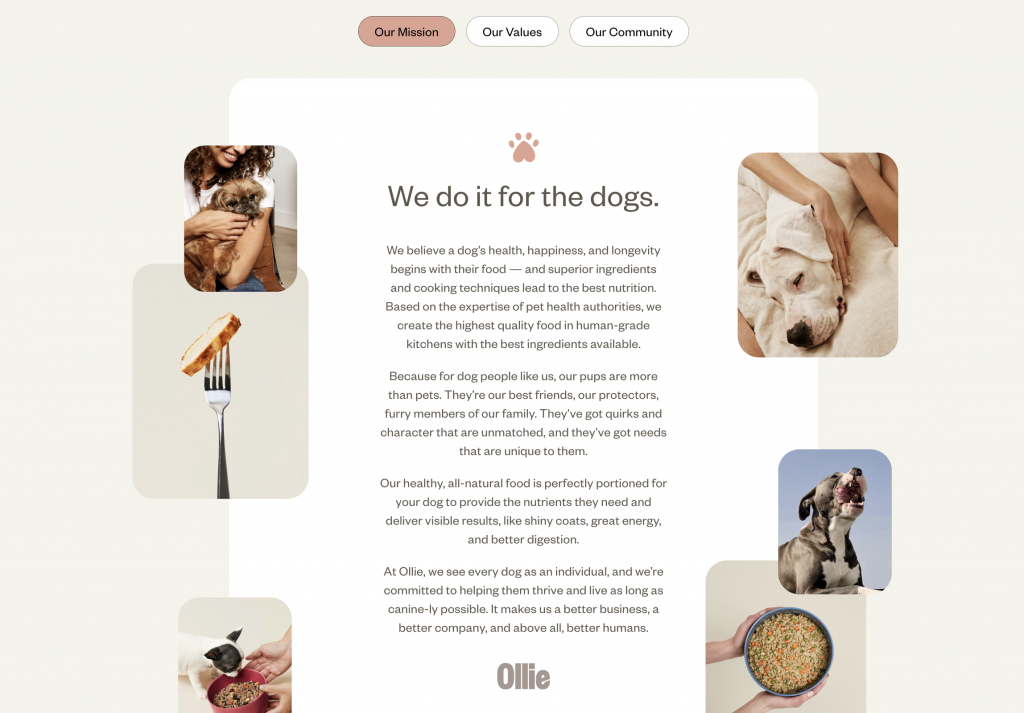 Provide a Solution to Your Customers
Make sure you explain how your mission relates to your customers. Describe how your mission fills a need or solves a problem for your target market. Show how you strive to exceed customer expectations and how your brand cares about making a positive impact.
By effectively communicating your brand's core values and mission, you establish a sense of transparency and trust with your audience. This shows your brand is focused on making a difference and that you stand behind what you believe in.
4. Use Social Proof, Certifications Or Awards To Build Credibility & Trust
If you want to succeed as an e-commerce brand, you've got to earn your customers' trust. A good way to do this is to show your expertise and trustworthiness.
You can start by showcasing your brand's awards, certifications, and accolades on your About page.
This provides external validation of your expertise and further builds your credibility.
You can add an additional layer of trust by displaying recognizable logos or icons related to your industry.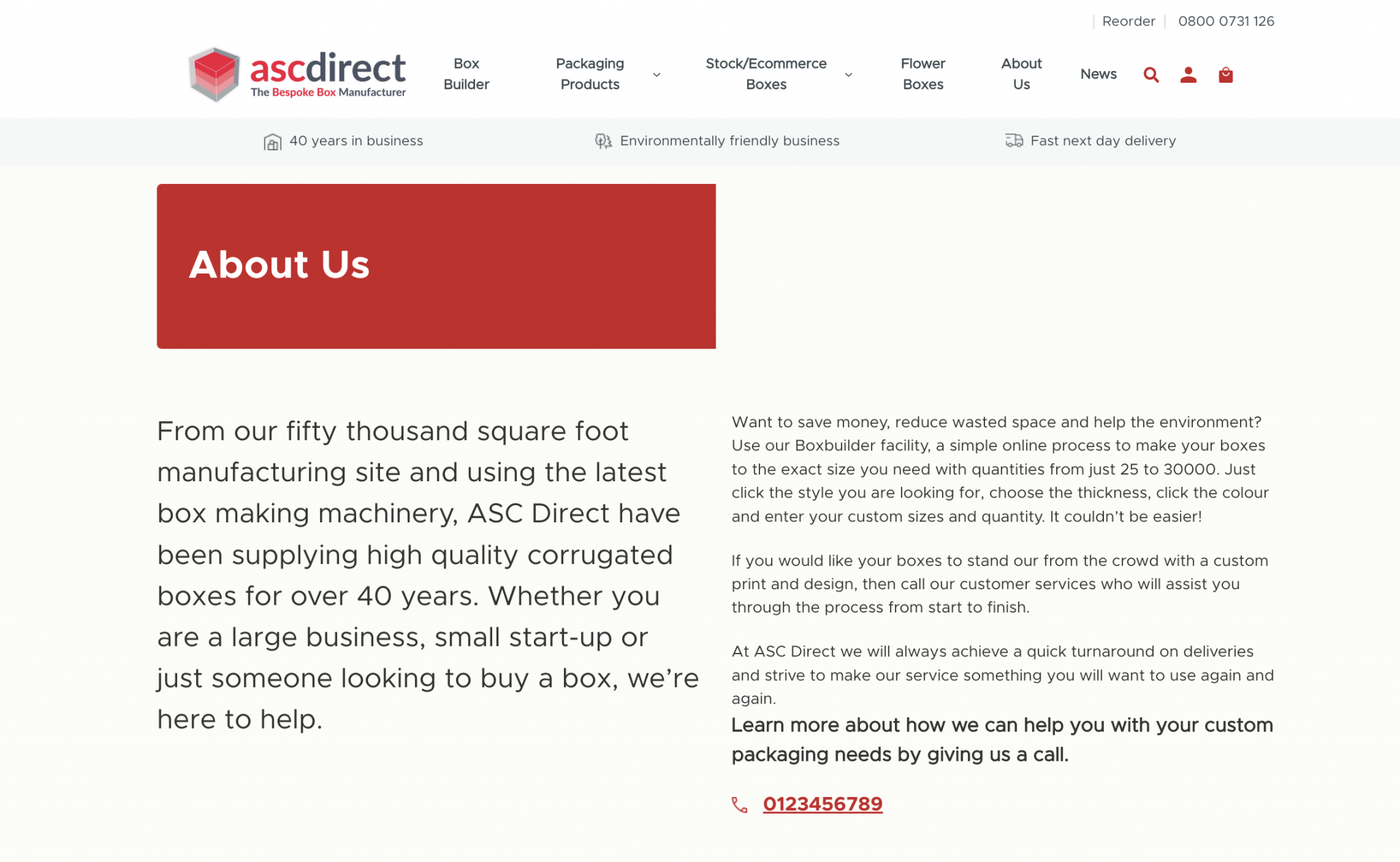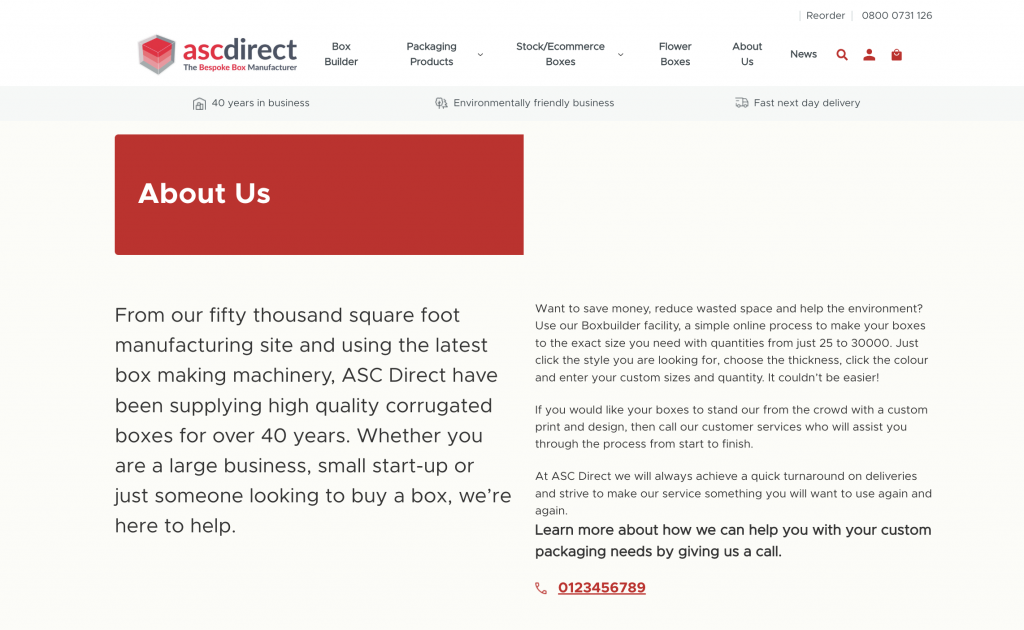 You should also showcase your team's expertise. Mention any relevant experience, qualifications, or unique skills your team members have. Customers will feel more confident in your brand when they know you've got a knowledgeable and capable team behind it.
5. Humanize Your Brand by Introducing Your Team On Your About Page
Your About Us page is the perfect place to introduce the key members of your team. Putting faces behind your brand humanizes your business and makes it more relatable.
Don't be afraid to show your face on your About page. If you don't, your consumers will have a hard time engaging with your story, and more importantly, your company.
Be sure to include headshots and brief bios that highlight your team's expertise and experience. You can include information about their background, qualifications, and any noteworthy achievements.
You can also use personal anecdotes to make your team more relatable and show their personality and commitment to your brand.
It's important to highlight the diversity and complementary skills each member brings when introducing your team. This shows potential customers that your brand is well-rounded, capable, and can handle different needs.
The goal is to build trust and confidence in your team's ability to deliver on your brand promise.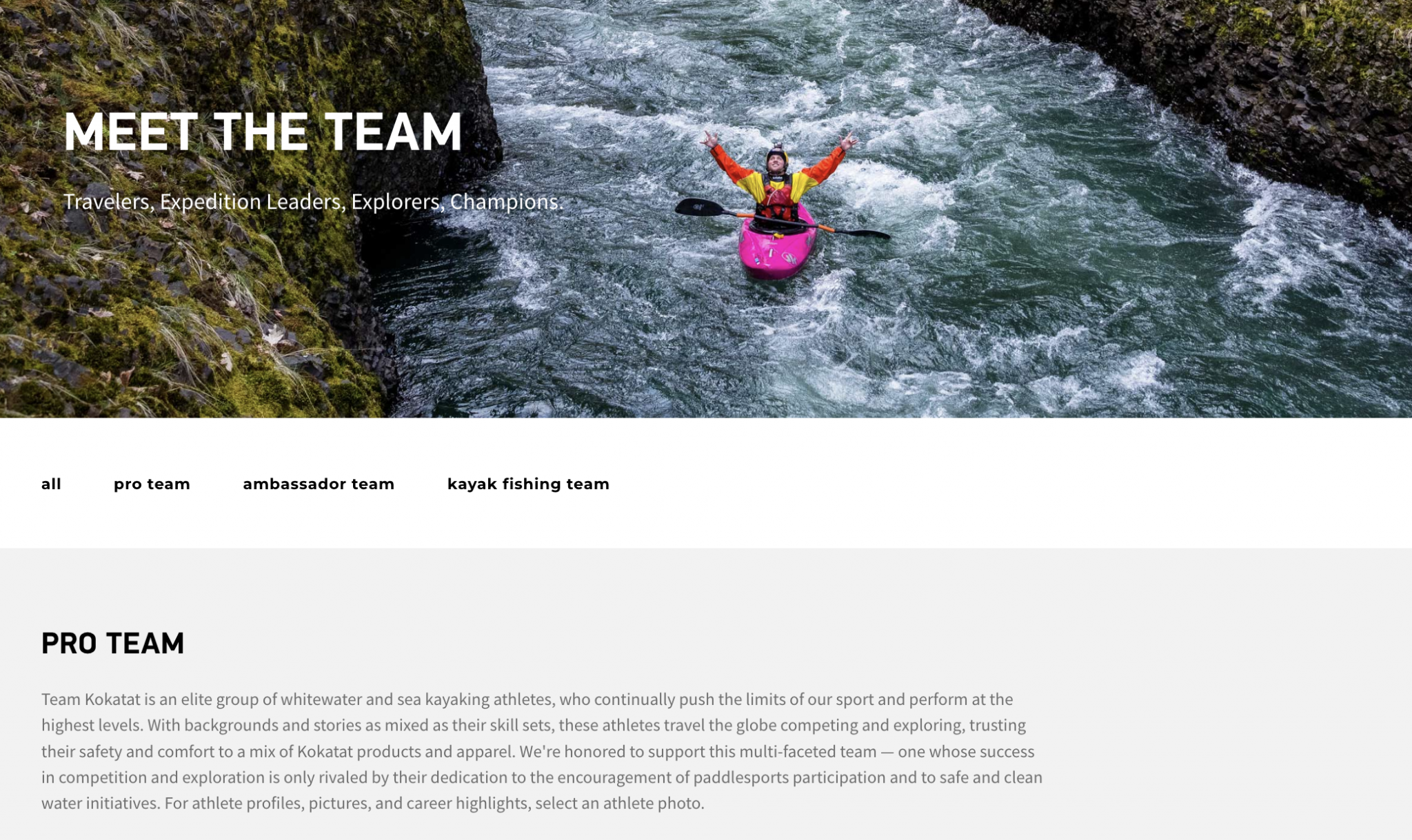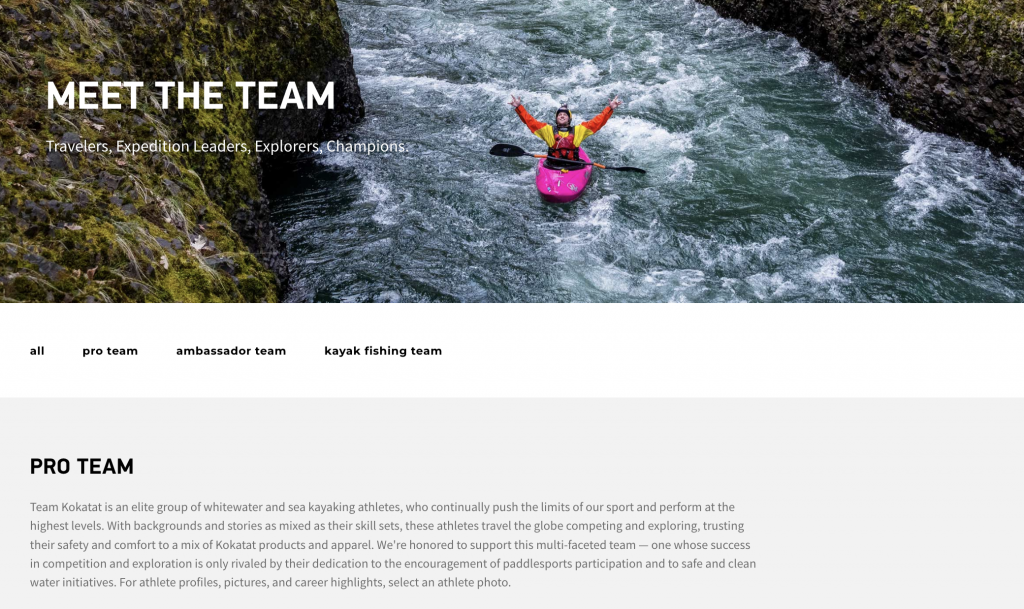 6. Prioritize Your Customers' Needs
Putting your customers at the center of everything you do is critical for your e-commerce brand's success. It's important to communicate your customer-centric approach on your About Us page.
What do you do to make sure your customers are taken care of and how do you provide exceptional customer service? Describe any initiatives you have in place to keep your customers happy, like 24/7 customer service, easy returns and exchanges, or personalized recommendations.
Show how you go the extra mile to make your customers' experience with your brand exceptional.
Share Customer Stories & Successful Projects
Customer testimonials, snippets from satisfied customers and case studies are great powerful trust-builders.
Share testimonials and customer success stories that show how your brand made a difference in their lives. This shows that your brand has a good reputation; that you care about the well-being and satisfaction of your customers, not just about selling products.
Being great is only half the battle: you need others to back you up.
By showing how customer-centric you are on your About Us page, you build trust and reassure potential customers that your brand will meet their needs.
7. Make Your About Page Memorable With Engaging Visuals & Multimedia
Visual content plays a significant role in capturing and retaining your audience's attention. Engaging visuals and multimedia elements can help you tell your brand story and make a lasting impression on your About Us page.
Choose visuals that effectively represent your brand and resonate with your target audience. Images that show off the key features or benefits of your products can make a big difference.
Showcase your brand's production process or customer testimonials with professional videos. For instance, you can use infographics to present data or key information in an engaging, visually appealing way.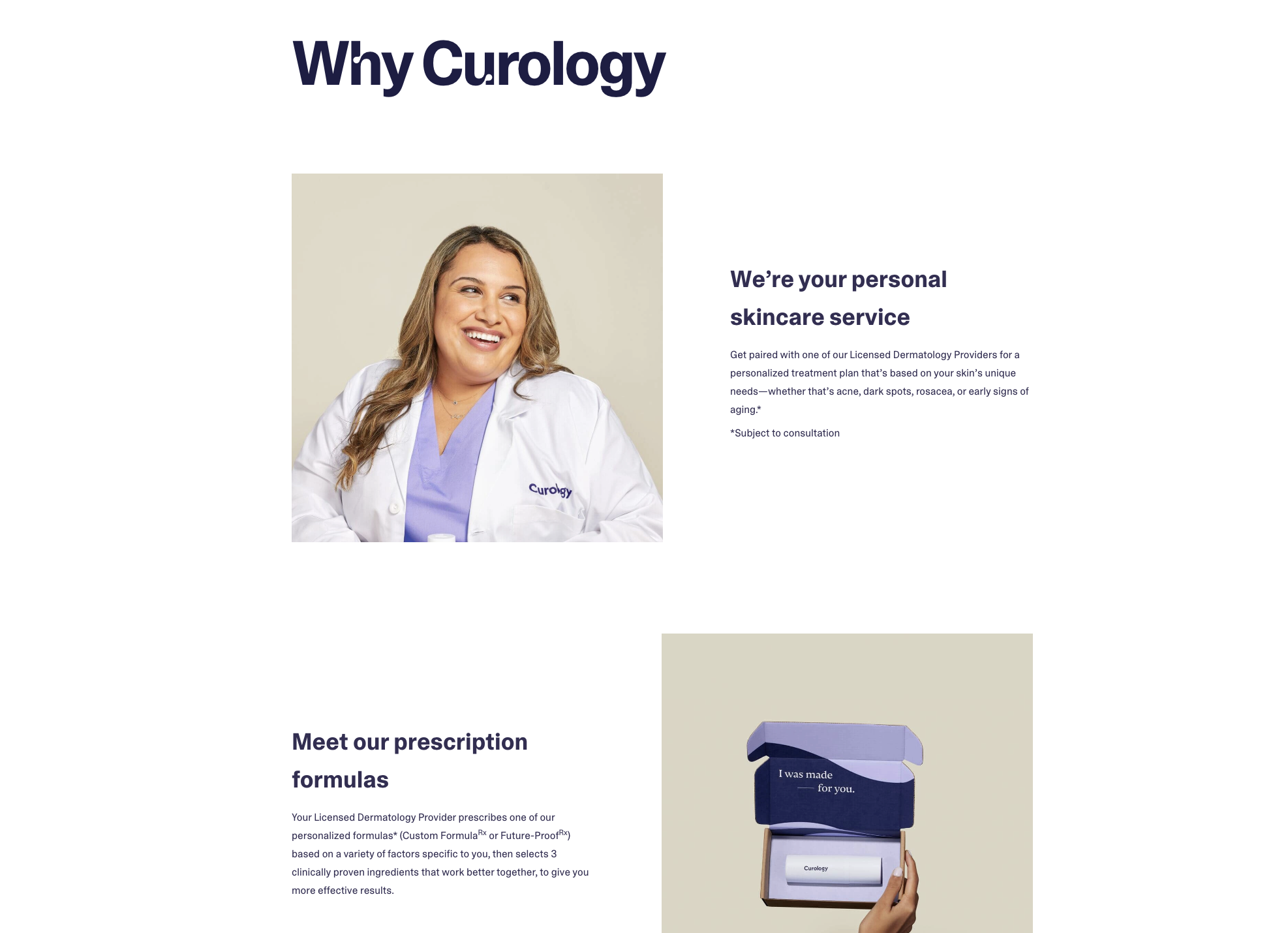 Maintain Balance Between Visual & Informative
While visuals are essential, ensure they are not overwhelming or distracting. Balance engaging visuals with informative text.
You should use visuals to enhance your brand story and highlight key points on your About Us page.
By using engaging visuals and multimedia elements, you'll create a memorable and immersive experience. Your About Us page will become more interactive and engaging, reinforcing the story and message you want to send.
Make your About page easy to read, with sweet, scannable chunks.
8. Use Conversational Words & Tone When You Write
It's important to strike the right balance between professionalism and conversationality when writing your Bigcommerce About Us page.
You can connect with your audience by using conversational words and adopting a friendly voice.
Here are some tips for writing in a conversational tone:
Keep it short and sweet
Use paragraph-long descriptions
Use symbols and font styles to emphasize certain words
Use casual language and sentence structure
Use inclusive language
Use pronouns like "you" and "your" to make your readers feel valued
Avoid jargon and complex, long sentences
Check whether you sound like you're carrying a natural conversation
By using a conversational tone, you can establish a better relationship with your potential customers and make your brand more approachable.
9. Keep Your About Page Sincere & Authentic By Avoiding Clichés
When writing your BigCommerce About Us page, it's important to keep it sincere and authentic by avoiding clichés.
Share your company's journey in an authentic way that resonates with readers. Imagine you're chatting with someone over coffee, allowing your personality to shine through.
Here are some tips to help you achieve this:
Avoid using generic phrases and buzzwords
Use your own voice and personality to tell your brand's story
Be honest and transparent about your brand's values and mission
Avoid exaggerating or making false claims
Use specific examples and anecdotes to illustrate your brand's uniqueness
Avoid using stock photos or generic images
Note that getting in touch with your brave voice takes practice. Remember to focus on what makes your brand unique and use your own voice to tell your story in an engaging and honest way to build trust and credibility.
10. Include A Clear Purpose & Call To Action To Guide Readers
Your About Us page should include a purpose and call to action that guides your readers and gets them to take action.
With your call to action, you ask your audience to take a specific action, like buying something, contacting you, or following you.
Set a clear purpose for your About Us page, such as introducing your brand, sharing your story, or highlighting your unique selling propositions.
Your message should be clear and concise, such as "Shop Now," "Contact Us," and "Follow Us on Instagram."
Include links or buttons that make it easy for your site visitors to do what you want want them to.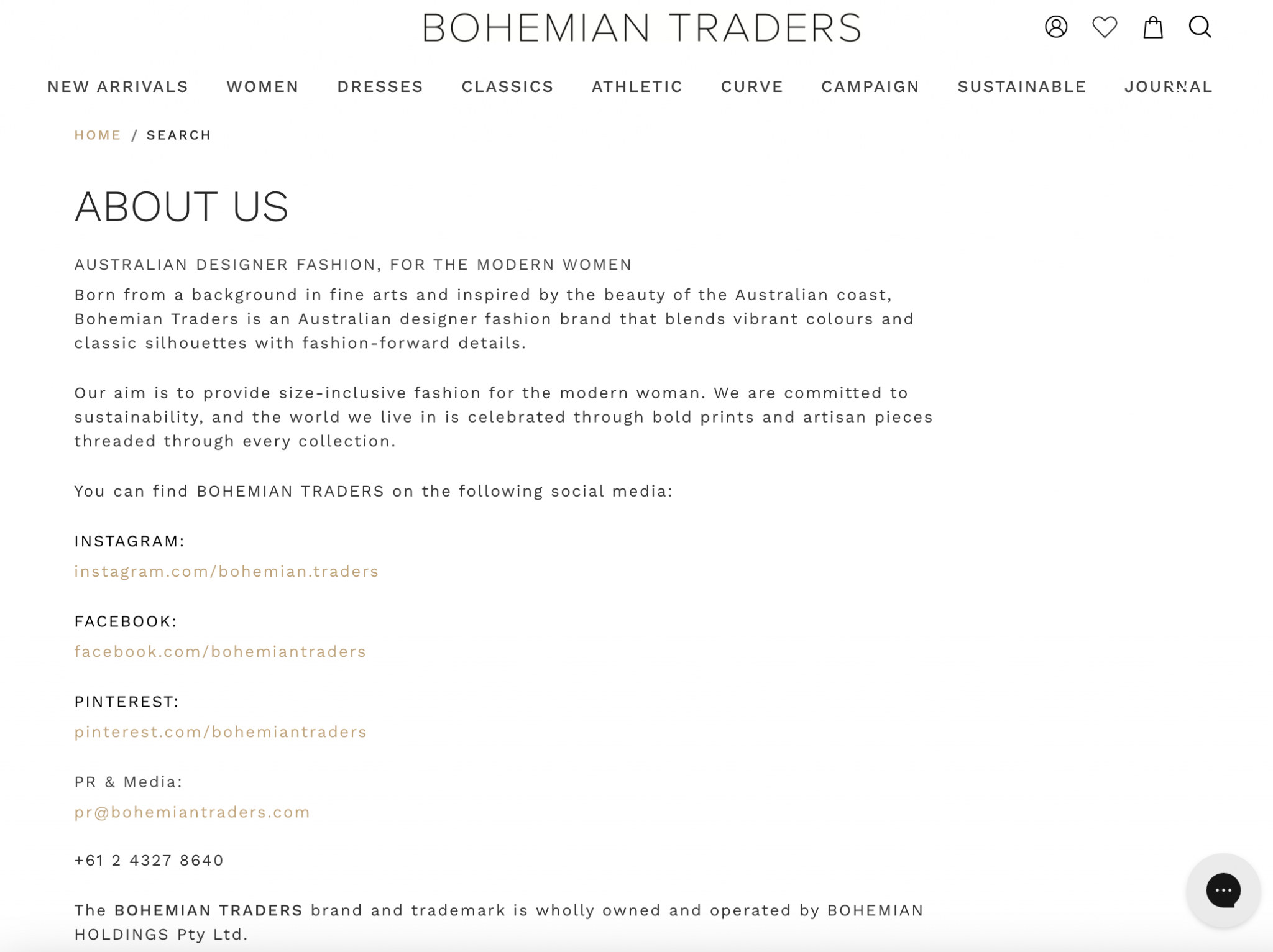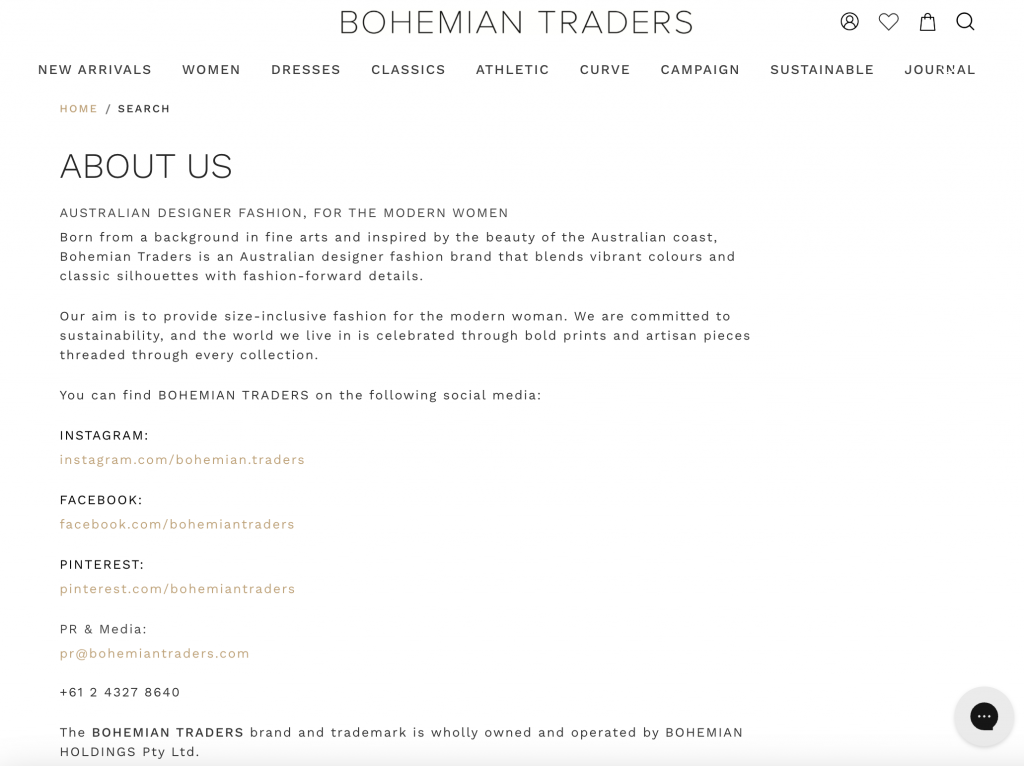 11. Optimize Your BigCommerce About Us Page
To enhance the SEO of your BigCommerce About Us page, consider implementing these strategies:
Find relevant keywords that align with your brand, industry, and target audience. To improve search engine visibility, incorporate these keywords naturally throughout your About Us page.
Create page titles and meta descriptions that are rich in keywords and accurately describe the content of your About Us page. In search engine results, these elements can influence click-through rates.
Optimize your About Us page with header tags (H1, H2, etc.) to make it easier to read for both users and search engines. You can further optimize your page by adding relevant keywords to these headers.
Create original and engaging content that tells your brand's story, showcases its values, and highlights what sets you apart from your competitors. Make sure your website doesn't duplicate content.
Use descriptive alt tags for images on your About Us page to give search engines context. Search engine visibility and accessibility can both be improved this way.
Use your brand name if you aren't sure what keywords to use.
You should also take a look at our guide on how to optimize the landing page for BigCommerce.
How To Outsource Your About Us Page?
Outsourcing your About Us page for your BigCommerce store can be a smart move if you don't have the time, skills, or resources.
However, it's crucial to select a writer who understands your brand's values and mission and can capture your unique voice. Here are some tips for outsourcing your About Us page:
Decide what you want to achieve.
Communicate the writer's goals and purpose clearly.
Establish a realistic budget for outsourcing content.
Consider how much you can afford to spend and find a writer who fits within that budget.
Provide clear instructions to the chosen writer.
If you're looking for a writer, look for someone who knows your industry and can capture your brand's voice.
Share your brand's story and highlight its values and mission on the About Us page. After the outsourced writer finishes the first draft, make sure you go over it carefully. Provide feedback on areas that need improvement so they can fix them.
Getting this done by an expert saves time and ensures your brand is accurately represented.
BigCommerce About Us Page Checklist
Using this checklist, you can create an About Us page that resonates with your target audience, establishes trust and credibility, and drives conversions.
Define your About Us page's purpose.
Identify your target audience's demographics, interests, and preferences.
Engage your target audience with a compelling brand story.
Establish trust and credibility by emphasizing your brand's mission and values.
Establish credibility and trust with social proof.
Demonstrate your expertise by showcasing successful projects.
Build trust by introducing your team.
Prioritize your customers' needs and showcase customer success stories.
Engage your audience with visuals and multimedia.
Maintain a sincere and authentic tone on your About Us page.
Guide readers with a clear purpose and call to action.
Use relevant keywords, optimize page titles, meta descriptions, header tags, create original pages, optimize images, and link internally and externally on your About Us page.
Consider hiring a writer who understands your brand's values and mission
Make sure the final product meets your expectations and represents your brand accurately.
These tips and checklist will help you optimize your BigCommerce About Us page for SEO while effectively communicating key information about your brand.
About Us Page Template
About Us Page Template

Welcome to [Your Company Name]

At [Your Company Name], our commitment to [Your Company's Mission] is unwavering. Our story began in [Year of Establishment], and ever since, we have consistently upheld [Your Company's Core Values]. We greatly value [What Sets Your Company Apart].

Our Journey

In [Year of Establishment], [Company Founder's Name] founded [Your Company Name] with a vision to [Founder's Vision for the Company]. Over the years, our commitment to [Core Value #1] and [Core Value #2] has driven us to [Achievement or Milestone #1], [Achievement or Milestone #2], and [Achievement or Milestone #3].

Our Team

Meet the passionate individuals behind [Your Company Name]. Our team consists of [Number of Team Members] dedicated professionals who bring [Their Unique Qualities/Skills] to the table. We share a common goal: [Team's Common Goal or Mission].

Our Commitment to Excellence

At [Your Company Name], we are committed to [Customer-Centric Approach]. We go above and beyond to ensure our customers' satisfaction. Our commitment is reflected in our [Customer Service Initiatives], [Quality Standards], and [Unique Selling Proposition].

Join Us on Our Journey

We invite you to be a part of our story. Whether you are a [Potential Customer], [Business Partner], or [Job Seeker], we look forward to [How You Can Collaborate or Connect with Us]. Join us on our journey as we continue to [Your Company's Vision].

Contact Us

Have questions or want to learn more about [Your Company Name]? Feel free to [Contact Information and Contact Options].

[Closing Note or Additional Information - Optional]

[Call to Action - Example: "Explore Our Products," "Request a Quote," "Join Our Team"]
Transform Your BigCommerce About Us Page & Drive Targeted Traffic to Your Store
Creating an exceptional BigCommerce About Us page takes attention to detail, thoughtfulness, and the right mix of storytelling and information sharing. Using the tips in this article, you can create a compelling About Us page that builds trust and credibility with your target audience.
Remember to keep your audience in mind and use engaging visuals to capture their attention. You can differentiate your BigCommerce brand from the competition by sharing your brand story, values, mission, expertise, and customer-centric approach.
Are you ready to tell your brand's story and scale your business? Book an appointment to learn how you can supercharge your ecommerce brand's success with Ampifire's hyper-targeted content marketing services.