Article at-a-glance: 

– Benefits of Google Analytics 4 (GA4) for your BigCommerce store like elevate user experience, access flexible reporting, etc.

– 3 important requirements to integrate GA4 with BigCommerce store.

– Step-by-step guide and checklist to set up GA4 account and integrate it with your BigCommerce store.

– 5 advanced GA4 features to supercharge BigCommerce store management like custom events, retargeting capabilities, etc.
We all know how insights from analytics tools can significantly impact your ecommerce store's success in today's digital landscape.
The synergy between Google Analytics 4 and BigCommerce can be likened to giving your business a supercharged engine.
Curious to learn more? Let's the magic you get after integrating Google Analytics 4 with your BigCommerce store.
Benefits of Google Analytics for BigCommerce
Wondering, "Why should I even bother?"
That's because Google Analytics empowers BigCommerce businesses with invaluable data-driven insights to optimize performance, enhance customer experiences, and drive strategic growth.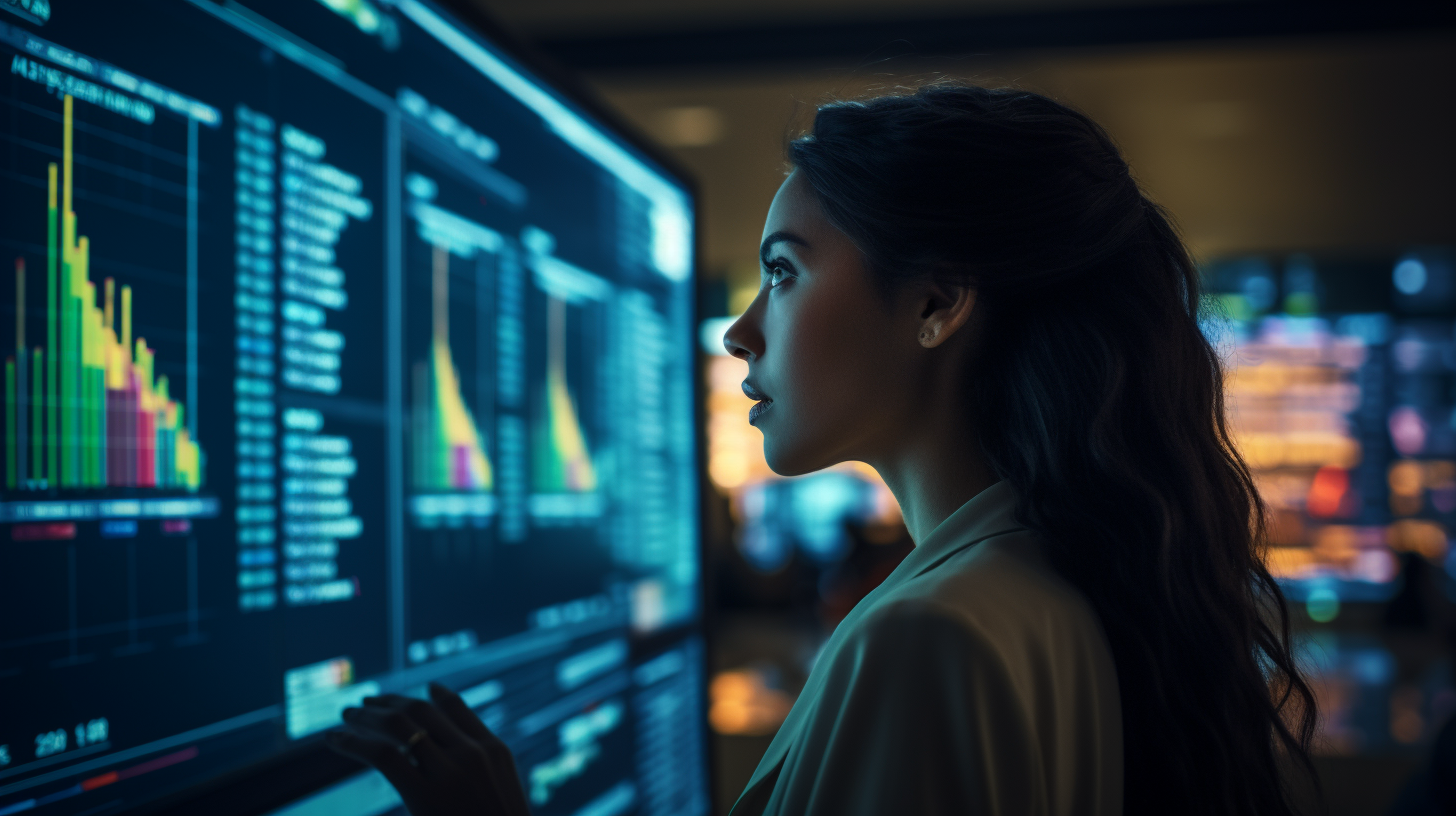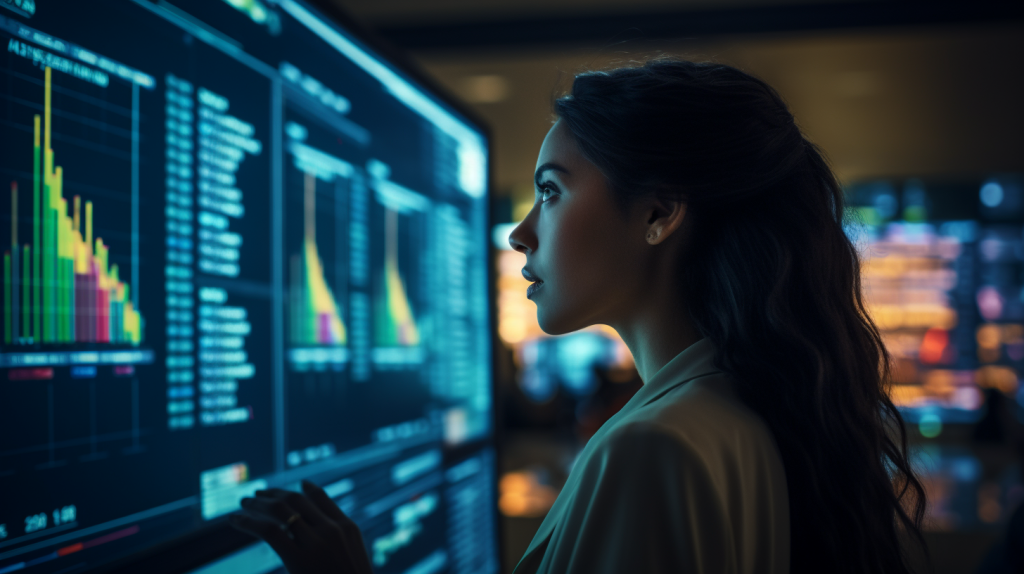 Now, let's see the benefits of Google Analytics for BigCommerce in depth:
Actionable User Insights: Google Analytics does more than just tracking website visits. It provides the ability to pinpoint customer origins, identify areas of interest, and understand purchasing behavior, offering invaluable insights into user actions.
Stay Ahead of the Curve: Remember that adrenaline rush from leading the pack? Google Analytics paired with BigCommerce provides real-time data to spot trends and patterns, giving you a competitive advantage… and that very thrill.
Data-Driven Decision Making: Armed with clear data, you can make informed decisions. When BigCommerce is in the mix, it's a data fiesta! Trust the data over gut feelings.
Get that Competitive Edge: Google Analytics and BigCommerce empower you to highlight top products and zero in on effective marketing strategies. Dive deep into data like traffic sources and top-performers to find those weak spots, and then crush them.
Elevate User Experience: Google Analytics is your window into the soul of your online store's users. Fine-tune your site based on these insights, and you won't just compete in the digital marketplace—you'll shine!
Flexible Reporting: Google Analytics helps you understand your online store's users better, allowing you to fine-tune your site for a standout performance in the digital marketplace. Additionally, flexible reporting ensures you're always well-informed, making data-driven decisions a breeze.
You're not just running an online store when you wield the best tools – Google Analytics and BigCommerce. You're crafting an unforgettable experience, setting the bar high, and building a thriving digital empire.
I. Requirements to Integrate Google Analytics 4 with BigCommerce
To integrate Google Analytics 4 (GA4) with BigCommerce successfully, you need to establish a solid foundation. To ensure seamless connectivity, here are the requirements: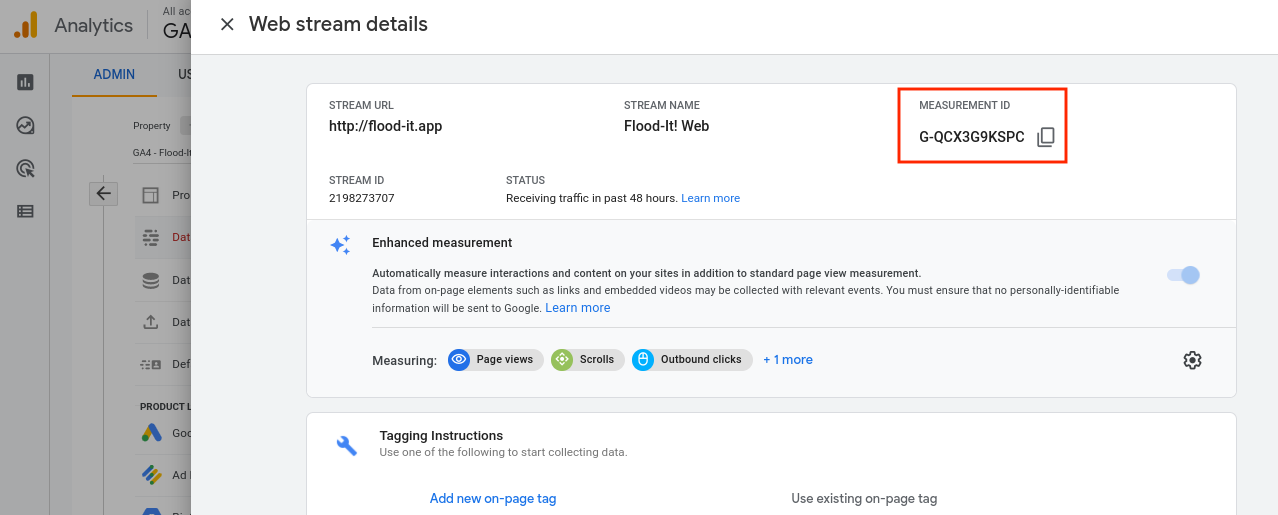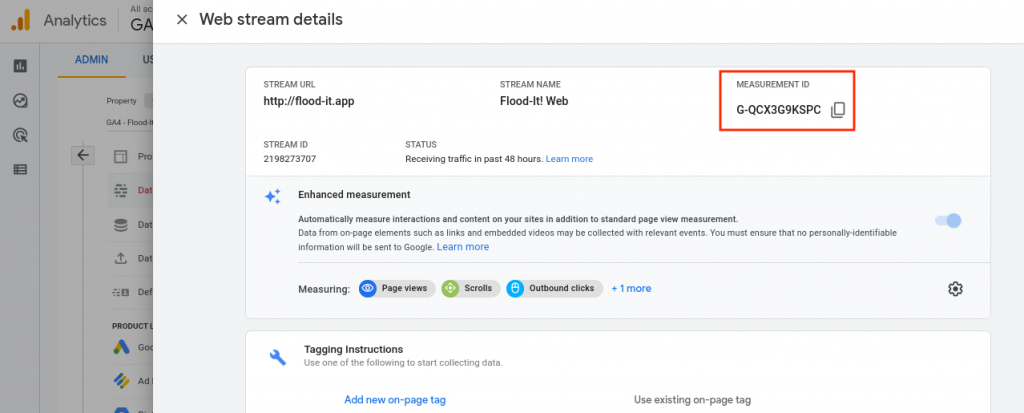 GA4 Measurement ID: Your Google Analytics 4 Measurement ID is crucial. BigCommerce communicates with GA4 using this unique identifier. Make sure you've generated or located your GA4 Measurement ID before starting the integration. It usually looks like this: "G-XXXXXXXX."

Native Support: BigCommerce provides inherent integration with GA4. You should familiarize yourself with BigCommerce's native features, especially the dedicated area for entering GA4 measurement IDs. Refer to BigCommerce's official documentation for a detailed guide on their native integration capabilities.

Understanding E-commerce Events: GA4 tracks events, not sessions/page views. You should be aware of seven default e-commerce events: add_to_cart, add_to_wishlist, begin_checkout, purchase, refund, remove_from_cart, and view_item. Once the integration is set up, each event will be automatically added to your analytics account. To enable ecommerce tracking for custom events like 'add to cart,' administrators must implement additional data layer code to track enhanced ecommerce events.
With these initial requirements in place, you'll be well-positioned to integrate GA4 with BigCommerce successfully.
II. Setting Up a Google Analytics 4 Account
New to Google Analytics? No worries!
Visit analytics.google.com, click 'Start measuring,' and you're on your way.
You'll get a quick chat with Google – it'll ask you what your business's name is and may recommend tweaking your Account Data Sharing Settings.
Here's a pro tip: Opt for all data-sharing options to maximize the benefits of GA4. You won't regret it!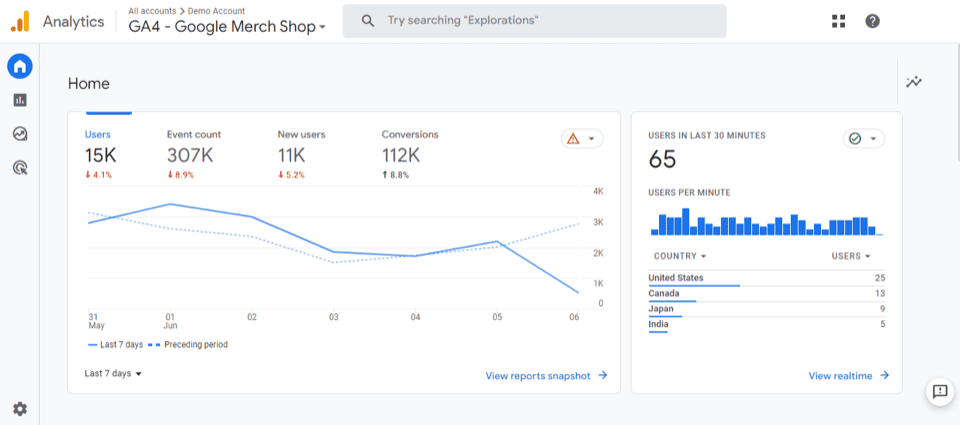 For those familiar with this process, integrating BigCommerce is a breeze. Just have your Google Analytics 4 Measurement ID ready.
After providing basic business details to Google (like your name, time zone, and a few more details), they'll present you with GA4 options for your BigCommerce store, covering customer engagement, content monetization, and lead generation.
Select the ones that excite you the most!
Last but not least, before you dive into insights, be sure to review and agree to the Google Analytics Terms of Service Agreement.!
Voila! You're in the GA4 club now!
III. Integrating Google Analytics 4 & BigCommerce

Do you have your Google Analytics 4 Measurement ID ready? Great! With it, you can seamlessly connect GA4 to BigCommerce.
Next, head to your BigCommerce dashboard and navigate to "Settings" under the "Advanced" section. Look for "Data Solutions" and select "Google Analytics 4" from the list. Enter your GA4 Measurement ID, click connect, and there you have it! Your BigCommerce store is now integrated with Google Analytics.
Within "Data Solutions," you'll find "Google Analytics 4" at the top of the list. Give that a click, punch in your GA4 Measurement ID, and hit connect. And voilà! Your BigCommerce store and Google Analytics are now integrated.
Checklist for Setting Up Google Analytics on BigCommerce
Preparation Steps:

Verify your Google account.
Apply a custom domain to your BigCommerce store.
Embed necessary data tags within your BigCommerce store theme.
Confirm that your Checkout Labeling within Google Analytics matches your store's checkout steps.


Creating a Google Analytics Account:

Visit analytics.google.com.
Click "Start measuring."
Enter your business's name.
Configure your Account Data Sharing Settings (maximize your options for the best data).
Input additional business details like country, timezone, currency, and size.
Choose which metrics you'd like Google Analytics 4 to track from your BigCommerce store.
Read and accept the Google Analytics Terms of Service Agreement.
Note down your Google Analytics 4 Measurement ID.


Integrating Google Analytics 4 with BigCommerce:

Log into your BigCommerce store's dashboard.
Navigate to the "Settings" page.
Look for "Data Solutions" under the "Advanced" section.
Select "Google Analytics 4" from the list.
Enter your GA4 Measurement ID in the provided field.
Click "Connect."

5 Game-Changing GA4 Advanced Features Every BigCommerce Store Owner Needs to Know!
GA4 integrates with e-commerce platforms like BigCommerce to yield greater insights and fine-tune marketing strategies. Here are some advanced features:
Custom Events


GA4 custom events let you track specific interactions or activities on your site that might not be captured by default. This could mean tracking unique interactions within BigCommerce, like when a customer uses a product feature or interacts with a widget.


Setup: With GA4, you don't have to add new code to your website every time you add an event. You can use Google Tag Manager or the GA4 interface to do this.


Advanced Segmentation


By segmenting your data, you can isolate specific subsets and analyze them. For your BigCommerce store, you can segment users by products they view, their location, or the device they're using. You could analyze the behavior of users from a specific city who viewed a certain category of products.


Setup: GA4 gives you more granular and layered segmentation options directly from the reporting interface.


Retargeting Capabilities


Retargeting lets you target ads at people who have previously interacted with your site, but didn't take any action. For instance, you could set up retargeting campaigns with BigCommerce and GA4 to target people who added stuff to their cart but didn't buy it. You can show these users specific ads with Google Ads to get them back to your site to finish their purchase.


Setup: Using GA4's audience builder, you can create custom audiences. Retargeting campaigns can be run directly through Google Ads once these audiences are created.


Enhanced E-commerce Tracking


GA4 enables tracking of crucial events like product views, cart additions, checkout steps, and purchases, offering comprehensive insight into the customer journey. This empowers you to pinpoint bottlenecks and optimize the process from product discovery to final purchase.


Setup: You may need to add specific data tags to your BigCommerce stores to take advantage of some of these features, but it's often worth it in the long run.


Predictive Metrics

Using machine learning, GA4 can predict future actions of users based on their past behavior. For example, predictive metrics can tell you who's likely to buy or churn in the next seven days on your BigCommerce store.


Setup: While GA4 automatically calculates some predictive metrics, store owners can get more out of it by making sure their setup captures everything they need.
How GA4's AI Superpowers Elevate Your BigCommerce Store
GA4 leverages machine learning and artificial intelligence to provide insights into your BigCommerce store and also predict trends. It can swiftly detect shifts like a sudden spike in demand for a product and promptly alert you.
GA4's predictive capabilities extend to purchase probability, churn probability, and revenue forecasts too. This offers deeper insights into the future actions of customers and the performance of your BigCommerce store.
From predictive metrics to advanced data analysis, AI capabilities and GA4 ensure that your BigCommerce store remains at the pinnacle of e-commerce success.
GA4's advanced analytics can help ecommerce businesses grow their business and unlock their online store's potential.
Navigating the Future of E-commerce with AmpIFire
Now that you've seamlessly integrated Google Analytics 4 with your BigCommerce store, you're poised to unlock a wealth of invaluable insights.
As you start tracking crucial data, you'll gain a comprehensive understanding of your audience's behaviors and preferences.
To amplify these statistics and chart a path towards even greater success, consider leveraging AmpiFire's cutting-edge content amplification and brand building strategies.
By doing so, you'll not only enhance your analytics graphs but also drive hyper-targeted traffic to your store, setting the stage for unprecedented growth like many of our customers.
Take the next step towards optimizing your online presence – schedule a consultation today.