Article at-a-glance: 

- By guiding you away from common mistakes and offering unprecedented insights and strategies for elevating your sales and profitability, a BigCommerce Mentor saves you time and money.

- Ecommerce consultants provide emotional support, understand the challenges you face, and can help you navigate the complexities.

- A BigCommerce Mentor becomes your trusted advisor for success in the dynamic world of ecommerce through their comprehensive guidance, deep understanding of your target audience, and status as an unparalleled resource.

- You can gain invaluable knowledge from mentors such as Mary Portas, Tim Ferriss, Eberth Perozo, Alex Fedotoff, Erik Huberman, and Harry O'Connor.
Is it tiring to watch your competitors soar while you barely make a ripple? Find out what separates the triumphant from the struggling: the power of a BigCommerce Mentor.
Imagine having access to individuals who have conquered the treacherous terrain of e-commerce. With a wealth of experience and a proven track record of success, these mentors have braved the unpredictable tides of online business.
Would you like to use this untapped resource to boost sales to unprecedented levels?
This article will reveal the secrets you've been avoiding, secrets that could revolutionize your business. Prepare yourself for an electrifying adventure that will forever change the way you approach e-commerce.
The Power of a Mentor: Illuminating Your Path to Ecommerce Success
The significance of a BigCommerce Mentor in your business cannot be overstated.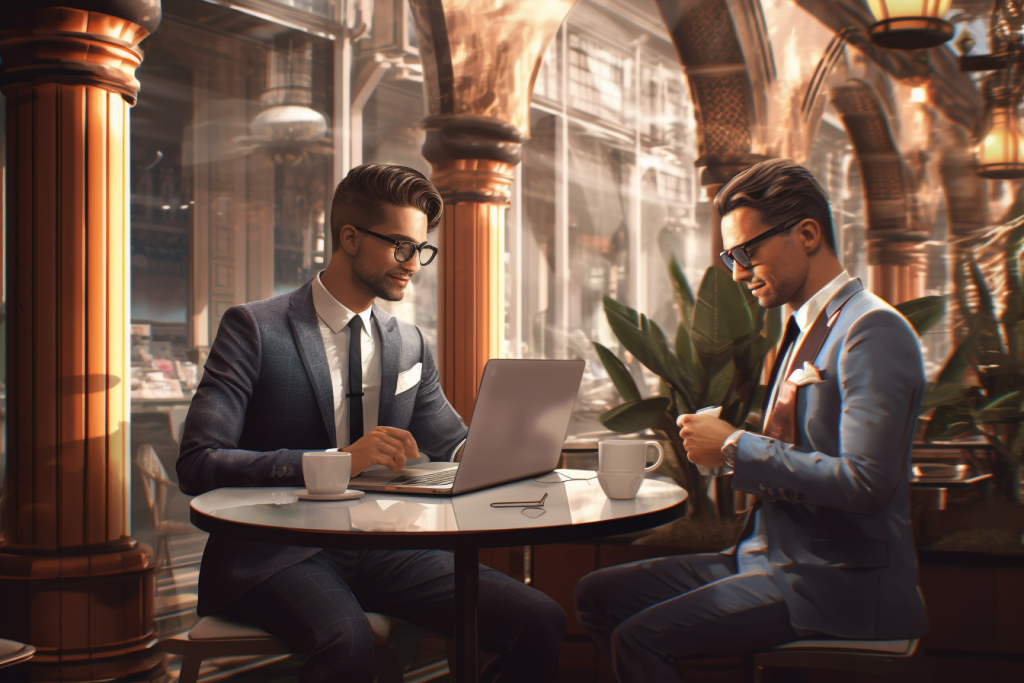 Their influence reaches far beyond mere guidance—they hold the key to transformative outcomes that can shape the very trajectory of your success. Let's explore the remarkable benefits of working with a BigCommerce Mentor:
Save Time and Money: In a world where common mistakes can hinder progress, a BigCommerce Mentor becomes your compass, guiding you away from pitfalls. Their wisdom and experience enable you to sidestep costly errors, saving you valuable time and resources.

Unparalleled Insights and Strategies: A BigCommerce Mentor possesses the secret sauce—the insider knowledge that unlocks the hidden potential within your business. With their unparalleled insights and proven strategies, they equip you with the tools to elevate your sales and profitability to extraordinary heights.

Emotional Support and Encouragement: The journey of ecommerce can be a rollercoaster ride, filled with challenges and moments of doubt. A BigCommerce Mentor becomes more than just a guide; they offer unwavering emotional support and serve as a trusted confidant. They understand the isolating nature of the industry and provide the encouragement needed to overcome obstacles.

Deep Understanding of Challenges: Imagine having a mentor who not only excels in navigating BigCommerce intricacies but also deeply understands the unique challenges you face. They have experienced the highs and lows, the victories and setbacks, emerging stronger than ever. With their guidance, you gain a profound advantage, propelling you forward and shielding you from the trials ahead.

Comprehensive Guidance: A BigCommerce Mentor is your go-to resource for all things ecommerce. They provide invaluable guidance on choosing the right ecommerce platform and optimizing your online store for maximum sales. Beyond the basics, they offer a deep understanding of your target audience, powerful marketing strategies, and even expertise in navigating the complexities of international shipping.

Unparalleled Resource: With a BigCommerce Mentor by your side, you gain access to an unparalleled resource—a trusted advisor who empowers you to succeed in the dynamic world of ecommerce. Their expertise becomes your secret weapon, equipping you with the knowledge and skills to navigate the ever-changing landscape.

Illuminating Power: Finding your way in the vast and turbulent world of ecommerce can be daunting. However, with the guiding light of a BigCommerce Mentor, you can confidently navigate the stormy waters. They provide the illumination needed to seize opportunities, avoid pitfalls, and chart a course towards sustainable success.

The Elite League of Ecommerce Mentors: Your Path to Unrivaled Success
Having mentors in the vast world of ecommerce is like discovering a treasure trove of knowledge. These experts possess unique insights and experience that can boost your online business.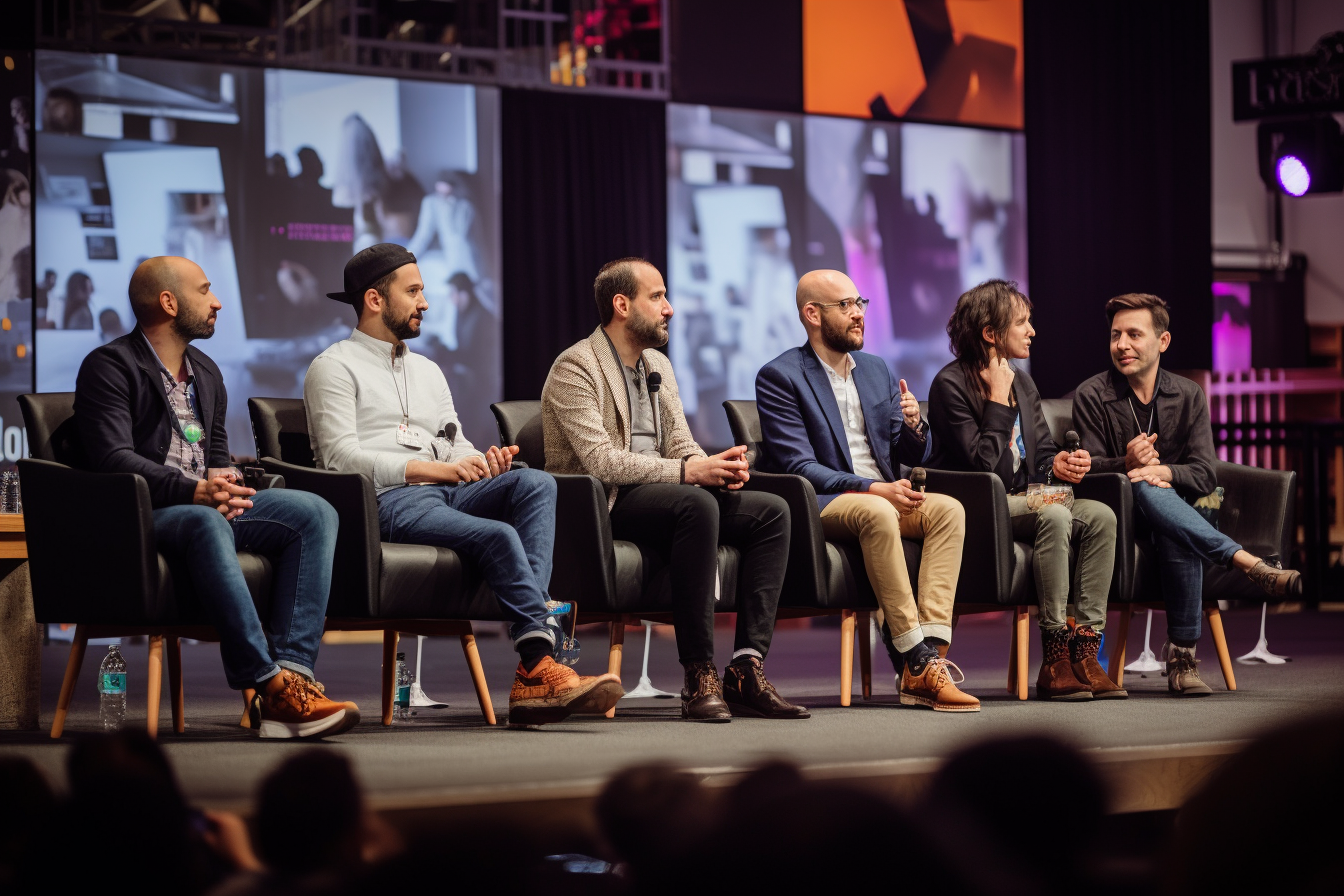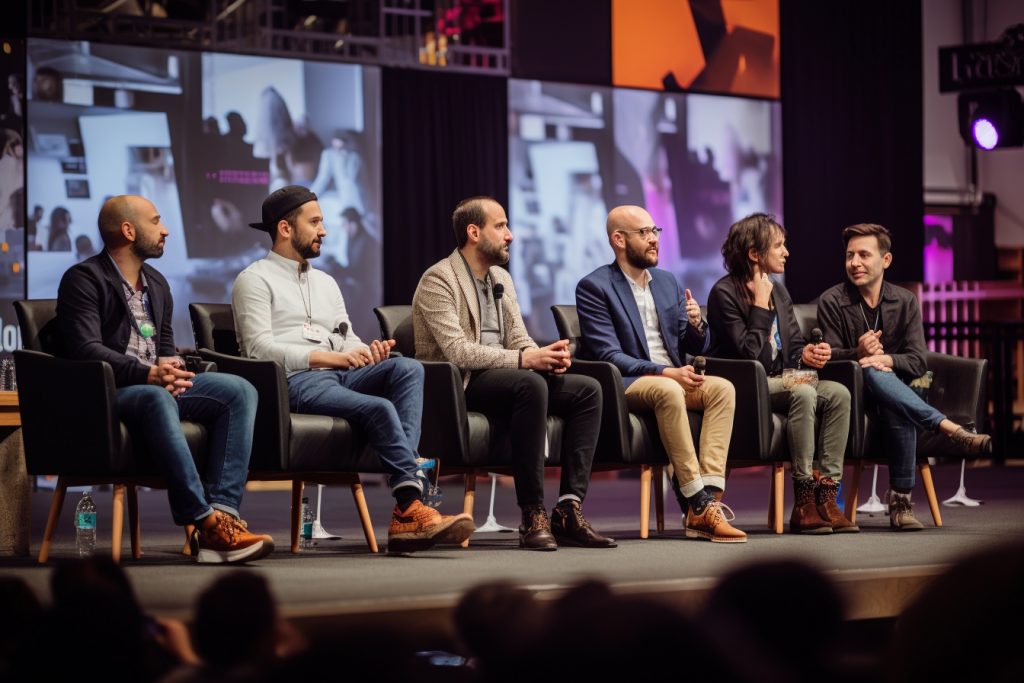 Check out some of the top names in the game—these individuals are the ones you need to know:
Mary Portas: Known as the Queen of Shops, Mary Portas is a retail consultant and television presenter. Her expertise in retail and consumer behavior is unparalleled. For a peek into the world of retail, make sure to follow her on Twitter @maryportas.

Tim Ferris: A serial entrepreneur and captivating public speaker, Tim Ferriss is the author of "The 4-Hour Workweek." A serial entrepreneur and captivating public speaker, Tim Ferriss is a global inspiration. You can find a lot of ecommerce and related knowledge on his Twitter @tferriss.

Alex Fedotoff: The CEO of multiple 7-8 figure e-commerce brands, Alex Fedotoff, is a highly successful e-commerce entrepreneur. His eCommerce Scaling Secrets offers valuable courses and resources to help entrepreneurs scale their businesses. His Brand Hyper Growth program provides entrepreneurs with access to top e-commerce store owners, an app for leveraging influencer marketing, and innovative strategies for scaling their brands. Check out his YouTube Channel or join his FB group for Brand Hyper Growth for Advanced eCom Entrepreneurs

Eberths Perozo: Renowned for his expertise in dropshipping, Eberths Perozo has helped countless entrepreneurs skyrocket their online sales. Check out his Instagram @eberthsperozo for ecommerce tips and tricks. Having a deep understanding of dropshipping, Eberths is an exceptional mentor.

Erik Huberman: Founder of Hawke Media, Erik Huberman is a master of marketing consulting. From startups to industry giants like RedBull and Alibaba, he has grown online sales exponentially. Follow him on Twitter for ecommerce marketing insights. Regardless of your business size or niche, Erik can provide invaluable guidance with his vast experience across various brands.

Harry O'Connor: As a mentor on MentorCruise, Harry O'Connor specializes in ecommerce and digital marketing. His expertise has helped numerous businesses establish robust online presences and grow sales. Find out more about his services on MentorCruise. Harry's expertise in digital marketing makes him an invaluable resource for anyone trying to increase online visibility.
A remarkable group of ecommerce mentors, each with a unique perspective and unparalleled knowledge. Your online business will flourish when you tap into their expertise.
Clarity.fm: Your Expert Guidance Hub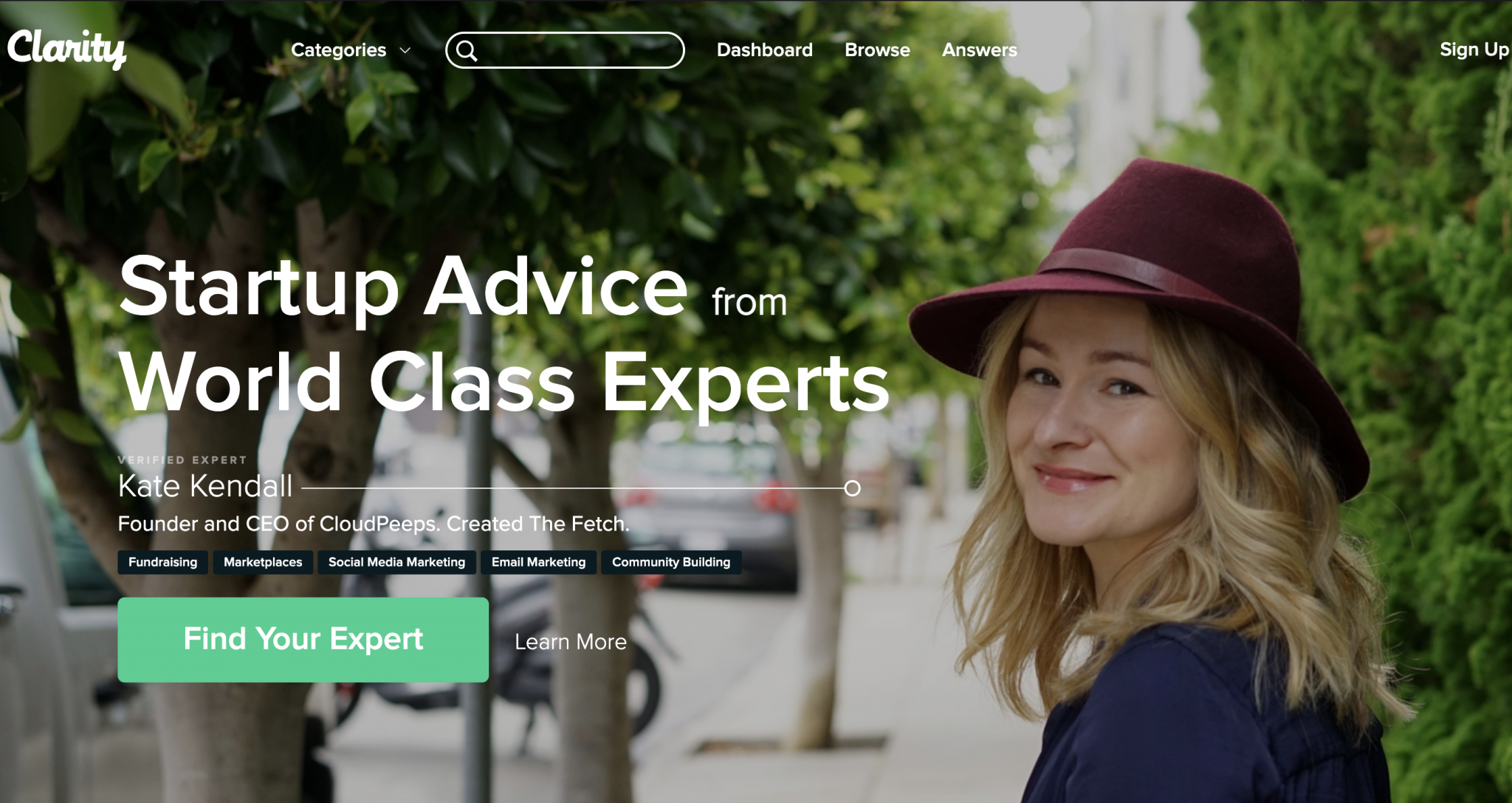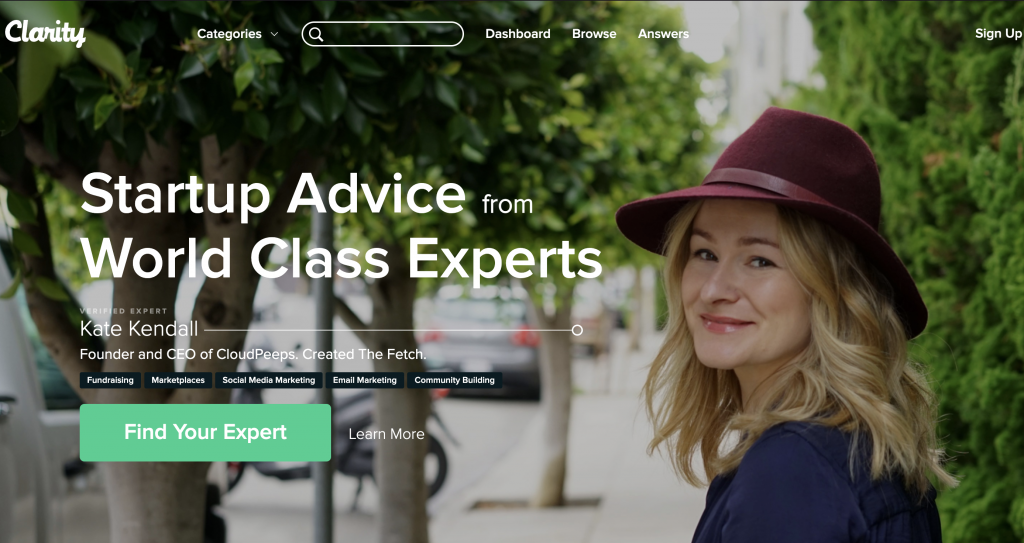 Clarity.fm stands out as a go-to platform for accessing on-demand business advice and finding e-commerce experts.
The platform has a staggering roster of over 30,000 verified experts across a wide range of industries, including e-commerce. Clarity.fm has everything you need, whether you're looking for effective SEO strategies or battle-tested advice.
Clarity.fm offers entrepreneurs on-demand business advice to help them make better, faster decisions. You can seamlessly navigate the e-commerce landscape by connecting with top-rated experts through the platform.
It doesn't end there! There are also a variety of marketplace-related and other industry-related topics available on Clarity.fm.
As an example, Alaa Hassan at Clarity.fm specializes in developing lucrative search engine marketing strategies for businesses involved in e-commerce. Your online business will be profitable thanks to his invaluable insights.
One of the most acclaimed experts on the platform is Tanner Rankin. As a fractional CMO, Amazon consultant, and e-commerce consultant, Tanner has more than 15 years of experience in guiding entrepreneurs.
With Clarity.fm by your side, you can unlock your full potential and embrace the guidance of seasoned professionals.
In my personal experience, I have gained valuable insights and time-saving solutions from industry experts using this platform, enabling me to tackle challenges more efficiently. You can benefit from using Clarity.fm today by connecting with professionals who can solve your problems and save you valuable time.
How to Choose Your Bigcommerce Mentor?
BigCommerce Mentors can play a crucial role in your ecommerce success. You want someone who understands your business, your goals, and your challenges.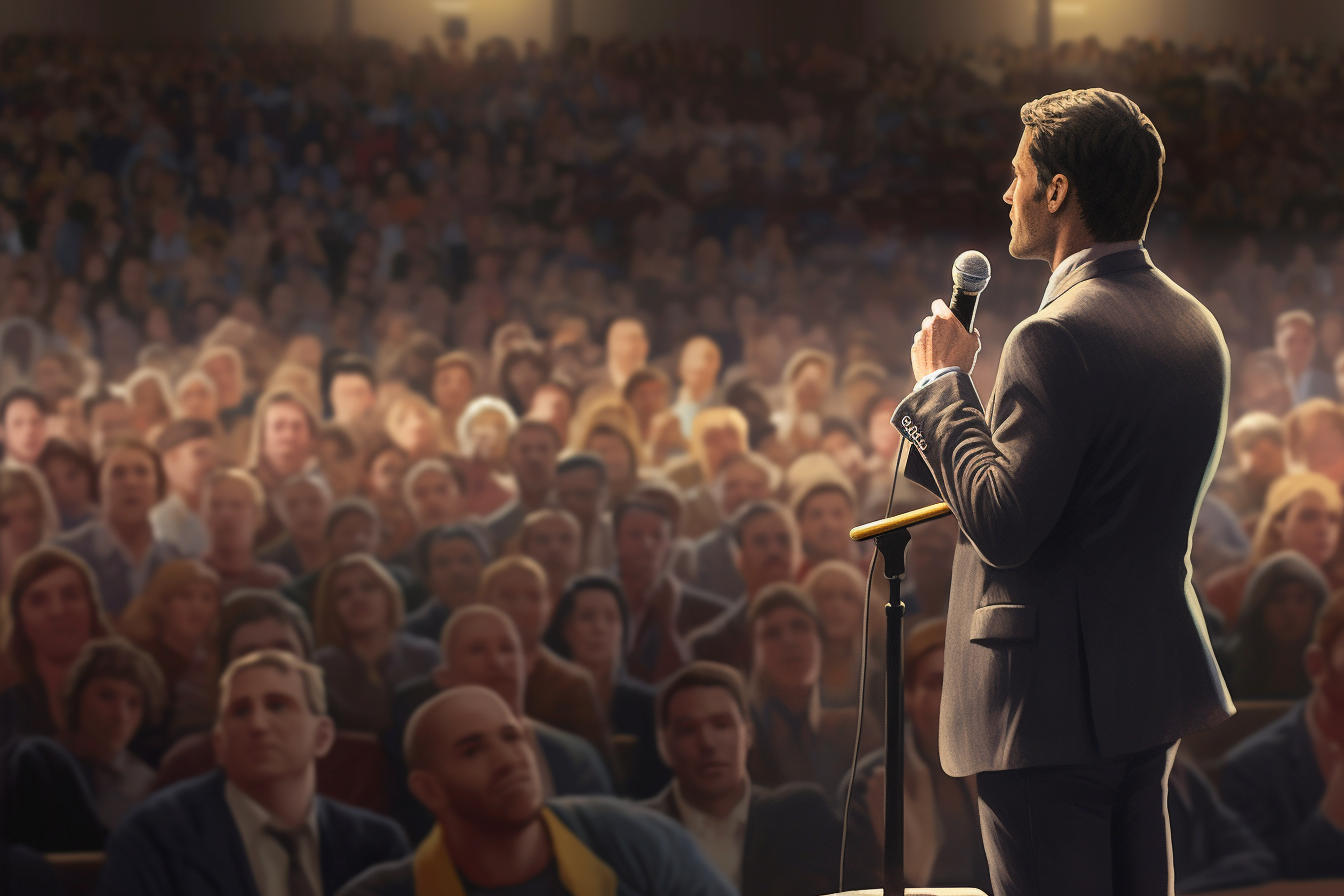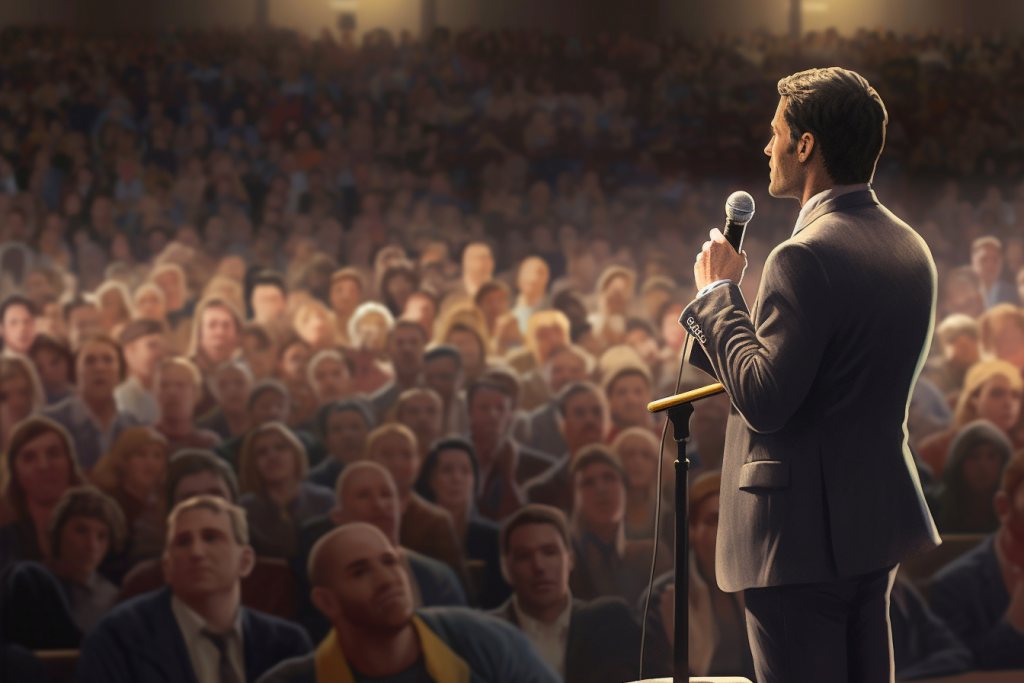 Your mentor should have experience in your specific niche in ecommerce. Think about their expertise.
Do they know the ecommerce aspects you're struggling with? What industry experience do they have?
Also, consider their communication style. You shouldn't just sign up for the course and newsletter of the first flashy guru you see. A good mentor is not just knowledgeable, but also able to effectively communicate their knowledge and insights. They should be able to explain complex concepts in an easy-to-understand manner like the hosts of our favorite ecommerce podcasts. Last but not least, you should consider their availability.
It is important to have a mentor who can provide guidance and support when you need it. You should be able to reach them easily and they should be willing to invest time in you.
Guiding Your Ecommerce Journey to Uncharted Heights
A BigCommerce Mentor can be your ultimate secret weapon in the complex world of ecommerce. Their expertise and support become the driving force behind your success, enabling you to navigate challenges and take advantage of opportunities. Why would you choose to go it alone?
Now is the time to find your BigCommerce Mentor-the missing puzzle piece that will catapult your online sales. The ecommerce world can seem like a maze, but you don't have to navigate it alone. Mentors provide an unwavering guide, a steadfast ally, and a fountain of wisdom to help you overcome challenges.
It's time to start your search for a BigCommerce Mentor. Transform obstacles into stepping stones and embrace the triumphs that await you on your ecommerce journey by taking the first step.
A BigCommerce Mentor can guide and support you on the path to success.
And if you want to learn more about the triumphs and achievements of some eCom brands with which have partners and how AmpiFire has helped businesses achieve unprecedented growth and visibility, dive into a treasure trove of our customers' success stories.