Article at-a-glance:

- Discover 7 real-life examples of Ecwid Facebook store implementations in fashion, food, beauty, retail, and metaphysical industries.

- Learn 3 strategies to empower your Ecwid store: how you can use Facebook's social sharing features and targeted advertising to expand the customer base and increase sales organically and why you should focus on growing your main store over your Facebook presence.

- Build trust and credibility through relevant content, product tutorials, and customer-generated content, with content marketing as a key long-term strategy.
Are you looking to expand your online business and reach a wider audience? By integrating your Ecwid store with the world's largest social media platform Facebook, you'll open up a world of opportunities to showcase your products and skyrocket your sales.
Below, we'll explore real-life and successful Ecwid Facebook Store Examples.
We will discuss their advantages and best practices for driving sales. You can use these examples as an inspiration for your own online store.
Facebook page: https://www.facebook.com/KissedByABee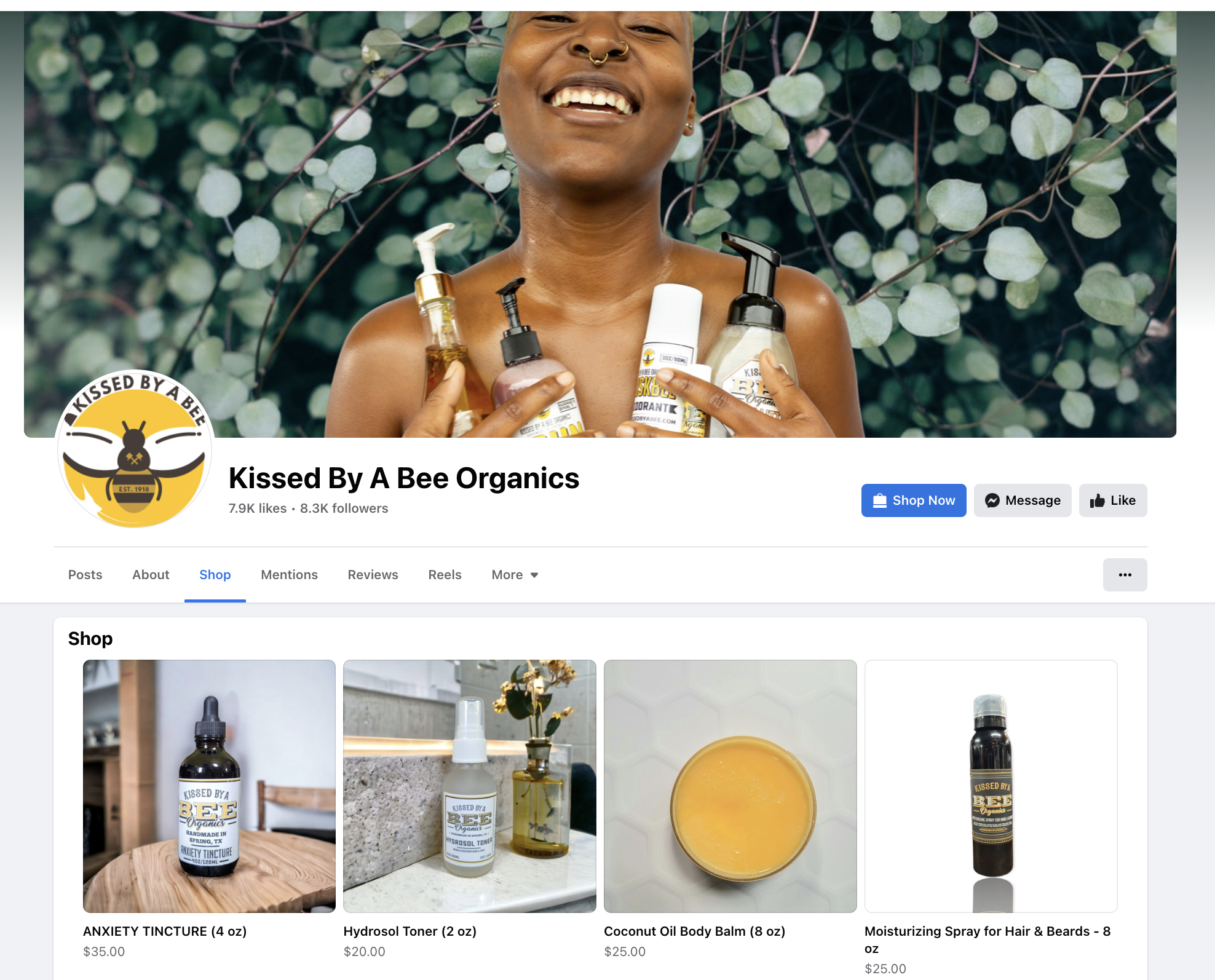 Let's take a moment to appreciate Kissed By A Bee's unique Ecwid Facebook store. They've created a shopping experience that skincare lovers would swoon over.
With just a few clicks, you can explore their natural, organic, and high-quality skincare range and even engage with other customers.
The product photos are clear and beautiful, which makes people want to buy them.
Plus, their product descriptions are very detailed. This helps customers understand what they're buying.
Kissed by a Bee's Ecwid Facebook store is a true gem. It showcases its dedication to making customers happy and engaging with their audience with personal and genuine story that help build the unique brand. This is a sure recipe to flourish online.
Facebook page: https://www.facebook.com/hijabisessentialshq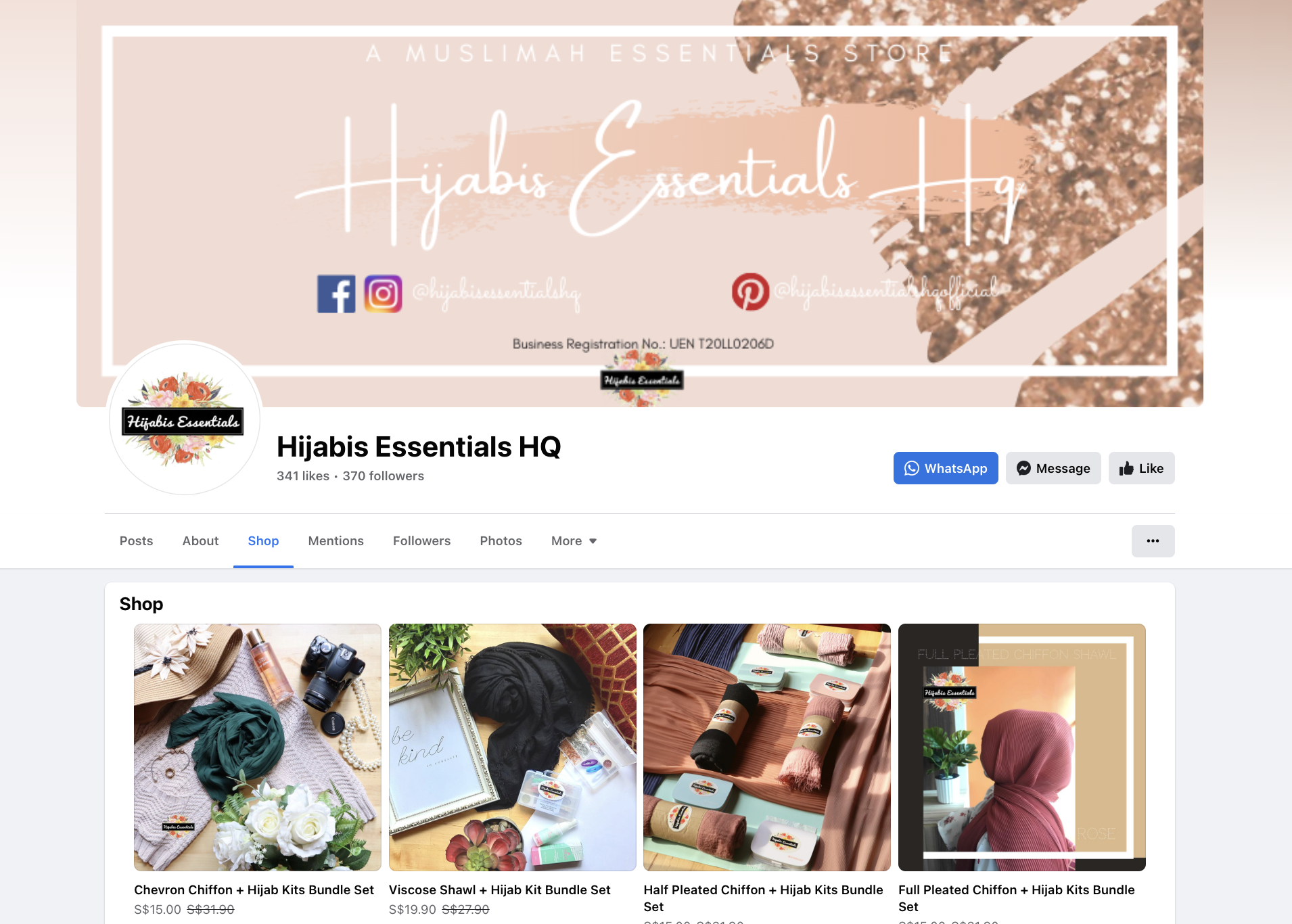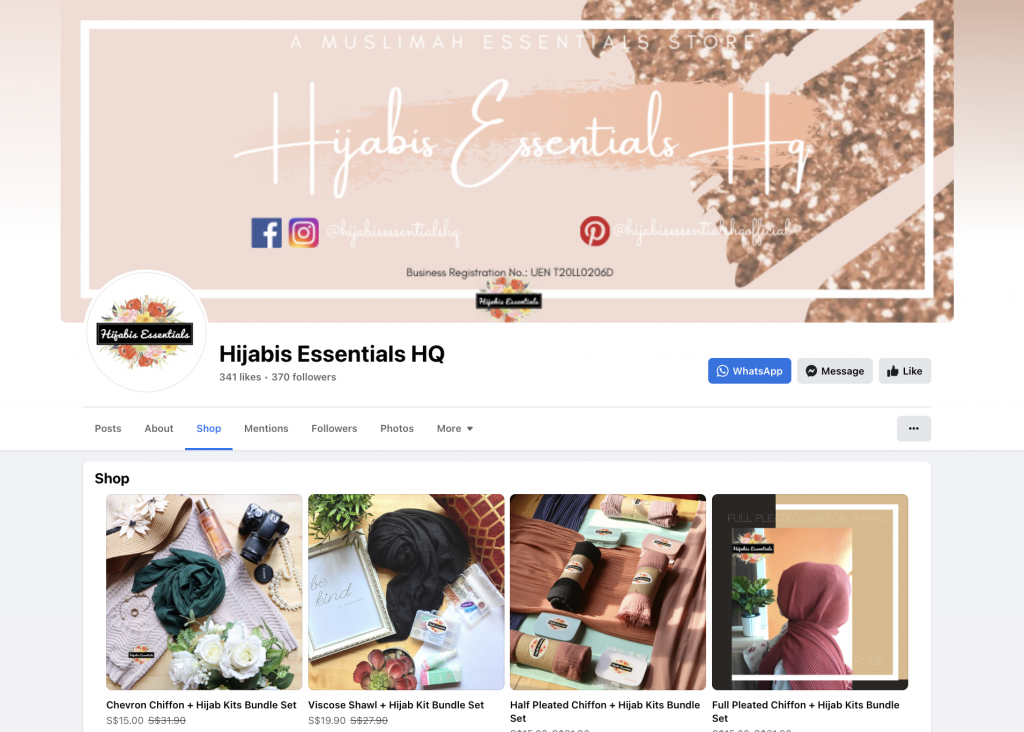 Two visionary sisters co-founded Hijabis Essentials. Taking into account Muslim women's needs, they created an Ecwid store with an exquisite collection of hijabs, abayas, and modest clothing. The brand's unwavering commitment to empowering Muslimahs sets it apart.
Through Hijabis Essentials, women will have a seamless shopping experience with worldwide shipping.
When you visit Hijabis Essentials' vibrant Facebook page, you'll discover their stunning range of items and interact with like-minded people.
Hijabis Essentials embraces the dynamic Facebook Shops feature, ensuring customers' shopping journey is convenient and enjoyable. It allows users to effortlessly navigate to relevant products and helps users complete their purchase directly on the platform.
The mission of Hijabis Essentials is to bring Muslimahs together through shared interests and values. With 341 likes and 370 followers, their Facebook page is a testament to their dedication.
Facebook page: https://www.facebook.com/MesadeVida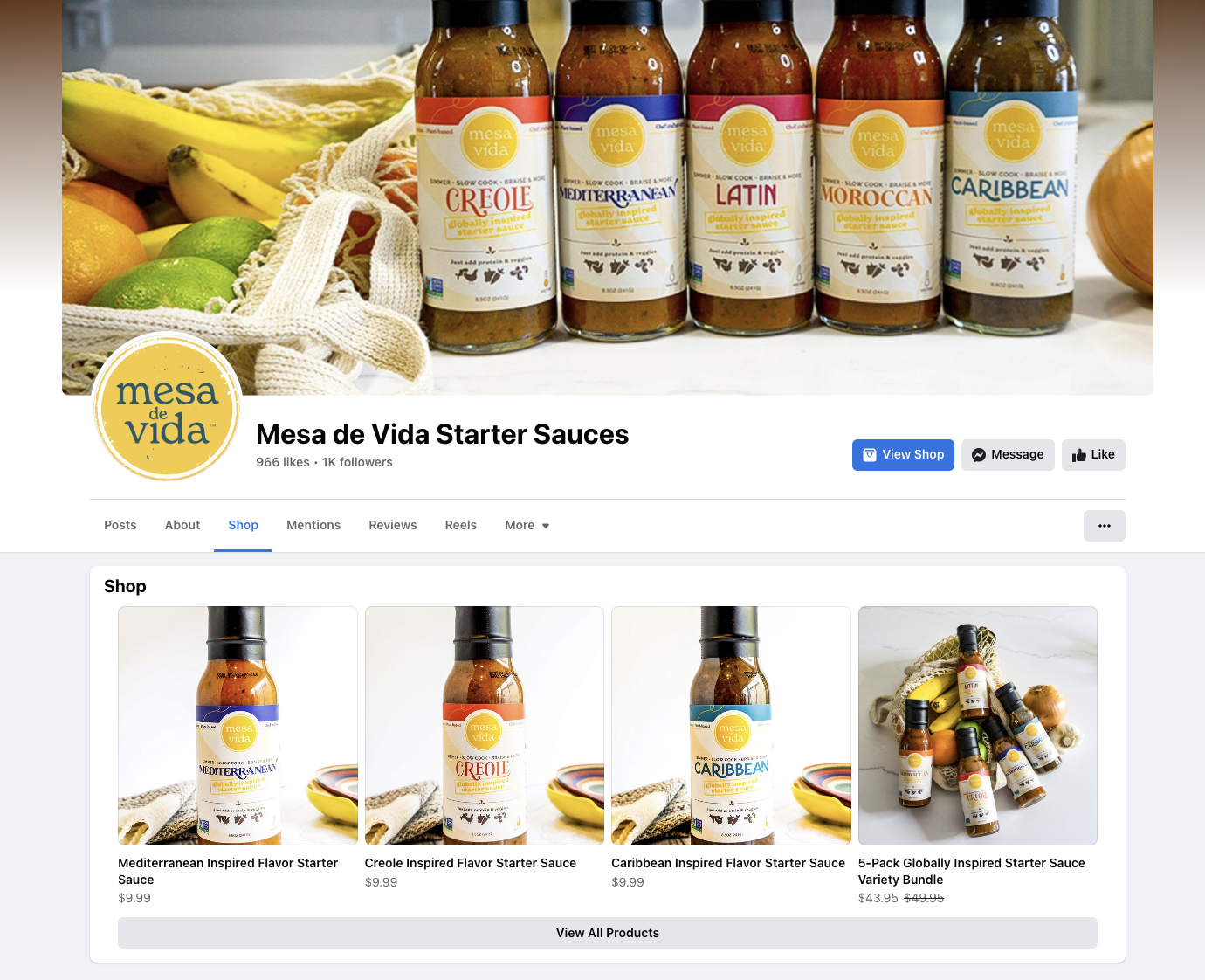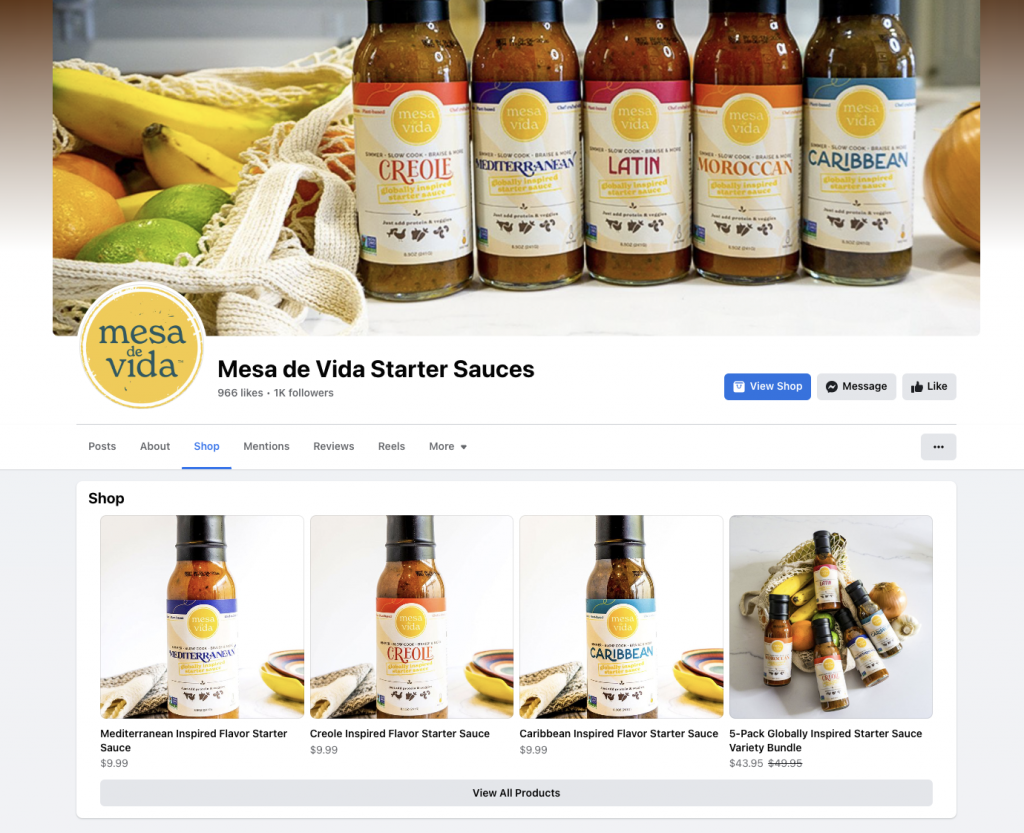 Mesa De Vida is an online store built with Ecwid that specializes in high-quality chef-crafted starter sauces, made with a blend of herbs, spices, and vegetables. The sauces are oil-free, sugar-free, plant-based, and vegan-friendly.
The enchanting online store lures shoppers with an array of products, including Mediterranean-inspired, Creole-inspired, and Caribbean-inspired sauce flavors.
A captivating Facebook page with almost 1K followers displays its products and promotions, tantalizing customers with an enticing display.
Through their Facebook store, customers can easily browse their curated selection and make purchases without even having to leave the platform.
Mesa de Vida stands as a shining example to successful integration, seamlessly blending their online store with Facebook to deliver an unparalleled shopping experience.
If you're looking for a different perspective on how to grow a store in the food and beverage industry, check out how this winery grew its blog traffic by 1100% in 21 months using content marketing.
Facebook page: https://www.facebook.com/bohoartsyling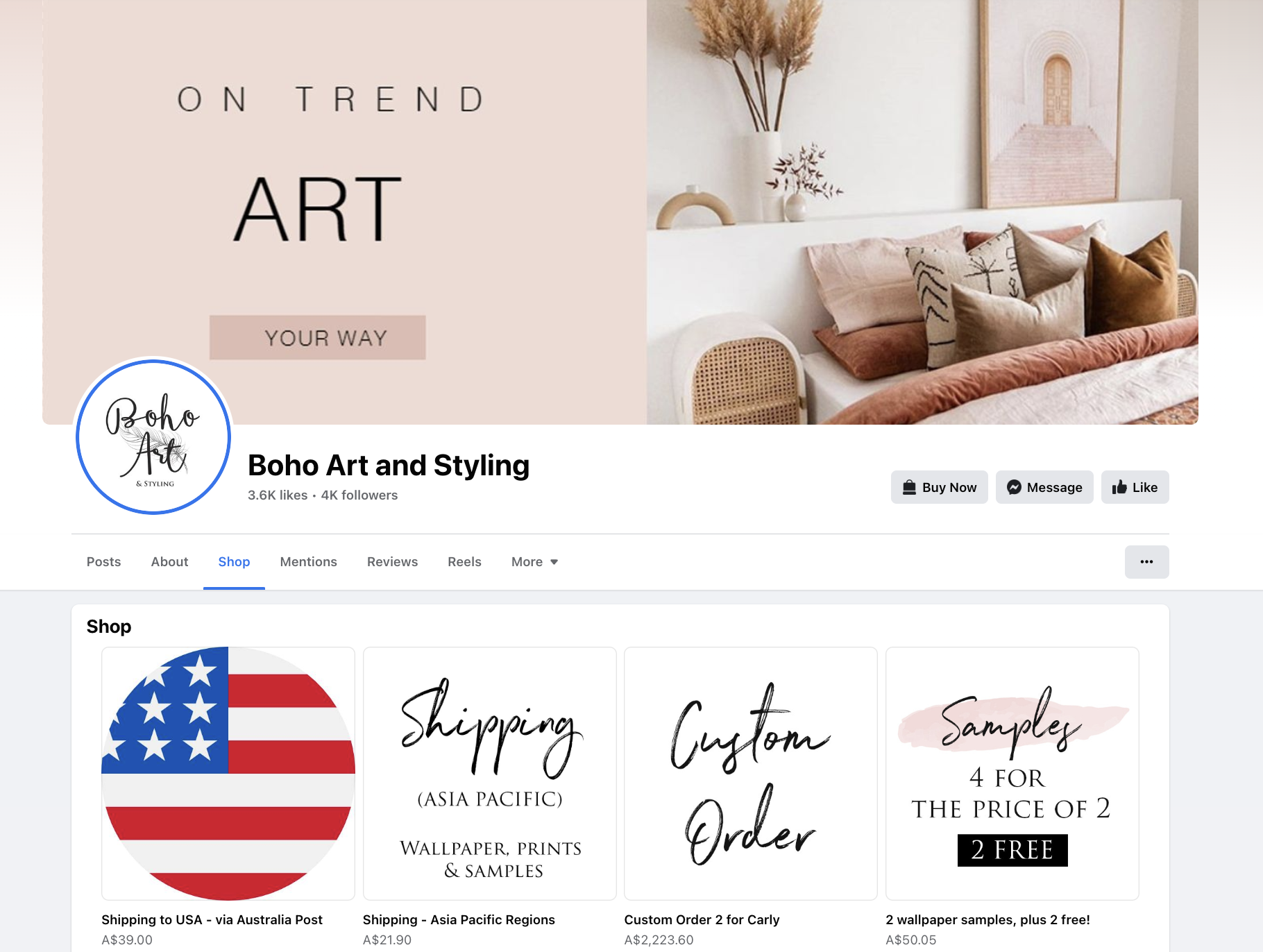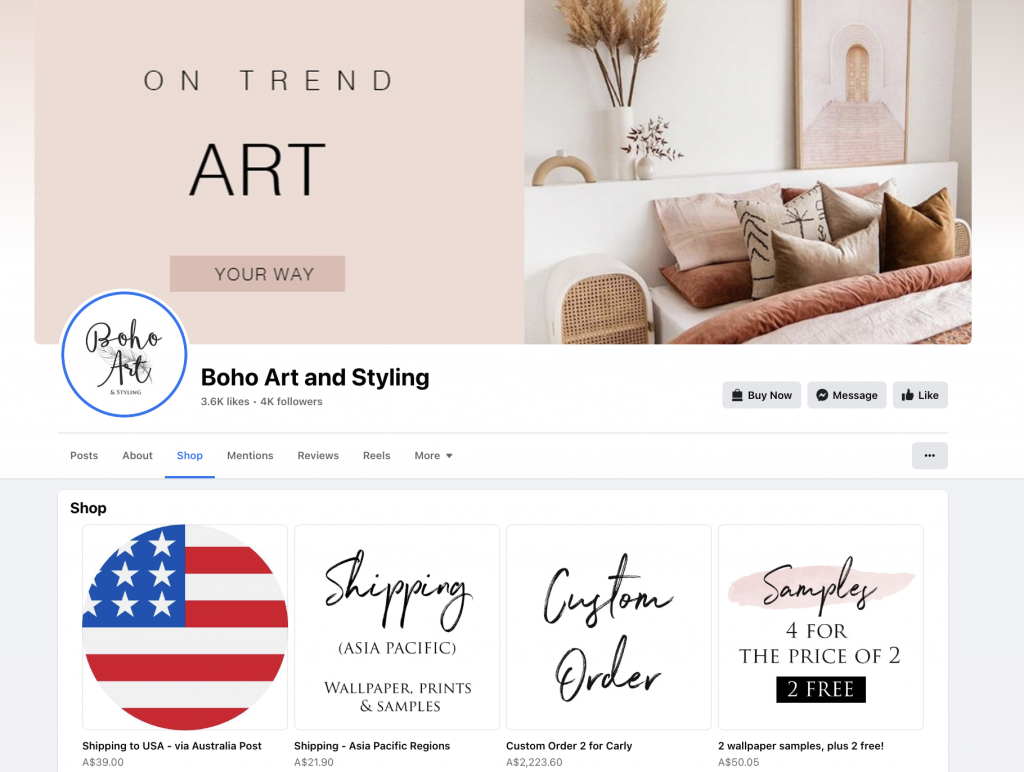 Boho Art & Styling, an online store that specializes in bohemian-inspired clothing and accessories, is the go-to destination for bohemian fashion fans.
Posts on the Facebook page showcase the brand's products, including artwork, wallpaper, and custom orders. They use lots of eye-catching photos to make people interested in their products. Their store also has an artsy and fun vibe which fits perfectly with what they're selling.
Other posts feature boho-inspired interior design ideas, such as a macrame wall hanging in a boho-inspired bedroom and a rattan chair in a boho-inspired living room. Boho Art Styling has an artsy and fun style. This makes them stand out and attracts more customers.
The page includes a few reviews from customers who have purchased the brand's items.
If you're interested in learning more about effective marketing strategies for furniture e-commerce stores, you can check out our furniture Ecom Store case study, in which a significant boost of 417% in organic traffic was achieved by using hyper-targeted content marketing. This is an excellent resource for anyone looking to improve their furniture e-commerce marketing efforts.
Facebook page: https://www.facebook.com/nystateofmyne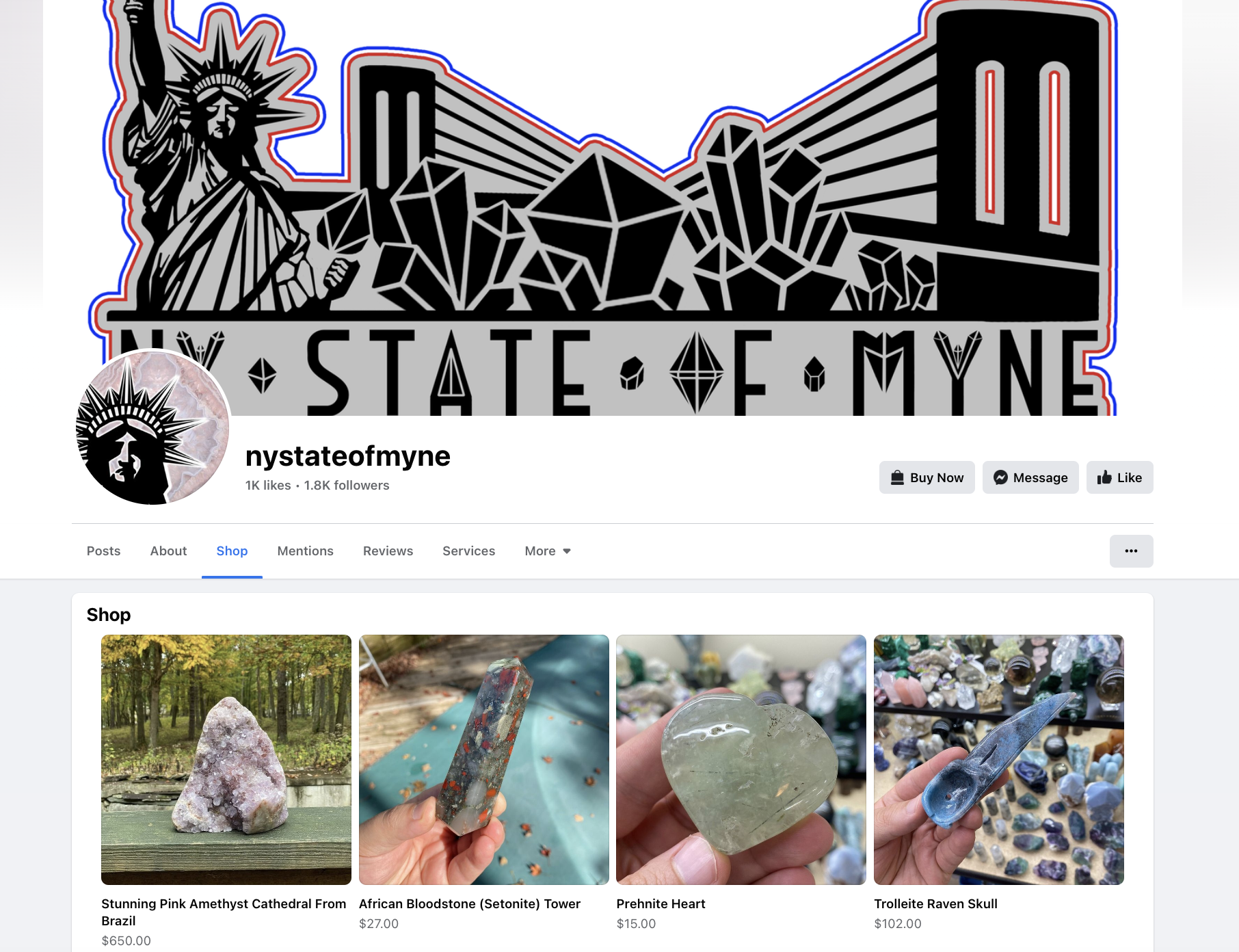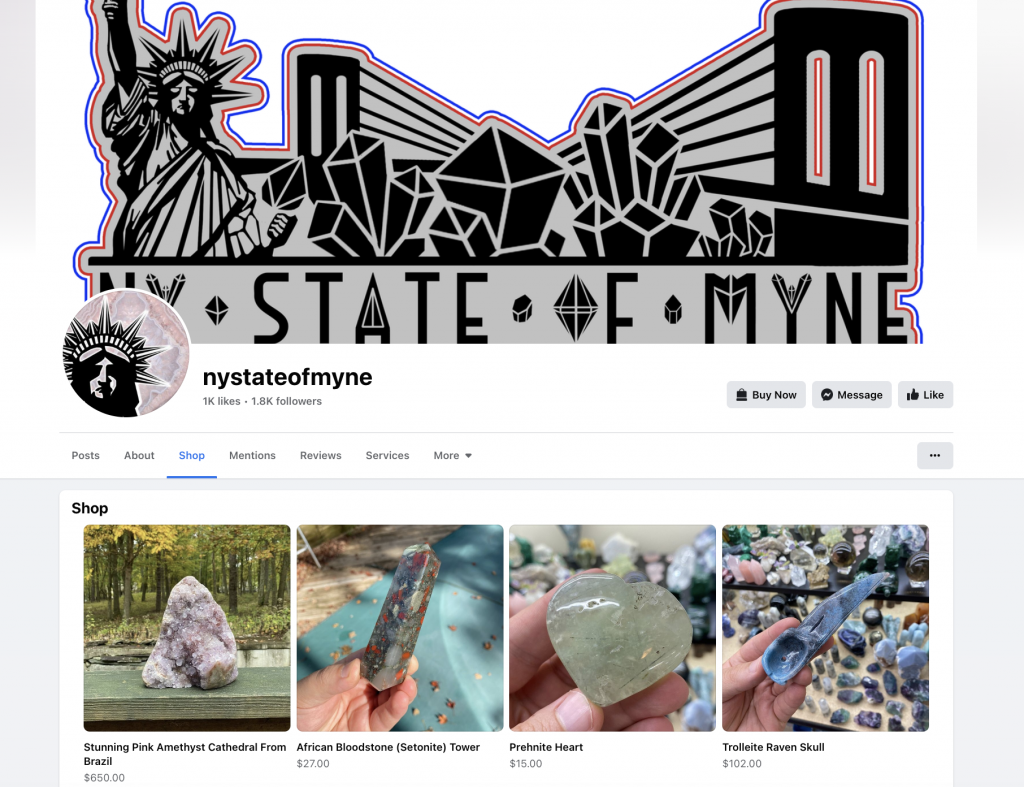 NY State of Myne is a captivating crystal shop built on the user-friendly Ecwid platform. The store specializes in offering a diverse selection of crystals and minerals.
NY State of Myne's online store features customizable designs that reflect the enchanting essence of their products. Customers can browse and purchase crystals from any device thanks to the platform's mobile responsiveness, making it convenient for crystal lovers.
NY State of Myne's online presence features integration with popular payment gateways, facilitating smooth, secure transactions.
NY State of Myne uses Facebook and Instagram to engage with their audience, offering beautiful visuals and engaging content. In addition to showcasing their exquisite products, their Facebook page allows customers to connect with them.
NY State of Myne has over 1,000 likes and an impressive following of 1.8 million crystal enthusiasts. Customers can explore and purchase crystals through this thriving community, and NY State of Myne can foster meaningful connections with their audience.
Moreover, NY State of Myne has gained notable recognition in the crystal community. Their Instagram page was highlighted as one of the best in the industry in a highly regarded YouTube video. Achieving such recognition speaks volumes about the quality and appeal of their crystals and the passion with which they curate them.
NY State of Myne's success story demonstrates the potential of small businesses leveraging Ecwid and social media channels like Instagram and Facebook.
With Facebook Shops integration, they gain valuable shopping data that helps them better target their ads and enhance social media promotions. Their strategic approach not only drives traffic to their online store, but also cultivates a loyal community of crystal enthusiasts.
6. Sea Spirits Gallery
Facebook page: https://www.facebook.com/seaspirits/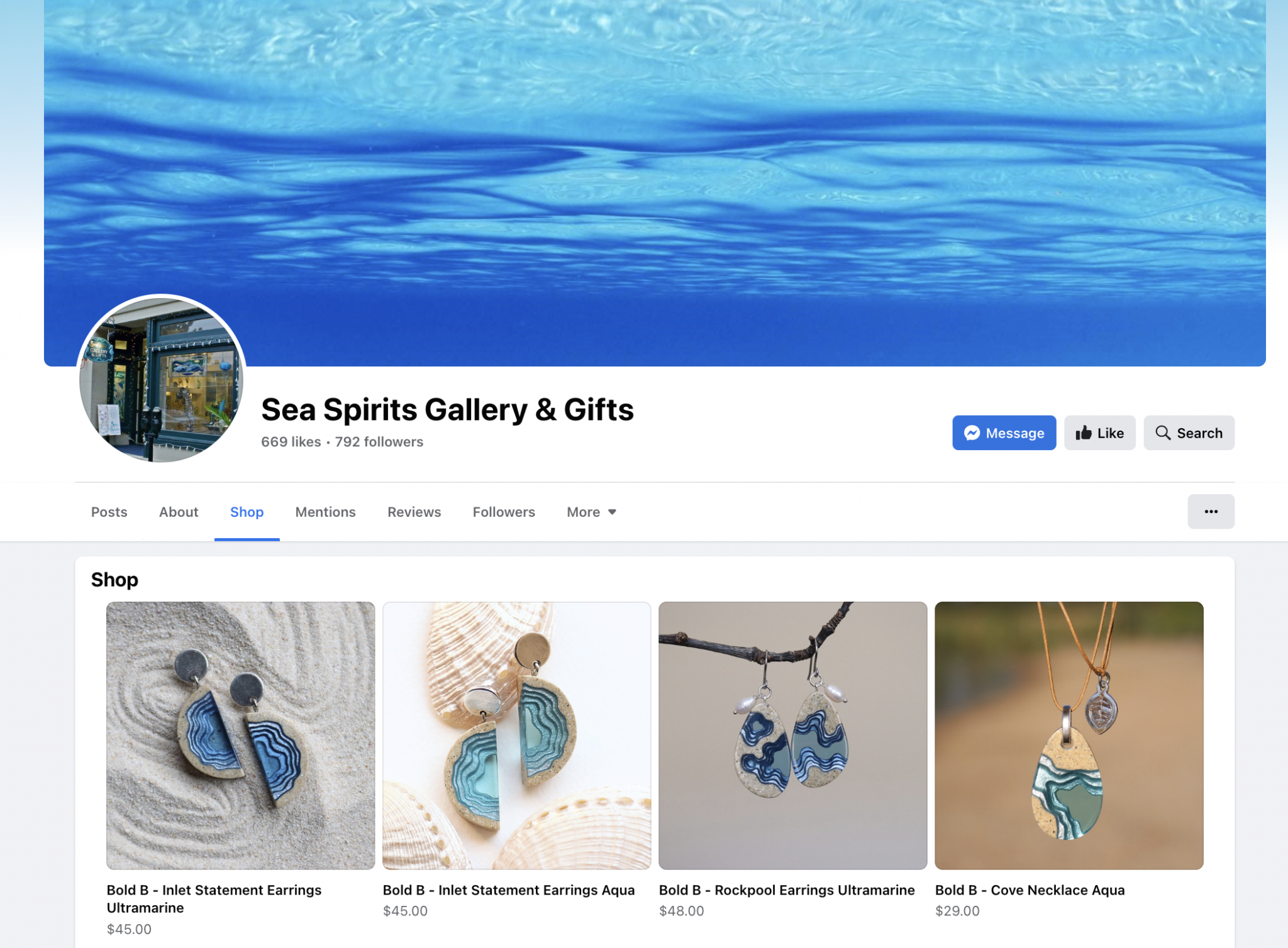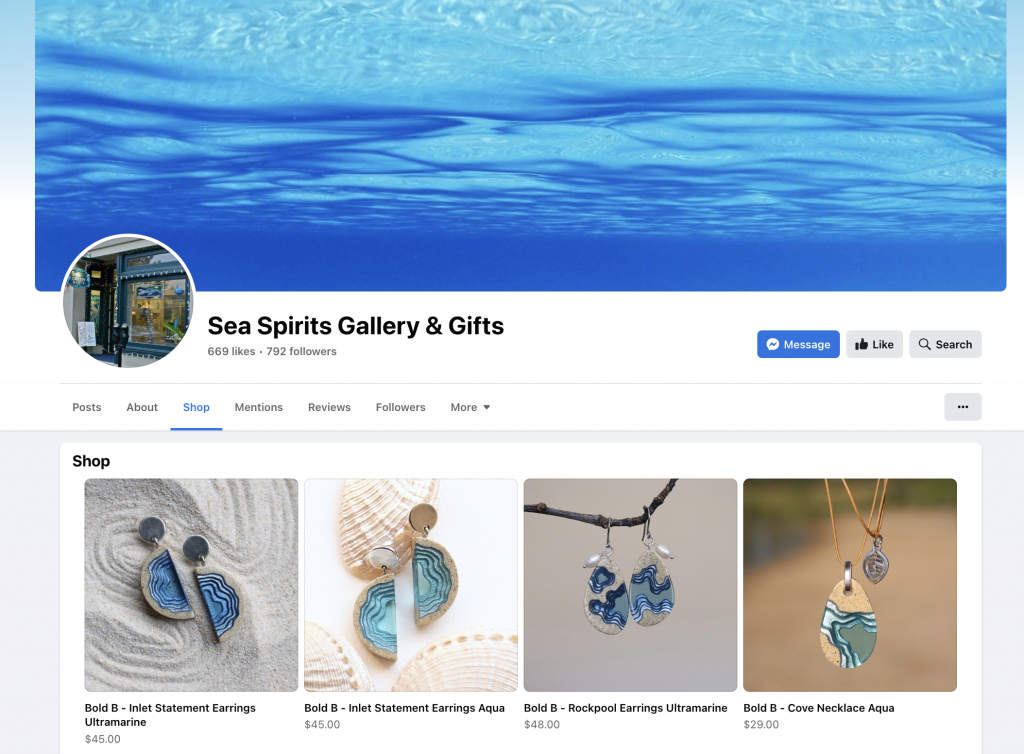 A contemporary art gallery in St. Augustine, Florida, Sea Spirits Gallery has served the community for over 30 years. In addition to paintings and sculptures, the shop offers artisan glass, jewelry, and nautical items.
This gallery is known for its sea-themed artisan art, as well as fine art and unique decor. Through their Facebook page, they actively engage their audience, share updates, showcase new artwork, and promote their online store.
They use great visuals to showcase their artwork.
What's great about their store is that they organize their products really well. This makes it easy for customers to find what they're looking for. They also have great customer reviews which help other people decide to buy their products.
They also give detailed information about each piece, like the artist's name and the story behind the artwork. This helps customers feel connected to the art they're buying.
7. Nishimoto Art
Facebook page: https://www.facebook.com/artnishimoto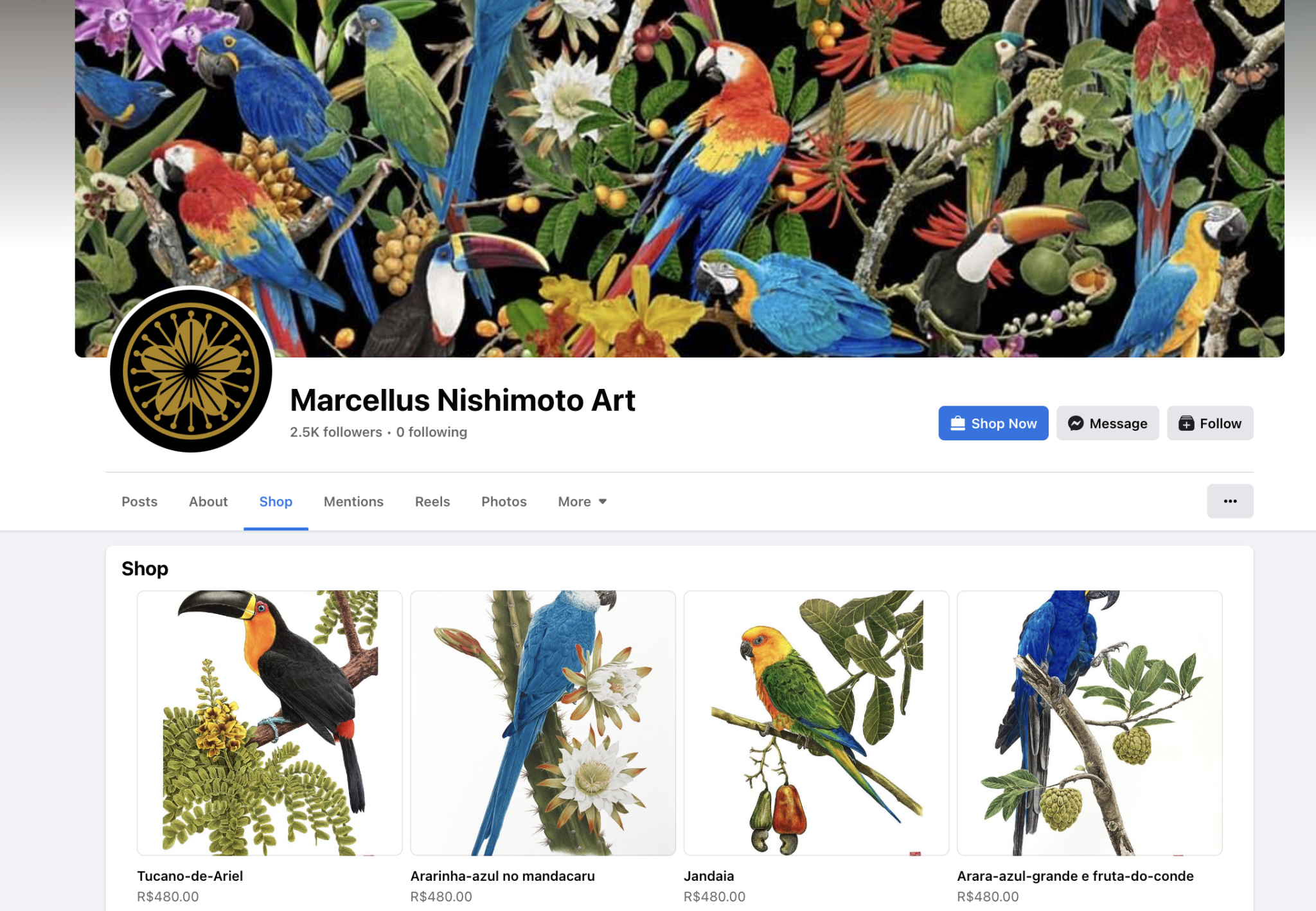 Located in Goiânia, Marcellus Nishimoto is a Brazilian visual artist and graphic designer. He graduated with a degree in Graphic Design and Visual Communication from the University of Brasilia.
Nishimoto's art revolves around celebrating and preserving biodiversity, with a primary focus on the fauna and flora of Brazil. His intricate and time-consuming artworks are a testament to the richness and significance of various species.
Nishimoto uses Facebook to share his passion for biodiversity and traditional art techniques, while also reflecting on the diversity and future of these precious life forms.
He uses the store to showcase his artwork in a simple and easy-to-understand way. He also has an instagram account @artnishimoto where he promotes his online shop to sell his creations.
He also gives a little background about himself and his art. This helps customers feel a connection to the artist and makes them more likely to buy his art.
Advantages of Establishing a Facebook Store
Ecwid Facebook stores offer some exciting perks that can boost your brand and sales. This direct connection to your Facebook audience makes it easy to engage potential customers and drive sales.
Facebook opens you to more traffic sources.
Facebook's visibility is astounding, with 2.91 billion active users each month. You can reach a massive audience, skyrocketing your exposure.
By seamlessly integrating with Facebook, you can effortlessly add a Shop section to your business page, maximizing your sales opportunities across multiple platforms.
Facebook nails discoverability and purchasing simplicity. It streamlines the process, allowing desktop and mobile users to explore and purchase products within the familiar Facebook interface.
But wait, there's more! It's all about multichannel selling.
Facebook stores allow you to sell beyond your website. You can expand your reach and boost sales even more with marketplaces and social media.
You might think all these perks come at a price, right? Wrong!
Ecwid makes it easy and cost-effective to set up a Facebook store. No need to start from scratch. With an embedded store, you can save time and money while reaping the benefits of an online store.
Here is a link to a step-by-step guide on how to integrate an Ecwid store with a Facebook Shop: https://support.ecwid.com/hc/en-us/articles/115005892705-Selling-on-Facebook
What steps do users take to make a purchase?

To purchase from a Facebook Store integrated with Ecwid, users follow these simple steps:
Visit the Ecwid online store's Facebook page or profile.
Explore the products listed in the Facebook Shop.
Click on a product for more details.
Choose product options, if applicable.
Add the product to the cart with "Add to Cart" or "Buy Now."
Review the cart and make adjustments, if needed.
Proceed to checkout and provide shipping and billing info.
Confirm the purchase after reviewing the order summary.
Complete the payment process.
Receive confirmation on Facebook or via email.
Await delivery of the purchased product.
Please note that steps may vary slightly based on the specific Ecwid integration with Facebook Stores used by the online store owner.
Note that when a purchase happens via Facebook Store and then redirects users to the Ecwid website, the steps may differ slightly.
User clicks on a product listed in the Facebook Shop and is then redirected to the Ecwid store.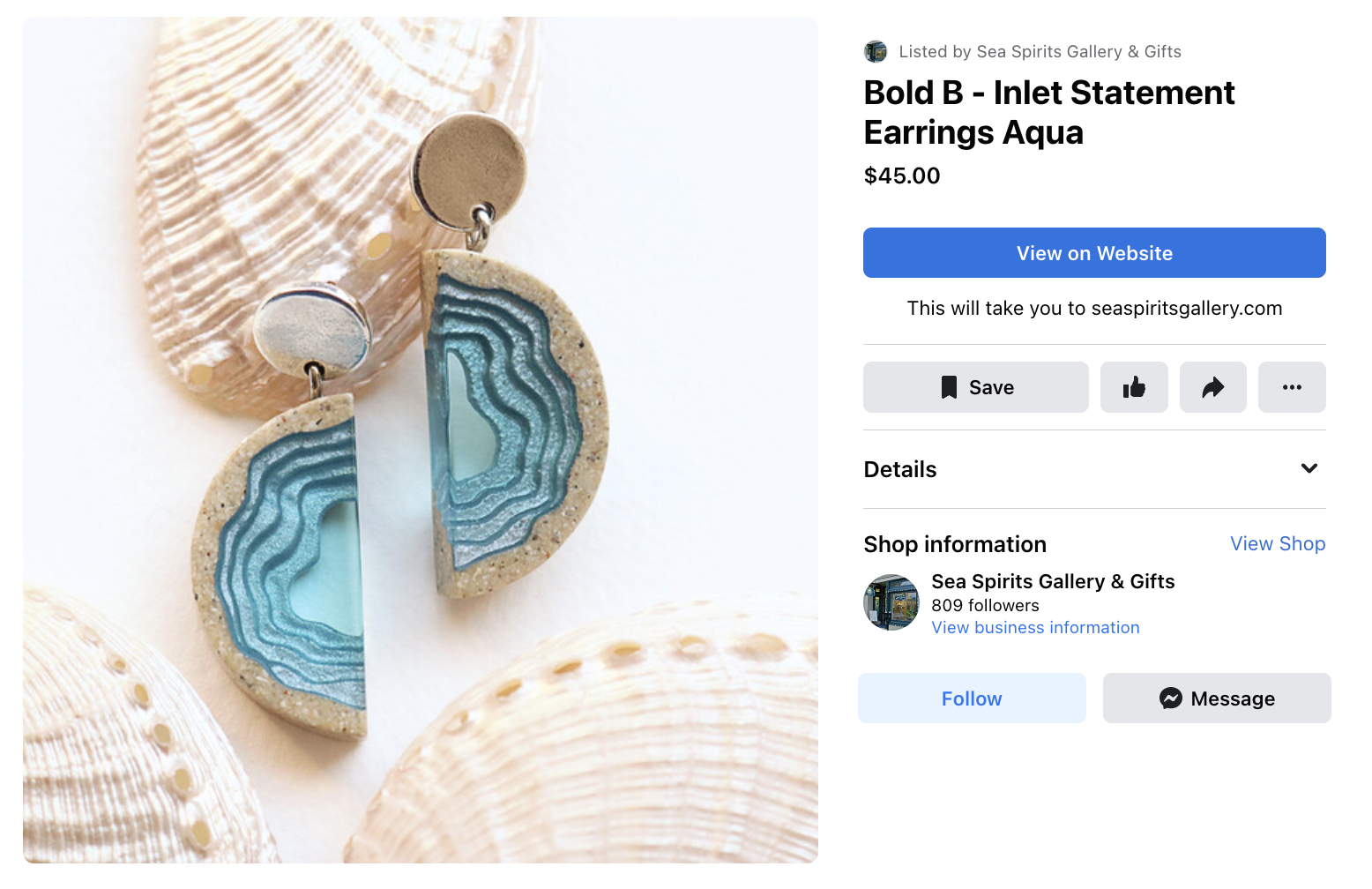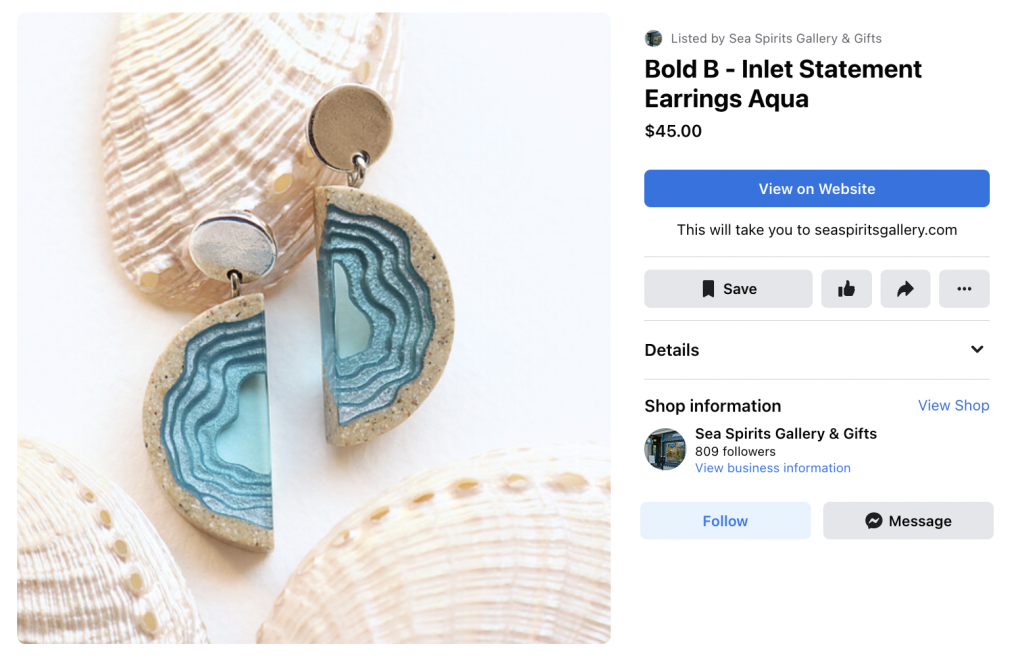 2. The user adds the product to the cart on the Ecwid website.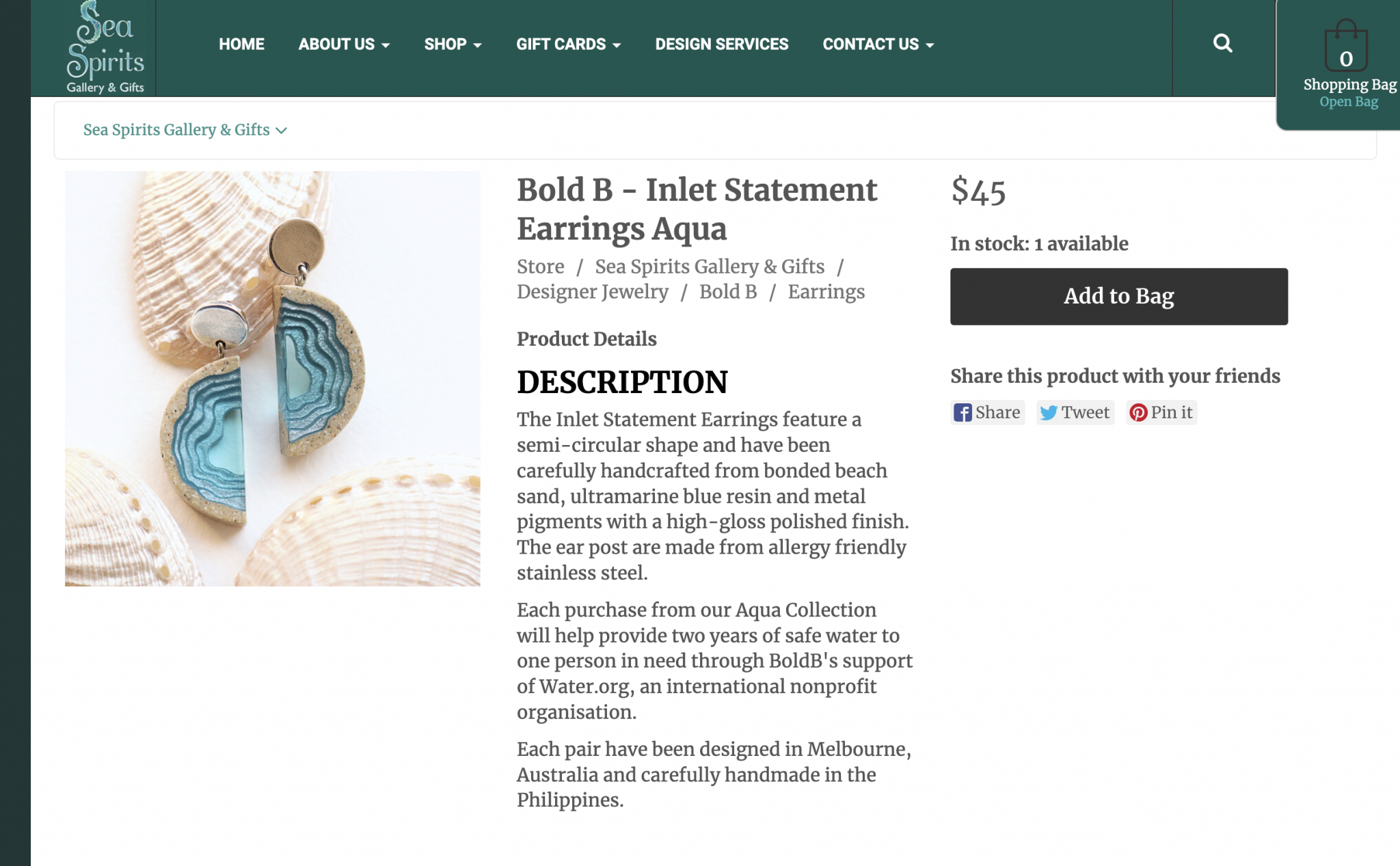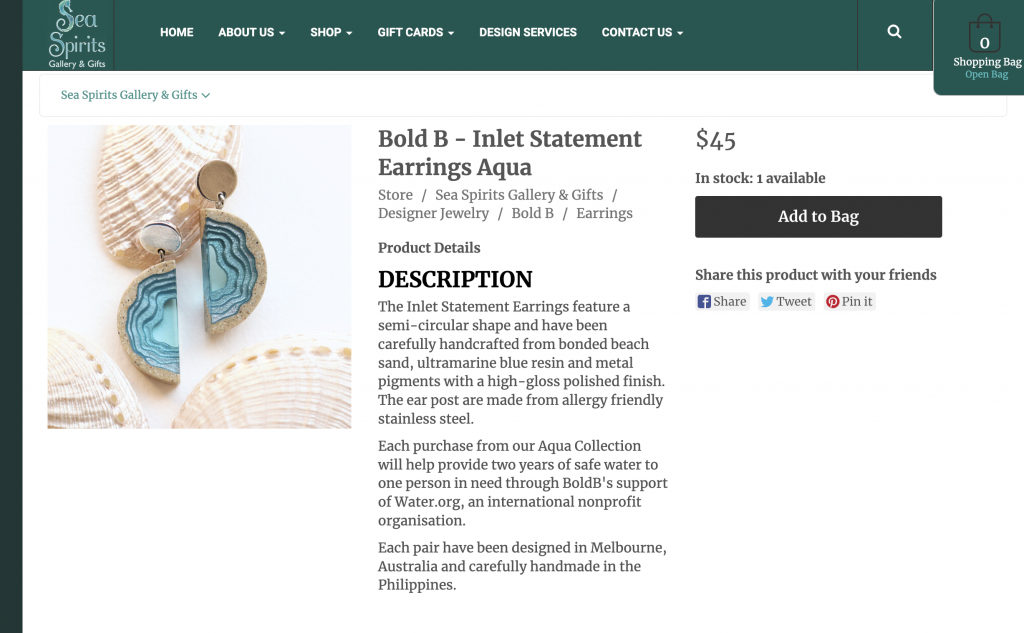 3. The user reviews the order summary and confirms the purchase on the Ecwid website.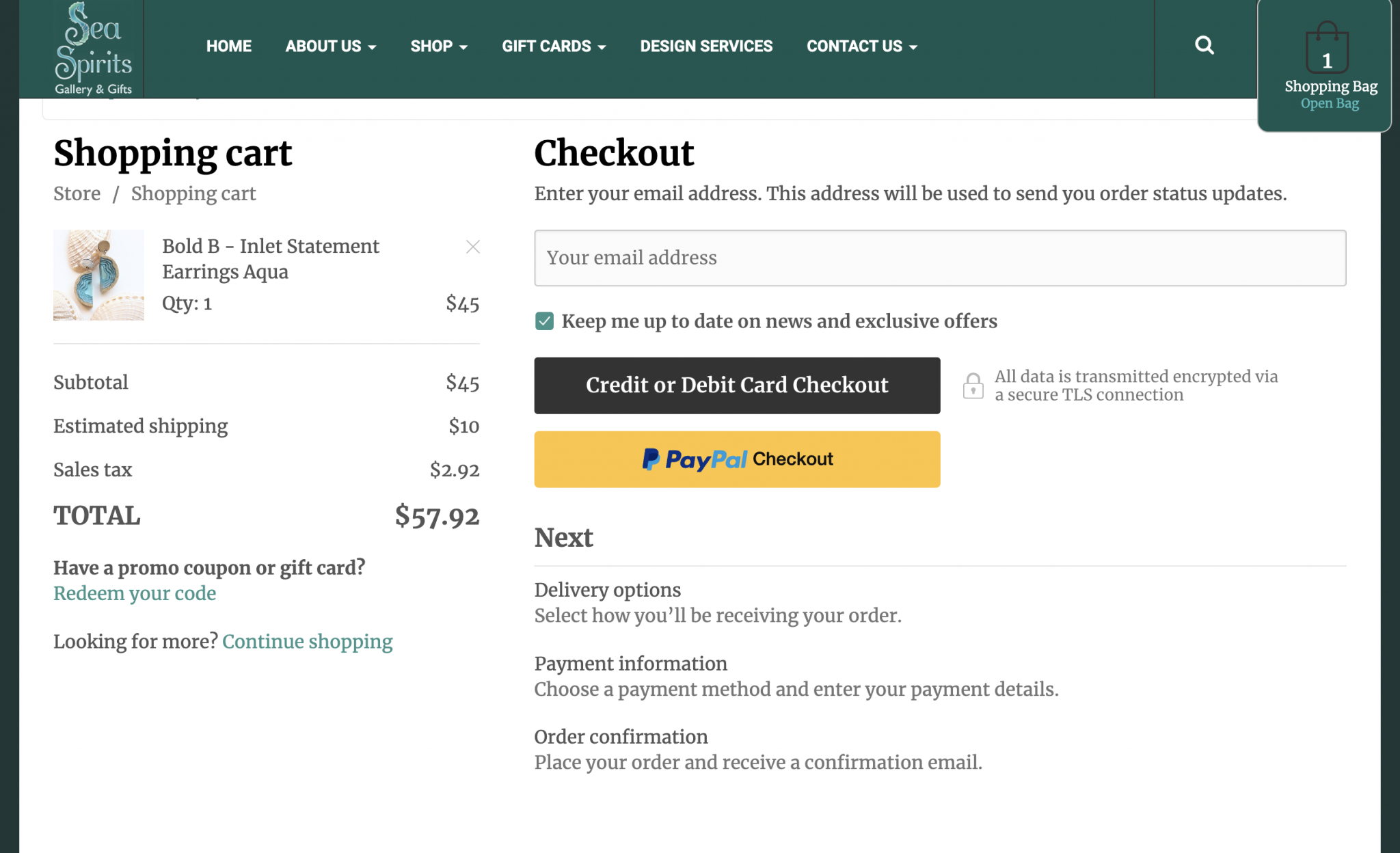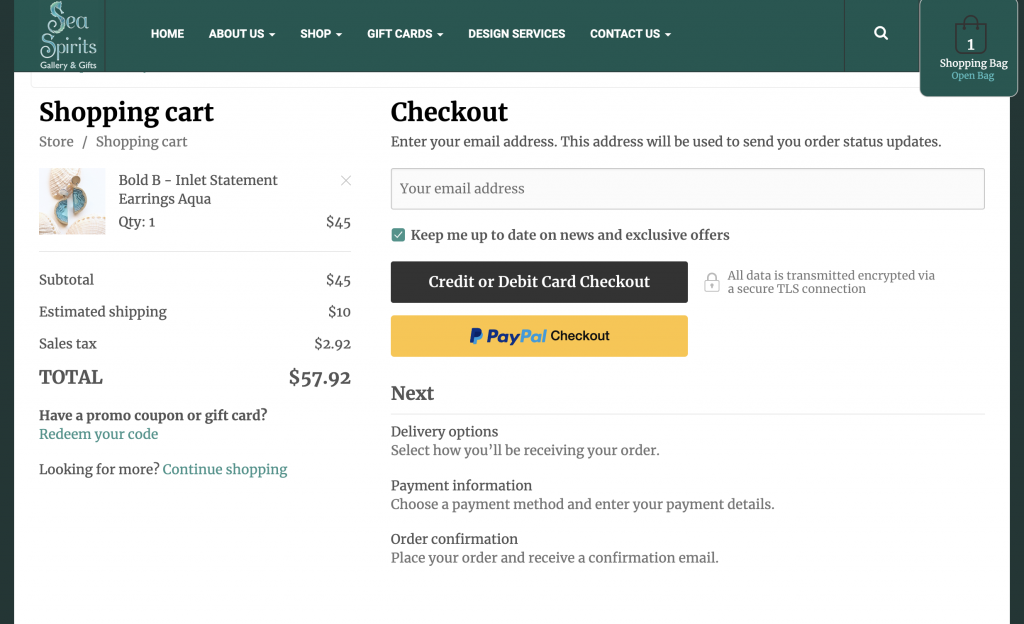 Downsides of Having a Facebook Store
To grow your store effectively, you shouldn't rely solely on Facebook for traffic. While it may provide some audience, the real power lies in Google. Big e-commerce brands understand this and focus on promoting their main websites, leveraging tactics like content marketing and search engine optimization.
When listing products on platforms like Facebook and Amazon, you risk building their customer base instead of your own.
Owning your store with a domain gives you the control to promote and market your brand effectively through content marketing and other strategies.
While Facebook can be a useful traffic source, it should complement your main website. Invest in efforts to drive organic traffic from Google through smart marketing practices.
Setting up a Facebook store may be less effective in the long run compared to running ads.
Smaller stores may opt for Instagram, but for substantial traffic growth, other avenues like Facebook Ads, YouTube Ads, TikTok Ads, and organic social media growth should be explored.
Diversifying your strategies ensures a robust and successful online presence.
3 Strategies to Promote Your Ecwid Store & Drive Sales
Consider the following important recommendations to promote your Ecwid store.
1. Social Sharing Features
Take advantage of the enormous potential of social sharing within your Ecwid Facebook store to expand your customer base and increase sales. Encourage customers to spread the word about their favorite products among family and friends using word-of-mouth marketing.
Without incurring additional costs, this organic promotion can expand your audience and enhance your business' reputation. Your Ecwid Facebook store can benefit from free promotion through the social network, which will drive growth and increase brand awareness.
2. Targeted Advertising
You can effectively reach potential customers for your Ecwid store by using Facebook advertising and targeting. You can drive relevant traffic to your store by specifically targeting individuals likely to be interested in your products.
Ecwid Facebook stores that follow these guidelines can improve online visibility, sales performance, and help establish a strong and influential brand presence on Facebook.
Your Ecwid store can take advantage of Facebook's advertising tools to maximize its marketing potential.
Check out our comparison article on Facebook ads vs. content marketing to see which strategy suits your business best.
3. Content Marketing
Content marketing can be extremely powerful for your Ecwid store for trust and credibility building.
Use the following strategies to maximize its potential on your website:
Present informative and engaging content to your audience, positioning you as an expert in your industry and attracting new customers.
Build strong product descriptions that demonstrate your products' value and help customers make informed purchasing decisions with product tutorials.
Use customer-generated content as powerful social proof to build trust and credibility: Encourage customers to share their experiences and reviews.
What is more content marketing holds significant potential for your Ecwid store, particularly in establishing trust and credibility online and driving traffic from the number one traffic source – Google.
Check out our customers' success and witness the real-life success stories of online stores, demonstrating the power of AmpliFire's content marketing strategies.

Grow Your Ecwid Store Traffic with Content Marketing
It can be beneficial to have a Facebook store, but it is not the most effective strategy to rely solely on it for traffic. To achieve substantial and sustainable growth for your store, content marketing is your best option.
You can build your brand's identity, establish trust with your audience, and drive organic traffic from search engines like Google with content marketing like the major e-commerce brands do.
If you want to experience the amplifying power of content marketing with Amplifire and learn how it can increase your business's success, check out our post AmpiFire effect.
With content marketing, you can amplify your marketing efforts and ensure a thriving online presence by diversifying your marketing strategies.
It gives you complete control over your marketing efforts and creates a loyal and engaged customer base.
Book an appointment today and learn how our content plan can help you increase your store's visibility, drive traffic, and generate leads.